If you've done any air travel or made a trip to the DMV (Department of Motor Vehicles) recently, you've likely seen signs talking about REAL ID, deadlines for getting your new ID, and other messages aimed at bringing these new regulations to your attention.
REAL ID refers to new guidelines the federal government has been implementing to standardize how states verify identity and residency when people apply for a driver's license or official identification.
It's not a specific form of identification itself, and you won't have to carry a specific REAL ID card — you may not need a REAL ID at all. Here are 15 of the most important things you need to know about REAL ID to help you decide whether or not you should update your existing identification or apply for a new one.
15 FAQs about REAL ID requirements
1. What is the REAL ID Act?
The REAL ID Act was passed in 2005 after the 9/11 Commission recommended setting uniform standards for states issuing official identification, such as a driver's license or state identification card. The law doesn't create a specific form of identification but rather minimum security standards for states to use when verifying the identity of someone applying for official identification.
It also prevents federal agencies from accepting driver's licenses or ID cards from states that don't comply with REAL ID standards. This could impact your ability to enter certain federal facilities and nuclear power plants as well as to fly with commercial airlines.
As of November 2, 2021, all states, the District of Columbia, and four out of five U.S. territories are in compliance with the REAL ID Act. American Samoa, the U.S. territory not yet in compliance, has an extension until May 3, 2023.
2. Who needs a REAL ID?
Anyone who plans to fly with a commercial airline or access the federal facilities discussed above will need a REAL ID-compliant license or ID card or another acceptable form of identification by May 3, 2023 (the deadline has been extended due to the impact of the pandemic). Your current state identification will be accepted until this date.
The Transportation Security Administration (TSA) will also accept passports, passport cards, and several other types of identification — check out the complete list. If you have any of those types of ID, you won't need to have a REAL ID-compliant state identification card. Enhanced driver's licenses from Michigan, Minnesota, New York, Vermont, and Washington may also be accepted instead of a REAL ID.
If you don't plan on flying anywhere or accessing any secure federal facilities in the future or if you have access to the forms of identification listed above, you won't need to have a REAL ID.
3. Do minors need a REAL ID?
No. Children under 18 aren't required to have identification for air travel, but the adults they are traveling with will need to have a REAL ID-compliant or other accepted identification to fly.
4. Do I need a REAL ID if I have a passport, military ID, or Global Entry card?
No. Each of these is an acceptable alternative to having a REAL ID. Many of the best travel credit cards will reimburse you the fee if you decide to get Global Entry.
5. Is a REAL ID mandatory?
No, it's not. REAL ID is only needed when traveling by commercial airline, accessing secure federal facilities (including military properties), or entering nuclear power plants after May 3, 2023. You can provide a passport, passport card, military identification, or another form of accepted ID in these cases if you don't have a REAL ID.
6. When must I get a REAL ID by?
You may not have realized it, but some REAL ID requirements went into effect on Jan. 22, 2018. Since that date, the only state identification that has been accepted by the TSA comes from compliant states or those that have received extensions. As of November 2, 2021, all U.S. states and territories are either compliant with REAL ID or have an extension.
By May 3, 2023, your state-issued identification will have to be REAL ID-compliant to be accepted for air travel. Though you may live in a compliant state, you might not have a REAL ID. If you've got a new driver's license or state ID or renewed an existing ID since your state became compliant, you may already have a REAL ID. If not, you'll have to get a new ID or license that's compliant.
7. How is a REAL ID different? What does it look like?
A driver's license or state ID card that is REAL ID-compliant will generally have a star on it. The color, design, and placement of the star varies from state to state. The cards themselves are also built with new security measures to make forgery more difficult.
If you're not sure what your state's REAL ID licenses look like, confirm with your state's DMV or other issuing agency.
8. How do I get a REAL ID?
The process for obtaining a REAL ID may be different from state to state. Your first step should be to contact the appropriate state agency that issued your current ID card. If you don't currently have a state ID card or driver's license, plan to apply for one through your local DMV or other appropriate agency.
In general, you'll have to provide specific types of identification and proof of residency. It's a good idea to check what your options are before going to your local DMV. Some states, such as South Carolina, may allow you to apply for a REAL ID online as a driver's license renewal.
9. What documents do I need to provide to get a REAL ID?
Check with your state agency for specific REAL ID requirements. Generally, original or government-issued copies of each of the following are required to get a REAL ID:
Proof of identity, such as an original birth certificate or unexpired U.S. passport.
Proof of Social Security number, such as your Social Security card or W-2 with your Social Security number and name of your employer.
At least two documents that prove your residency. This can be a utility bill with your name and address on it or an unexpired driver's license.
Proof of all legal name changes, if applicable. This especially affects you if you have changed your last name due to marriage or divorce. Official marriage and divorce documentation may be required.
10. How much does a REAL ID cost?
Costs vary by state and may depend on if you're applying for new identification or renewing an existing ID.
11. How long does it take to get a REAL ID?
A REAL ID card will be mailed to you after you provide the appropriate documentation to the issuing state agency. Time frames vary from state to state.
12. How long will my REAL ID last?
The expiration date of a REAL ID is linked to your state's regulations regarding how long state IDs and driver's licenses are valid. For example, in South Carolina, all non-commercial driver's licenses expire eight years after the date of issue, regardless of whether or not it's a REAL ID.
In Pennsylvania, you can get a REAL ID license that has an expiration date four years in the future, plus any remaining time you have on your original license.
13. Can I get a REAL ID before my current license expires?
In most states, you can renew your driver's license anytime before it expires. Check with your state DMV for specific renewal policies.
14. Do I have to take a new photo for my REAL ID?
It depends on which state you're applying for a REAL ID through. For example, you have to take a new photo each time you get a driver's license or ID card or take a knowledge test with the District of Columbia DMV. New York requires you to take a new photo for REAL ID. In South Carolina, you have the option to apply for REAL ID through an online renewal form and use the photo that's on file.
15. What happens to my information when I apply for a REAL ID?
REAL ID only standardizes the minimum requirements for proving identity and residency when applying for a driver's license or state ID card. Your information will be handled according to the laws and standards established by your state. The federal government doesn't collect or store information about you as a result of applying for a REAL ID.
Overall, whether or not you should get a REAL ID is completely up to you. If you frequently travel by air and don't want to carry your passport or other approved identification, then getting a license or state ID that has the REAL ID star will be a must come May 2023.
If you just need a photo identification or license to drive, then getting a new REAL ID card isn't a priority. Either way, checking with your state agency as to what your options are, what process you need to follow, and what you need to bring with you when it's time to apply or renew is always a good idea. And, don't forget, some credit cards can help you offset the cost of this card.
Easy-to-Earn Unlimited Rewards
Earn 25,000 online bonus points after you make at least $1,000 in purchases in the first 90 days of account opening - that can be a $250 statement credit toward travel purchases
Earn 1.5 points per $1 spent on all purchases
Longer intro APR on qualifying purchases and balance transfers
No foreign transaction fees
Earn unlimited 1.5 points per $1 spent on all purchases, with no annual fee and no foreign transaction fees and your points don't expire as long as your account remains open.
25,000 online bonus points after you make at least $1,000 in purchases in the first 90 days of account opening - that can be a $250 statement credit toward travel purchases.
Use your card to book your trip how and where you want - you're not limited to specific websites with blackout dates or restrictions.
Redeem points for a statement credit to pay for travel or dining purchases, such as flights, hotel stays, car and vacation rentals, baggage fees, and also at restaurants including takeout.
0% Introductory APR for 15 billing cycles for purchases, and for any balance transfers made in the first 60 days. After the intro APR offer ends, 18.24% - 28.24% Variable APR will apply. A 3% fee applies to all balance transfers.
If you're a Bank of America Preferred Rewards® member, you can earn 25%-75% more points on every purchase. That means instead of earning an unlimited 1.5 points for every $1, you could earn 1.87-2.62 points for every $1 you spend on purchases.
Contactless Cards - The security of a chip card, with the convenience of a tap.
This online only offer may not be available if you leave this page or if you visit a Bank of America financial center. You can take advantage of this offer when you apply now.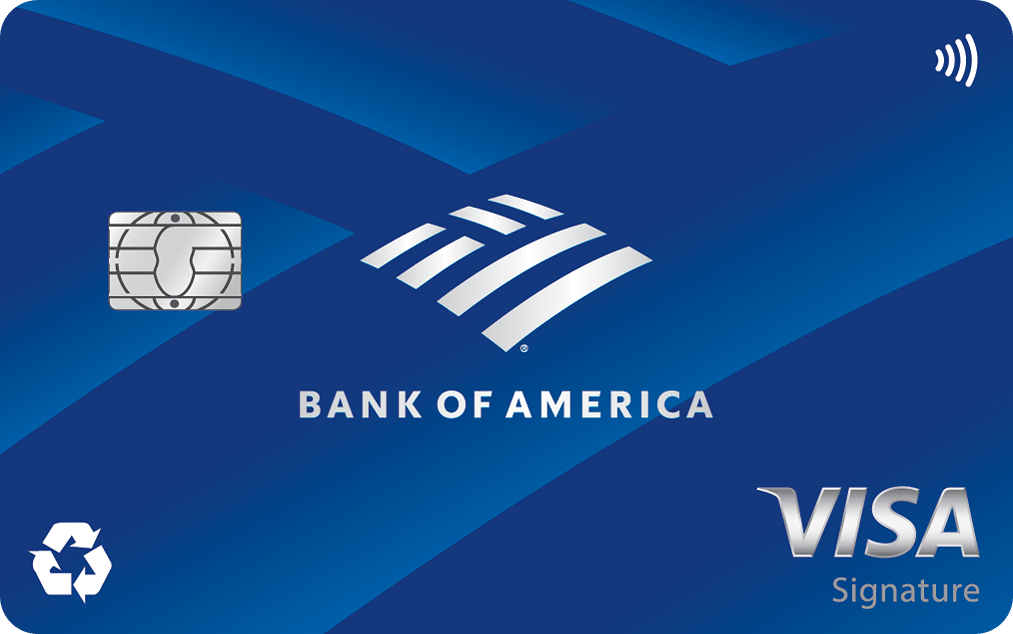 4.1
FinanceBuzz writers and editors score cards based on a number of objective features as well as our expert editorial assessment. Our partners do not influence how we rate products.
Apply Now
on Bank of America's secure website
Read Card Review
Intro Offer
Earn 25,000 online bonus points after you make at least $1,000 in purchases in the first 90 days of account opening - that can be a $250 statement credit toward travel purchases