As your career winds down, you may be eager to ditch the office and the daily commute. A remote job may sound appealing, but is there a market for your experience and skills?
You may be surprised to find that there are some great options for baby boomers who want to transition from an office job, make some extra money, or get back into the workforce.
Check out some of these jobs if you want to work from home or on the road.
Earn money online by taking surveys
$55,000 might sound crazy … but with a company called Survey Junkie, it's possible to get your share of it every day by taking their simple surveys.
While it might sound strange, these "market research" surveys are a known way to make extra cash online. Of course, they won't make you rich … but if you have some extra free time, the money you earn could be enough to cover gas, groceries, coffee, and more!
Follow these simple steps to get your share of $55,000:
Take surveys.
Repeat daily and get paid!
Sign up here and share your opinion on these companies with simple surveys. Survey Junkie has paid out over $76 million to date.
P.S.: You can cash out with as little as $5 through PayPal or bank transfer, or transfer to gift cards from a number of stores.
Get your share of $55,000 daily by signing up here
Bookkeeper
Remote bookkeeper positions could be a great plan if you have previous experience in finance or accounting. The median annual income for a bookkeeper is $45,560, according to the Bureau of Labor Statistics (BLS).
You may be able to get a job with a company or organization and still work from home. Or you could work freelance, choosing which clients you want to take on. 
A freelance situation can give you more flexibility if you plan to travel or spend time doing other things besides working. Plus, working freelance may help you retire early.
Editor
Use your writing and editing skills to become an editor. The work might entail editing blog posts, social media hits, traditional articles, or internal communications. The median annual income for an editor is $63,350.
You can work either as a freelancer or for a particular company and have some flexibility with your hours depending on your projects.
Tutor
Your years of experience in your field could come in handy, tutoring students to help them learn different subjects or prepare for standardized tests. According to Zippia, the average tutor salary is $33,998.
Tutoring can be done on an hourly basis — the average pay is $16.35 per hour — and you can limit your workday to afternoons and evenings. If a student is taking classes at home, you may also work during the day.
Get out of $10,000 or more in debt
Credit card debt is suffocating. It constantly weighs on your mind and controls every choice you make. You can end up emotionally and even physically drained from it. And even though you make regular payments, it feels like you can never make any progress because of the interest.
National Debt Relief is designed specifically to help you get out of credit card debt faster, without having to make drastic life changes. With National Debt Relief, you could pay off your credit card debt (with potentially way less interest) in one simple monthly payment.
How to get National Debt Relief to pay off your debt: Sign up for a free debt assessment here. (Do not skip this step!) By signing up for a free assessment, National Debt Relief can immediately assist you in paying off your debt, but only if you schedule the assessment.
Insurance agent
Insurance agents work with clients to determine the best home, life, or auto insurance policies. The median annual income for an insurance agent is $49,840.
A job as an insurance agent would be a good option if you enjoy working with customers and understand math and insurance products. You will need a license to sell insurance policies in every state.
Customer service representative
Take calls at home from customers who may need help troubleshooting issues with a product or have specific questions. The median annual income for a customer service representative (CSR) is $36,920.
Customer service can be frustrating at times for both the CSR and the customer, and companies prize employees who can handle difficult situations.
Virtual assistant
Your work in an office could pay off by getting a job out of the office as a virtual assistant. The median annual income for a virtual assistant is $39,680.
Virtual assistants do the jobs of administrative assistants only in a remote setting instead of an office. You can schedule meetings, make appointments and reservations, or fill other needs requested by your clients.
Consulting
Put your years of work to use as a consultant in your particular field for a company, organization, or even an individual client. 
The median annual salary for a consultant is $88,147, according to Indeed.com. The amount you make will depend on the number of hours you work and your specialty.
Consulting work can be done remotely with some organizations. Or you can pick up projects or advise clients on your own, giving you some flexibility with your schedule.
Market research
Help clients develop marketing plans for their businesses. You can conduct market research, follow industry trends, and use data and other information to create a marketing and advertising strategy.
Market researchers can work within a company remotely or on their own. The median annual salary for a market research analyst is $63,920.
Telehealth
Remote medical treatment has become more popular since the COVID-19 pandemic, and your experience in the medical field can help you land a telehealth position.
You may be a nurse who talks to patients before they see a doctor to prepare for initial care. Or, your work as a medical doctor or other medical professional can come in handy as you meet clients remotely to discuss medical issues.
The annual salary for a telehealth worker will vary depending on the position.
Join AARP and double your number of interviews within 60 days
Finding a new job is difficult. But join AARP today, and you'll get access to skill-building courses, a free resume review, and AARP's exclusive job board to help you stand out in the competitive job market.
How to become a member today:
Go here, select your free gift, and click "Join Today."
Create your account by answering a few simple questions.
Start using AARP's job search tools!
An AARP membership unlocks resources that could help you land the perfect role. Plus, you'll get access to tools like The AARP Resume Advisor to supercharge your resume, cover letter, and even your LinkedIn profile.
AARP claims they can help double your number of interviews within 60 days, or they'll rewrite your resume for free.
Important: Start your membership by creating an account here and filling in all of the information (do not skip this step!). Doing so will allow you to take up to 25% off your AARP membership, making it just $12 per year with auto-renewal.
Travel agent
One common goal of retirees is to travel more, and you can help them do that while working remotely as a travel agent. The median annual salary for a travel agent is $43,810.
You can plan flights, hotels, or excursions for particular destinations. And working remotely can include working on the road while traveling to seek out different options for clients. After all, working remotely doesn't always have to mean working from home.
Project manager
Shepherd a project from beginning to end as a project manager while working remotely.
You can work with a team to identify the steps you need to take to start a project, keep employees on track, complete goals and tasks, and give a final report on your project when it's completed.
Project managers are needed in different fields, so feel free to find a position in an area you're comfortable with or use your managerial skills to branch out to a new field. The median annual income for a project manager is $94,500, according to the BLS.
Data entry
Data entry can be a great option if you're good with numbers and usually enjoy working on your own. The average pay per hour is $17.89, according to Indeed.com.
Data entry positions could be a little more lonely than other positions on this list, but you will have some quiet time to get work done while also making money. 
Some data entry jobs may have flexible hours if you want to manage your own time or are looking for a side hustle.
Human resources specialist
A human resources (HR) specialist oversees a variety of issues that affect employees in the workforce. You can find remote positions in the field, especially if you're working with a company whose employees are also remote.
The median annual salary for a human resources specialist is $62,290.
Graphic designer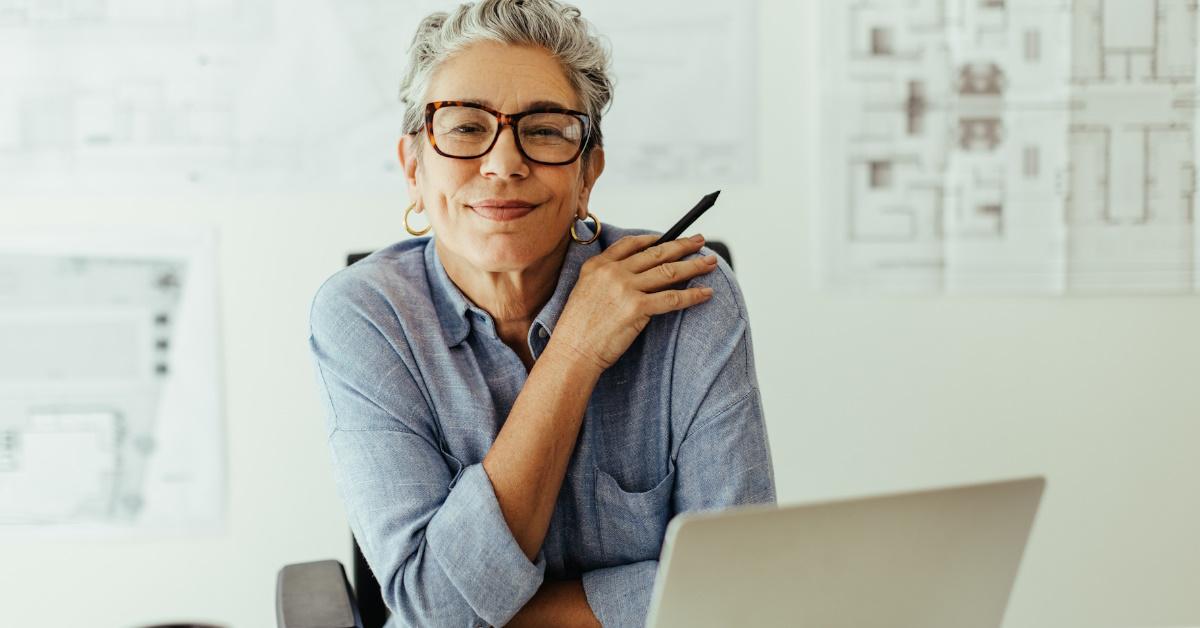 A graphic designer can help clients by creating visually stunning pieces to attract customers or using art and photography to promote a company brand.
Many graphic designers work freelance, which means you cannot only be a remote worker but also decide whom you want to take on as a client, depending on your interests.
The median annual salary for a graphic designer is $50,710, according to the BLS.
Financial advisor
People looking for financial advice may prefer to work with someone with experience managing money in various economic climates. 
Baby boomers who have been through bull and bear markets may be attractive to clients trying to get ready for a recession.
As an advisor, you'll help clients plan for retirement, manage their current budget, and make projections for reaching their financial goals.
You may need to be licensed to be a financial advisor in your state, but it can be worth it: The median annual income for a financial advisor is $94,170.
Bottom line
Remote work can be a great option for baby boomers, especially if your career experience is in demand.
As you prepare for retirement or are already retired, determine if you need to make a specific amount of cash to be prepared financially for everyday expenses and once-in-a-lifetime adventures.
If you are already retired but have not yet reached full retirement age, be sure to find out how much money you can earn before it will affect your Social Security benefits.
National Debt Relief Benefits
No upfront fees
One-on-one evaluation with a debt counseling expert
For people with $7,500 in unsecured debts and up