Have you ever found an amazing deal on a hotel stay only to discover your total price is hiked up by certain fees? These additional costs are often due to what's known as "resort fees," and they're fairly common in the hotel industry — but that doesn't mean we like them.
In fact, they're the worst and are often seen as deceptive. Hopefully, they won't be around forever. But in the meantime, you could save money by understanding how hotel resort fees work and using different strategies to avoid them.
What's a resort fee?
You find a hotel that's charging $20 to $50 per night and works for your needs. It seems like a fantastic offer until you get further into the booking process and see there's a hefty fee tacked onto each night, which could potentially double the cost of the room. In many cases, this additional fee, whether it's labeled an "amenity fee" or "destination fee," is a resort fee.
Resort fees are a fee that a hotel will include as part of the cost of booking a room. These fees aren't optional, which means you have to pay them if you want to complete your booking. Not every hotel or resort includes these fees, but they're common in touristy areas such as New York City, Miami, and Orlando.
Hotels may claim that daily resort fees cover the costs of hotel amenities, such as internet access or access to the hotel gym. If you think it's strange to include a cost for those items in booking a hotel room, it is.
Free Wi-Fi and gym access are typically included with most hotel bookings that offer these amenities, which often makes mandatory resort fees look like a money grab by hotels. Especially because you're still required to pay resort fees even if you don't or can't use the provided amenities.
How much are resort fees?
Resort fees vary in cost depending on the hotel, location, and other factors. But it's not uncommon to see resort fees of around $40 to $50 per night. However, the total range is typically around $10 to $100 or more per night.
If you've stayed at a hotel on the Las Vegas Strip, you've likely had personal experience with Las Vegas resort fees and how they work. Most hotels on the Strip and the surrounding area charge resort fees for each night you book a room. For example, you might see resort fees of $45 per night at the ARIA, Bellagio, and Vdara. This could drop to $39 per night at the MGM Grand and Mandalay Bay.
If you try a hotel on the Strip that's typically known for cheaper rates, such as Circus Circus, you might be able to snag a room rate of $30 per night. But then the resort fee could be over $36 per night, effectively canceling out the savings you were hoping to achieve.
Keep in mind that resort fees aren't limited to hotels in Las Vegas and can be found worldwide. For example, the Hyatt Regency Boston Harbor, which shows a destination fee, another way of labeling resort fees, of $25.
Are resort fees going away?
Travelers aren't happy with resort fees (check KillResortFees.com) and neither are the attorneys general of the U.S. Both the Marriott and Hilton hotel chains have been involved in lawsuits from different attorney general offices concerning their practices with charging resort fees, specifically with excluding them in their published room rates. This practice of hiding resort fees is often seen as deceptive to customers, because it could make it hard for them to compare room rates.
Pennsylvania Attorney General Josh Shapiro announced on Nov. 21, 2021, that his office reached a settlement with Marriott about disclosing the total price of a hotel stay earlier in the booking process.
Although a bit of good news, this unfortunately doesn't mean that resort fees are going away, but it's a step in the right direction. This process is similar to issues that have come up in the past with airlines and fuel surcharges, including when certain airlines had to pay more than $200 million to customers who overpaid on flights because of these fees.
If hotels continue to have a spotlight on them about their practices involving resort fees, we might see more changes in the future.
How to avoid resort fees
Rather than waiting for hotels to remove their resort fees, which may never happen, it might be in your best interest to be proactive about the situation. By doing some research and carefully preparing, you could avoid resort fees altogether. Here are a few ways to get started.
Earn elite status
Earning elite status with certain hotel loyalty programs isn't always easy, but it's an option for avoiding resort fees with certain hotel chains. For example, World of Hyatt Globalist members receive a waived resort fees benefit on both paid and award nights. And if you're a Gold, Platinum, or Noir MGM Rewards member, your resort fee is waived when booking directly at eligible MGM properties. The same goes for Diamond, Diamond Plus, Diamond Elite, and Seven Stars members within the Caesars Rewards program.
Book award nights
One of the easiest ways to stay at properties that typically charge resort fees (but not have to pay them) is to use points to book an award stay. This is a huge perk for hotel loyalty program members because many customers like to earn points with certain credit cards and then redeem those points for hotel stays. If you compare credit cards, many travel cards offer ways to earn hotel points that can be used for award nights.
The World of Hyatt and Hilton Honors programs are particularly well-known for being able to avoid resort fees on award stays. This is helpful because some of the best hotel credit cards work for Hyatt and Hilton stays.
Stay at hotels without resort fees
Want to avoid resort fees? Consider staying at hotels that don't charge any. This might be easier said than done in certain situations, considering it could be hard to spot resort fees depending on the hotel.
In this case, it could make sense to use a tool such as ResortFeeChecker.com to quickly see whether a hotel charges resort fees. However, it's likely still useful to directly check with any specific hotel you're interested in to see if they have additional fees. These types of fees can typically be seen after you've gone a few steps through the booking process, but before you've made any payments.
Ask for the fee to be waived
In certain circumstances, you might be able to get the resort fee waived if you ask nicely. Yes, good communication skills could save you money on your next hotel stay. This doesn't mean it's always going to work, but it rarely hurts to try, including during the check-in process.
Keep in mind that making a logical argument ‌why your resort fees should be waived won't always be successful, even if you have a valid point. For example, you could argue that a hotel lists pool access as one of the amenities resort fees pay for, but the pool was closed during your stay. Even if you make a logical point and speak with a hotel manager, the actual result is still likely to vary.
FAQ
Is a resort fee refundable?
No, resort fees typically aren't refundable. These are a required cost at many hotels and resorts, which means you'd have to pay these fees when making your booking online or paying for your stay at the hotel. However, you might be able to avoid resort fees by booking award nights, using elite status benefits, staying at hotels without resort fees, or asking a hotel employee to waive the fee.
Why do hotels charge resort fees?
Hotels charge resort fees to make more money. Many hotels that charge a resort fee say that these additional fees are to cover the cost of hotel amenities, which could include access to the fitness center, free Wi-Fi, and the option to make local phone calls from your in-room telephone.
But these amenities are often included at no additional cost at most hotels and resorts anyway, so the charging of resort fees in this manner could be seen as a way for hotels to charge their customers more money.
How does a resort fee affect the price of your hotel stay?
Resort fees typically raise the overall price of your hotel stay. In some cases, a resort fee might cost more than your actual booking rate, which could more than double your overall price. This is particularly true for many Las Vegas hotels, where you might be able to find rooms for as cheap as $29 per night with resort fees of $39.95 per night.
Bottom line
Resort fees stink. They don't typically offer much, if any, value to hotel guests, but they certainly increase your lodging costs. Hopefully, they will become more clear or hotel amenities start offering more value. But if that doesn't happen, you have ways that could help avoid these fees altogether.
One of the most straightforward options is to book your hotel stay using rewards from certain hotel chains. If you want a simple way to earn rewards, check out our list of the best travel credit cards.
Easy-to-Earn Unlimited Rewards
Earn 25,000 online bonus points after you make at least $1,000 in purchases in the first 90 days of account opening - that can be a $250 statement credit toward travel purchases
Earn 1.5 points per $1 spent on all purchases
Longer intro APR on qualifying purchases and balance transfers
No foreign transaction fees
Earn unlimited 1.5 points per $1 spent on all purchases, with no annual fee and no foreign transaction fees and your points don't expire as long as your account remains open.
25,000 online bonus points after you make at least $1,000 in purchases in the first 90 days of account opening - that can be a $250 statement credit toward travel purchases.
Use your card to book your trip how and where you want - you're not limited to specific websites with blackout dates or restrictions.
Redeem points for a statement credit to pay for travel or dining purchases, such as flights, hotel stays, car and vacation rentals, baggage fees, and also at restaurants including takeout.
0% Introductory APR for 15 billing cycles for purchases, and for any balance transfers made in the first 60 days. After the intro APR offer ends, 18.24% - 28.24% Variable APR will apply. A 3% fee applies to all balance transfers.
If you're a Bank of America Preferred Rewards® member, you can earn 25%-75% more points on every purchase. That means instead of earning an unlimited 1.5 points for every $1, you could earn 1.87-2.62 points for every $1 you spend on purchases.
Contactless Cards - The security of a chip card, with the convenience of a tap.
This online only offer may not be available if you leave this page or if you visit a Bank of America financial center. You can take advantage of this offer when you apply now.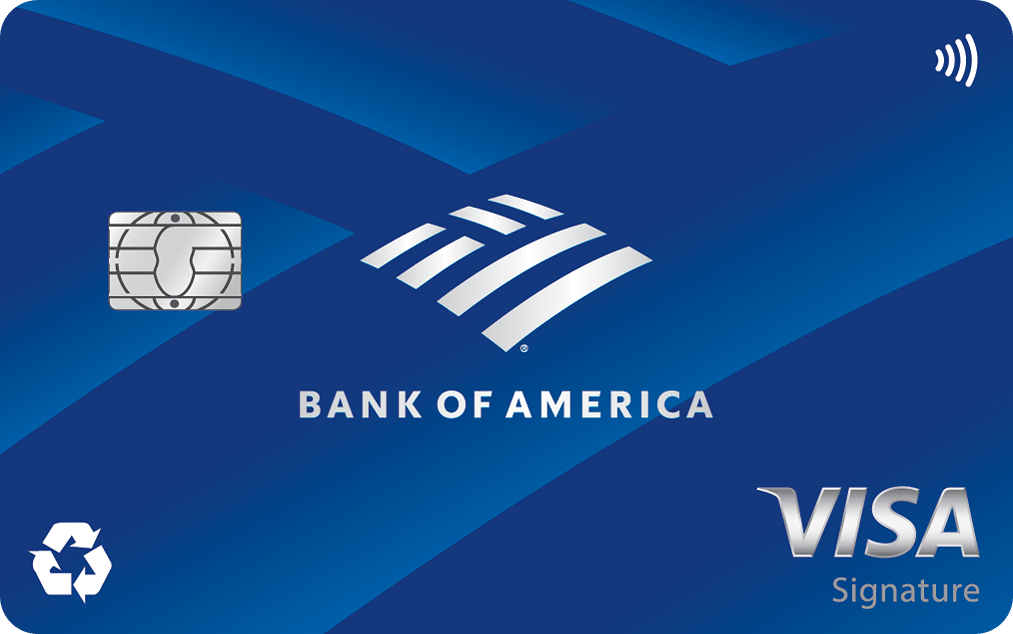 4.1
FinanceBuzz writers and editors score cards based on a number of objective features as well as our expert editorial assessment. Our partners do not influence how we rate products.
Apply Now
on Bank of America's secure website
Read Card Review
Intro Offer
Earn 25,000 online bonus points after you make at least $1,000 in purchases in the first 90 days of account opening - that can be a $250 statement credit toward travel purchases