As hotels continue their battle with competitors such as Airbnb and Vrbo, they are falling under increasing public scrutiny and even legal action because of resort fees. These additional charges are added on top of a room's base price, and are typically levied daily to access the hotel's amenities. Las Vegas is notorious for these sky-high fees, which can easily add $40 or more a night to your bill. Here are some of the ways you can beat those fees, including using the right credit cards.
How Las Vegas resort fees work
With enormous competition from other hotels and non-traditional accommodations like Airbnb, Las Vegas resorts are on the hunt for new revenue streams. And unfortunately, many have turned to resort fees to generate additional income.
Hotels claim that resort fees help cover amenities such as a pool, spa, gym, and Wi-Fi. The exact description varies, but are the same in concept — you're being charged for amenities, even if you have no plans to use them. And these fees have proved lucrative to the hospitality industry, as consumers paid about $2 billion in resort fees in 2015, according to the Federal Trade Commission.
However, detractors argue that these added costs are predatory. The charges are usually mandatory, and leave little room to opt out. Plus, resort fees are often not disclosed until you pay for the room, so hotels can advertise deceptively low nightly rates before springing high fees on consumers at the last moment.
Let's say you're booking a room at Caesars Palace in Las Vegas, and the nightly rate is $90. You plan to stay two nights, and figure taxes will add around $30 to the total price. But it's not until you reach the purchase page and enter your information that you can see the final cost and added resort fees.
In this example, resort fees are $45 a night, adding an additional $90 to your bill — essentially, you're paying for a third night just in added fees. And unfortunately, by the time most people research rooms and are ready to book, they may just throw up their hands and pay it.
Another example is Circus Circus. While it isn't the most luxurious hotel on the Strip, you can get great deals — we found a room for just $19/night. If budget travel is your preference, you can't go wrong with that price. That is, until you hit the confirmation page and you are met with this.
The resort fee costs more than the room's nightly rate, and the booking that should only cost you $22 will now cost you $58 — a whopping 163% increase in price. Plus, you are not only being taxed on the base rate, but you are also being taxed on the $32 daily resort fee as well.
While these fees can be insanely high and the business practice is questionable, there are several ways to avoid Las Vegas resort fees.
How to beat Las Vegas resort fees
1. Stay at a hotel that doesn't charge resort fees
It's simple enough, but avoiding hotels that charge resort fees can be a financial and moral victory against the large casino resorts. Unfortunately, the "iconic" hotels on the Las Vegas Strip do charge added fees, but it's possible to find some that don't. Consider the following locations:
Wyndham Desert Blue
Las Vegas Marriott
Marriott Grand Chateau
Desert Rose Resort
2. Use points to book your room
Using points can be even more valuable in Las Vegas. With many properties, including Hilton and Hyatt brands, you can have resort fees waived completely if you book your entire stay using points. You'll just need to pick the best hotel credit card to get the rewards and perks you want. 
Plus, if you book your stay with the right credit card for Vegas, you can enjoy Sin City with extra perks from your card.
3. Use your elite hotel status
If you're a member of a hotel loyalty program and reach an elite status tier, you could be eligible for waived resort fees.
If you are an avid Vegas visitor, for instance, investing in the Caesars Rewards program could earn you some great rewards — including avoiding resort fees. If you are either Diamond or Seven Stars tier, your resort fees will be waived.
You can earn either of these tiers through gambling or spending on property. However, to reach Diamond or Seven Stars status, you will have to spend a large amount of money.
A much simpler way to achieve Diamond status is to apply for a status match from Wyndham. A status match is simply one reward program applying the equivalent status from a competitor so you can give their brand a try at a similar status level.
You can use your Wyndham status and apply for a status match with Caesar's Rewards to earn Diamond status. Once you reach Diamond status, your resort fees will be waived.
4. See if you can get resort fees comped
If you enjoy gambling, casinos will do nearly anything to keep you spending money. Many times, if you spend enough they will offer rooms and other amenities free of charge. This is also known as "getting comped" — short for complimentary.
Even if you don't gamble enough to get a free suite, you may be eligible for waived resort fees. If you plan to spend moderately on the tables, consider asking the casino hosts if you might be eligible for waived fees.
5. Ask the desk clerk or manager to waive the fee
When it comes to nearly anything in life, one mantra holds true: You don't get what you don't ask for. Adding a kind tone and a smile can work wonders when you are talking to a customer service employee.
As you're checking out, simply ask for the fee to be waived. You might have a greater chance of success if you give a reason why you shouldn't have to pay the fee — perhaps the pool was closed during your stay, the Wi-Fi was really slow, or there was something wrong with your room. While this tactic won't work every time, it doesn't hurt to ask.
6. Dispute the charge with your credit card
If you think you've been unfairly charged added fees and you paid for your room with a credit card, you may be able to have the charges reversed after filing a dispute with your credit card issuer.
You'll usually need to provide a reason why you shouldn't pay the fees — simply not wanting to cover the added costs probably won't be enough. For example, maybe the fees weren't properly disclosed before your card was charged. Or perhaps a hotel advertises "free" amenities, then charges a resort fee to cover them.
You can dispute the charge, provide the required documentation to your credit card company, and they will contact the hotel on your behalf. If the credit card company decides the case in your favor, you could be refunded for the fees.
In my experience, I have been successful in disputing a few resort fees using this strategy. Your credit card company is your advocate, and if you can provide a compelling case to them, you have a good chance of having the fee waived.
How to maximize your travel rewards
The right travel card for you is the one that matches your interests and spending habits, allowing you to earn valuable rewards and travel the way you like — for less. Learn more about these top cards and choose the one that's best for you:
Bottom line
Is spending an extra $40 or more in resort fees that big of a deal? For many people, no. But for some, it can make or break your travel budget. In some cases, you can compare and find the best travel credit card that will help you offset these fees. 
Nonetheless, many take issue with the ethics of resort fees. Hotels advertise one price, and you end up paying much more than you originally estimated — that isn't fair to any consumer.
While we can all feel a bit helpless when it comes to hotel pricing, there are things you can do to fight back. Whether it is engaging yourself politically, earning hotel status, or simply refusing to pay, we encourage you to use your resources to fight deceptive fees.
Easy-to-Earn Unlimited Rewards
Earn 25,000 online bonus points after you make at least $1,000 in purchases in the first 90 days of account opening - that can be a $250 statement credit toward travel purchases
Earn 1.5 points per $1 spent on all purchases
Longer intro APR on qualifying purchases and balance transfers
No foreign transaction fees
Earn unlimited 1.5 points per $1 spent on all purchases, with no annual fee and no foreign transaction fees and your points don't expire.
25,000 online bonus points after you make at least $1,000 in purchases in the first 90 days of account opening - that can be a $250 statement credit toward travel purchases.
Use your card to book your trip how and where you want - you're not limited to specific websites with blackout dates or restrictions.
Redeem points for a statement credit to pay for travel or dining purchases, such as flights, hotel stays, car and vacation rentals, baggage fees, and also at restaurants including takeout.
0% Introductory APR for 15 billing cycles for purchases, and for any balance transfers made in the first 60 days. After the intro APR offer ends, 18.24% - 28.24% Variable APR will apply. A 3% fee applies to all balance transfers.
If you're a Preferred Rewards member, you can earn 25%-75% more points on every purchase. That means instead of earning an unlimited 1.5 points for every $1, you could earn 1.87-2.62 points for every $1 you spend on purchases.
Contactless Cards - The security of a chip card, with the convenience of a tap.
This online only offer may not be available if you leave this page or if you visit a Bank of America financial center. You can take advantage of this offer when you apply now.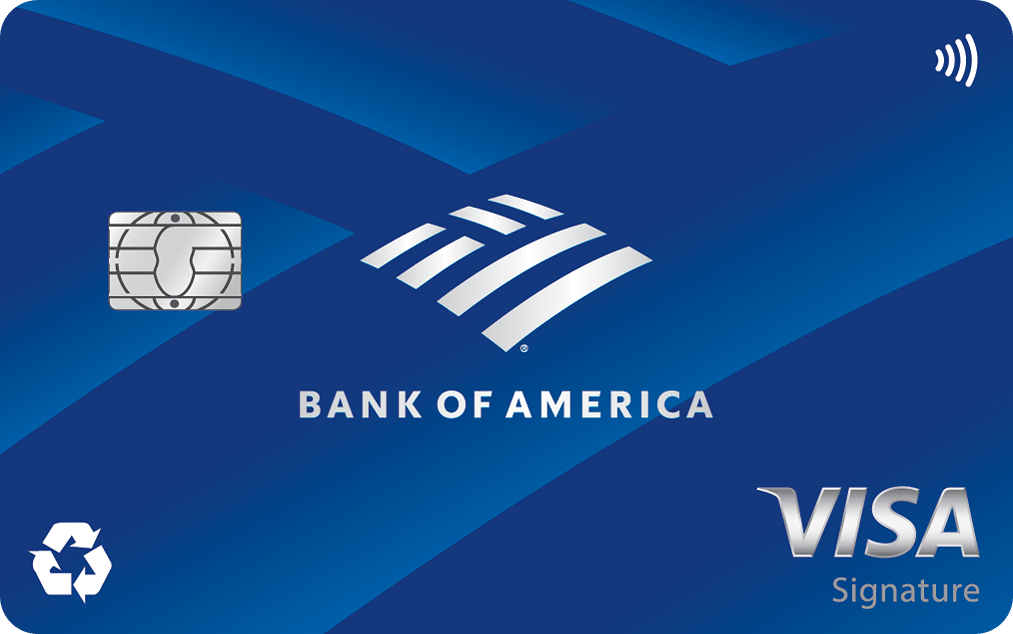 4.1
FinanceBuzz writers and editors score cards based on a number of objective features as well as our expert editorial assessment. Our partners do not influence how we rate products.
Apply Now
on Bank of America's secure website
Read Card Review
Intro Offer
Earn 25,000 online bonus points after you make at least $1,000 in purchases in the first 90 days of account opening - that can be a $250 statement credit toward travel purchases