It's no secret Santa Claus is a pretty incredible guy. He's able to impeccably catalog every single child's name and wishlist all over the world. He runs a tight ship as the CEO of a huge workforce of elves. He responds to millions of letters, he remembers to keep Mrs. Claus happy, and he does it all while maintaining a jolly disposition. Talk about a multitasker.
And, of course, his most accomplished feat is his ability to zip around the world at lighting speed delivering presents.
But did you know Santa's reindeer aren't the only ones who fly him around the world? Santa gets some commercial airline help for the long legs of his journey (and so the reindeer can get a break from all his rustling around the sleigh). He's a savvy shopper, as any good CEO is, and he likes to use his credit card points and miles to cover his trip.
Here's how Santa is using his points and miles to travel around the world this year.
Santa Stop 1: Sydney, Australia to Tokyo, Japan (30,000 points)
According to the infamous Santa-trackers at NORAD, when Santa takes off from the North Pole, he usually travels west of the International Date Line on his flight path. He likes to start his journey by warming up in the sunny South Pacific, and then head "down under."
Once Santa delivers presents in New Zealand and Australia, he's ready to fly north from Sydney to Tokyo — and he's ready to take a little break while flying over the water. So, for this flight, Santa's planning to use 30,000 of his American Airlines AAdvantage miles to fly Japan Airlines (JAL) nonstop.
Because American Airlines and Japan Airlines are both members of the OneWorld Alliance, he can cash out his AAdvantage miles for this flight. Japan Airlines also recently voted as "the world's best economy class." He'll enjoy more legroom thanks to the greater seat pitch compared to other economy seats. To book this flight, all Santa needs to do is search on the American Airlines website and choose the "all airlines" option.

Even though AAdvantage isn't a transfer partner of any flexible travel programs like Chase Ultimate Rewards, it's easy for Santa to rack up the miles he needs. (Needless to say, Santa's business expenses and good financial habits have him rocking his credit score.) He has three different American Airlines co-branded credit cards he uses to earn miles when he buys all the parts his elves need to make toys.
Santa Stop 2: Bangkok, Thailand to Addis Ababa, Ethiopia (37,500 points)
Once Santa's done spreading Christmas joy throughout Asia, he's ready to hop over to Africa. This is about the time the reindeer just want to go super fast and they're tired of Santa tipping the sleigh around. So for this leg of his journey, Santa lets the reindeer loose and he's chosen to use airline miles from Singapore's KrisFlyer program to fly himself from Thailand to Ethiopia.
Because he needs to move quickly, Santa will take a nonstop flight from Bangkok to Addis Ababa. Singapore Airlines and Ethiopian Airlines are partners and both part of the Star Alliance, so he's using 37,500 Singapore Airlines KrisFlyer miles for an economy seat on Ethiopian Airlines. Plus, Santa knows Ethiopian Airlines has earned the honor of being named the "best airline in Africa" for three consecutive years.
Even though Santa doesn't fly Singapore Airlines often enough to build up a bank of miles, it's easy for him to have a large number of KrisFlyer miles at the ready. That's because every major "flexible currency" credit card program is a transfer partner. That means Chase Ultimate Rewards, American Express Membership Rewards, Citi ThankYou Points, Capital One Miles, and Marriott Bonvoy points can all transfer directly into Santa's KrisFlyer account and give him the ability to book partner award flights with all the Star Alliance carriers.
Once Santa has transferred the necessary miles into his account, he just visits the Singapore Airlines website and logs in. He can search for the award flights he's looking for right there, or by calling their friendly North American service line for a $25 fee.
If Santa weren't on such a tight deadline, he could even choose to add a stopover to his ticket for free. That means he could add another city to his itinerary and stay at least 24 hours before he gets on his way. But there's no time for leisurely stopovers at this time of year — Santa's gotta hustle!
Santa Stop 3: Casablanca, Morocco to Moscow, Russia (9,200 points)
After a sweep around Africa, Santa's on the move again. And this time, he's found a great deal on a flight booking that touches four different nationalities and all five "flexible currency" travel rewards programs! As a result, he's taking an eight-hour economy jaunt from Morocco to Moscow for only 11,500 miles.

Santa's using miles from Air France's Flying Blue program to fly Italian carrier Alitalia. Because Air France is part of the SkyTeam airline alliance, Santa can use Flying Blue miles to fly many partners like Delta, Korean Air, KLM, and Alitalia.
And Santa's in luck, because not only do Flying Blue miles provide great value for many routes like this one, but they're also very easy to earn. Santa always makes sure to use the best travel credit cards throughout the year so he has plenty of Chase Ultimate Rewards, American Express Membership Rewards, Citi ThankYou Points, Capital One Miles, or Marriott Bonvoy points to transfer into his Flying Blue account.
This year, he chose to use his American Express Membership Rewards back when he was planning his trip in November, and he got a 25% transfer bonus to Flying Blue. That meant he only needed to transfer 9,200 Membership Rewards to his Flying Blue account to have enough for this flight to Moscow (9,200 x 1.25 = the 11,500 miles needed).
Santa also made sure he had his Flying Blue account set up well in advance of needing to transfer Membership Rewards and book flights. He's heard reports of new Flying Blue accounts getting shut down if they receive points transfers immediately upon opening. He also knows searching for available flights with Flying Blue can be tricky without any miles in his account. With this sort of behavior, Flying Blue is in danger of going on Santa's naughty list — but their deals are so good he's willing to overlook it this time.
Santa Stop 4: Frankfurt, Germany to Chicago, Illinois (110,000 points)
After buzzing all around Europe to spread his Christmas joy, Santa's starting to hit a wall. He's tired, he's cold (he keeps meaning to enclose the sleigh but it just seems like it wouldn't be right), and he's indulged in a little of the Glühwein the German parents left out.
Santa was originally thinking about a Lufthansa flight from Frankfurt to Chicago in economy using 30,000 United miles. Because German carrier Lufthansa and United are both in the Star Alliance, Santa knew he could redeem his United miles for this flight. He likes using his United miles for Luftansa because he knows the fees and taxes will be low.

But now, Santa is dragging and can't stomach an economy seat across the pond. He wants to treat himself and splurge in supreme luxury for the next part of his journey. And he's in luck.
Using 110,000 United miles, Santa is able to make a last-minute booking in Lufthansa First Class. Lufthansa generally only releases space to fly this top-notch product using miles about 14 days in advance, so Santa probably wouldn't have been able to use his miles if he'd tried to book earlier in the year anyway.
On this flight, Santa will get to enjoy a rare whiskey and an expensive cigar in the Lufthansa First Class Terminal, and then he'll be whisked right to the aircraft in a private Mercedes. Once onboard, he'll settle in for a long nap and recharge in a lay-flat bed complete with mattress and temperature-regulating duvet.
Santa Stop 5: Mexico City to Buenos Aires, Argentina (40,000 points)
At this point, Santa is refreshed and ready for the homestretch. After he hits the United States, he's ready to zip down through Central and South America. The reindeer are enjoying that the sleigh is getting lighter and lighter, so they're ready to ditch the old man and make some time. So, Santa's going to use 40,000 Avianca LifeMiles to fly on AeroMexico all the way down to Buenos Aires on his own.
Avianca is the national airline of Colombia, and its reward program is called LifeMiles. But since Avianca is part of the Star Alliance, Santa can use his LifeMiles to book a nonstop flight operated by AeroMexico down to Argentina to finish his journey.
Santa had several options to collect enough LifeMiles to book this flight. He could have transferred his American Express Membership Rewards, Citi ThankYou Points, Capital One Miles, or his Marriott Bonvoy points. But this time, Santa opted to just buy some LifeMiles. That's because back in November, Santa got targeted for an incredible bonus of up to 145% when he purchased miles. For this bonus, the more miles Santa bought, the more he'd save.
If he purchased just enough LifeMiles for this trip, he'd buy 40,000 and get 42,000 free miles in return. But if he wanted to stock up for next year and bought 200,000 miles, he'd end up with a whopping 490,000 miles! In fact, he often sees LifeMiles offer a large purchase bonus throughout the year.
Even though Santa usually prefers not to purchase miles, he knew he was getting a great deal with this bonus. Plus, he knew he wouldn't have carrier surcharges or high taxes added to his ticket either — one of the things he likes best about the Avianca LifeMiles program.
That's a wrap, Santa! (So, how many points and miles did he use?)
After a whirlwind night zigzagging across the globe and delivering presents to more than 500 million houses (yes, half a billion houses!), Santa is spent. He thought about using some British Airways Avios to book a flight on Finnair back to Helsinki (the closest airport to the North Pole). Since British Airways and Finnair are both in the OneWorld Alliance, he knew he could use his Avios.
But since the journey from Buenos Aires back to the North Pole is more than 20 hours with multiple connections, Santa called on his reindeer for the final leg. They zipped him and the sleigh back to Mrs. Claus at the North Pole in record time.
So, in the end, Santa used 226,700 points and miles to travel the world! And that seems like a pretty great deal for all the good boys and girls of the world to get their presents on time.
What we can learn from Santa about points and miles
Phew, what a trip! There are endless combinations of rewards programs and airline carriers for Santa to choose from to create his epic annual journey. Each year, he plots his points and miles flight paths a little differently, always trying to find the best option. But he does have some general guidelines he uses to find all the best deals.
Here are Santa's top tips for nice boys and girls to get the most from their own travels:
1. Do your homework
Santa will be the first to remind you that careful research and planning is the key to any successful points-and-miles trip. Each and every year there are new credit cards, changes to award charts, switching of transfer partners, and fluctuating valuations of points and miles.

If Santa tried to book this year's flights with last year's miles and award charts, his plans could easily ruin Christmas. Make sure to read up on the current best options for the routes you're looking to fly, and make sure you're saving up enough miles for those flights you really want to take.
2. Protect your trip from bad weather complications
If a snowstorm at the North Pole causes Santa to get a late start, all his carefully laid plans for the whole night could quickly go awry. That's why it's so important that he uses the right credit card to pay for his flights or for his fees on award flights.
Santa's top choice for trip interruption or cancellation protection is a Chase Sapphire Card. He knows that even if he only pays a few dollars for taxes on a points award booking, he'll be covered if severe weather delays his flights, or even if he's gotten injured on his sleigh.
Also, if he uses his Chase Sapphire Card to book flights for elves in his immediate family (sometimes he has to fly them in for last-minute toy repairs), their trip will be covered too — even if he's not flying with them.
3. Treat yo' self
Even hard-working Santa agrees: it's okay to splurge on occasion. Give yourself a fantastic gift of premium cabin pampering sometimes, like he did in Lufthansa first class. You've worked hard all year to earn and save up those miles. And because reward programs are always changing, there's a chance the miles you have now will be devalued in the future. That means you're far better off using your points than hoarding your points.
If you're planning a dream trip, why not look at using your miles to fly in first class? By following Santa's lead and exploring foreign carrier programs, watching out for transfer bonuses, and being willing to book last-minute, you can find great value for luxurious seats.
Bottom line
Stay off Santa's naughty list by following his travel tips. Have fun while you're planning your next big trip, and try not to let holiday travel stress you out. If you do your research and you're open to exploring airline programs you're not familiar with, you can maximize your points and miles to travel anywhere you'd like to go — just like Santa!
Easy-to-Earn Unlimited Rewards
Earn 25,000 online bonus points after you make at least $1,000 in purchases in the first 90 days of account opening - that can be a $250 statement credit toward travel purchases
Earn 1.5 points per $1 spent on all purchases
Longer intro APR on qualifying purchases and balance transfers
No foreign transaction fees
Earn unlimited 1.5 points per $1 spent on all purchases, with no annual fee and no foreign transaction fees and your points don't expire as long as your account remains open.
25,000 online bonus points after you make at least $1,000 in purchases in the first 90 days of account opening - that can be a $250 statement credit toward travel purchases.
Use your card to book your trip how and where you want - you're not limited to specific websites with blackout dates or restrictions.
Redeem points for a statement credit to pay for travel or dining purchases, such as flights, hotel stays, car and vacation rentals, baggage fees, and also at restaurants including takeout.
0% Introductory APR for 15 billing cycles for purchases, and for any balance transfers made in the first 60 days. After the intro APR offer ends, 18.24% - 28.24% Variable APR will apply. A 3% fee applies to all balance transfers.
If you're a Bank of America Preferred Rewards® member, you can earn 25%-75% more points on every purchase. That means instead of earning an unlimited 1.5 points for every $1, you could earn 1.87-2.62 points for every $1 you spend on purchases.
Contactless Cards - The security of a chip card, with the convenience of a tap.
This online only offer may not be available if you leave this page or if you visit a Bank of America financial center. You can take advantage of this offer when you apply now.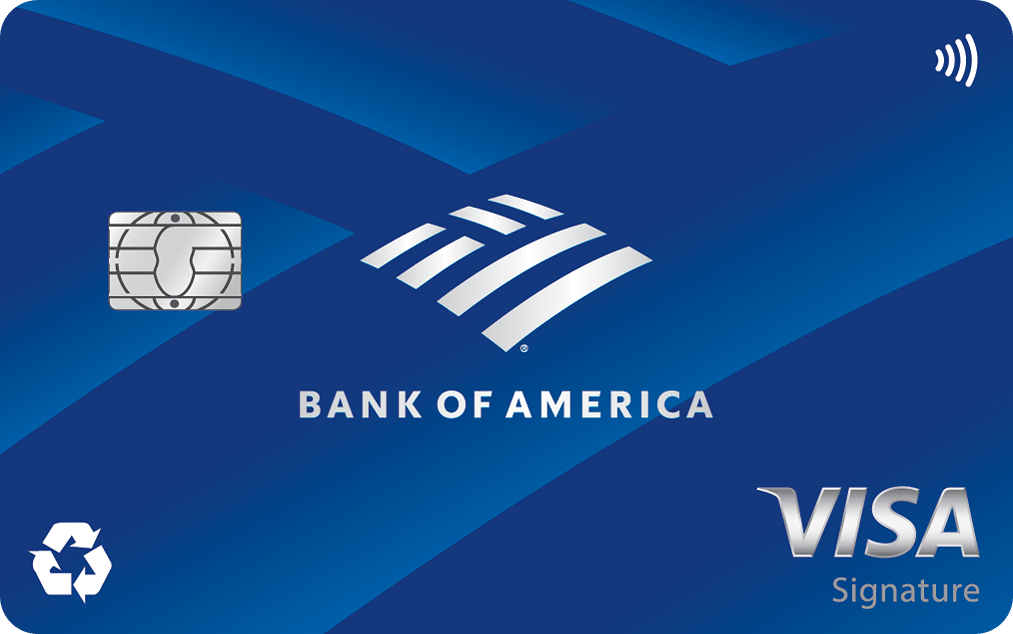 4.1
FinanceBuzz writers and editors score cards based on a number of objective features as well as our expert editorial assessment. Our partners do not influence how we rate products.
Apply Now
on Bank of America's secure website
Read Card Review
Intro Offer
Earn 25,000 online bonus points after you make at least $1,000 in purchases in the first 90 days of account opening - that can be a $250 statement credit toward travel purchases