Before we became full-time digital nomads, my wife and I avidly traveled for four years and never had any major travel hiccups. But once we turned nomad, we knew it was bound to happen.
Recently, we were trying to fly from Queenstown, New Zealand, to Melbourne, Australia. Because of a storm, all flights were canceled for 24 hours. Customer service at the airport was kind enough to rebook us on a new flight for the next day. However, they also informed us that we would be responsible for the out-of-pocket costs for hotel and food since the cancellation was due to a weather event.
While we were able to use hotel points for the additional night, we unfortunately had to incur other small costs. The expense wasn't a back-breaker by any means, but I wouldn't have had to spend a penny had I just used the right credit card with travel insurance when I booked my trip to begin with.
Using the right credit card is one simple way to make travel delays easier. As my wife and I have been traveling full time for a few months now, we've learned a few strategies that can work for you as well. In this article, I'll share my six best tips on how to deal with weather delays.
Plan ahead by assuming the worst will happen
When you travel somewhere, weather is predictable to an extent. If you travel to Boston in December, you know there could easily be delays because of snow. Florida in September could have delays because of tropical storms. So be sure to do some homework ahead of time on how the weather at your particular airport can impact flights.
To search historical data on flight delays due to weather, you can look at the information provided by the Bureau of Transportation Statistics. Their reports give you the option to select by airport and time period. While the past can't always reflect the future, it can give you reasonable data to see if a weather delay is likely to happen.
If you have the flexibility of selecting from multiple airports, you may want to consider your options as delays cost passengers billions of dollars, and some airports are more prone to delays than others. You can cross-reference airport delay info with the BTS reports linked above to learn which airports you might best avoid and which might be better choices.
Lastly, if the weather looks "iffy" on your day to fly, it's a good practice to track your flight. There are plenty of free services, including FlightStats, to keep track of your flight. Using this as your flight time approaches can give you an idea of how things are going before you head to the airport. If you see that your flight is delayed, it can allow you time to start making alternate plans. And if your flight is severely delayed (3+ hours), you can possibly hold off on heading to the airport altogether.
Be ready for the airline to not do much to help you
When it comes to a matter such as weather, there isn't much anyone can do, especially the airlines. And we, as travelers, have to remember that the weather isn't their fault.
Unfortunately, your only recourse with the airline will typically be to get a full refund of the cost of your ticket. The airline will also typically assist you in booking a new flight and finding alternate accommodations, but it will not pay for any additional costs incurred because of the cancellation.
Keep in mind that if the desk agents are faced with assisting everyone on the canceled flight, you could potentially be in a long line with all the other passengers. If the line is looking very long, your best bet may actually be to just call your airline's customer service number. Once on the line, the customer service representative should be able to get you on the next available flight.
Things will go better for everybody if you're nice
No one enjoys having their travels interrupted. However, the weather is not the fault of the airline employees either. We have all seen the unfortunate viral videos of airline employees getting verbally abused by passengers, and no one deserves to get treated this way. Especially for a situation completely out of their hands such as a weather cancellation.
When our weather delay happened in New Zealand, of course I was bummed. Not only were we having to shell out money, but we were only able to spend about 48 hours in our destination of Melbourne because of the change in plans. But I still spoke with the airline staff with courtesy and they were able to assist me with a new flight. They even bumped us up to a premium economy for being so understanding.
The famous travel documentarian Anthony Bourdain once said, "Travel isn't always pretty. It isn't always comfortable. Sometimes it hurts, it even breaks your heart. But that's okay." I don't think he was specifically referring to weather delays, but the quote still works, in my opinion.
Travel delays are never convenient and never fun, but it is good practice to remain calm and work out your options rather than letting your thoughts and emotions spin out of control. You can write down on your phone what your new itinerary might be, and the tasks you now need to complete. Also, don't forget to make the necessary phone calls to the people who may be expecting you. Whether those people are co-workers, family, or friends, they will appreciate the notice and knowing that you are under a weather delay.
And even if you get frustrated and tired, keep in mind that you will get to your destination eventually — it just may not be in the timeframe you imagined.
If things start looking bleak, start making alternate plans
If the weather reports aren't promising, and it looks like your travel timeframe could be a long one, then start making plans to stay put where you are. This is where points and miles can really come in handy.
My wife and I were able to use Hilton Honors points for our one-night stay in Queenstown, New Zealand, and we did our best to make the most of the unfortunate situation. Situations such as this is why it is always good to have some hotel points handy. The way I look at it is you won't always need a flight, but you always need somewhere to sleep each night.
If you don't have any hotel points to spare, it is best to start picking up the phone and calling hotels. If you ask for a manager and describe the situation, they may be kind enough to offer you a deal on a room.
If the airline does not help you rebook a flight, then jump on ExpertFlyer. You will be able to see flights that may work with your new schedule, and you can start calling the airlines. Remember, you may be among a lot of people trying to rebook, so make this move quickly if you can. When you're booking a flight at the last minute, chances are you will be facing a sky-high price. But if you explain your situation to the new airline, they may be willing to offer you a better price.
Always book your flights with the right credit card
My biggest mistake in my situation was that I booked our flights on the wrong credit card to begin with. Since I acquired The Platinum Card® from American Express a while back, I have been booking all my flights with it since I earn 5X points per dollar spent on eligible airfare (on up to $500,000 per calendar year, after that 1X) and eligible hotel purchases, and 1X points per dollar on all other eligible purchases.
But while The Platinum Card® from American Express is one of my all-time favorite rewards cards, it couldn't help me in my weather-delay situation because it does not have trip cancellation/interruption insurance. To add insult to injury, American Express announced shortly after my experience that they would be adding this insurance to the Amex Platinum benefits.
Trip cancellation and trip interruption insurance are benefits that select credit cards provide for customers that protect them in case their trip is canceled or interrupted by something out of their control, such as illness or weather. These policies can help cover costs such as airfare, hotel, food, and other unexpected expenses. In my case, had I used a card with these coverages, I would not have had to use my hotel points, nor would I have had to pay for food, an additional day of my rental car, gas, and parking.
There are a number of credit cards with travel insurance available. After my experience, I highly recommend you not only keep one of these in your wallet, but you should also use it to book your travels. Especially if your weather research tells you you're traveling to a risky location.
| | | |
| --- | --- | --- |
| Card name | Insurance details | Bonus offer |
| Chase Sapphire Reserve® | Up to $10,000 per covered trip and a maximum limit of $20,000 per occurrence. A maximum benefit amount per 12-month period of $40,000. | Earn 60,000 bonus points after you spend $4,000 on purchases in the first 3 months from account opening |
| Chase Sapphire Preferred® Card | Up to $10,000 per covered trip and a maximum limit of $20,000 per occurrence. A maximum benefit amount per 12-month period of $40,000. | Earn 60,000 bonus points after you spend $4,000 on purchases in the first 3 months from account opening |
| The World of Hyatt Credit Card | Up to $5,000 per trip for your pre-paid, non-refundable travel expenses. | Earn up to 60,000 bonus points: 30,000 points after you spend $3,000 on purchases in your first 3 months from account opening, plus up to 30,000 more bonus points by earning 2 points total per $1 spent in the first 6 months from account opening on purchases that normally earn 1 bonus point, on up to $15,000 spent |
The Chase Sapphire Preferred and Chase Sapphire Reserve are some of the best travel credit cards to book travel with as they provide extensive coverage in case something unfortunate happens. However, the cards each have their own distinct features and annual fees, so it's a good idea to compare the Chase Sapphire cards to see which fits you best.
The World of Hyatt Credit Card is unique when compared to other hotel credit cards because it offers travel insurance. Many hotel credit cards do not offer travel insurance. It will give you up to $5,000 coverage on travel that goes awry. This coverage is typically suitable for someone who isn't booking expensive travel as $5,000 may not cover everything if you're more of a luxury traveler or have extensive travel planned.
If travel credit cards aren't for you, get travel insurance
If a credit card doesn't feel like the best coverage option for you, then your best bet may be to purchase a travel insurance policy before you go on your trip. Travel insurance is just like any other insurance policy — you are concerned that something will happen that will interrupt your travel itinerary, so you're willing to pay some money upfront so the insurance company will cover any unexpected expenses.
There are many different features to keep an eye out for when selecting travel insurance coverage. Your insurance may or may not cover the following:
Trip cancellation/interruption: As we discussed above, this covers the cost of any incurred expenses if something comes up (i.e., illness, weather, natural disaster) and your trip is either delayed or completely canceled.
Baggage and personal belongings: If your baggage is lost, stolen, or damaged, your items can be covered.
Emergency medical assistance: If you find yourself needing medical assistance because you are ill or get injured, travel insurance can assist.
Rental cars: If your rental car is damaged, rental car coverage can kick in to cover the costs. Keep in mind there are different types of rental car coverage, so take a look at what a policy covers and how much the coverage is for.
Accidental death and dismemberment: Hopefully you never have to use this part of a travel insurance policy. But if you die or are injured to where you lose a bodily function, your insurance can cover this.
A specific trip versus a specific period of time: If you travel once per year, you might select a policy that will only cover you for that trip. However, if you travel regularly, you might purchase a policy for a specific period of time. It will then cover all your travel from the start of the policy to the end.
There are many different insurance agencies that offer policies ranging from minimal coverage to maximum coverage. Some of the most popular travel insurance agencies are:
If you want to compare a bunch of different policies side by side, you can use tools like AardvarkInsure or InsureMyTrip.
Bottom line
Unfortunate weather situations will likely occur for all of us at least once in all our travels. It could mean a long delay or even a complete cancellation of our plans. With the large amount of money you invest in flights, accommodations, excursions, rental cars, and other expenses, it's a great idea to make sure those costs can be recovered if something happens that is out of your control.
In short, please do not make the same mistake I did. If you invest a decent amount of money into your travels, selecting a credit card with travel insurance could pay for itself with one weather delay.
Easy-to-Earn Unlimited Rewards
Earn 25,000 online bonus points after you make at least $1,000 in purchases in the first 90 days of account opening - that can be a $250 statement credit toward travel purchases
Earn 1.5 points per $1 spent on all purchases
Longer intro APR on qualifying purchases and balance transfers
No foreign transaction fees
Earn unlimited 1.5 points per $1 spent on all purchases, with no annual fee and no foreign transaction fees and your points don't expire as long as your account remains open.
25,000 online bonus points after you make at least $1,000 in purchases in the first 90 days of account opening - that can be a $250 statement credit toward travel purchases.
Use your card to book your trip how and where you want - you're not limited to specific websites with blackout dates or restrictions.
Redeem points for a statement credit to pay for travel or dining purchases, such as flights, hotel stays, car and vacation rentals, baggage fees, and also at restaurants including takeout.
0% Introductory APR for 15 billing cycles for purchases, and for any balance transfers made in the first 60 days. After the intro APR offer ends, 18.24% - 28.24% Variable APR will apply. A 3% fee applies to all balance transfers.
If you're a Bank of America Preferred Rewards® member, you can earn 25%-75% more points on every purchase. That means instead of earning an unlimited 1.5 points for every $1, you could earn 1.87-2.62 points for every $1 you spend on purchases.
Contactless Cards - The security of a chip card, with the convenience of a tap.
This online only offer may not be available if you leave this page or if you visit a Bank of America financial center. You can take advantage of this offer when you apply now.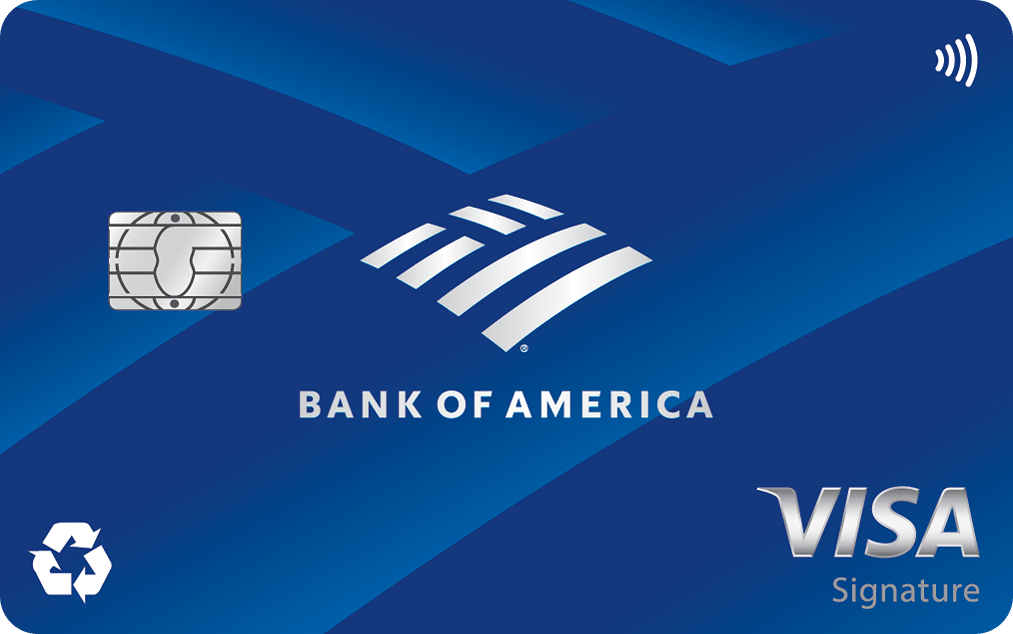 4.1
FinanceBuzz writers and editors score cards based on a number of objective features as well as our expert editorial assessment. Our partners do not influence how we rate products.
Apply Now
on Bank of America's secure website
Read Card Review
Intro Offer
Earn 25,000 online bonus points after you make at least $1,000 in purchases in the first 90 days of account opening - that can be a $250 statement credit toward travel purchases