Flying is amazing, but there are tips and tricks that could make your travel experience even better. This includes knowing which seat to choose on a flight after you've made your booking. Why is this important?
Because not every seat is created equally, and you want to make sure you avoid the worst seats on the plane while hopefully finding yourself in one of the best seats. Especially if you booked a first-class or business ticket.
Fortunately, in a world of apps changing how we bank and apps changing how we invest, we also have apps changing how we fly. With SeatGuru, you get a free and easy-to-use resource for checking seat maps and other important airline information before you fly. Let's see how it works.
What is SeatGuru?
SeatGuru is a website that offers free services for finding information about specific airlines and the planes in their fleets. This includes seeing the exact aircraft types in a fleet, how many seats are on each plane, what type of seating is available, in-flight amenities, and more.
For travelers who like to compare credit cards and find the best ways to maximize their travel experiences, this type of tool could help you feel like you're getting the most out of your flights — and out of your money.
The company was founded in 2001 by Matthew Daimler, who is now the senior vice president of product at Zillow. The SeatGuru website was born out of a frustration Daimler had with experiencing vast differences between his airline seats whenever he flew. So he decided to collect information about seating charts across different airlines and planes and share it with other travelers.
SeatGuru was purchased by the travel website Tripadvisor in 2007 and has amassed more than 10 million visitors since its creation.
How does SeatGuru work?
The main attraction of SeatGuru for most travelers is being able to quickly and easily see the best and worst seats on a plane. This could be useful whether you paid cash for a flight or are using points for a free flight. You want to get your money's worth for the experience, which includes knowing which seats to go for and which to avoid.
SeatGuru shows you seat maps of different planes from different airlines, along with a slew of other helpful information. The website is relatively simple and easy to navigate, though it might help knowing what some of the information means if you're new to SeatGuru.
Here's a breakdown of how SeatGuru works, separated into the type of information you can find:
Seating details
Pulling up an airplane seat map will give you loads of information, including a small box labeled, "Seating details." This is where you'll find helpful data about the specific seats on the plane, including:
Seat classification: The type of seating available on the plane, separated by fare class. This includes economy, first class, business, and other classes.
Number of seats: How many seats of a particular class are available on the plane. For example, a plane might show 28 first-class seats, 78 premium economy seats, and 258 economy seats.
Pitch: The distance from a seat to the seat in front or behind it is often used as a good measure of how much space, in inches, you should have between seats.
Width: How wide a seat is in inches.
Bed length: If a seat converts into a bed, this is how long the bed is in inches.
Seating details: A small description of the type of seat. For example, a first-class seat might be labeled as a "flat bed seat" if it can convert into a bed. Most economy seats are labeled as a "standard seat."
Color-coded seats
SeatGuru employs a color-coding system of green, yellow, and red to give you an indication of the seat quality. According to the "seat map key" here are what the different colors mean:
Green: Often one of the best seats on the plane, at least in the applicable seat class (a non-green seat in first class is still likely better than a green seat in economy, for example). These seats often have more legroom or another benefit over other seats in the same seat class.
Yellow: A seat you should be aware of because it may be close to lavatories or the galley or is prone to being bumped into by other passengers or the drink cart.
Red: This is likely a bad seat. The seat probably has multiple issues, which could include not being able to recline as much as other seats and being close to a lavatory or galley.
If you see a seat on the seat map that doesn't have a green, yellow, or red seat then it should just be a standard seat that has no additional benefits. But there's also nothing particularly wrong with it either.
Seat descriptions
If you hover over any seat on the map, you'll see a description of that specific seat. Most of these descriptions won't be very detailed because most seats on a plane are standard seats with no additional benefits or things to worry about. But if you hover over one of the green, yellow, or red seats, you'll get additional information as to why the seat has that color.
For example, a green-coded seat could be green because it has extra legroom. But this could be because there's no seat in front of it, which means you also don't get any floor storage and the tray table and in-flight entertainment might be located in your armrest. Looking over these seat descriptions gives you the bigger picture about a seat and can help you make a final decision on whether you want to sit in a specific location.
In addition, consider looking at the "Featured user comments" section to see user seat reviews. Many of these comments go into more detail about experiences from actual users who have flown in these specific seats.
Seat comparison charts
If you haven't yet booked a flight and want to do some research on seating options with different airlines, consider the SeatGuru comparison charts. These charts give an extensive breakdown of the seat types available on aircraft from loads of airlines.
You can look at the list of seats by using sortable charts. SeatGuru has six different charts to choose from based on your fare class and how far you're flying, from short-haul economy class to long-haul first class. Once you choose a chart, you get a list of airlines and seats that can be sorted according to your preferences.
Here are the sorting options:
Airline
Aircraft with seat map
Seat pitch
Seat width
Video type
Laptop power
Power type
Wi-Fi
Seat type
Let's say you quickly want to see which airlines and aircraft have the seats with the most seat pitch (distance from a seat to the seat in front of or behind it). You simply click on the "seat pitch" column header and the chart will sort by pitch, from highest to lowest. Or if you want to see which airline has all the flat-bed seats, click on the "seat type" column header and then scroll down to the flat beds. Repeat this process for any of the other available sorting options.
If you've been saving up points and miles by using the best travel credit cards, these charts can help you plan which airline and aircraft to use so you can get the most value out of your rewards.
Pro tip: If you're not sure which rewards credit card is the best for you, start by checking out the Chase Sapphire Preferred or The Platinum Card® from American Express.
Other information
If you're looking at a seat map on SeatGuru, you'll notice a lot of additional information scattered around the page. Here are a few areas that could be helpful:
Overview: This gives a helpful overview of the aircraft as it pertains to the specific airline. The same type of aircraft on different airlines could have a different seat map. This overview could also help if you're trying to identify a certain aircraft type during the booking process.
In-flight amenities: This let's you know what types of amenities to expect on the aircraft and in particular seats. This includes audio and video capabilities, as well as power, internet, and food availability.
Traveler photos: If you want to see how the in-flight entertainment screen looks or just get a general idea of the cabin layout, these user-submitted photos could help.
Helpful tabs: To the left of the seat map, you'll find a list of options, including "Check-in," "Baggage," "Infants," and more. If you click on any of these, you'll see useful information pertaining to the item you clicked. For example, the infants tab will let you know whether certain children are required to have their own seat or if they can ride on your lap. The baggage tab will give you information for carry-ons, checked baggage, and overweight baggage.
Popular airlines
SeatGuru has information about plenty of popular airlines, but you won't find seating info for every airline because not every one publicly releases that information. However, SeatGuru has information on 175 airlines, including:
Aeromexico
Air Canada
Alaska Airlines
American Airlines
All Nippon Airways (ANA)
British Airways
Cathay Pacific Airways
Delta Air Lines
Emirates
Frontier Airlines
Hawaiian Airlines
JetBlue Airways
Lufthansa Airlines
Qantas
Singapore Airlines
Southwest Airlines
Spirit Airlines
TAP Air Portugal
WestJet Airlines
United Airlines
An example of how to use SeatGuru
You have two ways to research good seats for an upcoming trip:
Input your airline, flight date, and flight number
Manually browse the different plane models
If you already booked a flight, you'll likely want to input your flight number (most people would probably search this way). But if you have an idea for upcoming travels and want to research different options, you might look at seating maps across different planes and airlines.
How to use SeatGuru to browse seats by inputting your flight number:
1. Navigate to the SeatGuru.com homepage and input your airline, date of your flight, and flight number. This information is typically found in your flight itinerary, which is often sent to your email or available in your airline loyalty program account. Once you've input your flight information, click the "Find" button.
2. Scroll down to see the results of your search and click on "View map."
3. You should now see the seat map for your flight. Keep in mind that some aircraft have multiple seat plans, but you can check the different versions by selecting between the layout options on the left.
4. Now it's time to find your best seat option. Look over the seating details so you know what types of seats are available, as well as their pitch and width dimensions. Typically the higher the pitch and width numbers, the better the seat.
5. If you have already chosen a fare class, check the seat map to see the seat options for that area of the plane. Here's what the premium economy and part of the economy area look like on this flight.
Note: Use the seat map key to decode the colors and symbols on the seat map. In general, green is good, yellow is caution, and red is bad.
6. Hover over a seat to see additional information. This can be helpful because even a green seat might have potential negative qualities, such as not having any floor storage.
7. Other information, such as traveler photos and in-flight amenities, can also be helpful for getting a better understanding of what the seating looks like and what amenities are available.
As you can see, you get loads of information about specific airlines, their aircraft, and the seats on the aircraft. If you explore the website a bit more, there's even more to discover.
Pros and cons of SeatGuru
SeatGuru is an amazing resource for travelers who want the best possible flying experience, but it's fair to say it has a few drawbacks as well.
Pros
Detailed: It's often surprising how much information is available on SeatGuru, including info you may not have known was important, such as different layouts of the same type of plane. For any interested traveler, the available information can be extremely helpful.
Simple and easy: There's nothing too difficult about navigating and using SeatGuru. Simply plug in your flight information or manually find an aircraft and you'll be browsing seat maps in no time.
Free: There's no cost to use SeatGuru other than your time.
User-driven: Getting constant feedback from SeatGuru users helps keep seat information fresh and updated. It also doesn't hurt to see traveler photos of the plane interiors.
Cons
New information: SeatGuru might not always have the newest information. For example, a new type of aircraft that isn't yet in service with a particular airline might not be updated on SeatGuru. You might also not find information about brand new airlines on SeatGuru.
User comments: It's helpful to have comments about specific seats from users, but everyone has their own preferences, so user comments might not be as objective or useful as you would hope.
Inaccurate information: SeatGuru displays a lot of information and sometimes it can be incorrect, which could include certain seat details. If you know something is wrong, be sure to shoot SeatGuru a message so it can be updated.
How to sign up for SeatGuru
You don't technically have to sign up for SeatGuru to use it. If you navigate to the website, you're able to immediately input flight information and look at seat maps, as well as use the other features of the site.
You do have the option to sign up for the SeatGuru newsletter, either through a pop-up as you're navigating the website or on the travel tips page at the bottom. Just enter your email in the box and click "Sign up" to receive travel tips from SeatGuru.

FAQs about SeatGuru
How accurate is SeatGuru?
SeatGuru is typically very accurate with its airline and aircraft information, including details about the seats on different planes. You might encounter an error here or there, which is to be expected because the website is run by humans and contains a lot of user-generated information. If you do find an error, let SeatGuru know to correct it. If you want to double-check data from SeatGuru, consider visiting airline websites and verifying the information there.
Is there a SeatGuru app?
SeatGuru advertises a mobile app on its website, but you can't seem to actually download one on your phone. However, SeatGuru is mobile-friendly and can work on a phone browser, such as Safari or Chrome.
What are the best seats on a plane?
The best seats on a plane are typically ones you pay more money for, such as business class, premium economy, and first class. Apart from this, it's generally best to be seated away from airplane lavatories, galleys, and bars if you don't want the additional noise or intrusion.
In some cases, seats near exit rows can offer more legroom than other seats. However, getting an aisle or window seat or being seated near the front of the plane are all personal preferences, which may not be the same for everyone.
What are the worst seats on a plane?
The worst seats on a plane are typically middle economy seats, seats situated all the way at the back of the plane, and seats near lavatories, galleys, or bars. Middle seats can be uncomfortable because you can't stretch out as much. Seats at the back of the plane may not have as much space to recline. And seats near lavatories, galleys, or bars may be noisier and be distracting because of lights.
Bottom line
SeatGuru is free, has plenty of detailed information, and is easy to use. If you want to get the best bang for your buck with your hard-earned travel rewards or cash, use SeatGuru to find the best seat in the house (plane).
If SeatGuru isn't exactly what you're looking for, you have a couple other options in SeatLink and ExpertFlyer. SeatLink has a lot of information about certain airlines and seat maps, but the user experience is slightly disappointing because of the ads. ExpertFlyer costs money if you want to unlock its best features.
Easy-to-Earn Unlimited Rewards
Earn 25,000 online bonus points after you make at least $1,000 in purchases in the first 90 days of account opening - that can be a $250 statement credit toward travel purchases
Earn 1.5 points per $1 spent on all purchases
Longer intro APR on qualifying purchases and balance transfers
No foreign transaction fees
Earn unlimited 1.5 points per $1 spent on all purchases, with no annual fee and no foreign transaction fees and your points don't expire as long as your account remains open.
25,000 online bonus points after you make at least $1,000 in purchases in the first 90 days of account opening - that can be a $250 statement credit toward travel purchases.
Use your card to book your trip how and where you want - you're not limited to specific websites with blackout dates or restrictions.
Redeem points for a statement credit to pay for travel or dining purchases, such as flights, hotel stays, car and vacation rentals, baggage fees, and also at restaurants including takeout.
0% Introductory APR for 15 billing cycles for purchases, and for any balance transfers made in the first 60 days. After the intro APR offer ends, 18.24% - 28.24% Variable APR will apply. A 3% fee applies to all balance transfers.
If you're a Bank of America Preferred Rewards® member, you can earn 25%-75% more points on every purchase. That means instead of earning an unlimited 1.5 points for every $1, you could earn 1.87-2.62 points for every $1 you spend on purchases.
Contactless Cards - The security of a chip card, with the convenience of a tap.
This online only offer may not be available if you leave this page or if you visit a Bank of America financial center. You can take advantage of this offer when you apply now.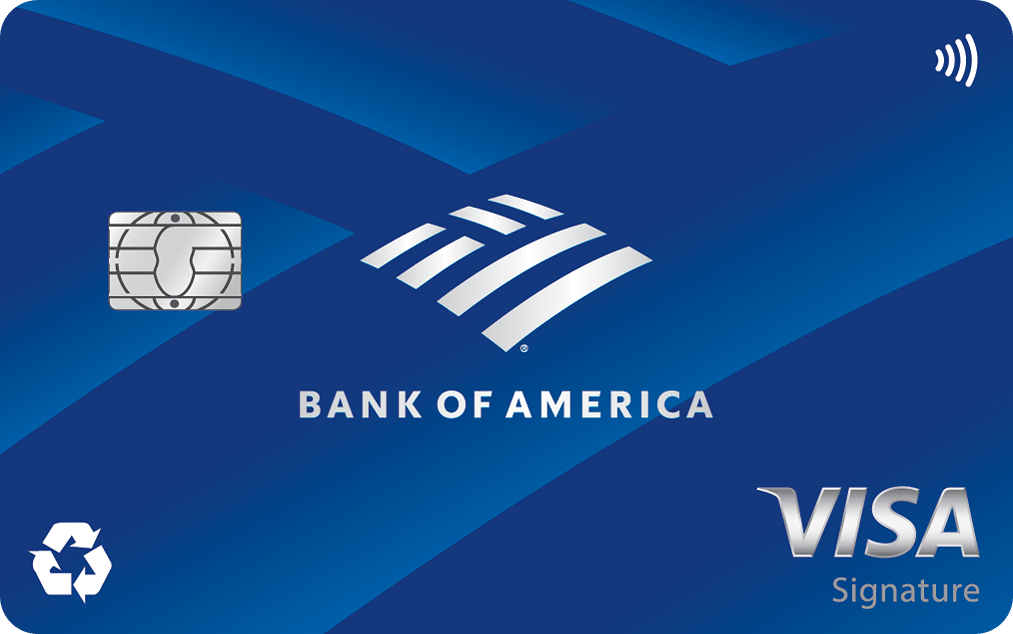 4.1
FinanceBuzz writers and editors score cards based on a number of objective features as well as our expert editorial assessment. Our partners do not influence how we rate products.
Apply Now
on Bank of America's secure website
Read Card Review
Intro Offer
Earn 25,000 online bonus points after you make at least $1,000 in purchases in the first 90 days of account opening - that can be a $250 statement credit toward travel purchases