Flight attendants have a unique opportunity to learn the best practices when it comes to air travel. Naturally, many have a few tricks up their sleeves for making flights more enjoyable, smoother, and even cheaper.
From secrets for getting rid of jet lag quickly to when you should be avoiding airplane food, here are 13 flight attendant secrets every savvy traveler should know.
Book an early flight
If you're heading to a popular destination that offers multiple flights throughout the day, if flying early is an option, you should take it.
If you book the first flight of the day and something goes wrong — like a delay or even a canceled flight — you're more likely to be able to rebook for a later time that day.
Flying out early also often means you get more time to spend at your destination.
They hate delays as much as you do
Flight delays are annoying, but passengers should remember that flight attendants are in the same boat.
A delayed flight is likely messing up their schedule and plans as well — so it's best not to blame the crew on board when things go awry.
Passengers should also feel comfortable asking flight attendants for more information if there's a delay.
There's no reason for them to lie to you, and they may be able to help direct you to the right place if you need to rebook or some other accommodation.
Take a quick nap to beat jet lag
There are plenty of old wives' tales about the best way to beat jet lag — but seasoned flight attendants say a quick power nap (think under an hour) may be your best bet.
If you're switching time zones and you just don't think you can stay awake until night at your new destination, a power nap could give you an extra burst of energy — without disrupting sleep later on.
Upgrades aren't random
It's every traveler's dream to get a day-of upgrade to a seat with more legroom or even a coveted spot in first class. But these onboard upgrades are few and far between — and they're not random.
Typically, upgrades happen before you board the plane and the crew will have a list of which passengers should be offered the spots. The passengers on the list are typically those with elite frequent flyer status with the airline.
They don't eat in-flight meals
While you may be pleasantly surprised with your in-flight meal now and then, the meals offered tend to be underwhelming. Many flight attendants even pack their own meals.
Passengers hoping to eat healthy on board may want to pack their own small snacks as the meals offered may be highly processed and lack nutritional value.
The cell phone rule isn't essential
If you forgot to switch your phone to airplane mode for takeoff, the chances of disaster are slim. The reason airlines ask passengers to do this is so that their cell phones won't interfere with navigation or communication systems on the plane.
Still, many people have admitted to forgetting to make the switch to airplane mode while on board. The rules regarding cell phones on planes may change, but for now, U.S. regulations still mandate airplane mode.
Bring your pillow and blanket
If you're planning to snooze on a flight, you may want to pack a pillow and blanket — as the ones on board can't exactly be trusted to be clean.
Anonymous flight attendants have admitted in various online forums that blankets are not always washed between each flight. Even if they are covered in plastic, they may have just been refolded and repackaged.
To stay comfy while you snooze on board, consider packing a neck pillow and layer your clothing. A chunky sweater can double as a blanket later on.
Celebrities often fly commercial
Famous faces may be sharing a plane with you more often than you think since not everyone has a private jet.
A seasoned flight attendant told CNN that the crew is typically not warned that a celebrity will be boarding that day. They often don't find out until they see their names on the passenger list.
Oftentimes, the majority of passengers — caught up in the hustle and bustle of plane travel — don't even notice they're sharing a plane with a famous person. Especially if the star is seated in first class and fellow travelers just breeze by them.
A little kindness goes a long way
While being a flight attendant certainly has its advantages, it can also be a stressful job with long hours and little time to rest in between shifts.
They really appreciate it when passengers are kind. Even saying hello and thank you as you get on and off the plane is appreciated.
Plus, if a flight attendant is particularly touched by your kindness, they may even hook you up with some special treatment like extra snacks or drinks.
They're trained for medical emergencies
Flight attendant duties go beyond greeting passengers and serving food.
Depending on the airline, they have varying degrees of medical training. They also have medical supplies on board they can use in the event of a medical emergency.
If there is a medical emergency on board, the cabin crew can put in calls to doctors on the ground or ask if there are any doctors or nurses on board to help.
They can cut you off
Even though alcohol is served aboard planes (typically for an extra fee), flight attendants keep track of how much you're drinking and can cut you off if you're getting out of hand.
Disruptive behavior on board could be a violation of federal law. If a passenger is getting too rowdy, the crew can arrange to have them detained after the plane lands.
Plus, the effects of alcohol can be felt more while in the air, so in-flight drinking should only be done in moderation.
Seats really are getting smaller
If you were feeling a little cramped on your last flight — it wasn't all in your head. Forbes reports that plane seats have shrunk significantly over the past few decades.
In the 1980s the average space between seats was 31 to 35 inches. Now, some planes have as little as 28 inches.
Flight attendants who have been in the business for some time have experienced the shrinking right before their eyes.
Budget airlines are safe
When you book budget, you're likely giving up some amenities and comforts that more expensive flights offer — but your safety won't be compromised.
Travel and safety experts say budget airlines are just as safe as the more expensive ones. You just may be crammed into a tinier seat, charged for carry-ons, and have to fend for yourself for snacks.
Bottom line
From the best booking tactics to how to land an upgrade, flight attendants who've spent a decent amount of time on the job naturally learn some nifty tricks of the airline industry.
Booking early flights and packing necessities (snacks, pillows, earplugs, etc.) are trade secrets savvy travelers can adopt to keep more money in the bank and save you time and stress.
Easy-to-Earn Unlimited Rewards
Earn 25,000 online bonus points after you make at least $1,000 in purchases in the first 90 days of account opening - that can be a $250 statement credit toward travel purchases
Earn 1.5 points per $1 spent on all purchases
Longer intro APR on qualifying purchases and balance transfers
No foreign transaction fees
Earn unlimited 1.5 points per $1 spent on all purchases, with no annual fee and no foreign transaction fees and your points don't expire.
25,000 online bonus points after you make at least $1,000 in purchases in the first 90 days of account opening - that can be a $250 statement credit toward travel purchases.
Use your card to book your trip how and where you want - you're not limited to specific websites with blackout dates or restrictions.
Redeem points for a statement credit to pay for travel or dining purchases, such as flights, hotel stays, car and vacation rentals, baggage fees, and also at restaurants including takeout.
0% Introductory APR for 15 billing cycles for purchases, and for any balance transfers made in the first 60 days. After the intro APR offer ends, 18.24% - 28.24% Variable APR will apply. A 3% fee applies to all balance transfers.
If you're a Preferred Rewards member, you can earn 25%-75% more points on every purchase. That means instead of earning an unlimited 1.5 points for every $1, you could earn 1.87-2.62 points for every $1 you spend on purchases.
Contactless Cards - The security of a chip card, with the convenience of a tap.
This online only offer may not be available if you leave this page or if you visit a Bank of America financial center. You can take advantage of this offer when you apply now.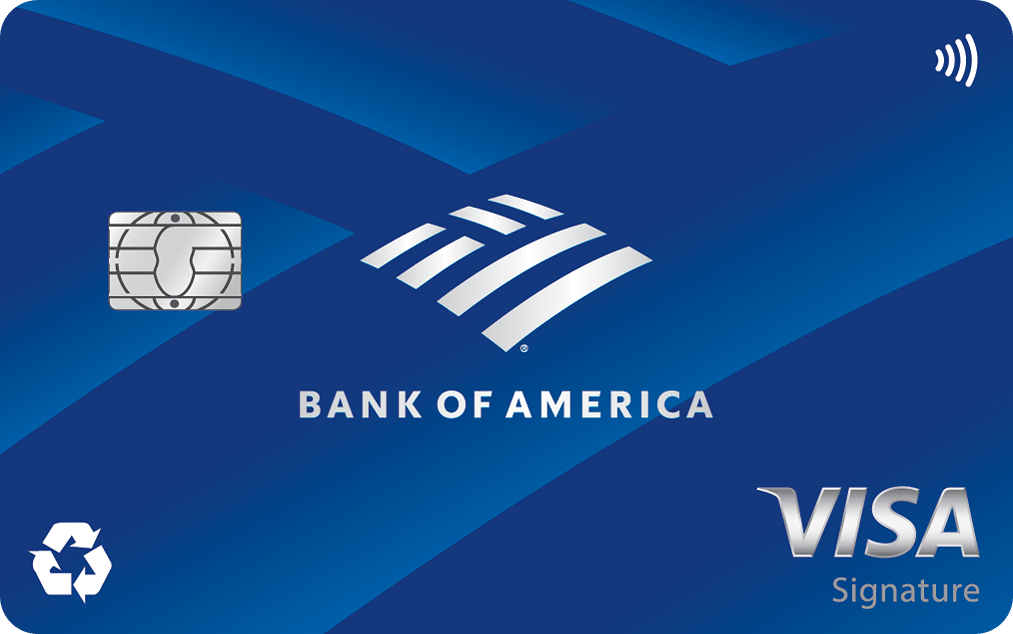 Apply Now
on Bank of America's secure website
Read Card Review
Intro Offer
Earn 25,000 online bonus points after you make at least $1,000 in purchases in the first 90 days of account opening - that can be a $250 statement credit toward travel purchases