Traveling for leisure and adventure is wonderful — but the fees you have to pay to reach your dream destination definitely aren't.
Luckily for globe trotters everywhere, you can avoid throwing money away on obnoxious fees for your next vacation.
Keep reading to learn about 12 common travel fees and get expert tips on how to budget for or avoid them entirely.
Think twice before booking a hotel through a third-party site
While you might find a great travel bargain on a third-party booking site, make sure you read the fine print before finalizing your reservation.
Third-party sites can charge extra booking fees that you wouldn't pay if you called the hotel and made an over-the-phone reservation.
You might encounter even odder charges, too. Hotels.com, for instance, charges a $5 fee when you redeem rewards like a free night.
Renew your passport ASAP
Renewing your passport isn't one of those tasks you can leave until the last minute — at least, not if you want to avoid exorbitant fees. It takes the federal government up to 11 weeks to process passport renewals.
You can only cut that time down to five to seven weeks for a $60 fee, or you can schedule an expensive last-minute consultation if you're leaving the country within 14 days.
Check your phone plan for international coverage
Unless you're eager to be hit with a nasty surprise when next month's phone bill comes due, don't just assume your current phone plan supports international travel.
Check to see if your phone plan includes (affordable) international data roaming or if it gives you a certain amount of free minutes you can use while out of the country.
Depending on your phone plan's limits, you might need to consider upgrading plans or switching providers before you leave.
Avoid out-of-network ATMs
Most banks — even the biggest, like Wells Fargo — don't have branches in every state.
If you have to withdraw cash from an out-of-network ATM, your bank will likely charge you a transaction fee. And that's on top of the surcharge you pay the third-party ATM operator. You'll pay even more for international transactions.
Before you leave on vacation, verify that your bank has branches (and ATMs) in the place you're traveling to. If it doesn't, make alternate plans for getting cash when you need it.
You can also consider switching to a bank that reimburses you for out-of-network ATM fees or look for online banks with free ATM access.
Watch out for resort fees
Think twice before assuming your typical hotel amenities — things like towels, pool and gym access, and WiFi — come free.
Far too many U.S.-based hotel chains include so-called resort fees on top of their base room prices. That can make the price you pay for a room much higher than what you expected.
It's hard to wiggle out of resort fees once you've reserved a room, not to mention after you've checked in or out.
The best way to avoid the fee is to read through the hotel's fee breakdowns before you book so you can make an informed decision and budget correctly.
Exchange currency before you leave
Instead of exchanging currency at the airport, contact your credit union or bank and exchange currency before you leave the country.
You're almost guaranteed a better exchange rate than if you wait to switch currencies until after your plane lands.
Plus, the financial institution you bank with won't tack on a fee when you make the exchange. The same can't be said for other exchange bureaus.
Get a credit card with no overseas transaction fees
Most travel-oriented credit cards come without overseas fees, but you'll want to double-check that yours is one of them before you start spending.
Typically, credit card companies charge you an extra 1% to 3% on most international purchases. If you frequently travel abroad, be sure to find a credit card with no foreign transaction fees.
Tell your bank you're traveling
Whether you're leaving the country or the state, make sure your bank knows ahead of time that you'll be spending outside your typical geography. Otherwise, you risk the bank putting a hold on your purchases as a protection against fraud.
Rebooking and last-minute cancellations typically cost an extra fee — one you could have avoided by using your banking app to notify your institution that you're traveling.
Check if you need a visa on top of your passport
With a U.S. passport, you can travel to a lot of countries without a visa — but not all of them.
Additionally, even if you can enter a country with just a passport, you might need a visa if you decide to extend your stay.
The U.S. Department of State website can help you understand if you should plan on paying visa fees or not.
Understand cancelation fees well in advance
Hopefully, you won't have to cancel any aspect of your vacation — but you can't predict the future, so make sure you walk into any pricey booking with your eyes wide open.
Before you purchase a plane ticket or book a hotel room, figure out if you'll be charged a cancelation fee. Even more importantly, find out if any cancelations include a full, free refund.
Skip tourist taxes by visiting less-popular destinations
Many of the world's most-visited cities, states, and regions impose a tourist tax that can push your vacation expenses to the far end of your budget.
For instance, to stay in Honolulu, you won't just pay for the cost of a hotel room: Both the state of Hawaii and the city of Honolulu charge a 13.25% "tourist tax" which can add $62 per night.
Obviously, there's no good way to dodge taxes. If you're hoping for a cheaper vacation, consider going off the beaten path. Areas without many visitors should have substantially lower tourist taxes (if any).
Prepare for departure fees ahead of time
It might sound odd, but some countries charge you a fee when you're about to leave.
Many countries bundle this fee into the cost of your plane ticket, but a few others don't charge you until you're literally at the airport about to depart.
Alas, you can't avoid this fee. All you can do is find out in advance if your travel destination will charge a departure fee so you can build it into your budget.
Bottom line
Traveling is expensive enough as it is, so taking on a bunch of unexpected travel fees is the last thing your budget needs.
With these 12 tips, you can avoid wasting money on your vacation and put what you save toward something you're passionate about — maybe even into your savings account for the trip of a lifetime.
Easy-to-Earn Unlimited Rewards
Earn 25,000 online bonus points after you make at least $1,000 in purchases in the first 90 days of account opening - that can be a $250 statement credit toward travel purchases
Earn 1.5 points per $1 spent on all purchases
Longer intro APR on qualifying purchases and balance transfers
No foreign transaction fees
Earn unlimited 1.5 points per $1 spent on all purchases, with no annual fee and no foreign transaction fees and your points don't expire.
25,000 online bonus points after you make at least $1,000 in purchases in the first 90 days of account opening - that can be a $250 statement credit toward travel purchases.
Use your card to book your trip how and where you want - you're not limited to specific websites with blackout dates or restrictions.
Redeem points for a statement credit to pay for travel or dining purchases, such as flights, hotel stays, car and vacation rentals, baggage fees, and also at restaurants including takeout.
0% Introductory APR for 18 billing cycles for purchases, and for any balance transfers made in the first 60 days. After the intro APR offer ends, 17.99% - 27.99% Variable APR will apply. A 3% fee applies to all balance transfers.
If you're a Preferred Rewards member, you can earn 25%-75% more points on every purchase. That means instead of earning an unlimited 1.5 points for every $1, you could earn 1.87-2.62 points for every $1 you spend on purchases.
Contactless Cards - The security of a chip card, with the convenience of a tap.
This online only offer may not be available if you leave this page or if you visit a Bank of America financial center. You can take advantage of this offer when you apply now.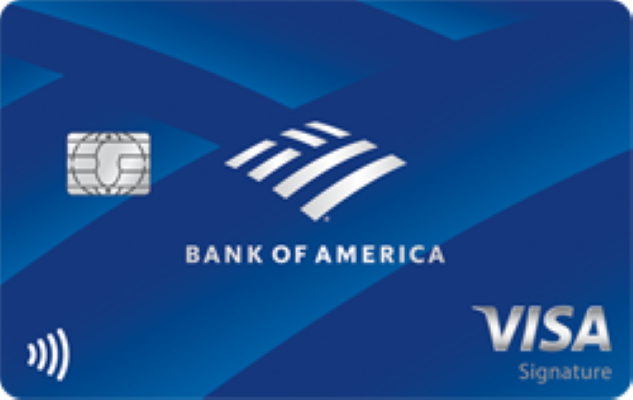 Apply Now
on Bank of America's secure website
Read Card Review
Intro Offer
Earn 25,000 online bonus points after you make at least $1,000 in purchases in the first 90 days of account opening - that can be a $250 statement credit toward travel purchases