At hundreds of dollars per person per day, cruises already put a hefty burden on your vacation budget. But cruise costs don't always stop with the price of a ticket.
For better or worse, cruise lines also employ some clever tricks that can lead you to spend more than you'd planned on your floating vacation.
Before you embark on your next voyage, avoid wasting money by understanding these eight common ways cruise lines try to nudge you toward making unnecessary purchases.
Centrally located malls
Pay attention to the layout of your cruise ship and you'll see that stores, casinos, restaurants, and bars aren't located around the fringes where you can easily avoid them.
Instead, a cruise ship's biggest money makers are usually located in a central area that most travelers will need to pass through at least once during the day to reach other popular areas.
If you know you'll be passing the ship's mall area at least once as you head to dinner, hit the pool, or unwind at the spa, decide beforehand that you aren't going to buy anything.
You may also consider leaving your cards securely locked in your cabin or strolling past the area with a set amount of cash so you can't accidentally overspend on a fun impulse buy.
Duty-free goods
Like airports, many cruise lines sell duty-free high-end goods — goods that don't have any value-added taxes (VAT) built into the base price.
Since VAT can be up to a third of an item's price, duty-free goods often seem exceptionally cheap at first glance, especially for luxury goods like high-end watches or expensive alcohol.
However, just because an item is duty-free doesn't mean it's a bargain. Instead of assuming everything at the duty-free shop costs less, do your research before buying anything.
Maybe that bottle of wine isn't such a deal and you can find something comparable for half the price at Trader Joe's. Either way, having the information empowers you to make confident decisions about where to spend your money.
Drink packages
Many popular cruise lines offer drink packages, which usually charge you a predetermined flat fee that entitles you to a set amount of drinks per day.
Depending on the line and package you choose, a drink package might include up to 15 drinks per person per day or even unlimited daily drinks.
Before you sign up for a drink package, consider how much you'll reasonably drink on a typical vacation day. Then run the numbers to see if the cost of daily a la carte beverages is more than the cost of paying for an unlimited drink package.
If you're pretty sure you won't drink enough to make the package worth it, save your money for something else.
If you do decide that you want a drinks package, consider buying it before you board. Many cruise lines offer discounted drink package prices when you buy them in advance.
Escalating sales
The shops on your cruise ship will likely run sales throughout your trip. As the week goes on, those sales will increase — in terms of both their frequency and their deals.
Don't be taken in by these sales, however. As with duty-free purchases, just because something's on sale doesn't mean you're paying the lowest possible price.
Always do your research before leaping headfirst into a cruise ship sale.
Constant advertising
Anywhere you look on a cruise ship — the backs of your menus, overhead at the bar, or on the insides of public bathroom doors — you'll encounter an ad for some service or shop on the ship.
Ads can deliver helpful information about what you can buy and where, but make sure you're being conscientious about which stores you want to visit.
Ship ads can also make you feel like a purchase is more time-sensitive than it is. When you see an ad on your ship, run a quick price comparison before wandering to the ship's mall.
Overpriced everyday goods
In many ways, cruise ships operate like tiny, self-contained cities. You can't get off the ship unless you're docked, so while the ship is at sea, it needs to be self-sustaining.
That's why most cruise lines have malls with shops that sell basic necessities you might have forgotten to pack.
However, because you don't have any other options for purchasing essential goods, the cruise company can get away with charging a lot more than what you'd pay at Sam's Club or Kroger.
Before you leave for your cruise, double (and triple) check that you've packed all of your essentials — from deodorant and toothpaste to pajamas and phone chargers.
Per-day instead of per-trip charges
When you see a large upfront sum, you know exactly how much the entire product costs and can easily decide if that cost is too high. But if you see that same price broken up into smaller increments, the cost is easier to justify.
Cruise ship lines understand this aspect of buyer psychology well, which is why they'll often try to sell you on daily drink or entertainment package rates instead of weekly or trip-long ones.
Before you opt into something based on a smaller per-day charge, run the numbers. You might find that a per-day price that seems reasonable is completely outside your budget once you've calculated the costs for the entire trip.
Onboard accounts
Post-pandemic, most cruise lines no longer accept cash, credit card, debit card, and check payments onboard. Instead, you'll need to charge every purchase made during your trip to your onboard account.
At the end of the trip, you'll be responsible for paying off the full amount of your onboard account and effectively closing out the tab. Unfortunately, onboard accounts make it easy to lose track of how much money you're spending each day.
If your cruise line only accepts payment via onboard accounts, write down every purchase you make (tips included) and keep a running daily tally of how much you've spent. Otherwise, you could end up with a massive bill well outside your trip's budget.
Bottom line
Dream vacations can be expensive, cruises included. You've already paid for your trip of a lifetime. Just make sure you don't pay more than you'd planned to avoid throwing your money away.
Once you're familiar with the ways cruise lines tempt you to spend more money, you'll be prepared to keep your extra cash in your bank account where it belongs.
Easy-to-Earn Unlimited Rewards
Earn 25,000 online bonus points after you make at least $1,000 in purchases in the first 90 days of account opening - that can be a $250 statement credit toward travel purchases
Earn 1.5 points per $1 spent on all purchases
Longer intro APR on qualifying purchases and balance transfers
No foreign transaction fees
Earn unlimited 1.5 points per $1 spent on all purchases, with no annual fee and no foreign transaction fees and your points don't expire.
25,000 online bonus points after you make at least $1,000 in purchases in the first 90 days of account opening - that can be a $250 statement credit toward travel purchases.
Use your card to book your trip how and where you want - you're not limited to specific websites with blackout dates or restrictions.
Redeem points for a statement credit to pay for travel or dining purchases, such as flights, hotel stays, car and vacation rentals, baggage fees, and also at restaurants including takeout.
0% Introductory APR for 15 billing cycles for purchases, and for any balance transfers made in the first 60 days. After the intro APR offer ends, 18.24% - 28.24% Variable APR will apply. A 3% fee applies to all balance transfers.
If you're a Preferred Rewards member, you can earn 25%-75% more points on every purchase. That means instead of earning an unlimited 1.5 points for every $1, you could earn 1.87-2.62 points for every $1 you spend on purchases.
Contactless Cards - The security of a chip card, with the convenience of a tap.
This online only offer may not be available if you leave this page or if you visit a Bank of America financial center. You can take advantage of this offer when you apply now.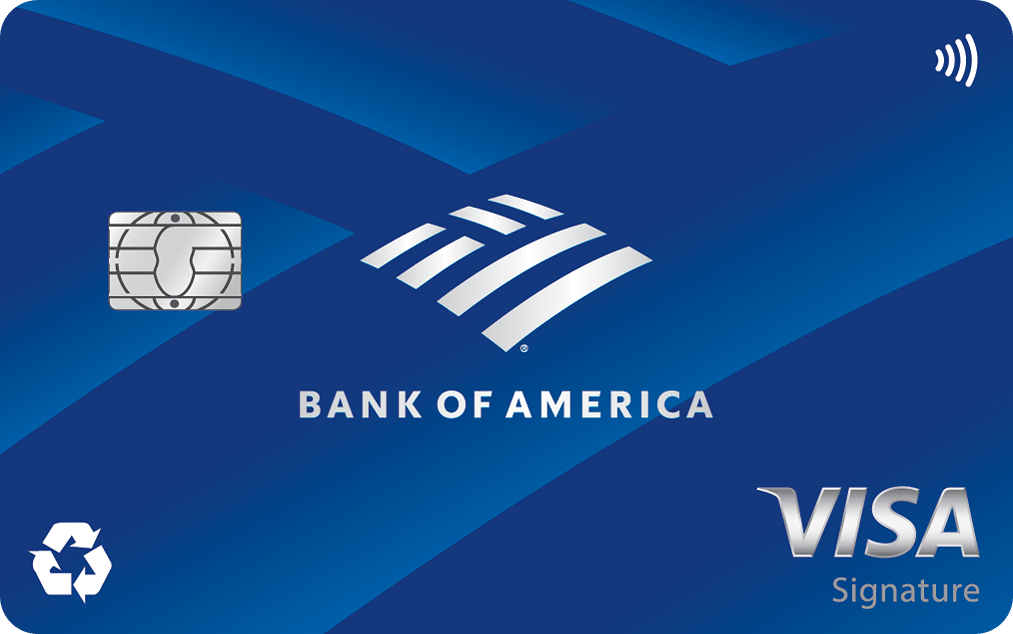 Apply Now
on Bank of America's secure website
Read Card Review
Intro Offer
Earn 25,000 online bonus points after you make at least $1,000 in purchases in the first 90 days of account opening - that can be a $250 statement credit toward travel purchases