Marriage is all about sharing and compromising, and this includes Social Security benefits. Most couples will benefit by doing a bit of pre-planning.
If you coordinate both spouses' benefits, you may be able to get more out of your Social Security income each month. Even if you're doing well financially, you need to be focused on your life after you stop working.
Before you wait too long, consider these Social Security moves you should make as a married couple.
Resolve $10,000 or more of your debt
Credit card debt is suffocating. It constantly weighs on your mind and controls every choice you make. You can end up emotionally and even physically drained from it. And even though you make regular payments, it feels like you can never make any progress because of the interest.
National Debt Relief could help you resolve your credit card debt with an affordable plan that works for you. Just tell them your situation, then find out your debt relief options.
How to get National Debt Relief to help you resolve your debt: Sign up for a free debt assessment here. (Do not skip this step!) By signing up for a free assessment, National Debt Relief can assist you in settling your debt, but only if you schedule the assessment.
SPONSORED
Get your estimated benefits from SSA.gov
Start with knowledge. Go to the Social Security Administration's website and set up an online account so you can learn what your estimated benefits are at this point. This is how much you'll receive, depending on the age you retire.
If you meet your financial needs and qualify to start withdrawing (age 62), you may be able to start the next chapter of your life, even if you retire early.
Use a "split" strategy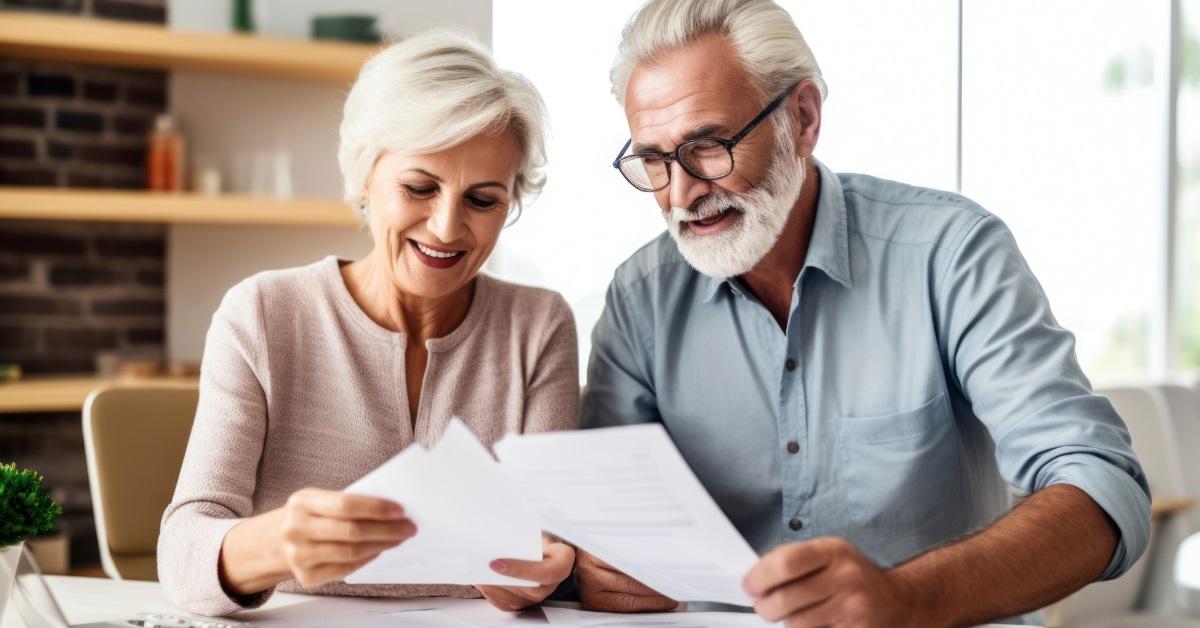 It may not seem fair, but if one spouse earns more than the other, let the lower earner collect Social Security benefits first so that the higher earner can continue contributing and wait until they can receive the highest possible amount.
Doing this allows you to bank more money and increase your benefits down the road. This is called the split strategy.
Delay benefits when feasible
It's often beneficial to delay receiving benefits as long as possible since the later you start your benefits, the more money you'll receive. You'll see the monthly payment grow by 8% every year you delay benefits.
If your health is good and your financial well-being stable, delaying for both spouses could be an important decision.
Earn $200 cash rewards bonus with this incredible card
There's a credit card that's making waves with its amazing bonus and benefits. The Wells Fargo Active Cash® Card(Rates and fees) has no annual fee and you can earn $200 after spending $500 in purchases in the first 3 months.
The Active Cash Card puts cash back into your wallet. Cardholders can earn unlimited 2% cash rewards on purchases — easy! That's one of the best cash rewards options available.
This card also offers an intro APR of 0% for 15 months from account opening on purchases and qualifying balance transfers (then 20.24%, 25.24%, or 29.99% Variable). Which is great for someone who wants a break from high interest rates, while still earning rewards.
The best part? There's no annual fee.
Wait until you reach full retirement age
If you are counting on Social Security benefits as one of the primary sources of income during retirement, you absolutely should wait until you reach full retirement age, if possible, to start withdrawing. What your full retirement age is depends on the year you were born.
If you retire before that, you'll usually receive a reduced benefit. You can do this, but be sure to have the financial means to make up the difference if your Social Security isn't enough to meet all of your goals.
Apply for spousal benefits later
If one spouse earns twice as much as the other, the lower-income earner may wish to retire first. Their benefits will be based on their earnings record. 
When the higher-earning spouse retires, the lower earner can collect on the higher earner's salary record. Then, both spouses will then get the higher benefits.
Plan for a government pension
You're entitled to retirement benefits if you paid Social Security payroll taxes for at least 10 years. 
Suppose you worked for the federal or state government or public schools. In that case, you may have seen withholdings from your paycheck for the "Old Age, Survivors, and Disability Insurance," which is Social Security.
Let's say you worked in a public job that didn't withhold Social Security taxes but offered a pension. You want to claim Social Security benefits under your spouse's earnings. 
In this case, the government pension offset kicks in and may reduce your spousal benefits from Social Security.
Have a plan if one spouse didn't work
If one spouse didn't work enough to qualify for Social Security, you'll need to account for that in your retirement planning.
The spouse will still qualify for spousal benefits, typically about half of the working spouse's benefits. You can see the spousal benefits based on your income and qualifications at SSA.gov.
Choose the right benefits as a low-wage earner
When both spouses qualify for Social Security benefits, the person earning the least amount has an option.
They can typically qualify for the spousal benefit of 50% of the partner's benefit received, or they can take the benefit they received based on their earnings. Determine which is best based on how much you worked and earned compared to your spouse's.
Note the benefits of claiming early
Both spouses can claim benefits when they're eligible at age 62. That's often desirable if you have worked for at least 10 years and have the financial means to supplement your benefits.
Remember that doing this reduces your Social Security income for the rest of your life. However, if you need the money now, you may want to claim your benefits as soon as you're eligible.
Retire early if you have serious health problems
In some situations, families know that one spouse may not live to 100, perhaps because they have a serious health problem.
In this case, you may find it beneficial to retire early so that you can start receiving your benefits and create the life you desire for some time.
Take advantage of the reset rule
Everyone changes their mind sometimes. If you decided to retire early, you can reset your benefits and return to work if you desire. This would erase the reduction in your benefits if you do it within 12 months of starting.
You'll need to repay all of the benefits you earned during that time, though, which can be a financial strain for some.
Qualify for dependent benefits
Let's say you've reached retirement age and are ready to stop working. If you still have dependents under the age of 19, claim them.
Your teenager may be entitled to up to 50% of the benefit you receive from Social Security. These benefits don't reduce what you're paid, but the dependent benefit could help you continue paying for them.
Keep working
After a few months at home, you may be so bored you want to return to work. You can work during retirement, even if you retire early, but you'll have to monitor how much you'll earn.
Your Social Security payment may be reduced that year if you're younger than your full retirement age and exceed the allowed annual limit. If you've reached your full retirement age, there is no limit for earning income.
Consider a side job to earn more
If you're worried that your estimated full retirement age benefits aren't going to be enough to meet your needs, you should consider earning more money.
Taking on a side job or working to increase your income through your current position will help boost your lifetime earnings, increasing your Social Security benefits later.
Make the most of your retirement accounts
Social Security is your right if you've contributed to the system for over 10 years. However, retirees can avoid throwing money away by using tax-advantaged retirement accounts and employer matches in 401(k) plans during their working years.
If your employer offers a retirement account and will match some portion of your contribution, that's free money for your retirement. 
The key to remember is that Social Security isn't always enough to help you maintain your desired lifestyle.
Bottom line
Social Security can be a complex, sometimes confusing program, especially if you're nearing your 60s and wondering when the best time to retire is.
If you're not sure what you and your spouse should do, work with a financial advisor who can help outline your options and give you more insight. 
An advisor can also help you plan an investment portfolio and ensure you have money in a high-yield savings account in case of emergencies.
Doing this now, while you're still working, gives you the most control over the future.
National Debt Relief Benefits
No upfront fees
One-on-one evaluation with a debt counseling expert
For people with $7,500 in unsecured debts and up