All you have to do is spend a few hours at the mall, and you'll get multiple offers for new retail credit cards, usually with an appealing one-day shopping discount attached. Often, store employees will ask if you want to apply for the card during checkout. "It just takes a few minutes," they say.
But if you opened up a new store credit card every time the opportunity presented itself, you'd have a whole lot of plastic in your wallet, and your credit score could take a hit. So how do you decide which ones are a good deal? Here's what to consider before you fill out an application.
What are store credit cards?
Plenty of major retailers offer store credit cards — everyone from JCPenney to TJ Maxx promotes their own cards, many of which are provided by Synchrony Bank.
If a retail card is co-branded — that is, it's sponsored by both the store and a credit card issuer or network such as Mastercard or Visa — it can typically be used as a regular credit card at any place that accepts the participating credit card network.
If a store credit card has no such banking partner, it can usually only be used in that store's locations and affiliated brands. These are called closed-loop cards.
Both types of cards will typically provide some perks for using them for purchases from the sponsoring retailer. Usually, you'll get a one-time discount for opening the card, and some retail credit cards offer ongoing discounts as well. You might also rack up rewards faster from a particular retailer if you use their store card for purchases.
Retail credit cards usually have lower limits and higher APRs than traditional credit cards, which isn't necessarily a bad thing if you use the card wisely. You're probably not going to need to spend $10,000 at a single store, and you can avoid the high-interest rates by paying off your balance in full every month.
6 perks of store credit cards
Some store credit cards can be beneficial for the right customer, especially if you're a frequent shopper at that retailer. Here are some of the perks you may find:
Store discounts: Some store cards offer ongoing discounts, such as 5% off every purchase, or exclusive discounts on special days throughout the year. Others provide an incentive discount for opening the card, which can be helpful if you're making a large purchase.

Rewards points: Many retail credit cards also allow you to rack up points on purchases at that store. You might get 2% to 5% back in the form of rewards points, which can translate to either cash back or credits for future purchases. If you're loyal to a particular brand, a retail credit card could help you earn rewards much faster. For example, JCPenney credit cardholders get access to exclusive coupons, offers & events.
Easy to qualify for: Because store credit cards come with lower limits and higher APRs, they're often easier to qualify for. People with poor credit or no credit history may be more likely to be approved for a store card than a traditional credit card, especially if it's a closed-loop card.

Can help you build credit: Most retail card issuers report to the major credit bureaus, so you could raise your score by using your card responsibly. Just be sure to make on-time payments and pay your balance in full to avoid accruing interest or hurting your credit.

No annual fees: It's rare to find an annual fee on a store credit card, so you can easily keep one in your wallet alongside a regular credit card.

Other store benefits: Some cards offer additional perks, such as free shipping, free alterations, easier returns, or a birthday offer.
5 limitations of store credit cards
There are also some drawbacks to using store credit cards. In some situations, you may be better off using a regular credit card.
Limited use: Closed-loop cards can only be used at a small number of stores, which means you'll need a regular credit card if you want to charge purchases at other retailers.

High APRs: The APR for store credit cards ranges from about 21% to 25% on average, which is generally higher than other types of cards. If you need to carry a balance, you could end up paying a lot more in interest than what you receive in discounts or cash back from using the card.

Low credit limits: A store credit card will likely only have a credit limit of a few hundred or a few thousand dollars. That can be restrictive if you need to make a large purchase.

Inflexible rewards: With closed-loop cards, the rewards you earn can typically only be used towards purchases at one retailer or at partner brands. You usually won't be able to use your points for travel or other lucrative rewards.

Pressure to spend: You might feel like you need to make use of your store credit card, which could lead you to spend more than you need to at a given store.
When to consider a store credit card
It's not a bad thing to have a couple of store credit cards, as long as you choose wisely. Consider the stores where you spend the most money, and choose cards that will offer you ongoing discount amounts or cashback amounts that exceed the value you would get from a general credit card.
For example, Target offers the Target RedCard, and Lowe's offers the Lowe's Credit Card. Both offer a 5% discount on every purchase. That's more cash in your pocket than you'd get from most general rewards cards.
When to pass on a store credit card
If you have existing debt and plan to carry a balance on your store card, it's probably not a good idea to open one. You may be better off applying for a new card with a low introductory APR while you pay down your debt.
It's also not a good idea to open a credit card for a store you rarely visit, unless you're making a huge purchase and the incentive discount is really compelling. For example, if you're purchasing a new home entertainment system at Best Buy but you don't frequently shop there, the rewards and flexible financing options might still be worth it for you.
But if you just want to get 15% off a pair of jeans and won't be back anytime soon for purchases, it's probably not worth opening a new credit card account for that store.
You should also pass on a store credit card if you could get a better result from one of the best rewards credit cards when shopping at that store. For example, instead of using the Target RedCard, you could spend with the Blue Cash Preferred® Card from American Express.
The Blue Cash Preferred® Card from American Express has a welcome bonus of a $250 statement credit after you spend $3,000 in first 6 months. It earns 6% cash back at U.S. supermarkets (for first $6,000 per year, after that 1%) and on select U.S. streaming services, 3% cash back at U.S. gas stations and on eligible transit, and 1% cash back on other eligible purchases. (Cash back is received in the form of Reward Dollars that can be redeemed as a statement credit). And it only has a $0 intro annual fee for the first year, $95 per year thereafter.
The bottom line
It's often wise to strategically use a handful of credit cards for certain purchases, and having a few store credit cards in addition to general credit cards might be a smart strategy for you. But you certainly don't need to open a new store credit card every time it's offered to you.
Using a budgeting app can help you assess where you're spending the most money, so you can accurately predict how much you might save with a particular store credit card. Choose retail cards with robust rewards or discounts at stores you already frequent, and you can get the most bang for your buck.
Lucrative, Flat-Rate Cash Rewards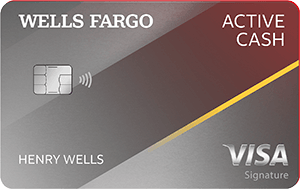 5.0
FinanceBuzz writers and editors score cards based on a number of objective features as well as our expert editorial assessment. Our partners do not influence how we rate products.
Current Offer
$200 cash rewards bonus after spending $500 in purchases in the first 3 months
Rewards Rate
Earn 2% cash rewards on purchases