2022 has already been an expensive year for many due to inflation, rising food prices and other factors. With holidays coming up that have traditions steeped in food and, thus, groceries, Thanksgiving may look different this year for many American families.
To find out how Americans are thinking about Thanksgiving this year, our team at FinanceBuzz surveyed 1,500 U.S. adults to find out how they are preparing for the upcoming holiday — along with lighter topics, like Thanksgiving food preferences and other plans for turkey day.
Key findings
86% of people anticipate rising food costs impacting their Thanksgiving meal this year (up 23% from 2021).
18% of people plan on switching to a less expensive alternative to turkey this year.
69% of Americans would consider getting, or have gotten, their Thanksgiving meal precooked from a local restaurant.
More than one in four Americans think turkey is the most overrated Thanksgiving food, and more than one in 10 think ham is the most underrated.
The average American family eats Thanksgiving dinner between 2 and 3 p.m. Only 11% of people eat at 6 p.m. or later.
Effects of rising food costs on Thanksgiving 2022
One of the most common places Americans have felt the effects of inflation is at the grocery store, where the prices of many foods have been rising throughout the year. Since Thanksgiving traditionally centers around one large meal, the majority of Americans (86%) anticipate rising food costs will impact their Thanksgiving plans.
Only 14% of people said they do not anticipate rising food costs having any effect on their Thanksgiving, compared to 37% in 2021.
The most common change people reported is in how they'll approach shopping for the Thanksgiving meal. 57% of people say they will be looking for sales at the grocery more than usual, while 31% plan on using coupons more than usual.
Both of these saving strategies have become more popular since last Thanksgiving. In 2021, 44% of people said they expected to look for sales more often and 25% said they would use coupons more often.
Is turkey off the table?
Nearly one-fifth of Americans (18%) say that instead of shelling out for a turkey this year, they'll serve a more affordable alternative as an entree.
Eating out for Thanksgiving
If you're not so worried about the grocery bill for Thanksgiving, then home-cooked is not the only way to get a holiday meal. A number of restaurants offer Thanksgiving catering options where customers can reserve their food ahead of time for pickup or delivery.
Thanksgiving takeout is pricier than groceries, but the convenience is worth it for some people. But how many people use these options?
It turns out lots of people are open to the convenience of a restaurant-catered Thanksgiving meal. Only 31% of respondents said they would never consider restaurant-prepared Thanksgiving food, meaning 69% of people either would consider it, have used it in the past, or are planning on doing it this year.
In fact, nearly a quarter of people (23%) report that they have ordered Thanksgiving food from a restaurant before.
What time do Americans eat Thanksgiving?
One common difference in Thanksgiving traditions is the time of day that people eat their holiday meal. Some families like to eat early and free up the rest of the day. Others prefer to eat closer to a traditional dinner time.
Did you know?
On average, American families eat Thanksgiving dinner between 2 and 3 p.m.
When asked to name when they typically eat Thanksgiving dinner, respondents provided a wide range of answers. 10% of people said they get the meal out of the way before noon. Interestingly, almost the same percentage of people eat their holiday meal at the other end of the spectrum, with 12% saying they eat at 6 p.m. or later.
Most overrated and underrated Thanksgiving dishes
Turkey, mashed potatoes, and cranberry sauce are just some of the traditional dishes on the menu at many Thanksgiving dinners across the country.
But does tradition mean that people actually want these foods on their plate? Which items do people wish their Thanksgiving host would make more of? To find out, we asked people to name the most overrated and underrated Thanksgiving dishes.
More than one out of every four people (26%) called turkey the most overrated of all Thanksgiving dishes. Cranberry sauce came in second, but was named most overrated by just 12% of respondents.
When it comes to underrated dishes, an alternative entree option took the crown. 11% of people named ham the most underrated dish, just edging out stuffing/dressing (9%) for the top spot.
Ways to save this Thanksgiving
Thanksgiving dinner almost always bends budgets and can put a strain on people's wallets. Here are a few tips and tricks to stretch your cash this Turkey Day:
Shop wholesale. Shopping at a wholesale store like Costco is a great way to shop smart and save money. These Costco hacks will help you save even more on your next trip to the warehouse.
Earn rewards while you shop. Get cash back at the grocery store by using one of the best credit cards for grocery shopping. And that's only one of many ways you can save and spend less on groceries.
Scan your receipts. Apps like Fetch or Ibotta let you earn points toward gift cards or other rewards. Download one of the best money-saving apps before this holiday season.
Methodology
FinanceBuzz surveyed 1,500 U.S. adults, 18 or older, in October, 2022. We only considered answers for respondents who planned on having a Thanksgiving meal this year. Respondents were weighted based on demographic information to create a nationally representative sample. For the question asking how rising food costs may impact their Thanksgiving, respondents could select multiple answers. For all other questions they could only select a single answer.
2021 survey results
Nearly two-thirds of Americans — 63% — expect rising food costs to impact their Thanksgiving celebration this year.
Almost one in four people (24%) said they may need to cut back on food at Thanksgiving due to rising costs.
Thanksgiving leftovers are eaten for 3.36 days on average, though 11% report eating leftovers for more than seven days.
Tradition reigns at the dinner table: Turkey, stuffing, and mashed potatoes are deemed the most essential foods. When it comes to pie, 45% said pumpkin pie is a must-have.
Do marshmallows belong on sweet potatoes? 62% of women said yes, and a whopping 76% of men want marshmallows.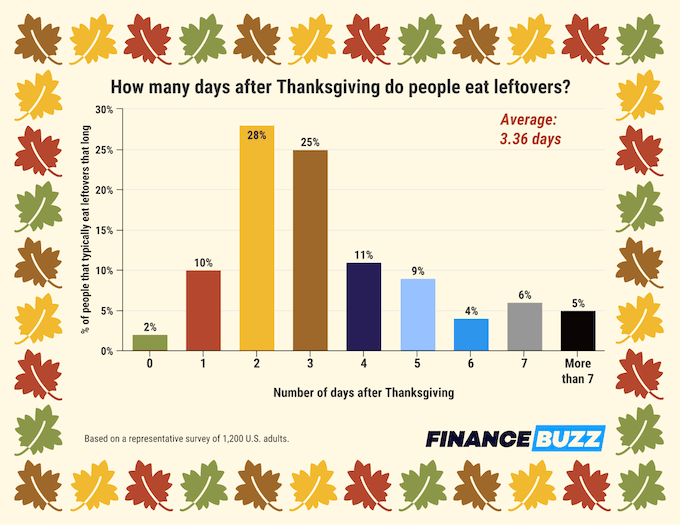 Methodology
FinanceBuzz surveyed 1,200 U.S. adults ages 18 or older, who comprise a nationally representative sample, on October 13, 2021.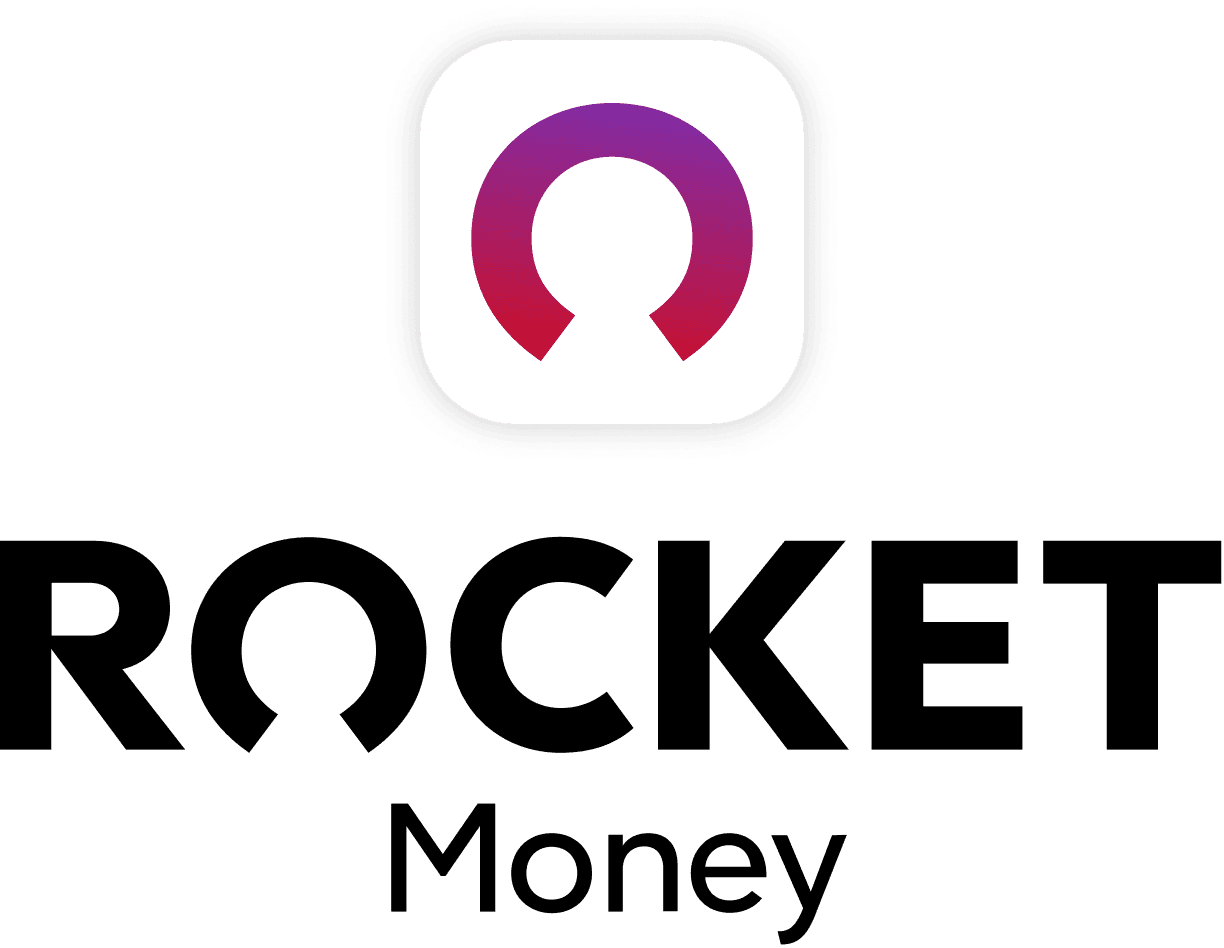 Rocket Money Benefits
Automatically find and cancel subscriptions
Slash your monthly phone, cable, and internet bills
Save an average of up to $720 a year