The price of new homes in many cities and towns has skyrocketed in recent years, putting real estate out of reach for many would-be homebuyers. 
However, there is still reason to hope you can buy a home and keep more money in your bank account.
The U.S. Sun recently ran a story about a $699 "tiny home" from Home Depot that stretches the definition of tiny. It looks like little more than a shed, but if you're looking for something truly tiny and have strong DIY skills, it could be just what you're looking for.
Here are some other unique backyard tiny home options available now from Home Depot ready for your backyard. 
Resolve $10,000 or more of your debt
Credit card debt is suffocating. It constantly weighs on your mind and controls every choice you make. You can end up emotionally and even physically drained from it. And even though you make regular payments, it feels like you can never make any progress because of the interest.
National Debt Relief could help you resolve your credit card debt with an affordable plan that works for you. Just tell them your situation, then find out your debt relief options.
How to get National Debt Relief to help you resolve your debt: Sign up for a free debt assessment here. (Do not skip this step!) By signing up for a free assessment, National Debt Relief can assist you in settling your debt, but only if you schedule the assessment.
SPONSORED
Yurt
Yurts are traditional tent-like structures historically used by nomadic peoples in Central Asia. Now, you can buy one for $42,000 at Home Depot.
This one-room dwelling is available in various sizes and can be assembled in less than a week. It's fully insulated and includes a fan mount to keep your place well-ventilated.
Mini Getaway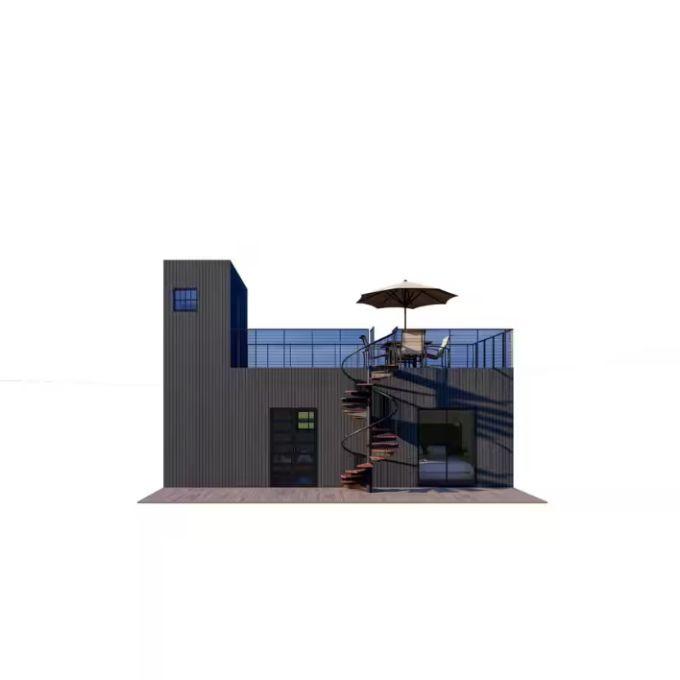 This modern tiny house features one bedroom, 1.5 bathrooms, a kitchenette area, a rooftop deck, and a spiral staircase leading up to the deck.
The 325-square-foot unit is designed to be built on a concrete slab foundation. This home's materials are resistant to fire, bugs, termites, and mold, so you can rest assured your structure will last. The price is $49,999.
Wave Comfort
This cozy cabin, at 379 square feet, would make a perfect home for two or an accessory dwelling unit (ADU). It features one bedroom and one bathroom.
Each kit is manufactured to meet your area's building codes and zoning requirements. The cost is $49,999.
Earn $200 cash rewards bonus with this incredible card
There's a credit card that's making waves with its amazing bonus and benefits. The Wells Fargo Active Cash® Card(Rates and fees) has no annual fee and you can earn $200 after spending $500 in purchases in the first 3 months.
The Active Cash Card puts cash back into your wallet. Cardholders can earn unlimited 2% cash rewards on purchases — easy! That's one of the best cash rewards options available.
This card also offers an intro APR of 0% for 15 months from account opening on purchases and qualifying balance transfers (then 20.24%, 25.24%, or 29.99% Variable). Which is great for someone who wants a break from high interest rates, while still earning rewards.
The best part? There's no annual fee.
Bungalow Standard
This tiny house resembles more of a single-family home than some of the more cramped quarters on this list.
It has two bedrooms, each with its own bathroom, and the home looks less boxy. It features just over 837 square feet of living space for $49,999.
Bungalow Plus Extra
For those who need even more room, there's a three-bedroom version of the Bungalow. At 1,022 square feet, this home isn't all that tiny.
Two of the bedrooms share a Jack-and-Jill bathroom, and the other bathroom is attached to the master bedroom. The price is $49,999.
Sea Breeze
If you've ever seen a shipping container home, this model looks similar. However, the front of the roof on this 346-square-foot unit is extended to provide shade.
This minimalist design has one bedroom and one bathroom. The cost is $49,999.
Huntington Plus
This model is tiny, even by tiny home standards. With just 96 square feet of living space, you'll have to design the layout of your home carefully to fit all the amenities you need.
A house of this size would probably only fit one person. The cost is $23,500.
Seattle
This minimalist design features one bedroom and one bathroom. The pitched roof should keep snow and rain from accumulating or damaging the structure.
The house is just 200 square feet, so you'll have an easy time finding a spot for it on your land or even in a backyard. The price is $38,600.
Chill Out
The Chill Out tiny house has a two-sided covered porch area — perfect for enjoying summer evenings outdoors.
And when you want to come inside, just over 281 square feet of open-concept living space awaits you. The cost of this one-bedroom, one-bathroom home is $49,250.
The Balboa
The Balboa is on the smaller end of tiny houses, offering just 96 square feet of living space.
However, with planning and ingenuity, this model could make a cozy home for one. It features a gable roof and a few windows, but the inside is essentially a blank slate for your imagination. The price is $21,997.
The Dallas
The Dallas features the same minimalist footprint as the Balboa, and it also comes in at 96 square feet.
However, its shed roof and larger windows give it a more modern, comfortable vibe. It would be perfect for an ADU or tiny home for one person in the woods. The cost is $19,997.
Calhome
While technically a storage shed, the Calhome features a lockable door and two windows and could easily be converted into a 160-square-foot tiny home.
It's built with energy-efficient materials that provide excellent temperature regulation. The galvanized steel construction also repels weather and pests.
When you set it up, it basically unfolds into place. The price is $3,999.99.
Calhome Expandable
If you like the Calhome but need something a little larger, the Calhome Expandable model features more than double the space.
This 380-square-foot model features two wings off a central area that you can configure as you like. It's built with the same galvanized steel construction as the Calhome and costs $17,048.19.
Wood Garage Kit
If you're after the barndominium look, this is the home for you. It measures 32 feet by 18 feet by 18 feet.
While it doesn't come with flooring, it features an entry door and overhead door, windows, and everything else you need to complete the exterior of a home. The cost is $27,775.
The Newport
The tiniest of tiny homes, this model is designed as a shed. However, by upgrading it to a tiny house, you could own your own home for just $699!
The shed's galvanized steel and enamel paint are built to withstand corrosion and rust, but you'll probably want to add a window and some insulation if you're planning to live in the Newport.
Bottom line
With today's soaring real estate prices, tiny homes are looking less like a hipster fad and more like a legitimate housing option.
Whether you're looking to downsize, embrace a minimalist lifestyle, or simply keep more money in your wallet, a tiny home can be a good choice for many individuals and families.
FinanceBuzz is not an investment advisor. This content is for informational purposes only, you should not construe any such information as legal, tax, investment, financial, or other advice.
National Debt Relief Benefits
No upfront fees
One-on-one evaluation with a debt counseling expert
For people with $7,500 in unsecured debts and up