If you've been planning a cruise for a while, the last thing you want to do is waste a second of your dream vacation.
To help you get the most out of your cruise, and avoid wasting your money, we've put together a list of tips to make your vacation as fun and affordable as possible.  

Find the right package
Saving money on your cruise starts the moment you start planning. Instead of booking the first cruise that catches your eye, research your options and compare prices.
You could learn that the popular cruise line isn't the most affordable, or that you're willing to pay more to reach your dream destination even though it's pricier than you thought.
No matter what, taking the time to be extremely selective about the cruise you take will pay off in memories you know you'll treasure.
Book as early as possible
Like airline flights or hotel prices, cruises tend to cost more the longer you wait to book. Once you've decided on the perfect cruise, go ahead and book it — a year in advance, if you can.
Don't forget that cruises scheduled for either summertime or the holiday season fill up quickly and cost more than off-season cruises. And if you want to take a holiday cruise, book your trip ASAP.
Take advantage of travel deals
Are you a Costco member? You might qualify for discounted fares with certain cruise lines or specific destinations.
Similarly, booking through some credit cards with travel rewards can pay off in immediate discounts or help you earn miles so you can travel more later.
Budget for more than the cost of your ticket
Like any other type of vacation, plan for more expenses than just the price of a ticket.
Cruise ships have several stores on board where you can buy everything from duty-free goods and toiletries to clothes and souvenirs.
If you plan to disembark at key destinations (and we're guessing you do), you'll want a spending budget for those trips as well.
Write a packing list and stick to it
If your typical packing style is to throw everything you think you'll need in a bag the night before your trip, you'll want to change your last-minute habit for your cruise.
Planning in advance ensures you'll have all the essentials so you can spend as little as possible on items at your cruise ship's mall, which almost always cost more than the same items on land.
Pack a separate carry-on bag
Along with your main pieces of luggage, pack a small carry-on bag that you can walk on board with.
Include anything you want easy and immediate access to, like a week's worth of medications (neatly organized in a pillbox), and anything you'll need for a trip onshore, like a swimsuit.
That way, you won't have to wait for your checked luggage to arrive in your cabin to start feeling at home on your ship.
Look for fun activities ahead of time
You already know which ports your cruise is stopping at, so as soon as you book the cruise itself, start planning your shore excursions.
Internet access can be both pricy and slow on a cruise ship, which means doing your research ahead of time can save you money. And since ships only dock for a few hours at a time, you need to know in advance which sites you want to see.
Be sure to calculate how long it will take you to reach them and whether you can get there and back again before the ship leaves — because it isn't going to wait around if you're late.
Scope out your ship's amenities and activities in advance
Along with planning your shore adventures, don't forget to plan your oceanside adventures.
Get to know your ship's layout, especially the location of the mall and dining areas. Read up on any activities the cruise line has planned and decide which ones you want to attend.
You'll enjoy knowing exactly what to look forward to, and you'll be able to plan a more accurate budget too.
Decide if you want to pay for drinks
Cruise lines often offer drink packages where you can pay in advance to have nearly unlimited access to the bar.
If you're planning on enjoying a tipsy cruise, you'll probably save more in the long run by buying a drink package up front.
On the other hand, if you're fine with a drink (or less) a day, you'll save money bringing your own beverage. Just make sure to find out if your cruise line has a corkage fee and plan accordingly.
Get to the city you're embarking from at least a day in advance
What's the easiest way to ruin a cruise? Failing to make it on board before the ship sets sail.
Travel slowdowns happen, from bad weather on the road to delayed flights, so you don't want to arrive in town the day of your departure.
Even though it requires you to budget for an extra night at a hotel, you'll save a lot of stress if you give yourself a day of leeway.
Don't overschedule every moment
Unstructured moments are often the ones where the most memorable experiences take place. While you're organizing activities and planning your shore excursions, don't forget to leave time to simply explore, lounge, and relax.
Use your cruise line's app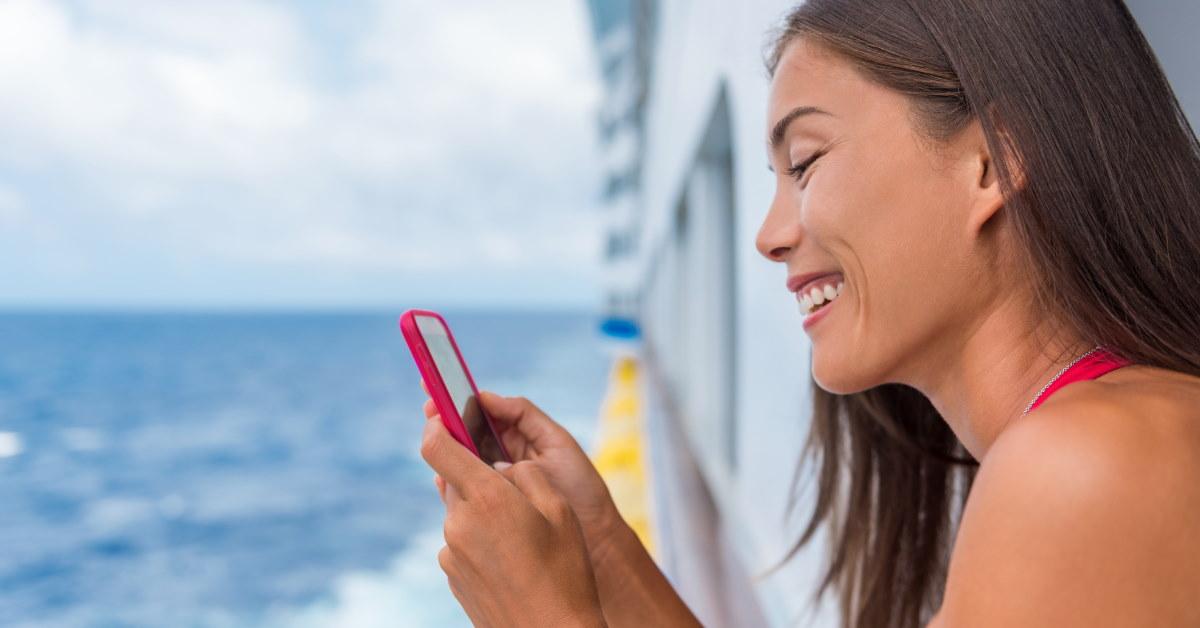 There's a lot to keep track of on your cruise, from sailing times to onsite entertainment.
Instead of trying to memorize all the dates, times, rules, and regulations on your own, download your cruise line's app so you can access crucial information on the go.
Most importantly, you can use the app on your cruise without paying for a Wi-Fi package. You can make reservations, book massages, and (depending on the app) communicate with other people in your party without wasting data or money.
Minimize your phone time
As we said above, cruise lines have notoriously slow, expensive internet. Taking a break from tech can save you money, not just because you won't have to pay for internet, but also because your phone won't eat up your data roaming the high seas for a signal.
If you need internet access, consider paying for Wi-Fi for just a few days out of the entire trip. It's cheaper and will also help you stay in the moment and enjoy your cruise while it lasts.
And if you plan on using your phone's camera to document the trip, make sure to keep the phone in airplane mode.
Bottom line
Whether you're looking for a cruise for when you retire early or you're a seasoned cruise pro, you're practically guaranteed to have a fantastic time on your trip if you plan ahead.
Following the 13 tips we listed here will simply make it that much more enjoyable, and you'll be able to save some money during your vacation. 
Easy-to-Earn Unlimited Rewards
Earn 25,000 online bonus points after you make at least $1,000 in purchases in the first 90 days of account opening - that can be a $250 statement credit toward travel purchases
Earn 1.5 points per $1 spent on all purchases
Longer intro APR on qualifying purchases and balance transfers
No foreign transaction fees
Earn unlimited 1.5 points per $1 spent on all purchases, with no annual fee and no foreign transaction fees and your points don't expire.
25,000 online bonus points after you make at least $1,000 in purchases in the first 90 days of account opening - that can be a $250 statement credit toward travel purchases.
Use your card to book your trip how and where you want - you're not limited to specific websites with blackout dates or restrictions.
Redeem points for a statement credit to pay for travel or dining purchases, such as flights, hotel stays, car and vacation rentals, baggage fees, and also at restaurants including takeout.
0% Introductory APR for 18 billing cycles for purchases, and for any balance transfers made in the first 60 days. After the intro APR offer ends, 17.99% - 27.99% Variable APR will apply. A 3% fee applies to all balance transfers.
If you're a Preferred Rewards member, you can earn 25%-75% more points on every purchase. That means instead of earning an unlimited 1.5 points for every $1, you could earn 1.87-2.62 points for every $1 you spend on purchases.
Contactless Cards - The security of a chip card, with the convenience of a tap.
This online only offer may not be available if you leave this page or if you visit a Bank of America financial center. You can take advantage of this offer when you apply now.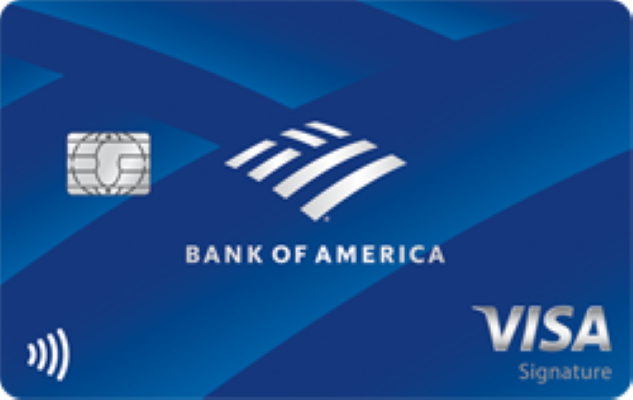 Apply Now
on Bank of America's secure website
Read Card Review
Intro Offer
Earn 25,000 online bonus points after you make at least $1,000 in purchases in the first 90 days of account opening - that can be a $250 statement credit toward travel purchases