Are you planning to hit the road for the holidays? Or maybe you're going to cash in your travel rewards to spend Thanksgiving with family.
We've compiled a list of some of the best-rated locations in each state that offer a turkey dinner of some type, whether it's Thanksgiving buffets or a good old turkey sandwich covered in gravy.
These are the must-have locations to visit for a turkey dinner in every state this year.
Earn a $250 travel bonus with this incredible card
There's a credit card that's making waves with its amazing bonus and benefits. The Bank of America® Travel Rewards credit card has no annual fee and you can earn 25,000 bonus points after spending $1,000 in purchases in the first 90 days of account opening.
You can earn additional points just by using this card for your everyday purchases — unlimited 1.5 points per $1 spent on all purchases. The 25,000 bonus points can be redeemed for a $250 statement credit toward travel or dining purchases.
If you want to travel and dine out more, the Travel Rewards card can help you get where you want to go.
The best part? There's no annual fee.
SPONSORED
Alabama: Bates House of Turkey (Greenville)
The charming wood-paneled feel of Bates House of Turkey is the perfect setting for this hearty. The turkey is noted for being "better than Moms," and the stuffing is nearly as good.
They have all the classic sides here, along with overstuffed turkey sandwiches with a perfectly seasoned made-from-scratch gravy.
Alaska: Snow City Cafe (Anchorage)
A fun, upbeat diner-like location, Snow City Cafe is the perfect place to get a slow-roasted turkey sandwich served with your favorite toppings.
This breakfast and lunch destination creates its version of the turkey sandwich with housemade herb mayo and Havarti on sourdough.
Arizona: My Mother's Restaurant (Phoenix)
The roasted, carved turkey dinner at My Mother's Restaurant is succulent and freshly made in-house. It's also served with homemade stuffing, a dinner roll, and two sides of your choice, ranging from rice pilaf to Irish potatoes.
It's a simple location with delicious food. Make sure to save room for homemade pie like the fall-favorite pumpkin or always-good peanut butter cream.
If you're over 50, take advantage of massive travel discounts and trip-planning resources
Over 50 and love traveling? Join AARP today — because if you're not a member, you could be missing out on huge travel perks. When you start your membership today, you can get discounts on hotels and resorts, airfare, cruises, car rentals, and more.
How to become a member today:
Go here, select your free gift, and click "Join Today"
Create your account (important!) by answering a few simple questions
Start enjoying your discounts and perks!
An AARP membership not only unlocks discounts that could save you hundreds on your next trip, but you'll also have access to deals on vacation packages, guided tours, and exclusive content to help plan your next getaway.
Important: Start your membership by creating an account here and filling in all of the information (do not skip this step!). Doing so will allow you to take up to 25% off your AARP membership, making it just $12 per year with auto-renewal.
Arkansas: Burge's (Lewisville)
Burge's is the place to buy a Thanksgiving turkey to take home (or any time of the year). It also offers a dine-in experience that's served customers since 1962.
Their claim to fame is a hickory smoked turkey packed with a smokey flavor and buttery consistency.
California: Black Bear Diner (Signal Hill)
A hearty meal, the roasted turkey dinner at Black Bear Diner is sure to hit the spot. It's served with a house-made gravy and a smooth, tangy cranberry sauce.
This diner has a bear theme, with homestyle comfort food on the menu and a passion for providing personalized service.
Colorado: White Fence Farm (Lakewood)
A fun theme and friendly staff are good reasons to visit White Fence Farm, but the roasted turkey breast dinner is even better.
The location offers only a limited number of servings each night and doesn't roast more once they run out. Get it with the homemade mashed and cranberry sauce.
Connecticut: The Griswold Inn (Essex)
The Thanksgiving Buffet at The Griswold Inn is historically charming and fabulously flavored. Noted for its elegance and Colonial feel, the inn offers some outstanding options on the buffet.
That includes turkey legs and thighs, sausage stuffing, baked salmon and cod, and a roast pork loin (in case turkey wasn't enough).
Delaware: Jessop's Tavern (New Castle)
Noted for its incredible 300-year-old building and traditional charm, Jessop's Tavern also offers the Pilgrim's Feast on its menu.
It comes with everything from a carved tavern-roasted turkey, cornbread stuffing, herb gravy, and dropped biscuits; all served on a traditional pewter charger for the historic feel.
Florida: Kook'n With Kim (Orlando)
Numerous restaurants in Orlando offer a traditional turkey dinner for those vacationing on Thanksgiving. Still, one of the best options for a turkey dinner all year round is Kook'n With Kim.
The turkey wing dinner is slow-cooked to perfection. Get it with black-eyed peas, cabbage, rice, or mac and cheese.
Earn a $250 travel bonus with this incredible card
There's a credit card that's making waves with its amazing bonus and benefits. The Bank of America® Travel Rewards credit card has no annual fee and you can earn 25,000 bonus points after spending $1,000 in purchases in the first 90 days of account opening.
You can earn additional points just by using this card for your everyday purchases — unlimited 1.5 points per $1 spent on all purchases. The 25,000 bonus points can be redeemed for a $250 statement credit toward travel or dining purchases.
If you want to travel and dine out more, the Travel Rewards card can help you get where you want to go.
The best part? There's no annual fee.
Georgia: Mary Mac's Tea Room (Atlanta)
Set in a 1950s-style diner, Mary Mac's Tea Room is an excellent choice for good, home-like cooking. The roast turkey is made from scratch in-house and is a star of the menu.
Everything is made with love, including the scratch-made breads. Expect friendly people and a huge menu of Southern cuisine.
Hawaii: Plumeria Beach House at Kahala Resort (Honolulu)
For those traveling during the holidays, the Plumeria Beach House has some excellent cocktails and specialty meals, including a lavish Thanksgiving buffet.
Enjoy sausage stuffing, a herbed, slow-roasted turkey, and all the fixings on one of the indoor or outdoor terraces here.
Idaho: Smitty's Pancake & Steak House (Idaho Falls)
The hot pan-roasted turkey is a sandwich not to miss, especially with the open-faced, over-mashed potatoes serving.
This steaming sandwich has a thick covering of gravy over the top. It's a warming meal perfect for turkey cravings.
Illinois: L. Woods Tap & Pine Lodge (Lincolnwood)
On Mondays, L. Woods Tap & Pine Lodge, a supper club, offers an oven-roasted turkey dinner that brings people in.
Not only is the fun, laid-back theme of the location appealing, but the freshly made dressing, gravy, and cranberry sauce make any Monday feel like a fall day.
Indiana: Metro Diner (Indianapolis)
The Roasted Turkey Plate at Metro Diner is a must for those who love creamy mashed potatoes made from scratch.
The meal also comes with cornbread stuffing, and the big, thick cuts of turkey are pretty filling. This simple, fabulous dinner is a must.
Iowa: Machine Shed Restaurant (Urbandale)
Machine Shed Restaurant offers one of the best roast turkey and dressing meals for suppertime comfort. The pan gravy and made-from-scratch sage dressing make this a popular option.
The entire location is upbeat with its farm theme. It has a full bar and an American menu to go along with the turkey options.
Kansas: Pullman Place (Leavenworth)
Pullman Place offers two hot turkey sandwiches: the turkey cordon bleu or the hot turkey sandwich with turkey gravy. Both have real mashed potatoes, lots of flavor, and fresh bread.
This train-themed destination is also noted for its fresh rolls, pies, and cakes.
Kentucky: Claudia Sanders Dinner House (Shelbyville)
Claudia's Kentucky Hot Brown is the best turkey dinner in the state.
It's served with layers of country ham and sliced roasted turkey breast on two pieces of toast. It's then topped with golden brown gravy, shredded cheddar cheese, bacon, and tomatoes.
If you want the very best in country-style dining, stop in at Claudia Sanders Dinner House (yes, founded by Colonel Sanders and his wife), there's no better choice.
Louisiana: Dorothy's Soul Food Kitchen (Baton Rouge)
At Dorothy's Soul Food Kitchen, you get a menu filled with Southern cooking, but the smothered turkey wings available most days of the week are some of the most decadent options.
Pair it with yams, collard greens, or rice and gravy for a hearty meal. Don't forget the sweet potato pie to go with it.
Maine: Natalie's At Camden Harbour Inn (Camden)
While turkey isn't normally on the menu at Natalie's, this countryside inn offers the best Thanksgiving menu around.
With numerous courses, you can expect a crisp fall salad with apples and charred grapes, Maine lobster or duck breast, and, of course, roasted turkey with all of the fixings.
Maryland: Elkridge Furnace Inn (Elkridge)
Set in an 18th-century inn, this sophisticated, charming destination makes for the perfect fall adventure into a historical area of the state.
The main course is traditional turkey, along with haricot verts, chive whipped potatoes, and butternut squash stuffing.
Massachusetts: Amrheins Restaurant (Boston)
Amrheins Restaurant is a fun blend of American and Italian cuisine in an upbeat pub-like atmosphere.
You'll find the turkey tips to be quite succulent since they are marinated before being roasted. It's all served over creamy risotto.
Michigan: Zehnder's of Frankenmuth (Frankenmuth)
Zehander's of Frankenmuth is a long-standing location with ample American-style cuisine and a bit of German flare.
What's even better is that their Thanksgiving buffet is packed with a huge selection of foods, including both slow-roasted turkey and prime rib.
Minnesota: The Lexington (Saint Paul)
At The Lexington, the menu typically does not include a turkey dinner, but on the holiday, you can enjoy a fabulous, scratch-made meal and a drink right on the rooftop of this historic restaurant.
In years past, the Thanksgiving menu has featured all of the traditional favorites, including slow-roasted, herbed turkey and scratch-made mashed potatoes.
Mississippi: Primos Café (Flowood)
The best place for a turkey dinner (to go) in Mississippi is Primos Café.
The small location is noted for offering huge portions and outstanding quality in its entire menu, including its special Thanksgiving day preparations.
Choose from sliced or smoked turkey, a spiral roasted ham, and fixings such as sweat potato casserole and green bean casserole.
Missouri: Grace Meat + Three (Saint Louis)
Grace offers a wide range of meal options, but their Thanksgiving catering opportunity is the best deal around.
It offers turkey that's brined, rubbed, and ready to cook (you do the cooking at home). Choose the sides you want, along with pies ready to enjoy.
Montana: The Lodge at Whitefish Lake (Whitefish)
If you're traveling to the area, check out The Lodge at Whitefish Lake. While there, stay for the Thanksgiving buffet.
Enjoy all you wish to eat from the lineup of Thanksgiving favorites, including fresh bread and desserts made in-house.
Nebraska: Kirk's Nebraskaland Restaurant (Lexington)
A family-style restaurant noted for its 30 years of making the best prime rib in town, Kirk's Restaurant, Sports Bar & Grill also offers a full turkey dinner.
They slow-roast their turkey for hours and then cover it with gravy before placing it all on a bed of mashed potatoes.
Nevada: Carson Valley Inn (Minden)
If you're looking for food close to the casino, check out Carson Valley Inn.
The roast turkey dinner is served with seasonal vegetables and mashed potatoes, but the secret is in that thick, rich gravy it comes with, not to mention the stuffing.
New Hampshire: Hart's Turkey Farm Restaurant (Meredith)
Since 1954, Hart's Turkey Farm Restaurant has been the place to go to get the best in family dining at a competitive price. As its name implies, turkey is always on the menu.
The most common option is the regular turkey plate with 5.5 ounces of decadent turkey, cranberry sauce, stuffing, and gravy, but they also offer bigger and smaller versions.
New Jersey: Hinck Turkey Farm (Manasquan)
Hinck Turkey Farm is an excellent choice for a turkey dinner like no other. Pick up your order on your way home from work by ordering ahead or purchasing a fresh turkey to make yourself.
They have lots of sides, including creamed spinach, sweet potatoes, corn, peas, carrots, and mashed potatoes.
New Mexico: The Range Café (Bernalillo)
The Range Café is a fun, lively location known for its quality dishes nearly as much as its smiling faces.
The hot turkey plate is a popular option and is served with cranberry-orange chutney, stuffing, and green chile gravy.
New York: The Mansion Diner (Manhattan)
In Manhattan, check out The Mansion Diner for its roast young turkey. It comes with a soup or a salad along with potatoes and vegetables.
The location on the Upper East Side is a classic, having served the community since 1945 with elegant, hearty foods made with soul.
North Carolina: The Pit Authentic Barbecue (Raleigh)
Over in Raleigh, you can easily fill your turkey craving at the barbeque-loving location known as The Pit.
Though they're often known for their chicken and pork, the chopped barbeque turkey is fantastic for its robust flavor and soft texture. Choose from numerous sides to go along with it, including the heirloom cabbage collards.
North Dakota: Mr & Mrs J's Restaurant (Devils Lake)
Mr. & Mrs. J's Restaurant is the type of restaurant you visit when you want great food and service from dishes you know and trust. It's not fancy, but it's good.
The roast turkey dinner is that and much more. The mashed potatoes are made from scratch, as is the stuffing and gravy that comes with it.
Ohio: Best Friends Restaurant (Geneva)
Best Friends Restaurant in Geneva, right on the shores of Lake Erie, is a family-friendly destination noted for its huge salad bar, local craft brews, and fine wines.
Among the many dishes on the menu is a roast turkey with house-made dressing and lots of gravy. Save some room for the pumpkin pie or French silk if you dare.
Oklahoma: Black Bear Diner (Oklahoma City)
Black Bear Diner has a huge menu of scratch-made foods, including roast turkey with gravy and cranberry sauce. It comes with soup and cornbread muffins, too.
One of the best reasons to eat here is that most of the food is sourced locally and made with time-tested recipes.
Oregon: Huber's Cafe (Portland)
At Huber's Café, you have a few turkey options at this fine-dining, comfortable location. That includes the turkey enchiladas, roast turkey wings, or the turkey pot pie.
No matter which you choose, you'll enjoy a meal at the first restaurant in Portland, established in 1879 and known for its exceptional attention to detail and traditional turkey dinner.
Pennsylvania: Fry Bros. Turkey Ranch (Trout Run)
At Fry Bros. Turkey Ranch, they know what it means to offer the highest quality of turkey to their customers. They've been doing just that since 1939 with a focus on fresh ingredients that fill stomachs and hearts.
As a turkey destination, there are several options on the menu, including turkey and biscuits. Still, the famous turkey dinner with homemade filling, cranberry sauce, and gravy, served with rainbow sherbert, is the way to go.
Rhode Island: Gregg's Restaurant & Tavern (Providence)
Since opening in 1872, Gregg's Restaurants has been noted for its home-style food (and deserts) made from fresh, local ingredients in-house.
Enjoy the traditional roast turkey dinner here with fresh butternut squash, bread stuffing, a thick brown gravy over real mashed potatoes, and cranberry sauce. It's only available on Sundays.
South Carolina: Traditions on the Lake (Seneca)
Good food made from scratch is always on the menu at Traditions on the Lake. If you're lucky enough to snag a reservation on Thanksgiving, you'll enjoy a big turkey buffet.
The buffet is packed with turkey and the traditional sides, along with ham, baked chicken, and fried flounder. This lakeside restaurant and bar makes sure everyone is covered.
South Dakota: The Willows Food & Spirits (Sioux Falls)
It's not easy to find a good turkey dinner in South Dakota better than the smoked turkey and bacon sandwich at The Willows.
Made from slow-roasted turkey that's been smoked, it's topped with just the right blend of toppings (made your way) on wheat berry bread.
Tennessee: Loveless Cafe (Nashville)
When you're really hungry, head to Loveless Café for the Supper Sampler Platter.
You'll get to choose three types of meat: smoked turkey, pulled pork, smoked pork chop, meatloaf, fried or fried catfish, or fried chicken breast.
Or, check out the smoked turkey breast platter, which features cornbread hoecakes and barbecue sauce to go with it.
Texas: Norma's Cafe (Dallas)
At Norma's Café, guests typically come in for the blue plate specials, which are huge portions of scratch-made food served to very hungry people.
And if you book your meal for Thanksgiving with them, the proceeds benefit the local food bank, and you get incredible food for your guests.
Utah: Chuck-A-Rama Buffet (Lehi)
Chuck-A-Rama Buffet is certainly known for its fantastic fried chicken, but the kettle-roasted turkey is another winner here.
The family-friendly destination serves this up with red potatoes, fresh carrots and onions, and a smooth sauce, all cooked in a Dutch oven.
Like everything else, the location makes it all from scratch, as it has been doing since 1966.
Vermont: The Whip Bar & Grill (Stowe)
An upscale establishment, The Whip Bar & Grill serves their Green Mountain Inn classic turkey dinner throughout the year, and with good reason.
Noted for its refined wine and drink menu, the location offers a turkey dinner with sausage apple and sage stuffing, butter-whipped potatoes, petite peas, cranberry relish, and pan gravy.
Virginia: Trummer's (Clifton)
A noted American bistro, Trummer's offers a full Thanksgiving menu that allows guests to enjoy a more refined menu without preparing it themselves.
The dishes include rotisserie heritage turkey that's stuffed, cornbread, cranberry relish, and pretzel bread stuffing as options. Save some room for the bourbon pecan bread pudding, too.
Washington: Great American Diner & Bar (Seattle)
It really is a traditional diner, from the styling to the food on the menu (check out the jumbo chicken wings).
A diner specialty is the roast turkey dinner, served with homemade sage dressing on top of a pile of garlic mashed potatoes, with cranberry sauce, pan gravy, and vegetables.
West Virginia: Harding's Family Restaurant (Charleston)
There's lots to love about the family-style cooking at Harding's Family Restaurant, including the big portions and the perfect combination of protein-carb-veggie.
The roast turkey dinner is an excellent choice for its traditional flavor profile. It's turkey that's super tender, along with stuffing and cranberry sauce.
Wisconsin: Thunder Bay Grille (Pewaukee)
The Thanksgiving Day buffet at Thunder Bay Grille is hard to beat with its huge range of options.
The roasted turkey is the start of the show, but there's also honey-baked ham, apricot Dijon pork loin, and numerous sides.
The assorted pies and homemade dinner rolls cap off this meal. It's all served with careful attention to detail and with options in hand-crafted cocktails to meet your beverage needs.
Wyoming: Little America's Hathaway's Restaurant (Cheyenne)
Little America, a resort in Cheyenne, is noted for its beauty and elegance, and Hathaway's Restaurant on the property is an excellent place for your Thanksgiving meal.
It's hosted in the grand ballroom and offers refined versions of your favorites for the holidays. You certainly will enjoy the slow-roasted turkey and buttery mashed with the pan gravy.
Bottom line
No matter what you think is the best type of turkey dinner possible, there's a location across the U.S. that offers it.
So grab your best travel credit cards and make a plan to visit a few of these outstanding locations for a turkey meal — and bring along the family to enjoy it with you.
Easy-to-Earn Unlimited Rewards
Earn 25,000 online bonus points after you make at least $1,000 in purchases in the first 90 days of account opening - that can be a $250 statement credit toward travel purchases
Earn 1.5 points per $1 spent on all purchases
Longer intro APR on qualifying purchases and balance transfers
No foreign transaction fees
Earn unlimited 1.5 points per $1 spent on all purchases, with no annual fee and no foreign transaction fees and your points don't expire as long as your account remains open.
25,000 online bonus points after you make at least $1,000 in purchases in the first 90 days of account opening - that can be a $250 statement credit toward travel purchases.
Use your card to book your trip how and where you want - you're not limited to specific websites with blackout dates or restrictions.
Redeem points for a statement credit to pay for travel or dining purchases, such as flights, hotel stays, car and vacation rentals, baggage fees, and also at restaurants including takeout.
0% Introductory APR for 15 billing cycles for purchases, and for any balance transfers made in the first 60 days. After the intro APR offer ends, 18.24% - 28.24% Variable APR will apply. A 3% fee applies to all balance transfers.
If you're a Bank of America Preferred Rewards® member, you can earn 25%-75% more points on every purchase. That means instead of earning an unlimited 1.5 points for every $1, you could earn 1.87-2.62 points for every $1 you spend on purchases.
Contactless Cards - The security of a chip card, with the convenience of a tap.
This online only offer may not be available if you leave this page or if you visit a Bank of America financial center. You can take advantage of this offer when you apply now.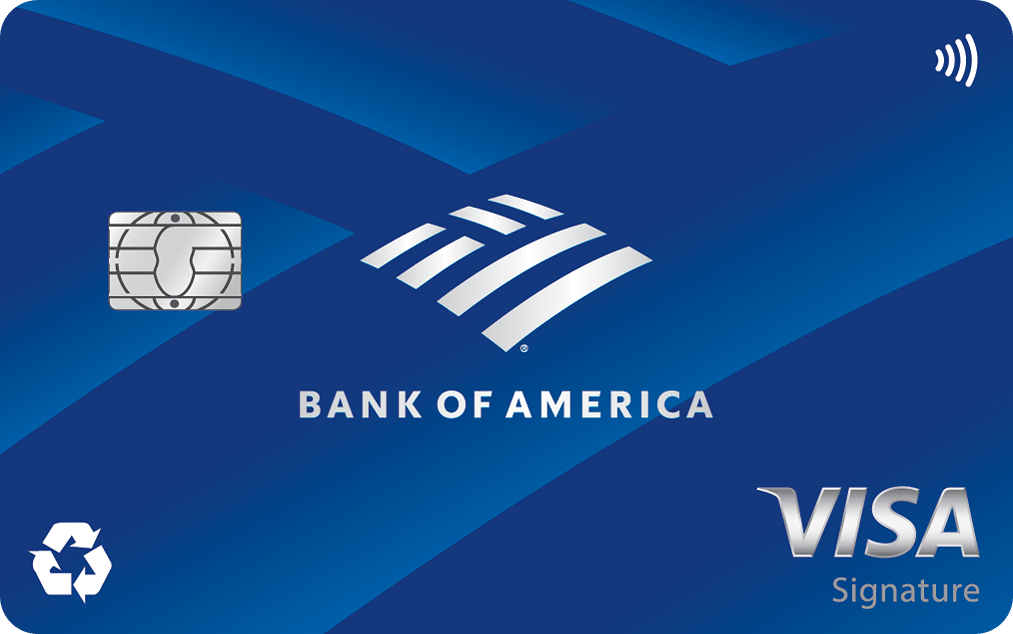 4.1
FinanceBuzz writers and editors score cards based on a number of objective features as well as our expert editorial assessment. Our partners do not influence how we rate products.
Apply Now
on Bank of America's secure website
Read Card Review
Intro Offer
Earn 25,000 online bonus points after you make at least $1,000 in purchases in the first 90 days of account opening - that can be a $250 statement credit toward travel purchases