From Florida and the Bahamas and Hawaii to Fiji, everyone has a list of perfect winter getaways for when the cold weather gets to be a little too much.
Unfortunately, too many people have the same idea about which places make the perfect wintertime destinations, which can turn your dream vacation into a nightmare.
If you're looking for a travel spot that's as sunny as it is serene, you'll have to search outside the typical top-ten winter destination lists.
We've compiled some of the lesser-known gems you can visit this winter and avoid throwing your money away at an overcrowded destination.
Santa Cruz la Laguna, Guatemala
Santa Cruz is a beautiful little town along Lake Atitlán, the Sierra Madre's famous volcanic lake.
From the village, you have a magnificent view of two (or three, depending on the weather) nearby volcanoes. You're also surrounded by beautiful hills topped with the homes that make up Mayan villages.
Santa Cruz itself is the lake's scuba diving hub, so if you want to take a dip in the deepest lake at the highest altitude in all of Central America, Santa Cruz is your destination.
Parts of Santa Cruz are still fairly touristy, but on the whole, it's far from as cramped as more popular Guatemalan destinations like San Pedro, San Maros, or the capital of Guatemala City.
Lanai, Hawaii
The island of Maui is far and away the most tourist-centric of all the Hawaiian islands, with parts of Oahu and the Big Island of Hawaii coming in second.
But if your heart is set on a Hawaiian destination this winter, you can dodge the worst of the winter crowds by traveling to the smaller, quieter island of Lanai.
In stark contrast to Maui, Lanai has two hotels, one on each side of the island. (You can also find the occasional Airbnb listing.)
Without all the tourists, you're free to wander island trails, view a World War II-era shipwreck off Shipwreck Beach, and visit the gorgeous Garden of the Gods free from loud, disruptive crowds.
Saly, Senegal
Senegal is a unique West African nation that encompasses a range of ecosystems. It stretches up into arid North Africa, runs down into verdant sub-Saharan Africa, and contains 330 miles of Atlantic Ocean coastline.
While the country doesn't lack beautiful, sandy beaches, the growing district of Saly is probably the country's most famous resort site.
For being only 50 miles from the crowded capital city, Dakar, Saly is still remarkably small — just 20,000 people.
Some parts of Saly are more luxurious than others, complete with fancy resorts, helicopter rides, golf courses, and casinos. Others are more rural, though you should find deliciously affordable French street food anywhere you travel.
Best of all, Saly's beaches are notably unpopulated, especially during the winter months.
St. Simons Island, Georgia
Instead of flocking to the Florida Keys with the rest of the cold-weather escapees, check out Georgia's less popular but just as scenic Golden Isles.
This series of four barrier islands range from Savannah, Georgia, to Jacksonville, Florida. St. Simons is the largest of the Golden Isles, which makes it big enough for a variety of restaurants, museums, historical sites, shops, beaches, and resorts.
At the same time, it's small enough that the beaches rarely feel overcrowded, especially in the off season.
Montserrat
With no more than 20,000 or so visitors a year, Montserrat is easily the least-visited island in the Caribbean.
Thanks to its gorgeous scenery, though, it's only a matter of time before the island becomes as tourist-heavy as the rest of the Caribbean.
Montserrat is most famous for the Soufrière Hills, a volcano with multiple domes. While the volcano caused mass devastation when it erupted in 1997, it's the reason for Montserrat's lush landscapes and fertile soil.
The island is also known for its friendliness and delicious food, so even (or perhaps especially) without the typical tourists around, you'll be in good company.
Dunedin, Florida
Okay, we hear you — you really, really can't stand to miss out on Florida this winter.
If you crave Gulf Coast weather but can't stand Gulf Coast crowds, Dunedin is your best bet for your dream Florida vacation this winter since it's right next to Honeymoon Island, one of the state's most popular state parks.
You can bike through Florida's undergrowth for dozens of miles, splash in clear ocean water, lounge on soft beaches, and balance your time in the great outdoors with shopping and dining in the city's quaint downtown district.
Sedona, Arizona
Even though Arizona is known for its blazing-hot summer temperatures, many of its cities (Sedona included) get some snow throughout the winter.
So, if you're hoping to avoid any semblance of snow altogether this winter, steer clear of Arizona.
However, if you can handle mild temperatures — think sixty degrees — and the possibility of frosty mornings, Sedona is an uncrowded, underrated gem of a place.
Sedona is a unique spot in the high desert featuring nearly unbelievably gorgeous red rocks. With hundreds of miles of nearby biking and hiking trails, it's an outdoor lover's dream.
If you live in a busy metro area where light pollution blocks out the stars, make sure to spend some time outside at night in Sedona: the city is one of just 20 Dark Sky-certified communities around the world (13 of which are in the U.S.).
Mission Beach, Queensland, Australia
While the Northern Hemisphere is in the depths of winter, Australians are experiencing the height of summer.
For peak summer weather, you'll want to visit Queensland, Australia's northernmost state since it's the best access point to the Great Barrier Reef. But if you prefer to stay closer to land, Queensland's beaches are rarely overcrowded.
In particular, the Cassowary Coast is a long stretch of sparsely populated coastline between Cardwell and Cairns.
While you'll find plenty of quietly spectacular nooks while you wander down the coast, the four-city region of Mission Beach stands out.
The beach itself is pristine and surprisingly empty for most of the year. You're unlikely to get sick of it, but just in case, there's a water taxi that can take you to one of the islands just off the coast.
You can also use a Mission Beach resort as your base camp while you plan a diving trip out to the Reef.
Bottom line
If you're sick of other tourists spoiling your otherwise perfect winter wonderland, you don't need to resign yourself to several dreary, snow-filled months at home.
Instead, take a little trip off the beaten path by visiting one of these eight lesser-known stomping grounds.
Since the trip will likely cost less than a vacation to an overcrowded, overpriced resort, your future self can look forward to even more quiet, sunny vacations in the winters to come.
And you can even use one of the best travel credit cards to build up points you can cash in the next time you want to escape the winter blues.
Easy-to-Earn Unlimited Rewards
Earn 25,000 online bonus points after you make at least $1,000 in purchases in the first 90 days of account opening - that can be a $250 statement credit toward travel purchases
Earn 1.5 points per $1 spent on all purchases
Longer intro APR on qualifying purchases and balance transfers
No foreign transaction fees
Earn unlimited 1.5 points per $1 spent on all purchases, with no annual fee and no foreign transaction fees and your points don't expire.
25,000 online bonus points after you make at least $1,000 in purchases in the first 90 days of account opening - that can be a $250 statement credit toward travel purchases.
Use your card to book your trip how and where you want - you're not limited to specific websites with blackout dates or restrictions.
Redeem points for a statement credit to pay for travel or dining purchases, such as flights, hotel stays, car and vacation rentals, baggage fees, and also at restaurants including takeout.
0% Introductory APR for 18 billing cycles for purchases, and for any balance transfers made in the first 60 days. After the intro APR offer ends, 17.99% - 27.99% Variable APR will apply. A 3% fee applies to all balance transfers.
If you're a Preferred Rewards member, you can earn 25%-75% more points on every purchase. That means instead of earning an unlimited 1.5 points for every $1, you could earn 1.87-2.62 points for every $1 you spend on purchases.
Contactless Cards - The security of a chip card, with the convenience of a tap.
This online only offer may not be available if you leave this page or if you visit a Bank of America financial center. You can take advantage of this offer when you apply now.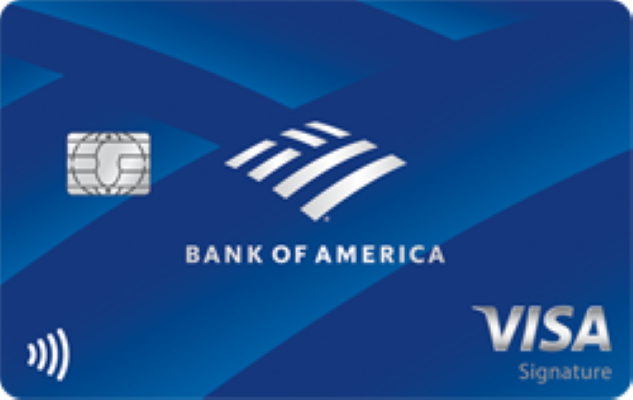 Apply Now
on Bank of America's secure website
Read Card Review
Intro Offer
Earn 25,000 online bonus points after you make at least $1,000 in purchases in the first 90 days of account opening - that can be a $250 statement credit toward travel purchases