Got the winter blues? If you're ready for a change of scenery, there's an endless supply of free winter festivals in many states to check out. But if you're ready to just straight-up escape to a warmer climate, you're not the only one.
Although you probably won't be able to swing a trip across the world to an amazing overwater bungalow for just a long weekend, there are plenty of fantastic places you can get to easily for a quick hit of sunshine.
Here are five places that will melt your winter chill — and that you can get to easily using points and miles. Even better, these particular spots were chosen because they are often overlooked and underrated, so they won't be as crowded as their more popular neighbors.
Delray Beach, Florida
Although most people think of Miami when they think of great beaches in South Florida, the charming town of Delray Beach often gets skipped over. But those in the know enjoy Delray's miles of beautiful Atlantic shorelines in a fun and family friendly town.
This funky beach town boasts a world-class arts district called Pineapple Grove, where you can watch artists at work in their studios in Artist's Alley. The main drag, Atlantic Avenue, is home to dozens of delicious restaurants specializing in everything from seafood to Thai to smoothies.
Delray Beach loves a good festival, and you'll find its town calendar packed with events such as art walks, a huge St. Patrick's Day parade, wine and seafood festivals, and much more. If you like quirky museums, check out an impressive collection of vintage pinball and arcade games at the Silverball Museum.
Getting to Delray Beach with miles
Because Delray is located pretty much smack in between the Palm Beach International (PBI) and Fort Lauderdale-Hollywood International (FLL) airports, there are lots of options to get here easily. Flying Southwest Airlines using points is a great option for getting into both airports, especially if you have a Southwest Companion Pass to put to good use for your travel buddy.
Staying in Delray Beach with points
There are three great Marriott options in the heart of Delray Beach: Aloft, Courtyard, and Residence Inn. Looking at an award calendar for Aloft Delray Beach, it's not uncommon for it to cost 40,000 Marriott Bonvoy points per night as a standard rate. 
The Marriott Bonvoy Brilliant® American Express® Card is a great option to earn a lot of Bonvoy points for your trip to Delray Beach. New cardmembers will earn two 85K Free Night Awards after spending $6,000 in purchases in the first 6 months (redemption level at or under 85,000 Marriott Bonvoy points for each award; offer ends 11/1/2023).
The Brilliant card also gives a $300 annual statement credit ($25 per month) for eligible dining purchases, plus a free night award worth up to 85,000 points. That pretty much zeroes out the annual fee for this card, which is $650.

Learn more at our Marriott Bonvoy Brilliant American Express Card review.
Here's how your new Marriott Bonvoy Brilliant card could help you get award nights in Delray Beach. 
Because the card earns 6X points on eligible purchases at hotels participating in the Marriott Bonvoy program, 3X points at worldwide restaurants and on flights booked directly with airlines, and 2X points on all other eligible purchases, you'll likely have earned enough points for a few award stays at Aloft Delray Beach. And you could then use your free night award certificate for another night.
Tela, Honduras
Like many Central American countries, Honduras has a bad reputation for being an unsafe place to visit. It's true that the country has a long, sad history of violence. But if you head straight for the beautiful 430-mile Caribbean coastline, you'll find safe, private, and pristine beaches on sparkling blue waters.
Tela, located on the northern rim of the country, is known for its exotic jungles, sprawling national parks, virtually untouched reefs, and beaches. Escape to Honduras in the dead of winter, and you'll find practically perfect temperatures in the mid-80s.
Getting to Honduras with miles
There are several major airlines that fly to Ramón Villeda Morales International Airport (SAP) on a short direct hop. Take a three-hour nonstop from Houston on United Airlines, a 3.5-hour direct from Atlanta on Delta Air Lines, or a quick 2.5-hour jaunt from Miami on American Airlines.
You could spend just 35,000 Virgin Atlantic Flying Club miles roundtrip to fly Delta down to Tela. Although the program is lesser-known to many, Virgin Atlantic has great transfer partners and it's a fantastic option to fly Delta for substantially fewer miles.
To get Virgin Atlantic miles into your account, you can transfer 1:1 from American Express Membership Rewards, Chase Ultimate Rewards, and Citi ThankYou Points. Keep an eye out for periodic transfer bonuses, during which you can earn even more miles when you transfer.
Staying in Honduras with points
The Indura Beach & Golf Resort, a Hilton Curio property, is the perfect choice for a relaxing escape from cold weather. Enjoy the world-class 18-hole golf course, luxurious spa, sprawling collection of heat-controlled swimming pools, and four authentic Central American restaurants on property. If you'd like to explore the jungles, take a day trip to the spectacular Lancetilla Botanical Gardens, or enjoy water sports and zip lining, then the resort can help arrange safe private excursions.
You could spend just 37,000 Hilton Honors points per night for a junior suite. Or consider paying a cheap cash rate starting at just $114 a night, and then if you're a Hilton Honors American Express Aspire Card cardholder, you could use your credit card to "erase" the charges. Here's what I mean by that.
If you have a Hilton Honors American Express Aspire Credit Card, you'll receive an annual $250 resort credit at certain Hilton properties, and the Indura Beach & Golf Resort is one of them. Better yet, if you're in "two-player mode," you could each open an Aspire card and have a total of $500 resort credit per year. That resort credit can be used toward the cost of your room, including any charges you make during your stay such as at the restaurant or spa. As long as you charge these items to your room, your resort credit will be automatically applied.
All information about Hilton Honors American Express Aspire Card has been collected independently by FinanceBuzz.
Learn more at our Hilton Honors American Express Aspire Credit Card review.

You'll also earn automatic Hilton Diamond status from the Aspire card. Your elite status gets you free breakfast and any available room upgrades to make your stay even less expensive and more enjoyable.
So you could book four nights here at $114 per night, and use the resort credits from both Aspire credit cards to wipe out your entire room bill. Or you could use your points to book and use your resort credit toward dining and a massage while you're staying at the property.
Plus, when you spend with your Hilton Aspire, you'll earn 14X points on eligible purchases within the Hilton portfolio, 7X points on qualifying travel purchases made directly with airlines/select car rental companies or Amextravel.com, 7X points at U.S. restaurants, and 3X points on all other eligible purchases. This card has an annual fee of $450.
South Padre Island, Texas
Although cattle ranches and sprawling hills come to most people's minds when they think of Texas, the Lone Star State is also home to many popular beaches. You'll find snowbirds and vacationers alike looking to soak up some winter sunshine in South Padre Island, Texas. Because South Padre is about the furthest south you can go on the Texas coastline, it usually boasts the warmest winter temperatures.
If you're looking for vibrant beach nightlife, you'll find just the party you're looking for at South Padre's night club, bar, and karaoke scenes. But don't discount South Padre if you're looking for a quieter respite. The 70-mile Padre Island National Seashore sprawls with pristine beaches and dunes. And those interested in bird watching can spot more than 300 species throughout the year.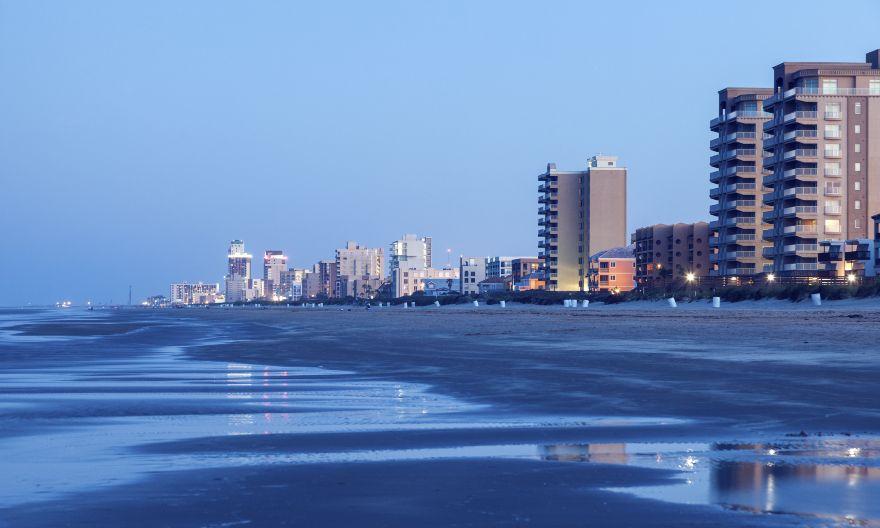 Getting to South Padre Island with miles
The closest airport, Brownsville/South Padre Island International Airport (BRO), is serviced only by regional hops on United and American Airlines. You could use 12,500 United miles each way on a one-hour flight from Houston. Or, because United is part of the Star Alliance, you could look into using other miles, such as Aeroplan or LifeMiles, to book even more cheaply.
Or you can fly into Harlingen's Valley International Airport (HRL) and have more options such as Southwest, Delta, Sun Country, and Frontier.
Staying on South Padre Island with points
A new addition to the IHG family of hotels is simply called the Beach Resort at South Padre Island. This beachfront property has large rooms perfect for families, plus a huge waterpark and swim-up bar.
You can book this winter getaway property for your family for 30,000 IHG points per night. The IHG One Rewards Premier Credit Card is a great option to build up a large stash of IHG One Rewards points quickly. Right now, you'll earn 140,000 bonus points after spending $3,000 on purchases in the first 3 months from account opening. Plus, when you book an award stay with your IHG points, you'll get the fourth night free by having this card.
That means a four-night stay at the Beach Resort at South Padre Island would cost you a total of only 90,000 IHG points. You'd still have plenty of points left from your welcome bonus to use toward another trip, and you'd get a free annual night certificate worth up to 40,000 points from this card as well.
Learn more at our IHG One Rewards Premier Credit Card review.

St. Kitts, West Indies
A trip to St. Kitts isn't your typical Caribbean vacation. Of course you can relax on the beach (there's even black sand beaches), but you can also hike volcanoes, follow a nature trail through the rainforest, and wander through a UNESCO World Heritage-listed fortress.
On St. Kitts, you'll also find quiet bays perfect for glass-bottom kayaks and easy snorkeling. You can also explore the largest intact rum distillery in the Caribbean and visit 17th-century English settlement tobacco farms. There's truly something for everyone.
The small island of St. Kitts, and its sister island, Nevis, historically haven't enjoyed as much commercial popularity as its neighbors St. John and Anguilla. Because it's not crawling with flashy all-inclusive resorts, it's great for a more natural visit to the Caribbean.
Getting to St. Kitts with miles
The easiest way to get to Robert L. Bradshaw International Airport (SKB) on St. Kitts is on American Airlines, which flies direct daily from Miami and seasonally from New York, Dallas, and Charlotte. An average round-trip price in America AAdvantage miles is 30,000, but you may be able to find sweeter offers in its economy web special deals.
Staying in St. Kitts with points
The most luxurious accommodations on St. Kitts can be found at the newly opened Park Hyatt St. Kitts Christophe Harbour. And good news: you can use your points to stay here for free!
This five-star hotel is a Hyatt Category 7 and costs 30,000 points per night, for a total of 120,000 Hyatt points for a four-night stay. Even standard rooms are beachside here, and they're a spacious 527-square feet with a spa tub. If you enjoy frequent Hyatt stays, then you know that once you hit 50 qualifying nights you'll receive two suite upgrade awards that you could apply to get an even bigger and more luxurious room.
The World of Hyatt loyalty program is one of the most-loved among points-loving travel hackers. That's because, compared to its major competitors such as Marriott and Hilton, the amount of points required for award stays is far less. Hyatt also has a stellar reputation for treating elite members like royalty.
There are two ways to rack up Hyatt points quickly, and both of them involve using some of the best travel credit cards. With The World of Hyatt Credit Card you can earn up to 60,000 bonus points: 30,000 points after you spend $3,000 on purchases in your first 3 months from account opening, plus up to 30,000 more bonus points by earning 2 points total per $1 spent in the first 6 months from account opening on purchases that normally earn 1 bonus point, on up to $15,000 spent. That's almost enough for two nights at the spectacular Park Hyatt St. Kitts. Another easy way to get more Hyatt points into your account is to transfer from Chase Ultimate Rewards. If you have a Chase Sapphire Preferred® Card or Chase Sapphire Reserve®, you can transfer your points to your Hyatt account at a 1:1 ratio.
Learn more at our The World of Hyatt Credit Card review.
Oaxaca, Mexico
Mexican beaches are far from overlooked by sun-lovers, especially in the winter. Cancun, Puerto Vallarta, and Cabo San Lucas are teaming with top hotels, condos for rent, and throngs of tourists.
But southeast of Mexico's sprawling capital city lies the Oaxaca Coast. Beautiful beaches dotted with laid-back towns full of delicious food go largely unnoticed by many tourists. It's the perfect place to enjoy a warm beach getaway without crowds of snowbirds and spring breakers surrounding you.
Oaxaca boasts 70 miles of sparkling blue Pacific coastline with preserved Colonial architecture and lush green mountains to boot. If you like chill beach spots, out-of-this-world street food, and rich culture, check out this underrated gem.
Getting to Oaxaca with miles
Oaxaca is a bit trickier to get to because there are only two direct lines on a major carrier into Xoxocotlán International Airport (OAX) from the U.S. You can fly American Airlines nonstop from Dallas/Fort Worth International Airport (DFW) using your American AAdvantage miles. Or, remember, you can often find the same flights using fewer miles if you book with British Airways Avios.
Another option is to fly United into Oaxaca from Houston, Texas. You can earn United miles from a collection of co-branded United credit cards, or you can transfer your Chase Ultimate Rewards directly into your United account. You can also look at using Star Alliance partner programs such as Avianca LifeMiles to book United flights for fewer miles.
Staying in Oaxaca with miles
Those with top elite status in name-brand hotel programs will be out of luck when looking to book properties in Oaxaca. That's because there's not a Marriott, Hilton, or Hyatt to be found at the beach. But you can still book a room using points.
By using the Chase Ultimate Rewards travel portal, you can find many local, boutique properties available at a solid redemption rate. If you have the Chase Sapphire Preferred, you'll get 1.25 cents of value when you redeem your points in the portal. If you carry the Chase Sapphire Reserve, your points will be worth 1.5 cents each.
Learn more at our Chase Sapphire Reserve review.

If you want to visit an Oaxaca beach without paying cash, you'll find several lovely options available to book in the Chase portal, such as the Park Royal Beach Huatulco, a beachfront all-suites property with two gorgeous pools. Or the Quinta Bella Huatulco Hotel, set on Oaxaca's beautiful Chahué Bay, where you can enjoy large airy rooms, spectacular restaurants and a relaxing spa at this beachfront gem.
Using your Ultimate Rewards points to book local hotels at a solid redemption rate is a great way to pay for your travel with points, no matter where you go.
Bottom line on quick winter getaways
The options for using your points and miles to beat the winter blues are endless. Whether you book hotels using loyalty programs such as Marriott or Hilton or if you book using Ultimate Rewards in the Chase travel portal, you can find the perfect winter retreat without putting out any cash.
Better yet, if you're looking to beat the crowds at the most popular warm weather destinations, you can find more off-the-beaten path options — and still use your points to do it.
Easy-to-Earn Unlimited Rewards
Earn 25,000 online bonus points after you make at least $1,000 in purchases in the first 90 days of account opening - that can be a $250 statement credit toward travel purchases
Earn 1.5 points per $1 spent on all purchases
Longer intro APR on qualifying purchases and balance transfers
No foreign transaction fees
Earn unlimited 1.5 points per $1 spent on all purchases, with no annual fee and no foreign transaction fees and your points don't expire.
25,000 online bonus points after you make at least $1,000 in purchases in the first 90 days of account opening - that can be a $250 statement credit toward travel purchases.
Use your card to book your trip how and where you want - you're not limited to specific websites with blackout dates or restrictions.
Redeem points for a statement credit to pay for travel or dining purchases, such as flights, hotel stays, car and vacation rentals, baggage fees, and also at restaurants including takeout.
0% Introductory APR for 15 billing cycles for purchases, and for any balance transfers made in the first 60 days. After the intro APR offer ends, 18.24% - 28.24% Variable APR will apply. A 3% fee applies to all balance transfers.
If you're a Preferred Rewards member, you can earn 25%-75% more points on every purchase. That means instead of earning an unlimited 1.5 points for every $1, you could earn 1.87-2.62 points for every $1 you spend on purchases.
Contactless Cards - The security of a chip card, with the convenience of a tap.
This online only offer may not be available if you leave this page or if you visit a Bank of America financial center. You can take advantage of this offer when you apply now.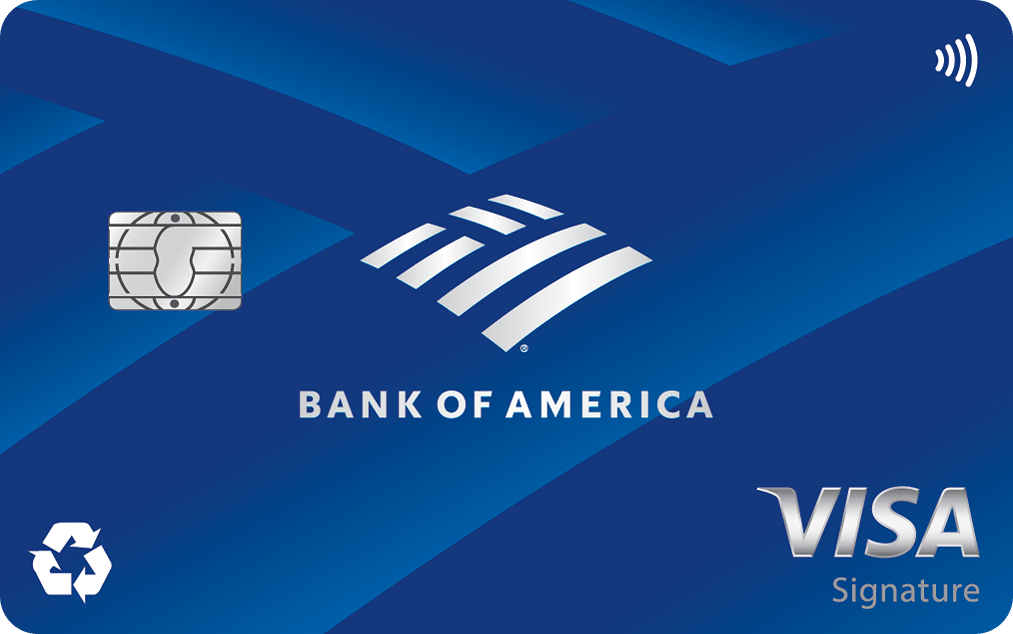 Apply Now
on Bank of America's secure website
Read Card Review
Intro Offer
Earn 25,000 online bonus points after you make at least $1,000 in purchases in the first 90 days of account opening - that can be a $250 statement credit toward travel purchases