For most people, the ultimate goal with points and miles is to get free flights and free hotel stays — you can travel anywhere in the world if you have enough rewards.
But if you've ever wondered what else you can do with your points and miles, the answer is a lot. Depending on your interests and the type of rewards you have, there are numerous opportunities to use your rewards for some pretty random but cool things.
How we picked these off-the-beaten-path redemptions
If you've ever wondered, "How do credit card points work?" the answer is that it can vary from card to card. Although some rewards programs have few redemption options, others offer a lot of different ways you can use your points and miles, ranging from free flights, hotels, and cruises to experiences, merchandise, and gift cards.
When we talk about off-the-beaten-path redemptions though, we're talking about options you may have never considered, let alone thought were possible. All of these redemption opportunities are travel-related, but not necessarily in the way you'd normally think. To find these redemptions, I searched several of the top airline, hotel, and general travel rewards programs to find unique and interesting opportunities to use points and miles.
Even if you'd rather stick to using your rewards for flights, hotels, and other major travel expenses, it can still be fun to learn about what else is available. So here are seven unexpected ways you can use your points and miles.
Fly into space
British airline Virgin Atlantic is a subsidiary of Virgin Group, which means you can use your Flying Club miles for a handful of redemptions with other sister companies.
One of those redemptions is an entry into a drawing for the chance to participate in a sub-orbital spaceflight with Virgin Galactic. This incredible opportunity will have you flying at more than three times the speed of sound, and give you a chance to view the Earth from space.
This entry is not cheap, though. It'll cost you 2 million Flying Club miles just to put your name in the hat — and there's no guarantee you'll actually win.
Also, the airline stipulates you can use miles earned on Virgin Atlantic flights only to enter the drawing. So that means you can't rack up American Express Membership Rewards points, then transfer them to your Flying Club account. Also, you can't use miles transferred from another account, even if they were earned on eligible flights.
As a result, this redemption is well out of reach for the vast majority of travelers. But if for some reason you travel Virgin Atlantic regularly, it could be an option.
If you're looking for ways to earn Virgin Atlantic miles for other purposes, options include:
Hike with wolves
Ambassador wolves are specially trained and socialized to provide humans with a better understanding of their species. If you have access to World of Hyatt loyalty program points, you can go on a hike with wolves with Project Wildsong.
The hike takes place in the Los Padres National Forest in California, and lasts one to two hours. During the hike, you'll get the chance to learn about one of the nation's most iconic (and misunderstood) animals.
The hike costs 21,429 World of Hyatt points per person, or you can buy the experience for $300, and earn 3,000 points in the process. The effective redemption rate for the hike is about 1.6 cents per point — we subtracted out the points earned when you pay cash to get that result — which is on par with the average value of a Hyatt point.
Here's what that math looks like:
21,429 - 3,000 = 18,429
$300 / 18,429 = .016
If you're interested in learning about and interacting with ambassador wolves, you can pay the cash price of the experience or redeem your World of Hyatt points. For the latter option, here's how you can earn them:
Apply for the World of Hyatt Credit Card
Transfer Chase Ultimate Rewards points to your World of Hyatt account, which you can earn with the Chase Sapphire Preferred, among others
Stay at World of Hyatt or MGM Resorts properties
Book flights (and pay cash) with American Airlines as an elite World of Hyatt member or one of the hotel brand's other airline partners
Book rental cars with Avis
Attend the Super Bowl
Ticket prices for the big game are astronomical, with an average cost of $10,835 per ticket in 2020. If you have the NFL Extra Points Credit Card, though, you can enjoy one of the biggest sporting events of the year on points.
To earn points toward a Super Bowl game experience, you'll need to first apply for the NFL Extra Points Credit Card. The only drawback is that its sign-up bonus is a measly $100 after you spend $500 in the first 90 days. So you'll need to spend a lot on the card to earn enough points to qualify.

On the positive side, this card does offer a 0% intro APR for the first 6 months on qualifying NFL ticket purchases of $250 or more (then 30.49%, 25.49%, or 20.49% (variable)).
Build a house
Ever wanted to mix travel and charity? Delta SkyMiles Experiences allows you to use miles to bid for the chance to build a home with Habitat for Humanity and Delta Air Lines employees.
The 10-day trip includes travel to Vancouver, Canada, five days spent on home construction, and the remainder of the time filled with various cultural experiences in the area (including a whale-watching excursion). You'll also have the opportunity to attend an orientation at the Delta Flight Museum in Atlanta about a month before the trip.
As of March 13, 2020, the opening bid for the trip was 60,000 Delta SkyMiles, and the latest bid is 100,000. If you bid and win, it's good for two people and includes first-class flights to Atlanta and Vancouver, as well as accommodations and meals at both locations.
Because there are so many moving parts with this redemption, it's tough to say how much each Delta SkyMile is worth. However, considering it's essentially an all-inclusive trip with first-class travel and eight nights in a luxury hotel in Vancouver, it's easy to see how you could likely get far more value than Delta's typical average of 1.2 cents per mile.
Here are some ways to rack up enough Delta SkyMiles to bid on this and other travel experiences with the airline:
Learn how to fly a commercial airliner
Whether you're a frequent flyer or an occasional one, it's hard not to wonder what it's like to sit in the cockpit and fly a plane. Well, you can get that chance if you have United MileagePlus miles.
United periodically allows loyalty members to bid on the chance to spend up to four hours of flying time in the simulators it uses to train its pilots and flight attendants. This can be a once-in-a-lifetime experience for airplane enthusiasts who might have been a pilot in another life.
The bidding for the most recent auction started at 115,000 miles and covered the following for two people:
Two hours of flying in a Boeing simulator and two hours in an airbus simulator
An emergency procedures tour and interaction with the flight and emergency procedures training team
Complimentary lunch
What the experience doesn't include, though, is glaring: you'll have to pay for your flight to Denver and your hotel stay. Compared with the value you get from Delta's Habitat for Humanity promotion, this redemption option is less appealing. But if flying a commercial airliner simulation has always been a dream of yours, it may still be worth considering.
Here's how you can earn enough United MileagePlus miles to bid on the experience next time it's available:
Take a submarine trip
Snorkeling and scuba diving are popular activities on Oahu and other Hawaiian islands, but diving down 100 feet in a submarine is an entirely different experience. You and your loved ones will have the opportunity to explore sunken ships and airplanes and artificial reefs, and see various fish, coral, and turtles.
The entire trip takes roughly two hours and includes hotel pickup and drop-off, as well as a shuttle to the submarine boarding site — you'll spend about 50 minutes underwater.
The estimated cost of the submarine tour is 20,379 points per person. But if you were to pay cash for the experience, the face value is $109 if you book online or $119 if you pay in person. At the lower price point, you're getting just 0.53 cents per point in value for your rewards ($109 / 20,379 = .0053), which is well below Southwest's average value of 1.4 cents per point. So you're better off paying for this experience in cash.
If you're looking for opportunities to earn Southwest Rapid Rewards points for other reasons, here are some options to consider:
Apply for a Southwest credit card
Transfer Chase Ultimate Rewards points to your Southwest account
Sign up for the Rapid Rewards Shopping portal and Rapid Rewards dining program
Travel with Southwest Airlines or one of its partners
Check your coat
With the Korean Air SKYPASS program, you can store your coat at the Incheon International Airport, near Seoul, South Korea, and use miles to pay for it.
The only reason to consider this redemption is if you're visiting Seoul from somewhere cold and don't want to lug your coat around. Or maybe you're leaving Seoul during the winter to a warmer destination and need a coat to get to the airport but not on your trip.
Either way, the cost of checking your coat is 400 miles per day. Note, however, that from December through February, the coatroom service is already free for up to five days if you have a Korean Air international flight boarding pass.
The cash price for the service is 2,500 South Korean won, which converts to about $2.10, giving you a value of 0.53 cents per mile ($2.10 / 400 = .00525). According to online reports, Korean Air SKYPASS miles are worth about 1.6 cents apiece on average. As such, this would be considered one of the worst points redemptions you could choose, especially because the alternative is just a couple of dollars per day. It's better to just pay cash and keep your miles for better redemptions. But it was kind of fun to learn this exists, right?
If you're looking for opportunities to earn SKYPASS miles, here are some of the best rewards credit card options you can consider:
The bottom line
When it comes to maximizing travel rewards with credit cards, sometimes it's worth using your points and miles to get a really unique experience, even if it doesn't give you the best redemption value. And in some of these cases, especially with the Super Bowl, you can have a once-in-a-lifetime experience and squeeze an incredible amount of value out of your rewards.
The key is to think outside the box when it comes to your adventures. As you get more comfortable with points and miles and have some cheap trips under your belt, take some time to explore other options or check out underrated destinations. These seven opportunities are just a handful among many, and depending on your travel goals and lifestyle, you may be able to find some solid experiences.
Even if you're not interested in any of these redemptions, take it as inspiration to think more broadly with your trip planning and start looking for ways to elevate your travel experience with your credit card rewards.
Easy-to-Earn Unlimited Rewards
Earn 25,000 online bonus points after you make at least $1,000 in purchases in the first 90 days of account opening - that can be a $250 statement credit toward travel purchases
Earn 1.5 points per $1 spent on all purchases
Longer intro APR on qualifying purchases and balance transfers
No foreign transaction fees
Earn unlimited 1.5 points per $1 spent on all purchases, with no annual fee and no foreign transaction fees and your points don't expire.
25,000 online bonus points after you make at least $1,000 in purchases in the first 90 days of account opening - that can be a $250 statement credit toward travel purchases.
Use your card to book your trip how and where you want - you're not limited to specific websites with blackout dates or restrictions.
Redeem points for a statement credit to pay for travel or dining purchases, such as flights, hotel stays, car and vacation rentals, baggage fees, and also at restaurants including takeout.
0% Introductory APR for 18 billing cycles for purchases, and for any balance transfers made in the first 60 days. After the intro APR offer ends, 17.74% - 27.74% Variable APR will apply. A 3% fee applies to all balance transfers.
If you're a Preferred Rewards member, you can earn 25%-75% more points on every purchase. That means instead of earning an unlimited 1.5 points for every $1, you could earn 1.87-2.62 points for every $1 you spend on purchases.
Contactless Cards - The security of a chip card, with the convenience of a tap.
This online only offer may not be available if you leave this page or if you visit a Bank of America financial center. You can take advantage of this offer when you apply now.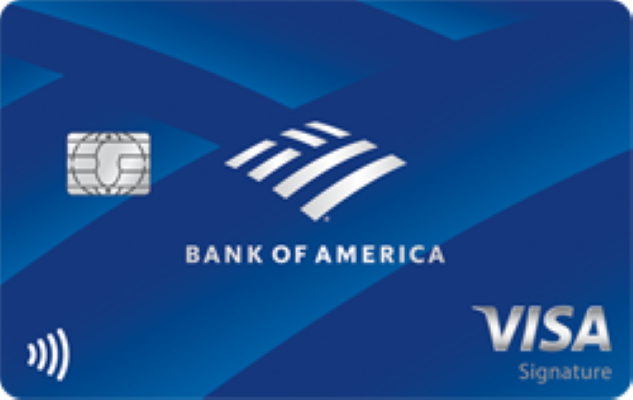 Apply Now
on Bank of America's secure website
Read Card Review
Intro Offer
Earn 25,000 online bonus points after you make at least $1,000 in purchases in the first 90 days of account opening - that can be a $250 statement credit toward travel purchases