Air travel seems to be a divisive topic. You're either a fanatic who knows the ins and outs of top travel credit cards to maximize points, or you only see long lines and flight delays.
Despite these legit woes, air travel has markedly improved in recent years thanks to improved technology and legislation. Don't believe us? Here are 15 reasons to convince even the staunchest of skeptics.
Air travel is safer than ever
According to one study conducted by an MIT professor in 2020, commercial air travel is safer than ever before. The study analyzed data and found that commercial flight accident rates have decreased exponentially since the late 1970s.
This decrease can be attributed to several factors, including improved technology, better pilot training, and stricter safety regulations. Additionally, airlines and regulatory bodies continue to prioritize safety, resulting in further advancements.
Better protections for people with disabilities
The Air Carrier Access Act of 1986 (and subsequent amendments) mandated that airlines make accommodations for people with disabilities. These include providing wheelchair assistance, allowing service animals, and making bathrooms and seating accessible.
Additionally, airlines must communicate effectively with individuals who are blind or hard of hearing and provide accessibility-related training for their employees. As a result, people with disabilities can travel just like everyone else.
There are more direct flight options available
It used to be that if you wanted to get to Europe, for example, flights only left from a small handful of airports. That meant you'd have to deal with several layovers before reaching your final destination.
Fortunately, airlines figured out that people prefer direct flights and added more regional airports. More direct flights mean you're less likely to rush through the airport to connect.
It's faster than ever before, too
Getting to your destination is also faster than before, mainly due to the aforementioned direct flights. More direct flight options reduce layovers and overall travel time.
Flights could get even faster in the future, too, thanks to the development of supersonic technology. Some projections even clock travel from New York to London to only take 80 minutes. We're ready!
The food is better
Many flights offer food options beyond complimentary snacks, arguably better than they used to be. In fact, many airlines now invest significant time and money to provide both healthy and tasty options.
Sometimes, they may even bring in celebrity chefs like Gordon Ramsay to help curate the menu.
Better air circulation
The quality of air circulation on board became a topic of significant importance in the wake of the COVID-19 pandemic. While planes can often feel stuffy, as it turns out, circulation is actually pretty good, with most planes using HEPA filters to keep the air clean.
Beyond an airplane's circulation system, some individuals still travel with masks to take responsibility for the air quality.
Ticketing has become paperless
Back then, you had to work with a travel agent or call an airline to book a ticket. This made flight price comparisons nearly impossible, too. Then e-ticketing became a reality in 1994 with the rise of the internet, and the rest is history.
Nowadays, you can just download your boarding pass onto your phone and scan it at the gate, making the whole process super convenient.
Overhead bins are bigger
Fewer things are more irritating than fellow airplane passengers who try to shove their too-big items into the overhead bin, taking up precious time and space. Luckily, many planes now have larger overhead bins, allowing for more suitcases and bags than ever to fit.
That won't stop some offenders from trying to bring carry-on items that are overly big and bulky, but their impact is much smaller now.
Free WiFi is on the rise
Some airlines already offer all of their customers free WiFi on flights, such as JetBlue. On Delta, you also get that amenity using your SkyMiles account, while other airlines sell WiFi for a one-time fee.
Some airlines also offer free WiFi in exchange for watching an advertisement. Here's hoping this trend continues.
There's no smoking
Believe it or not, you used to be able to smoke on airplanes. This may seem inconceivable to Gen Zers and Millennials, but Gen Xers and older likely remember plane flights that smelled like tobacco, both fresh and stale.
Now smoking is banned by the federal government on all planes, thank goodness!
In-flight entertainment is better
While book aficionados have always had a great way to pass the time on a flight, many folks had to make do with looking out the window. Or perhaps there would be an in-flight movie on a monitor or two for the whole flight to enjoy.
These days many planes have a host of films and shows available on a small screen on the seat in front of you. This way, you have a variety of options to choose from and can pass the time in peace.
You can keep your phone on through airplane mode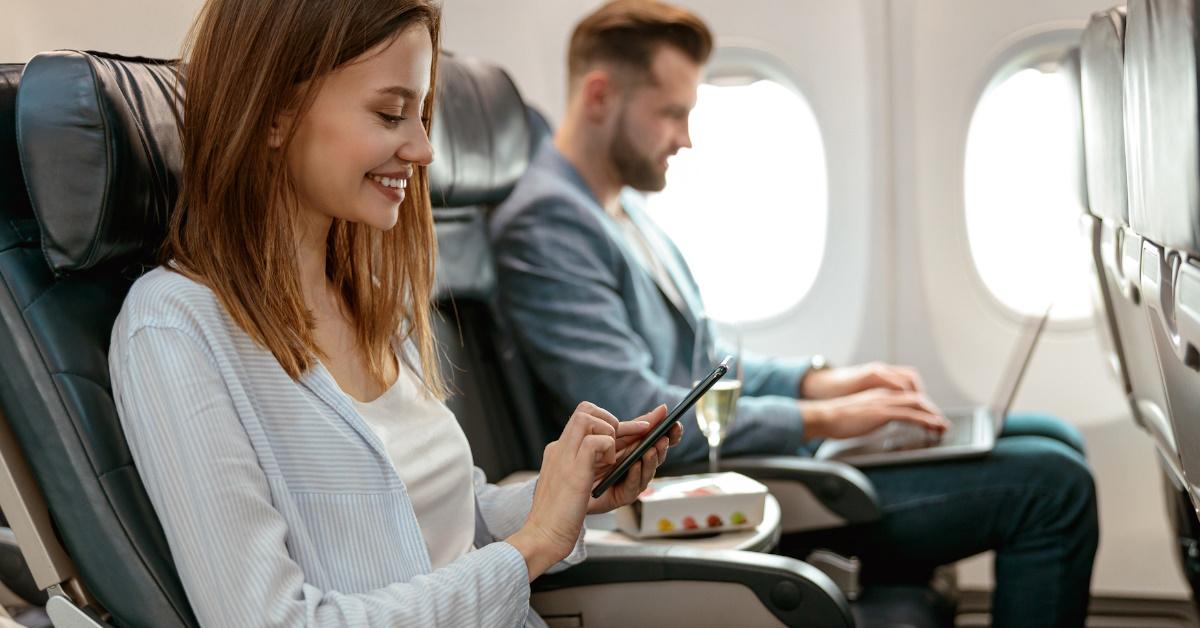 If you prefer to bring your own entertainment downloaded to your phone, you're also welcome to do that. You can even charge your devices right at your seat on most planes to binge an entire series on long flights.
You don't have to turn off and stow your phone anymore, either, as you can just pop it into airplane mode, and you're good to go.
Better equality for flight attendants
The stereotype of the "stewardess" exists for a reason: In previous decades, flight attendants were primarily young women who had to wear matching dresses or skirts — heels included. Fortunately, uniforms have evolved to be more comfortable and practical.
There's also greater gender and age diversity among flight attendants, showing substantial progress in equality.
It's getting greener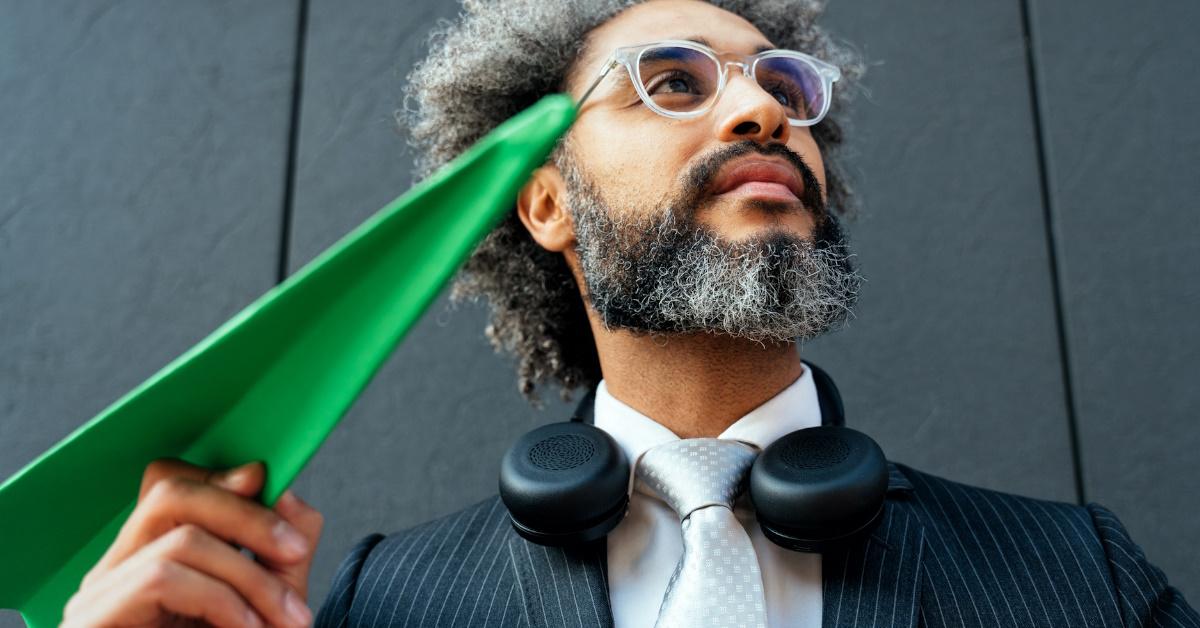 It's no secret that flying on a plane contributes to your carbon footprint, though it may not be as drastic as you think. Still, there is potential for air travel to get greener thanks to emerging technology. Perhaps planes will become hybrid like cars, for one.
There's also the possibility of more sustainable fuels and the use of AI to become more environmentally friendly. The future is looking greener indeed.
Bottom line
Although air travel can come with a hiccup or two, it has come a long way in recent years. WiFI, for instance, allows you to stay connected throughout your flight, and e-ticketing has made the traveling process a bit faster.
Depending on your financial fitness, you can upgrade your in-air experience. Overall, your flight can indeed be as enjoyable as you wish to make it.
Easy-to-Earn Unlimited Rewards
Earn 25,000 online bonus points after you make at least $1,000 in purchases in the first 90 days of account opening - that can be a $250 statement credit toward travel purchases
Earn 1.5 points per $1 spent on all purchases
Longer intro APR on qualifying purchases and balance transfers
No foreign transaction fees
Earn unlimited 1.5 points per $1 spent on all purchases, with no annual fee and no foreign transaction fees and your points don't expire.
25,000 online bonus points after you make at least $1,000 in purchases in the first 90 days of account opening - that can be a $250 statement credit toward travel purchases.
Use your card to book your trip how and where you want - you're not limited to specific websites with blackout dates or restrictions.
Redeem points for a statement credit to pay for travel or dining purchases, such as flights, hotel stays, car and vacation rentals, baggage fees, and also at restaurants including takeout.
0% Introductory APR for 15 billing cycles for purchases, and for any balance transfers made in the first 60 days. After the intro APR offer ends, 18.24% - 28.24% Variable APR will apply. A 3% fee applies to all balance transfers.
If you're a Preferred Rewards member, you can earn 25%-75% more points on every purchase. That means instead of earning an unlimited 1.5 points for every $1, you could earn 1.87-2.62 points for every $1 you spend on purchases.
Contactless Cards - The security of a chip card, with the convenience of a tap.
This online only offer may not be available if you leave this page or if you visit a Bank of America financial center. You can take advantage of this offer when you apply now.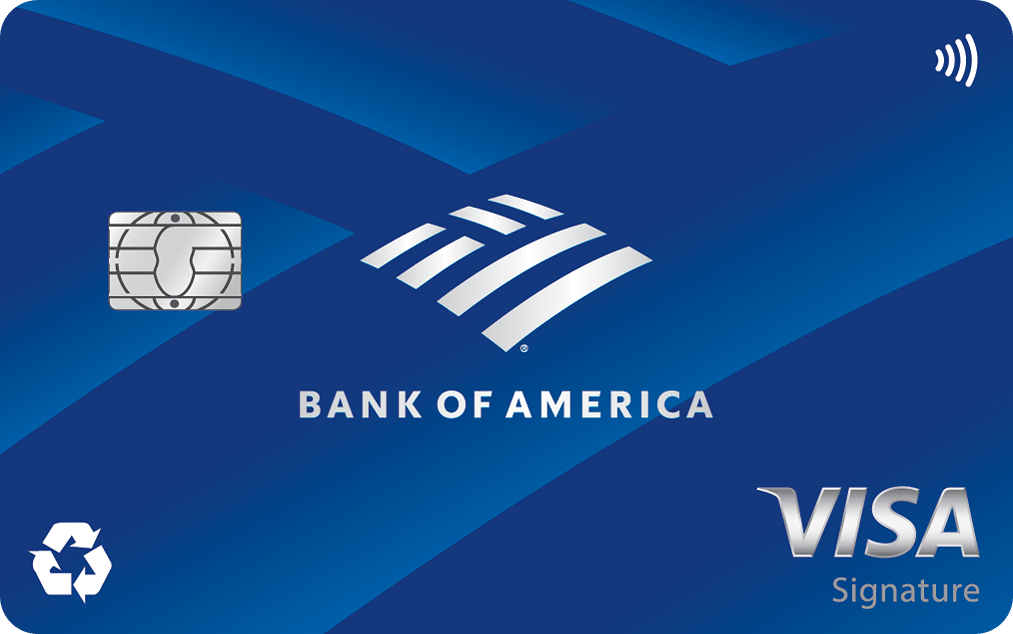 Apply Now
on Bank of America's secure website
Read Card Review
Intro Offer
Earn 25,000 online bonus points after you make at least $1,000 in purchases in the first 90 days of account opening - that can be a $250 statement credit toward travel purchases