You may face financial challenges when you're single and then face a whole other set of challenges when you're a couple.
You may have to get out of debt together, figure out how to handle bank accounts or talk about your different financial philosophies to reach a good middle ground.
But before you put any financial plans into effect, look at some of the worst money mistakes couples often make and how to avoid them.
Resolve $10,000 or more of your debt
Credit card debt is suffocating. It constantly weighs on your mind and controls every choice you make. You can end up emotionally and even physically drained from it. And even though you make regular payments, it feels like you can never make any progress because of the interest.
National Debt Relief could help you resolve your credit card debt with an affordable plan that works for you. Just tell them your situation, then find out your debt relief options.
How to get National Debt Relief to help you resolve your debt: Sign up for a free debt assessment here. (Do not skip this step!) By signing up for a free assessment, National Debt Relief can assist you in settling your debt, but only if you schedule the assessment.
SPONSORED
You don't communicate
Communication is vital in every relationship. Couples need to discuss different financial ideas and decisions before making them.
You may want to discuss how the two of you should invest money, your retirement plans, or how much you want to save or spend.
A lack of communication may cause tension within your relationship and lead to some mistakes that can cause financial problems later.
You're hiding your money situation
Are you bringing debt to a relationship, or do you tend to overspend?
Discussing these issues as a couple and being honest about your financial successes and challenges as you move forward is essential.
Anything you hide could come to light later, so try to put it all on the table and be honest with your partner about everything.
One person handles all the finances
It's important to share financial issues so you both know your financial situation and what you're dealing with together.
You may designate one person to pay bills or make investments, but both of you should have access to accounts so you can see everything.
If you don't share your financial details, you may not find out until it's too late that your partner could be financially irresponsible. It's also important to have access to all accounts in case something happens to your partner, and you need access to them.
Don't let home repairs drain your bank account
Did you know if your air conditioner stops working, your homeowner's insurance won't cover it? Same with plumbing, electrical issues, appliances, and more. Not being able to make repairs could leave you in a bad situation — but a home warranty could protect you against surprise expenses.
Whether you're a brand-new homeowner or you've owned your home for years, a plan from Choice Home Warranty could pick up the slack where homeowner's insurance falls short.
If a covered system in your home breaks down, you can call their hotline 24/7 for assistance to get it repaired. They have a network of over 15,000 technicians that can assist you, making sure any issue can be taken care of swiftly — without breaking the bank.
Not sure if it's for you? Rest easy: they were named one of the "Best Home Warranty Companies" by US News 360 Reviews and were awarded Best Company's 2020 Consumer's Choice Award. For a limited time, you can get your first month free when you sign up for a Single Payment home warranty plan.
You don't have a financial plan
You may think you and your partner will eventually deal with your finances. But you should get to it now so you have a financial plan in place. 
Consider things like where you want to invest your money, how you want to handle retirement accounts, and what you plan to save or spend each month.
A financial plan can also help you decide when the right time is to hit major financial milestones like buying a house or retiring early.
You're not working together
Teamwork makes the dream work, or in this case, teamwork makes the money.
Being a couple means you have a partner in the everyday financial process of your life, so it's essential to cooperate and build toward a shared dream.
Working together and not against each other may make it easier to achieve your financial goals.
You don't have a budget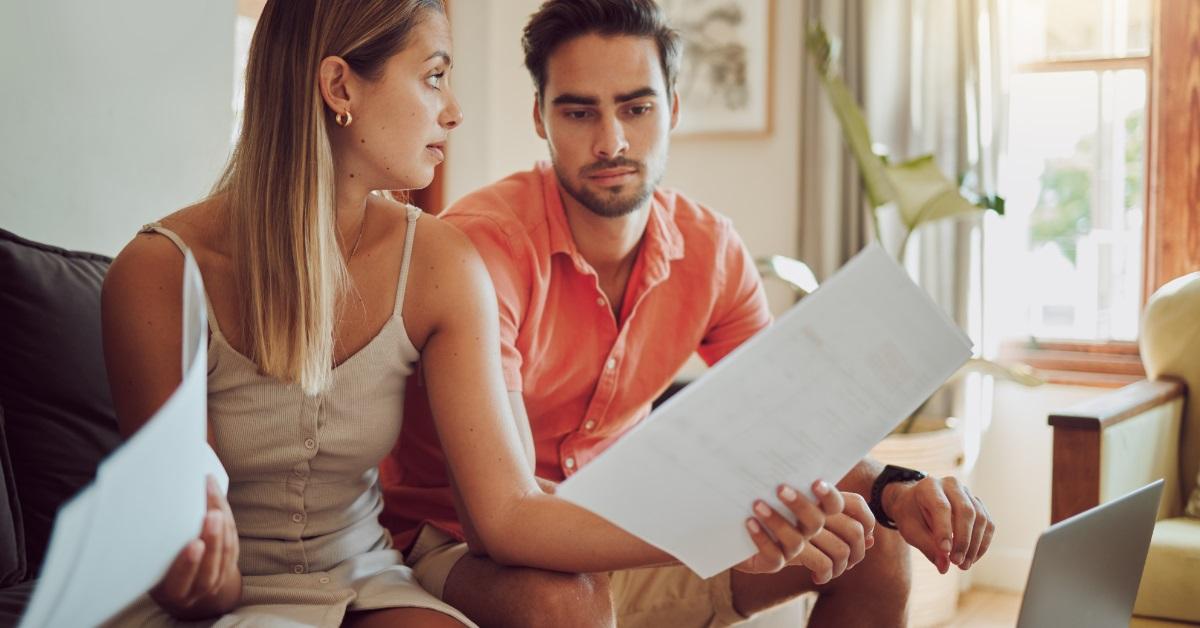 Both of you may be bringing money in each month, but then what?
You need to have a budget so you can track the money you have coming in and where it goes when it's time to pay bills or make monthly purchases. And don't forget to allocate money for savings.
A good budget can help you make sound financial decisions rather than steering you in the wrong direction, causing stress for both of you.
You don't have contingency plans
Things happen, and it's essential to be ready for anything life throws at both of you.
Make financial contingency plans if one of you loses your job, becomes ill, or suffers a financial hardship.
You should build up an emergency fund to cover three to six months of expenses in case of a surprise bill or emergency.
You have joint accounts for everything
You might find joint accounts a convenient or easy way to keep track of your money because both of you have money going into the same place.
But you may want to consider individual accounts for some reason or find ways to have a combination of both individual and joint accounts. 
For example, many couples have a joint account for everyday expenses like food and housing but separate accounts for their discretionary spending for clothes or hobbies.
Also, you will have separate accounts for 401(k) plans, IRAs, and other investment accounts.
You ignore tax issues
Being single and being a couple have different tax implications.
When you join your finances, you should talk to an accountant as a couple to figure out how to handle your taxes based on different factors. 
An accountant can help you determine whether to file jointly or singly, the tax implications of investments you buy or sell, and other issues that could be affected by your status as a couple.
Be sure to let your accountant know about your relationship so they can better understand how being a couple can affect your tax returns.
You won't ask for help
In a couple, one partner is often financially savvy, and the other isn't or isn't interested in managing their finances. And sometimes, neither of you knows the best way to achieve financial success.
Get help. It's OK to talk to a financial advisor, accountant, or other professionals to get advice to put you on the right path.
You might be surprised at how a little financial input from a neutral professional can give you a financial boost as a couple.
You don't have goals
You want to be on the same page or at least have a common understanding of your financial goals as a couple.
You may want to work together to save money for a down payment on a home or a vacation you're both excited about. Or perhaps you want to boost your bank account to build an emergency fund.
You can make it easier to achieve your goals if you work on them together. Define your financial goals as a couple and make a plan to achieve them.
Bottom line
You have to make plenty of financial decisions every day as a couple, from big-ticket items like a house to simply deciding on the best credit cards.
But it's important to communicate and work as a team to achieve your financial success as a couple. And don't be afraid to ask for help from other professionals to ensure you're on the right track for the immediate future and years to come.
National Debt Relief Benefits
No upfront fees
One-on-one evaluation with a debt counseling expert
For people with $7,500 in unsecured debts and up