Florida is a dream retirement location for many seniors — but it spans nearly 66,000 square miles, covers two climate zones, and has cities ranging from tiny rural towns to massive urban centers with almost 1 million residents.
In a space that vast and with such regional diversity, there are bound to be plenty of places you'd be thrilled to settle in. But the flip side is also true: Florida isn't ideal for everyone, and some of its cities are far less retiree-friendly than others.
Wondering which cities to steer clear of in the Sunshine State so you can avoid throwing money away? The following 13 cities aren't ideal for most retirees.
Earn a $250 travel bonus with this incredible card
There's a credit card that's making waves with its amazing bonus and benefits. The Bank of America® Travel Rewards credit card has no annual fee and you can earn 25,000 points after spending $1,000 in purchases in the first 90 days of account opening.
You can earn additional points just by using this card for your everyday purchases — unlimited 1.5 points per $1 spent on all purchases. The 25,000 points can be redeemed for a $250 statement credit toward travel or dining purchases.
If you want to travel and dine out more, the Travel Rewards card can help you get where you want to go.
The best part? There's no annual fee.
Palm Beach
As the name suggests, Palm Beach is a beautiful beachside city in Southern Florida lined with gorgeous beaches and filled with luxury resorts. If this sounds nice, we recommend grabbing a great travel credit card and booking a trip.
But while it can be a wonderful (if pricey) place to vacation, the same things that make Palm Beach so attractive also make it less than ideal for anyone living on a fixed income.
Property values in the area soared by nearly 14% over the last few years, and even the city's recent 4.6% reduction in property taxes likely won't be enough to make local properties particularly affordable for retirees.
Jacksonville
Perhaps unsurprisingly, Florida's biggest city consistently ranks as the most dangerous. In 2019, for instance, the city experienced over 5,880 violent crimes, or 647 per 100,000 individuals.
Broadly speaking, it's fair to take crime statistics with a grain of salt — in no small part because property crime has fallen year over year for the past two decades while violent crime rates are much lower now than 30 years ago. 
Still, if you worry about violent crime, you might want to add Jacksonville to your list of Florida cities to stay away from for now.
Miami
Miami is a must-see city for any traveler who loves incredible food, picturesque beaches, and nonstop cultural events. 
However, thanks to its location, Miami is the most hurricane-prone city in Florida. 
The fact that most of Miami's citizens live no fewer than 20 miles from the coast makes the city's 16% chance of being hit by a hurricane in any given year even more alarming.
If you're over 50, take advantage of massive travel discounts and trip-planning resources
Over 50 and love traveling? Join AARP today — because if you're not a member, you could be missing out on huge travel perks. When you start your membership today, you can get discounts on hotels and resorts, airfare, cruises, car rentals, and more.
How to become a member today:
Go here, select your free gift, and click "Join Today"
Create your account (important!) by answering a few simple questions
Start enjoying your discounts and perks!
An AARP membership not only unlocks discounts that could save you hundreds on your next trip, but you'll also have access to deals on vacation packages, guided tours, and exclusive content to help plan your next getaway.
Important: Start your membership by creating an account here and filling in all of the information (do not skip this step!). Doing so will allow you to take up to 25% off your AARP membership, making it just $12 per year with auto-renewal.
Fort Lauderdale
Like other southeastern Florida cities, Fort Lauderdale is an excellent site for relaxing on the beach, treating yourself to cutting-edge restaurants, and enjoying luxury beachside shopping.
But Fort Lauderdale's high cost of living makes it too pricey for many retirees. The city's cost of living is 21% above the rest of Florida, which makes it about 22% above the rest of the country.
Panama City
According to one (incredibly subjective) poll, Panama City is Florida's ugliest place to live. 
Not to be confused with Panama Beach City, Panama City is — per the city's Reddit users — a poorly designed locale with a horrifying amount of bland, overpriced McMansions.
Unless you want to live in a particularly boring, uninteresting town, feel free to leave Panama City off your list of potential retirement cities.
Lakeland
Lakeland honestly has a lot going for it, including its proximity to Tampa and Orlando. Unfortunately, Lakeland also has the third-worst commute of any city in the United States. 
If you don't drive much, this might not be a problem for you. But if you do drive, just know that you'll spend an average of more than 30 minutes traveling at 27 miles per hour just to reach Winter Haven, which is a mere 15 miles away.
Pensacola
Florida might be the Sunshine State, but it's also a tropical and sub-tropical state, which means there's plenty of rain to balance out the sunshine. 
Pensacola isn't the rainiest city in Florida — Miami and West Palm Beach get slightly more precipitation — but with 65 inches of rain a year, it's still one of Florida's five rainiest areas.
Some retirees will love Pensacola's beaches and gorgeous scenery, but those who dislike the rain should look elsewhere.
Key Biscayne
Key Biscayne is a tropical island off Florida's coast with white-sand beaches and crystalline blue oceans that easily qualify it as one of the most beautiful spots in the United States.
Life is always more expensive on an island, but with an average cost of living 97% above the rest of the country, Key Biscayne is even more expensive than most. 
Worst of all, housing costs in the area are a whopping 339% above the national average.
Sarasota
In many ways, Sarasota is the perfect beach city for retirees. But before you go all in on the city, you should know that it had the highest number of nuisance alligator removals in the state in 2018.
Even in the state that more than 1 million alligators call home, deadly alligator attacks on humans are extremely rare in Florida. Still, some Florida cities experience more alligator nuisance removal calls than others, and Sarasota generally makes it into the top five.
Don't let home repairs drain your bank account
Did you know if your air conditioner stops working, your homeowner's insurance won't cover it? Same with plumbing, electrical issues, appliances, and more. Not being able to make repairs could leave you in a bad situation — but a home warranty could protect you against surprise expenses.
Whether you're a brand-new homeowner or you've owned your home for years, a plan from Choice Home Warranty could pick up the slack where homeowner's insurance falls short.
If a covered system in your home breaks down, you can call their hotline 24/7 for assistance to get it repaired. They have a network of over 15,000 technicians that can assist you, making sure any issue can be taken care of swiftly — without breaking the bank.
Not sure if it's for you? Rest easy: they were named one of the "Best Home Warranty Companies" by US News 360 Reviews and were awarded Best Company's 2020 Consumer's Choice Award. For a limited time, you can get your first month free when you sign up for a Single Payment home warranty plan.
Fort Myers Beach
Fort Myers Beach had the misfortune of being hit by the devastating Hurricane Ian in 2022. Nearly a year later, the city still hasn't recovered from a record-breaking 15-foot storm surge that damaged most buildings in the area. 
As of March 2023, the city government still operated out of temporary trailers, and only a third of the city's year-long residents have been able to return to their homes.
St. Augustine
Founded by Spanish explorers in the 1500s, St. Augustine is the oldest continuously occupied city in the United States. 
Its unique architecture and stunning beaches are well worth seeing, but if you hate humidity, you should hesitate to call St. Augustine home. 
As the second-most humid city in Florida, St. Augustine's average humidity rate is over 82%, which drastically increases how hot the hottest days feel.
Since your body has a harder time regulating its temperature as you age, it's worth considering what humidity levels you'll be comfortable with — especially if you're moving to Florida from a much dryer area like the Southwest.
Key Largo
Key Largo's cost of living isn't as high as Key Biscayne's, but at almost 12% higher than the national average, the island isn't a cheap place to live. 
That's a shame, because Key Largo is both beautiful and less developed than other more tourist-focused areas, but most retirees will have an easier time living on a fixed income in a different city.
Orlando
Orlando has plenty of retirement-friendly activities to keep seniors entertained, and its proximity to Disney World is a draw for retirees with grandkids. 
But thanks in no small part to Disney and Universal Studios, Orlando gets more tourists than any city in the United States. In 2022, for instance, 74 million people visited Orlando.
Some seniors might not mind the crowds, but if you're looking for a quieter retirement with a slower pace of life, Orlando isn't the right place for you.
Bottom line
You don't want to waste your hard-earned retirement savings on an expensive move to a city you learn too late you don't actually like.

Those Florida cities might not be ideal relocation sites for many retirees, but there are plenty of other senior-friendly areas in the state.
If living in Florida really is your dream, just make sure to research your destination city thoroughly before you decide to move. You'll keep more money in your wallet.
Easy-to-Earn Unlimited Rewards
Earn 25,000 online bonus points after you make at least $1,000 in purchases in the first 90 days of account opening - that can be a $250 statement credit toward travel purchases
Earn 1.5 points per $1 spent on all purchases
Longer intro APR on qualifying purchases and balance transfers
No foreign transaction fees
Earn unlimited 1.5 points per $1 spent on all purchases, with no annual fee and no foreign transaction fees and your points don't expire.
25,000 online bonus points after you make at least $1,000 in purchases in the first 90 days of account opening - that can be a $250 statement credit toward travel purchases.
Use your card to book your trip how and where you want - you're not limited to specific websites with blackout dates or restrictions.
Redeem points for a statement credit to pay for travel or dining purchases, such as flights, hotel stays, car and vacation rentals, baggage fees, and also at restaurants including takeout.
0% Introductory APR for 15 billing cycles for purchases, and for any balance transfers made in the first 60 days. After the intro APR offer ends, 18.24% - 28.24% Variable APR will apply. A 3% fee applies to all balance transfers.
If you're a Preferred Rewards member, you can earn 25%-75% more points on every purchase. That means instead of earning an unlimited 1.5 points for every $1, you could earn 1.87-2.62 points for every $1 you spend on purchases.
Contactless Cards - The security of a chip card, with the convenience of a tap.
This online only offer may not be available if you leave this page or if you visit a Bank of America financial center. You can take advantage of this offer when you apply now.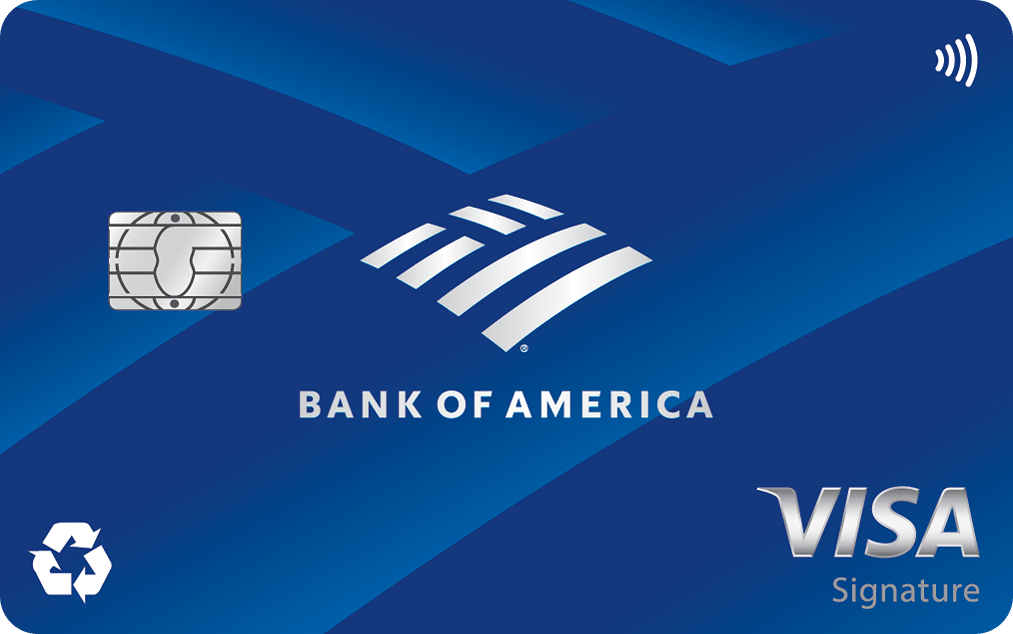 Apply Now
on Bank of America's secure website
Read Card Review
Intro Offer
Earn 25,000 online bonus points after you make at least $1,000 in purchases in the first 90 days of account opening - that can be a $250 statement credit toward travel purchases