When planning a trip, you may be drawn to well-known U.S. cities noted for their coast, amenities, or tourist attractions.
But when you're trying to get away for the weekend, the last thing you want to do is visit an area with so many tourists that getting a dinner reservation is impossible.
You can avoid throwing your money away on a weekend getaway by steering clear of these over-crowded, over-priced, and over-hyped U.S. cities.
Lake Tahoe, California
Lake Tahoe has a reputation for being a location where celebrities visit for this year-round fun. But there's a very big reason not to visit.
This naturally beautiful area is struggling under the weight of tourism so badly that the roads have become dust, traffic jams are common, and the lake itself has lost its clarity and beauty.
Once a pristine natural destination, the beaches are now packed and the trails are worn, creating a less enjoyable experience and more damage to the environment.
New York City, New York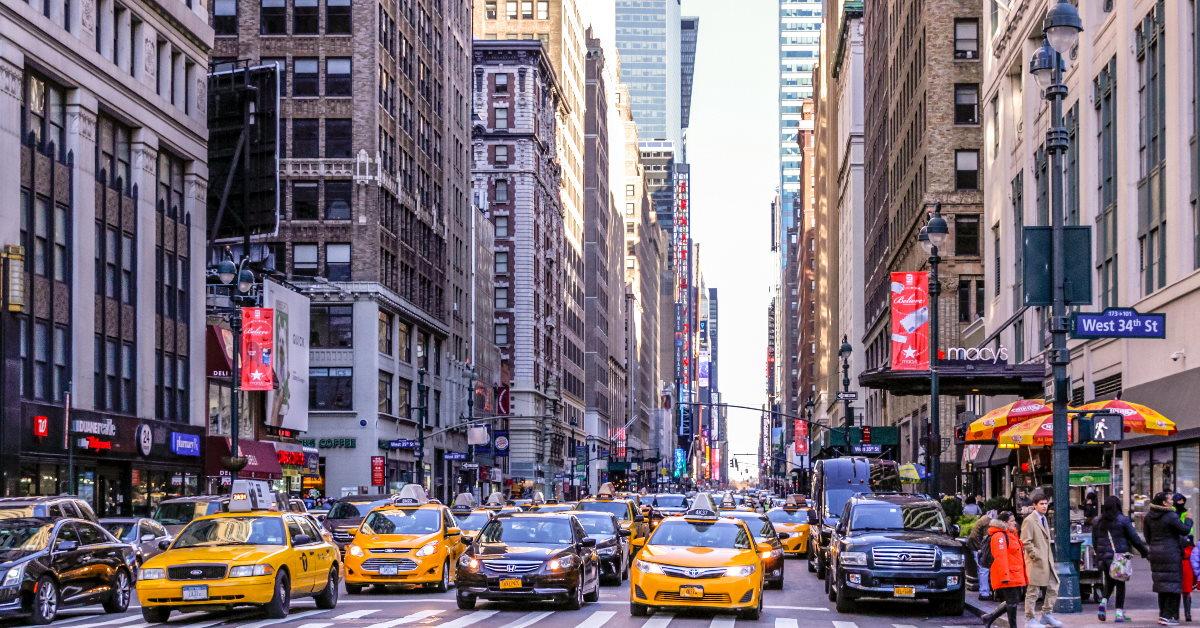 The Big Apple has long been an attractive destination and a world-class city. While it still holds its appeal, there are few cities in the country worse in terms of arrogant tourists, high prices, and limited benefits.
Sure, it can be fun to see Times Square or take in a show on Broadway, but you'll have to book everything in advance to have a chance at the experience. Even then, the crowds can be overwhelming.
The city really never sleeps thanks to the crowds and other noise pollution, so a relaxing trip isn't as likely as you'd expect.
Los Angeles, California
Los Angeles has all of the promise of Hollywood but doesn't deliver for many people. A weekend trip here will mean lots of traffic, whether you're on I-5 or I-405.
Although the city is considered safe, the downtown area is often very crowded, pushing prices and access to restaurants and attractions to the limit.
The weather in L.A. is often good, but it can be very hot for some. You may also find managing Los Angeles International Airport (LAX) exhausting.
Lake Mead, Arizona
Lake Mead was once an exceptional experience for a weekend getaway, but quite a bit has changed here in the last few years.
For one, water levels have fallen so much that there's limited access in some areas. While it's not likely the crowds will be overwhelming, the drought has moved many of the amenities that once flourished here away.
There's less to do, temperatures are hot, and the water at Hoover Dam may soon be insufficient to generate the hydroelectric power the region needs.
New Haven, Connecticut
New Haven paints a pretty image of crisp fall leaves, antiquing, and fine dining, which sounds like an ideal weekend getaway. Unfortunately, it's not as pretty as it seems in the pictures.
New Haven is the city with the highest crime rate on the East Coast, and much of the city lives below poverty. That's a sure way to dampen any relaxing weekend.
San Francisco, California
Another California city on the list, San Francisco, has quite a bit to offer for a weekend getaway, including entertainment and some sightseeing. However, the crowds can be exasperating.
A trip to some of the tourism hotspots like Alcatraz can suck up all of your time waiting. Waiting is the name of the game in many of the city's attractions.
There's also increasing concern about the area's eco-friendly initiatives and dirty streets.
Sedona, Arizona
Though a weekend getaway in the hills of Sedona sounds incredible because of its weather and golf, the area has become far more difficult to enjoy in those aspects.
The shopping — which has long been a popular activity in the area — has become very tourist-focused, and it's not uncommon to have to sidestep the numerous timeshare professionals hoping to get you to sign up.
Popular attractions like Slide Rock State Park attract so many people that it can take a long wait in line to get in and then walk for a park area that's overcrowded with tourists.
Las Vegas, Nevada
Las Vegas may be known for its over-the-top lifestyle, from casinos to incredible entertainment, and it's long been a popular location to visit for a weekend getaway.
However, many things make it less enjoyable starting with the very high prices for everything. You'll also need to plan meals out at off times to ensure there's availability and to book taxis well in advance to ensure you don't have to wait a long time.
Miami, Florida
Miami is one of the hottest cities in the country to visit, and while the beach is an attractive option, the tourists make it hard to enjoy this location.
There's lots of traffic, plenty of rude tourists from around the world, and very high prices on just about anything. The city also isn't very family-friendly and, though it was once the destination for young people, it's become much less accessible.
Miami may be a good destination for spring break, but you're unlikely to find a weekend of relaxation here.
New Orleans, Louisiana
The thrill of Bourbon Street during Mardi Gras may have attracted you as a young college student, but New Orleans doesn't often make the list of one of the best places for a weekend getaway.
The city isn't the cleanest place to visit, and the crowds are often shoulder-to-shoulder. That often means long lines for simple meals and a lack of ability to find a hotel within your price point.
New Orleans is still a party city, with loud music and lots of action, but everything from horse manure and urine to marijuana on the streets makes the city far less attractive today.
Bottom line
You can still visit these destinations with some careful planning, especially if you rack up points and rewards with any of these top travel credit cards.
Just plan to visit during the off-season, make reservations as far in advance as possible, and don't expect to do it all.
As an alternative, consider visiting the cities within a 30-minute drive to any of these locations. You'll likely get similar weather and proximity to the same attractions, but with lower prices, nicer people, and fewer crowds.
Easy-to-Earn Unlimited Rewards
Earn 25,000 online bonus points after you make at least $1,000 in purchases in the first 90 days of account opening - that can be a $250 statement credit toward travel purchases
Earn 1.5 points per $1 spent on all purchases
Longer intro APR on qualifying purchases and balance transfers
No foreign transaction fees
Earn unlimited 1.5 points per $1 spent on all purchases, with no annual fee and no foreign transaction fees and your points don't expire as long as your account remains open.
25,000 online bonus points after you make at least $1,000 in purchases in the first 90 days of account opening - that can be a $250 statement credit toward travel purchases.
Use your card to book your trip how and where you want - you're not limited to specific websites with blackout dates or restrictions.
Redeem points for a statement credit to pay for travel or dining purchases, such as flights, hotel stays, car and vacation rentals, baggage fees, and also at restaurants including takeout.
0% Introductory APR for 15 billing cycles for purchases, and for any balance transfers made in the first 60 days. After the intro APR offer ends, 18.24% - 28.24% Variable APR will apply. A 3% fee applies to all balance transfers.
If you're a Bank of America Preferred Rewards® member, you can earn 25%-75% more points on every purchase. That means instead of earning an unlimited 1.5 points for every $1, you could earn 1.87-2.62 points for every $1 you spend on purchases.
Contactless Cards - The security of a chip card, with the convenience of a tap.
This online only offer may not be available if you leave this page or if you visit a Bank of America financial center. You can take advantage of this offer when you apply now.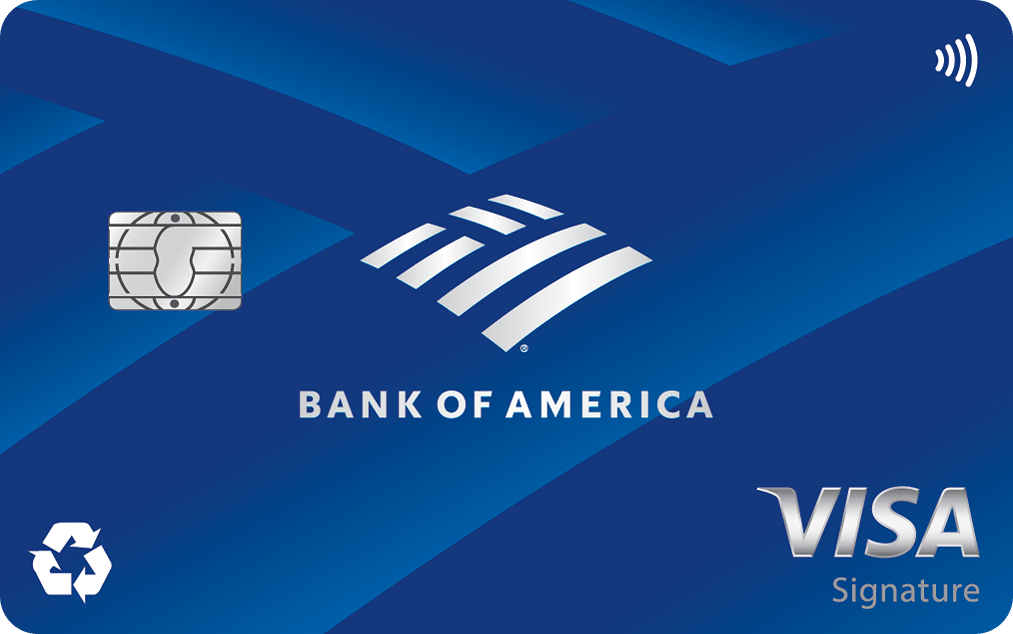 4.1
FinanceBuzz writers and editors score cards based on a number of objective features as well as our expert editorial assessment. Our partners do not influence how we rate products.
Apply Now
on Bank of America's secure website
Read Card Review
Intro Offer
Earn 25,000 online bonus points after you make at least $1,000 in purchases in the first 90 days of account opening - that can be a $250 statement credit toward travel purchases