While a yacht may be the first thing that pops to mind when you think of the ultra-wealthy, chartering one might not be as expensive as you think.
In fact, you can keep money in your wallet by selecting an older vessel or taking charge of sailing yourself (hiring a crew always costs extra).
So let's take a look at options that may be within reach for people who aren't living paycheck to paycheck but aren't brunching with the Kardashians either.
San Antonio motor yacht
The San Antonio is a luxury motor yacht measuring 146 feet in length that was built in 2018. This huge vessel is capable of accommodating 36 guests in 18 cabins.
The cost to charter it starts at $21,000 per week plus expenses, not including a crew of eight (which we recommend).
Divide the cost by capacity, and that's only $583 per person per week to start. That's practically unbeatable for a boat of this size, allowing you to make other savvy moves with your money.
Virginia Mia motor yacht
Constructed in 2001 (with several subsequent refits), the Virginia Mia is another luxury motor yacht that's 95 feet in length.
Custom-designed by Nuvolari Lenard, this vessel can sleep eight guests in four cabins as well as an additional crew of four.
Still, thanks to the age of the yacht, the cost of chartering starts at $15,000 plus expenses per week, or just under $2,000 per guest sans crew.
Nautilus sailing yacht
White motor yachts are convenient and luxe, sailing yachts promise a more traditional experience.
At nearly 125 feet, the Nautilus is a large option styled by Robert Delus. Built in 2008, it sleeps 10 guests in five cabins. At this size, you'll likely need a crew of six.
The cost to charter this beauty starts at $17,500 per week sans expenses, again just under $2,000 per person — which really isn't bad for all you're getting.
Aegean Clipper sailing yacht
The Aegean Clipper is another sailing vessel, this one built all the way back in 1999 — which translates into cost savings for you.
The yacht is another biggie at nearly 135 feet. With 11 cabins, the boat can accommodate up to 24 guests plus five crew members as needed.
In total, your group will have to shell out a minimum of $13,000 plus expenses per week — just over $379 per person. That's a great deal, comparatively speaking.
Silver Fox expedition yacht
If you're looking for something a little smaller that can go the distance, the Silver Fox expedition yacht might be for you.
Built in 2009, the 72-foot yacht accommodates six guests in three cabins for a more intimate experience. There's room for a crew of two if you need their expertise.
With a starting cost of $16,500 per week, the Silver Fox will run each person over $2,700 per week, but the small group may be worth it.
Tivoli expedition yacht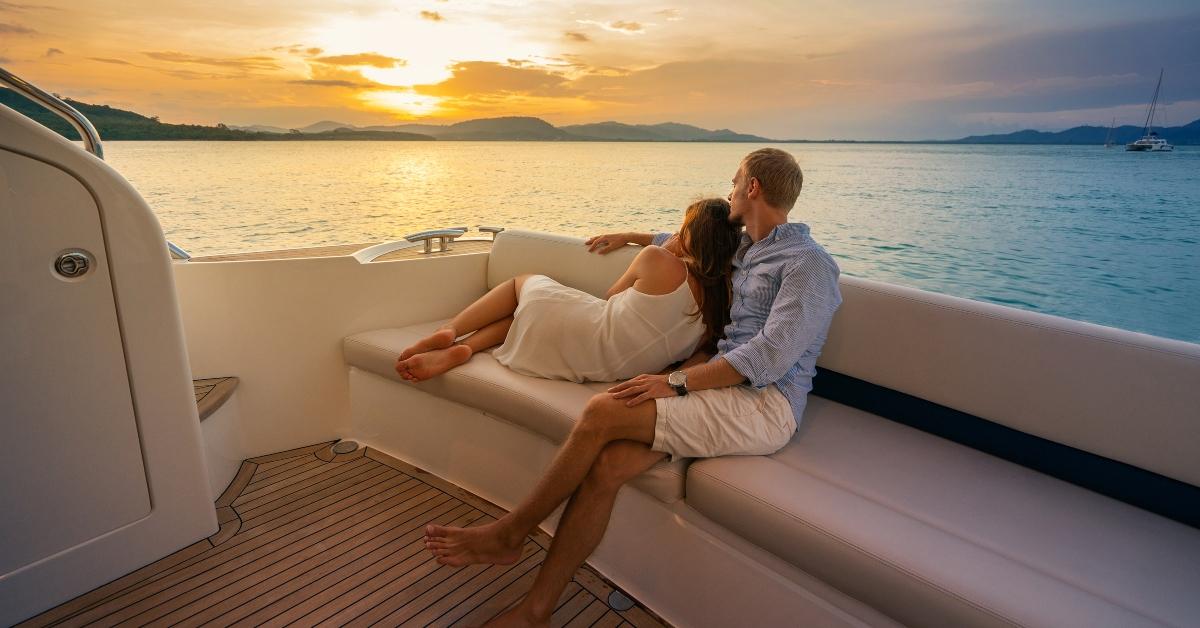 Traveling with a group of the same size but want more length and a bigger crew?
The Tivoli expedition yacht, constructed in 2001 and remodeled in 2010, can fit four crew members. This stunner is just over 90 feet long and can take you on those long hauls.
Yes, it will cost more at $25,000 per week, or over $4,100 per person. But if you can afford it, it's a dream come true out on the open water.
Shangri-La classic yacht
Classics are classics for a reason, as they stand the test of time. Such is the case with the Shangri-La, a vintage yacht sure to take you to that magical place.
This vessel sleeps six in three cabins and promises to be child-friendly. The Shangri-La was constructed way back in 1965, and it is 82 feet long with space for three crew members.
A week on this rig will cost you $16,500, or just over $2,700 a pop.
Sai Kung classic yacht
Another vintage beauty, the Sai Kung classic yacht was born in 1975 and got a makeover in 2015. That updated this 79-foot vessel that can sleep nine people in four cabins.
Be sure you're a nautical whiz, as there's no room for additional crew here, but that will only save you money.
All told, the Sai Kung will set your group back $17,500 per week, just under $2,000 per person.
Glorious open yacht
Outdoor yachts are designed for those who truly want to live outside, which you can do easily on the Glorious.
This sporty 72-footer is ready to help you dive, scuba, and more, with room for six guests in three cabins. You can bring a crew of two for extra help, of course.
Built in 2007 and remodeled nine years later, chartering the Glorious will run you $16,500 per week, again $2,700 per person.
Speedy T open yacht
Looking for a bigger open yacht that's perfect for swim buffs? Charter the Speedy T, a vessel that's 80 feet long and primed for dips in refreshing ocean waters.
Like many of the yachts on this list, it accommodates six guests in three cabins and has room for three crew members.
All told, one week on this sleek ship — built in 1994 and renovated in 2011 — is $19,500 before expenses, translating to $3,250 per head. But the adventure promises to be unforgettable.
Etoile Magique catamaran yacht
With extra stability even at higher speeds, catamaran yachts like the Etoile Magique are great options for adventure.
This 80-foot vessel is roomy for its size, with room for 16 guests in eight cabins. There's space for a three-person crew, too.
Constructed in 2004 and remodeled a decade later, this is a budget-friendly adventure in the making. At $18,710 per week before expenses, that shakes out to a bit over $1,100 apiece.
Fuerte 3 catamaran yacht
Meaning "strong" in Spanish, the Fuerte 3 catamaran yacht — built in 2004 and renovated in 2010 — offers a more intimate experience than the Etoile Magique, with space for nine guests in four cabins.
On the smaller side, at 67 feet, you can bring two crew members along if you need them. The price tag for one week is around $22,000, or just over $2,400 a pop. This vessel is best in shallower waters.
Astrape sport fishing yacht
If your idea of the perfect vacation is sport fishing, this boat is for you. The Astrape sport fishing yacht comes with top-of-the-line fishing equipment so you can catch your dream fish.
Built in 2008 and remodeled in 2016, the 76-foot vessel sleeps eight in four cabins. It also has room for three crew members.
On the pricier side at $29,000, a week will cost each person nearly $3,700 — worth it if you can show off that once-in-a-lifetime catch, though!
Barefoot sport fishing yacht
Giving us some real Orca energy, the Barefoot sport fishing yacht was built in 2006 — much later than that famed vessel from "Jaws."
The 64-foot boat is designed for fishing in shallower waters, perfect for you and five friends who will share three cabins. Two crew members can fit, too.
This yacht is cheaper than the Astrape at $17,500, so six folks will pay just under $3,000 a head per week.
Prenses Lila gulet yacht
Gulet yachts are known for their tall masts, ample deck space, and Turkish origins — perfect for a Mediterranean voyage.
To that end, the Prenses Lila is an excellent option for groups of 18. At 114 feet with eight cabins and space for five crew members, this boat beckons.
You can charter Prenses Lila — built in 2009 and remodeled in 2009 — for $17,500 per week in September.
Dreamland gulet yacht
The second gulet yacht and the final boat we're covering is Dreamland, which will surely take you there. 
Constructed in 2006, 12 guests can sleep in six suites on this 105-foot vessel as well as five crew members.
You can book Dreamland for around $26,000 in high season. Divide that by 12, and you land on about $2,200 per person. That might require some financial fitness, but yachts like this don't come around every day.
Bottom line
Spending your days sunning and swimming aboard a luxurious yacht may seem like an out-of-reach proposition, but we're here to tell you it's possible.
In fact, with planning and savvy budgeting, you can score your dream seafaring adventure. You can even use your favorite credit card to book and earn travel rewards.
Traveling by charter yacht is also more environmentally friendly than flying, which means you can feel good about your sailing vacation.
Easy-to-Earn Unlimited Rewards
Earn 25,000 online bonus points after you make at least $1,000 in purchases in the first 90 days of account opening - that can be a $250 statement credit toward travel purchases
Earn 1.5 points per $1 spent on all purchases
Longer intro APR on qualifying purchases and balance transfers
No foreign transaction fees
Earn unlimited 1.5 points per $1 spent on all purchases, with no annual fee and no foreign transaction fees and your points don't expire.
25,000 online bonus points after you make at least $1,000 in purchases in the first 90 days of account opening - that can be a $250 statement credit toward travel purchases.
Use your card to book your trip how and where you want - you're not limited to specific websites with blackout dates or restrictions.
Redeem points for a statement credit to pay for travel or dining purchases, such as flights, hotel stays, car and vacation rentals, baggage fees, and also at restaurants including takeout.
0% Introductory APR for 15 billing cycles for purchases, and for any balance transfers made in the first 60 days. After the intro APR offer ends, 18.24% - 28.24% Variable APR will apply. A 3% fee applies to all balance transfers.
If you're a Preferred Rewards member, you can earn 25%-75% more points on every purchase. That means instead of earning an unlimited 1.5 points for every $1, you could earn 1.87-2.62 points for every $1 you spend on purchases.
Contactless Cards - The security of a chip card, with the convenience of a tap.
This online only offer may not be available if you leave this page or if you visit a Bank of America financial center. You can take advantage of this offer when you apply now.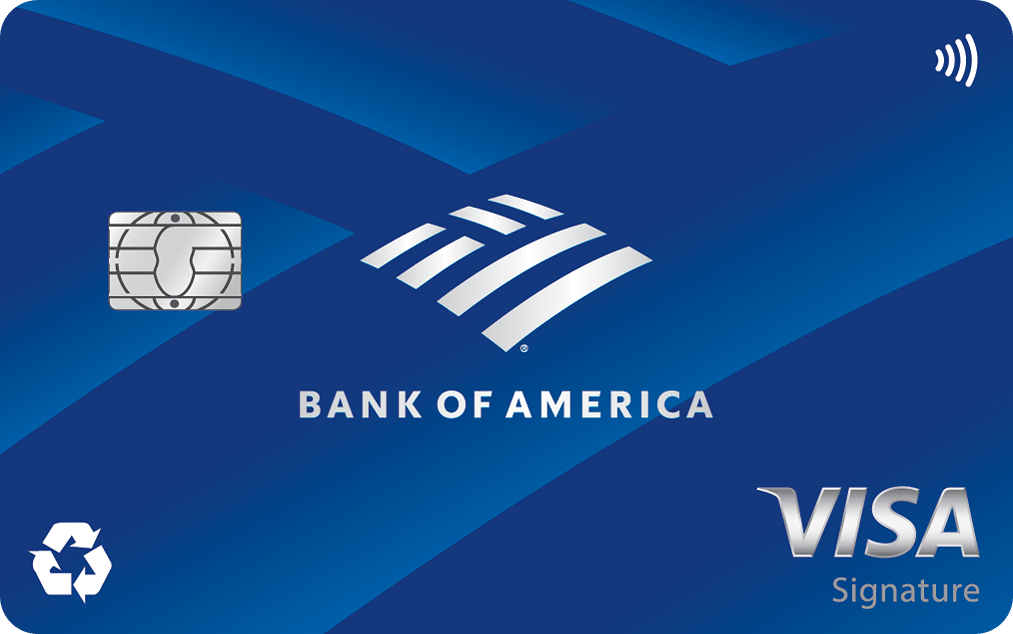 Apply Now
on Bank of America's secure website
Read Card Review
Intro Offer
Earn 25,000 online bonus points after you make at least $1,000 in purchases in the first 90 days of account opening - that can be a $250 statement credit toward travel purchases