California is known for its warm weather, sandy beaches, and expensive housing market.
But some places in the Golden State are relatively affordable. These are places where you can retire and still keep more money in your bank account.
Check out these 15 cities that won't bust your retirement budget. All home price figures come from Redfin's September summary of median sales prices.
Resolve $10,000 or more of your debt
Credit card debt is suffocating. It constantly weighs on your mind and controls every choice you make. You can end up emotionally and even physically drained from it. And even though you make regular payments, it feels like you can never make any progress because of the interest.
National Debt Relief could help you resolve your credit card debt with an affordable plan that works for you. Just tell them your situation, then find out your debt relief options.
How to get National Debt Relief to help you resolve your debt: Sign up for a free debt assessment here. (Do not skip this step!) By signing up for a free assessment, National Debt Relief can assist you in settling your debt, but only if you schedule the assessment.
SPONSORED
Fontana
Fontana is located in San Bernardino County. It offers plenty of sun, with temperatures getting into the 90s during the summer months.
It also has affordable housing compared to other places in California. The median price for a home in Fontana was $585,000 in September, compared to $786,500 for the Golden State as a whole.
Fresno
Central California is home to Fresno, which is part of the state's top agricultural region.
Housing here costs $396,000, which makes this a much cheaper choice than more expensive markets such as Los Angeles and San Francisco.
Anaheim
You may be familiar with Anaheim as the home of Disneyland, but there are also fun options available for adults in the area.
If you're set on living near a big city, Anaheim gets you close to Los Angeles but costs slightly less. Expect to pay $858,380 for a home in Anaheim, compared to $983,000 in Los Angeles.
Don't let home repairs drain your bank account
Did you know if your air conditioner stops working, your homeowner's insurance won't cover it? Same with plumbing, electrical issues, appliances, and more. Not being able to make repairs could leave you in a bad situation — but a home warranty could protect you against surprise expenses.
Whether you're a brand-new homeowner or you've owned your home for years, a plan from Choice Home Warranty could pick up the slack where homeowner's insurance falls short.
If a covered system in your home breaks down, you can call their hotline 24/7 for assistance to get it repaired. They have a network of over 15,000 technicians that can assist you, making sure any issue can be taken care of swiftly — without breaking the bank.
Not sure if it's for you? Rest easy: they were named one of the "Best Home Warranty Companies" by US News 360 Reviews and were awarded Best Company's 2020 Consumer's Choice Award. For a limited time, you can get your first month free when you sign up for a Single Payment home warranty plan.
Fairfield
Wine lovers should check out Fairfield, which is just east of the Napa Valley and the wineries that the area is known for.
In September, the median price for a home in Fairfield was $625,000. Compared to other California cities, that price will help you keep some extra cash in your pocket for activities and wine tastings.
Sacramento
Sacramento is the state's capital. Living here can save you cash if you're looking for a decent-sized city that's also affordable.
Expect to pay about $485,500 for a home in Sacramento.
Bass Lake
Bass Lake is near Yosemite National Park, making it a great option if you want to spend more time outdoors.
The median price of a home in Bass Lake is $485,000.
Bakersfield
Head to Bakersfield if you want easy access to outdoor activities or hope to enjoy nights on the town at the city's breweries and wineries.
Homes in Bakersfield sold for a median price of $400,500 in September.
Modesto
Modesto is located in California's Central Valley area. It is another market with reasonable home prices by California standards.
You will pay about $450,000 to buy a home here.
Eureka
Check out the charm of the coastal town of Eureka in the northern part of California. You'll find unique Victorian homes and can venture north to Redwood National Park.
You will also find affordable homes, with a median price of $420,000.
Ontario
Ontario is east of Los Angeles. It features plenty of restaurants, shopping, and entertainment for residents to enjoy.
Expect to pay $664,000 for a home here. That might not seem cheap, but it's a bargain compared to what you might pay in L.A.
Twentynine Palms
Further east of Ontario is Twentynine Palms in the Mojave Desert. The city serves as the north entrance for Joshua Tree National Park and beautiful desert landscapes for outdoor enthusiasts to enjoy.
The cost of housing in the area could also make your wallet happy, with a median price of $266,500 for homes in the area.
Stockton
Stockton is another Central Valley city in California that is sure to keep you busy with museums or shows at the historic Bob Hope Theatre.
The city also is easy on your wallet when it comes to housing, with a median price of $438,000.
Citrus Heights
The Sacramento suburb of Citrus Heights could be a great place to retire if you want something in the Central Valley that isn't too expensive.
Homes sell for a median price of $465,000.
Palmdale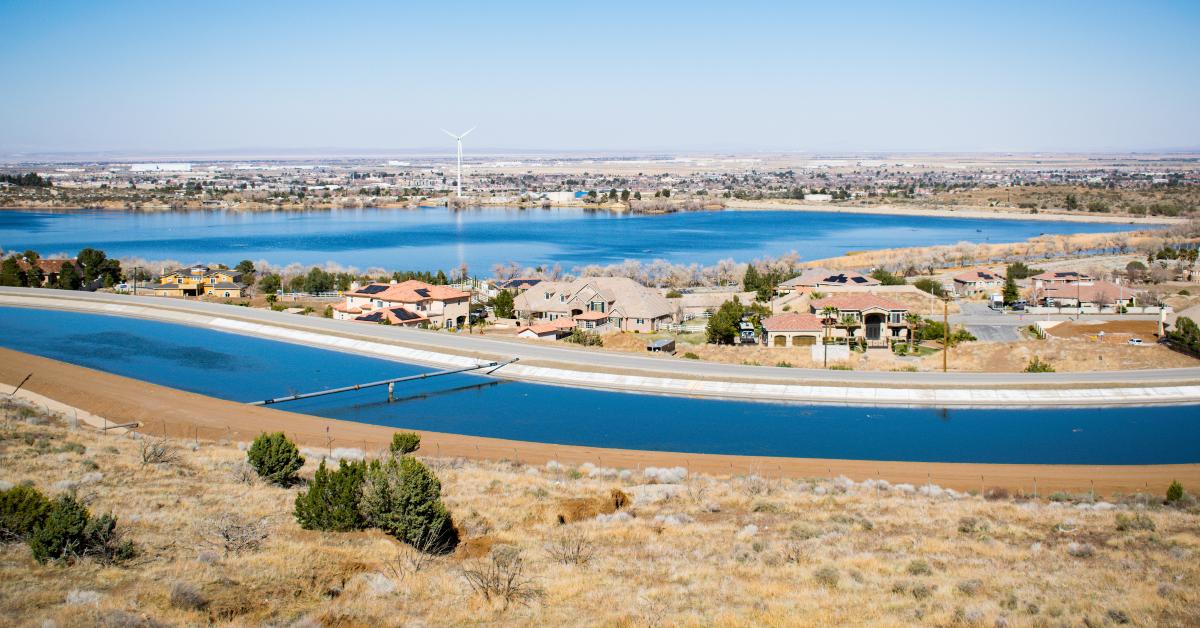 Palmdale is north of Los Angeles. It has plenty of affordable housing and a better cost of living than some other areas in the state.
Expect to pay $520,500 for a home here.
Idyllwild
Idyllwild is in the San Jacinto Mountains, making it a great location if you want outdoor activities and beautiful landscapes when you retire.
A home in the area costs a median of $557,500.
If a California city on this list sounds like a good place to retire, grab one of the best travel credit cards in your wallet and take a trip to check it out. That way, you will discover if it's really the right city for you.
Bottom line
If you want to retire early — or just retire at all — it is important to find someplace affordable to settle down. Fortunately, there are places in sunny California that cost less than you might think.
California can be a great place to retire to if you're looking for something warm and beachy or you simply enjoy the outdoors. So, don't let the state's reputation for high costs scare you away.
FinanceBuzz is not an investment advisor. This content is for informational purposes only, you should not construe any such information as legal, tax, investment, financial, or other advice.
National Debt Relief Benefits
No upfront fees
One-on-one evaluation with a debt counseling expert
For people with $7,500 in unsecured debts and up