Updating your home this spring doesn't have to mean spending a lot of money. You can welcome spring with fresh colors, bright sunlight, and a few simple and affordable touches that can refresh your home.
Some projects even offer a lot of bang for the buck, allowing you to bring your home to life while also protecting your bank account.
Here are 15 affordable ways to remodel your home this spring.
Change up the accents
If the "bones" of your home are in good shape and you still love the color on the walls, switch out the accents in each room.
You don't have to spend a lot of money. In fact, a few good, spring-colored items from the local dollar store might be enough to give you a refreshed look. Choose brightly colored pillows or a new piece of art that inspires you, for example.
Switch out the cabinetry hardware
If your kitchen needs a bit of updating, change out the cabinetry hardware. Replacing old and dated pulls and handles with more modern, sleek pieces is a simple way to make cabinets look newer.
You can change up the color, too, perhaps switching from basic silver to polished bronze.
Paint the interior a new color
A new coat of paint is often a welcome addition, as it covers dingy, scuffed-up existing paint with a bright look.
Paint the walls, and consider updating the trim work and doors too. For a spring vibe, focus on lighter colors to help open up the space. Choose a color that resonates with you or sets the tone for the rest of the room.
Add more lighting
Adding lighting to your home can transform it within moments. While natural light is always most appealing, you can add artificial light through hanging pendants, chandeliers, or bright lights in a ceiling fan.
Keep the home bright to create a positive, refreshing vibe.
Organize the closets
Spring is the perfect time to add a few more storage racks to a closet to keep your folded items looking clean and refreshed. 
Toss out what you don't need or want and use boxes, baskets, and totes to keep everything labeled for the season.

Pro tip: When refreshing your home, do your best to stay out of debt. You might even consider picking up a part-time job or developing a side hustle to generate extra cash you can spend on remodeling projects throughout the year.
Clean and refresh the carpeting
Getting your carpets cleaned professionally is a task you shouldn't ever put off. Doing so ensures that you remove dirt and stains before they really become a problem.
Cleaning the carpets can also help to control allergies during this time of the year. Be sure that any humid areas receive consistent treatment to keep mold and mildew at bay.
Add crown molding
Crown molding can quickly add value to your home. Select versions with added ridges and curves if you want a more sophisticated look.
Even simple pieces that cost about $1 a foot can add fabulous detail to the room, making it feel luxurious. On the other hand, you can spend 20 times as much if you like. 
The key here is ensuring that the molding is installed properly to give your home a refreshed, elegant look.
Install shutters
The addition of interior shutters is a perfect project for spring, since you'll benefit all summer from the added shade they offer.
They also can allow just the right amount of natural light in while still protecting your privacy. Shutters will cost a bit more than your average window treatment, but they add a lot of visual impact and character to the space.
Bring your deck back to life
Your deck becomes a popular place once the sun and warmer temperatures return. Unfortunately, the elements can be tough on decks. Peeling paint and worn-out floorboards make the space less appealing.
Refreshing your deck can preserve its lifespan while also adding value and functional space to your home. Start with some power washing, and then stain or paint the deck to bring back its appeal.
Install a backsplash
Do the walls around your kitchen counters have damage and staining from sauce splashes and dirty fingerprints? Now is a great time to clean them up.
Consider adding an inexpensive backsplash. Choose one that's easy to wipe clean and that still adds a bit of charm and appeal to your space.
From a simple peel-and-stick backsplash to one that glues into place, you have options to keep costs much lower than if you paid for professionally installed ceramic tile or granite.
Refresh your front entrance area
The front entrance is the first thing people see when they step into the home, and you can make it impressively beautiful with a few simple changes.
Consider enhancing the lighting right outside your front door. Or, choose to paint the door a vibrant color and add a few new planters nearby.
You can also clean up the interior area around the door, adding a new rug or perhaps a bright mirror to help bring natural light into the home. Add a piece of art or two as well.
Add some greenery to the interior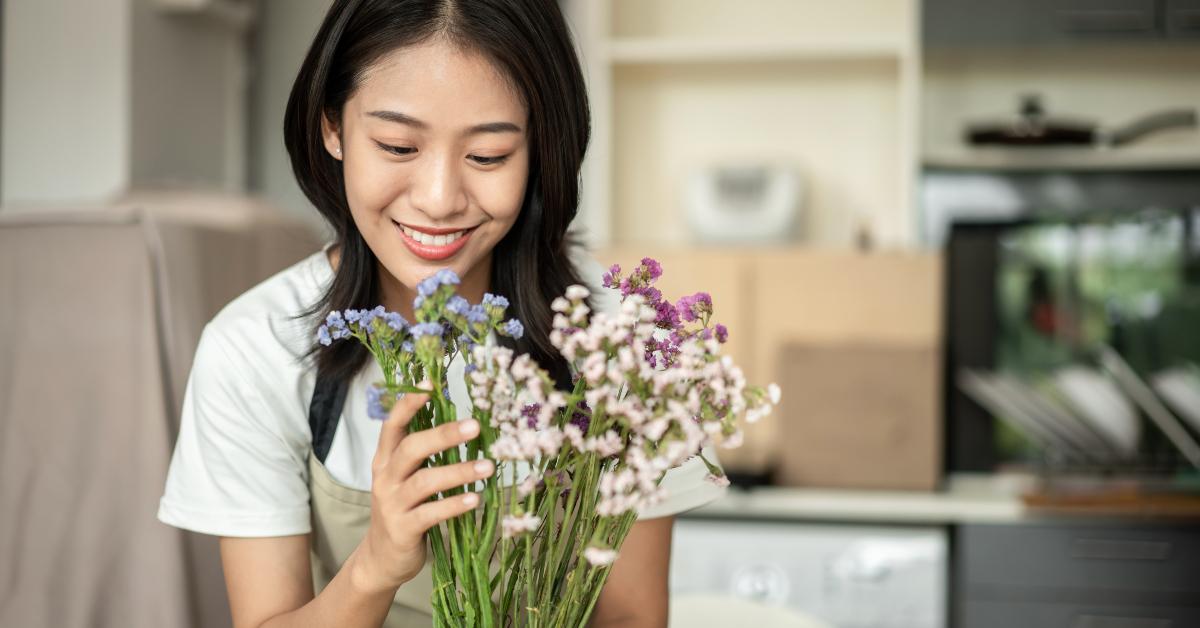 You don't have to have a green thumb to benefit from the addition of an easy-to-manage plant or two in your home.
Choose a few potted plants that are easy to maintain, or go with succulents. Allow for that added beauty to spread to your back patio and yard. Just don't overdo it, and you can keep maintenance and care to a minimum.
Choose a new a rug or two
Rugs are a fun way to inexpensively bring color and vibrancy into a home.
If you are looking for something special, choose an oriental rug. Or, visit a local secondhand retailer where older, more ornate rugs are available.
Look for a rug that fits your space and offers style and elegance.
Declutter the kitchen countertops
Consider creating a hideaway spot by transforming an empty pantry or cabinet into a space that eliminates the clutter on your countertop.
Or, add an enclosed cabinet to your existing countertop for more formal storage options.
Clean and update your ceiling fans
Air movement helps keep spaces comfortable. That's why it's worth updating the fans in your living space to ensure they fit the size of the home and your goals for that space.
Sometimes, just cleaning up what you have can rejuvenate it. In other situations, a new fan is a better option.
Bottom line
The items on this list can help you refresh your home and avoid wasting money as you do so.
And don't forget other basic spring maintenance tasks — such as replacing the air filters in your furnace, checking the batteries in the smoke detector, and cleaning out gutters — that help preserve the value of your home.

Compare Quotes Benefits
Get quotes in 60 seconds
Compare rates from top insurers
Coverage you need at an affordable price
It's free and fast to compare quotes