If it feels like you're being nickeled-and-dimed every time you fly, you're not alone. And we've got the data to validate your feelings.
In just three months last year (July-Sept 2019), U.S. airlines raked in more than $1.5 billion dollars from baggage fees alone. That's up 15% from the same time period in 2018 and on top of the $747 million they collected in reservation change fees over the same period.
FinanceBuzz recently surveyed frequent travelers to find out how they feel about airline fees and learn what they're doing to avoid them.
Key findings
Respondents feel that American Airlines is the worst airline when it comes to fees, with Spirit Airlines and United Airlines following closely behind. Data backs up these feelings: American Airlines does collect the most baggage fees in aggregate, while Spirit collects the most per passenger.
More than half of travelers (53%) have paid a checked bag fee and 31% have paid a carry-on fee. These are also the two types of fees travelers find most annoying.
To avoid fees, 51% of respondents pack lighter so they can travel with fewer bags and 42% avoid airlines that charge for carry-on bags. Another 24% of respondents admit that they would lie or act deceitfully in order to avoid fees.
Only one in four respondents (26%) are likely to book a flight using a credit card that offers free checked bags.
When asked what hypothetical fees they wouldn't mind paying for, respondents said designated overhead bin space right above your seat (37%) and being able to exit the plane first (32%).
The worst airlines for fees
We asked survey respondents which airlines they felt were the worst when it comes to fees. American (18%), Spirit (17%), and United (16%) topped the list.
But does perception match reality?
We also looked at data from the Bureau of Transportation Statistics to see which airlines actually charged the most fees. In total, American Airlines did collect the most revenue from baggage fees — over $660 million in the first half of 2019. It was followed by United ($513 million) and Delta ($490 million), both of which were on pace to collect over a billion dollars from baggage fees for the year.
When passenger volume is taken into account alongside baggage fee revenue, the list looks a little different. Spirit Airlines, the patron saint of baggage fees, takes the top spot with an average of almost $25 in baggage fees per passenger. Following closely behind are Sun Country ($20/passenger), Frontier ($19/passenger), and Allegiant ($18/passenger).
Learn more about Spirit baggage fees, Sun Country's baggage fees, Frontier baggage fees, and Allegiant baggage fees. 
By contrast, Southwest — which still allows passengers to bring up to two checked bags for free with any fare — nets only 33 cents per passenger in baggage fees.
The worst of the fees
Over half (53%) of survey respondents reported having paid a checked bag fee; 31% said they've paid to bring on a carry-on bag; and 27% have paid for the "honor" of choosing their seat.
The rise of basic economy fares has made fees for carry-ons and seat selection more common. Delta kicked off the trend when it introduced these no-frills fares in 2012, and most major U.S. carriers have followed suit. The fine print varies from airline to airline, but generally you're guaranteed a seat and not much more. 
For example, passengers who opt for United's lower-priced basic economy fares might save a few dollars on their ticket, but there's a lengthy list of things they don't get with that ticket:
Seat selection: A seat is automatically assigned and cannot be changed. This applies even to families traveling together — small children may not be seated next to their parents unless they pay a seat selection fee.
A full-sized carry-on: Only a personal item that fits under your seat is allowed on domestic flights. Overhead bins are off-limits for basic economy passengers.
Changes to your reservation: If you need to adjust your travel plans, you're out of luck. And forget about canceling for a refund — that's not allowed either.
Checked bags: If you want to check a bag, it's $30 each way for domestic flights and $60 each way for trans-Atlantic flights.
Your dignity: Well, not exactly. But you will be in the last boarding group.
And it doesn't end there. Airlines continue to get creative with the things they charge passengers for...
Allegiant charges $5 to print your boarding pass.
JetBlue charges $10 for a blanket and pillow.
Spirit charges a $15-$75 fee for tickets purchased within 180 days of departure if you use miles to book.
The most annoying fees
The fees don't just add up, they're also annoying. You search for the perfect flight and finally find one that looks like a deal, only to find out it doesn't include the basics. Bringing a bag, picking your seat, and connecting to the in-air Wi-Fi will all jack up the price. Poof! That bargain fare isn't looking like such a good value any more.
We asked survey respondents to rank fees from most annoying to least annoying. Carry-on bag fees came out on top, followed by checked bag fees and seat selection fees.
| | |
| --- | --- |
| | Most annoying fees |
| 1 | Carry-on bag fee |
| 2 | Checked bag fee |
| 3 | Seat selection fee |
| 4 | Onboard Wi-Fi fee |
| 5 | Priority boarding fee |
How passengers are fighting back
The (somewhat) good news? All these fees are changing passenger behavior. Suddenly, overpacking isn't quite as appealing when that extra pair of shoes might cost you $60 round-trip.
Packing lighter is the most common behavior change survey respondents cited. 51% report packing lighter in response to baggage fees. 43% are avoiding airlines that charge for carry-ons and 38% said they now carry on a bag they would have checked if it were free. #teamcarryon for the win!
For almost a quarter (24%) of travelers, breaking the rules is another way to get around fees. This wily cohort admits to lying or engaging in other deceitful behavior to avoid airline fees.
Sneaking a full-sized carry-on aboard your flight isn't going to noticeably hurt the airline's bottom line, but it might pay for an extra cocktail on that beach you're flying to. We won't tell if you don't.
The upside: travel credit card perks
If you don't have the right airline credit cards in your wallet, it might be time to take a closer look at them. Co-branded airline credit cards that offer perks like free checked bags are a smart (and honest) way to avoid some fees.
If you'd booked that United basic economy fare (described above) with the United℠ Explorer Card, you'd get standard checked bag benefits, plus you and one travel companion on the same reservation would be allowed to bring on a full-sized carry-on bag and enjoy priority boarding. The savings on baggage fees alone justifies the card's $95 (waived first year) annual fee.
Give us more fees, please!
Just kidding. But we did ask survey respondents what they wouldn't mind paying extra for. 37% said having designated overhead bin space above their seat is worth paying for, and 32% want to be able to exit the plane first, no matter how far back they're sitting. Despite all the viral stories and internet rants, only 29% said they'd pay extra to be guaranteed that the person in front of them wouldn't recline their seat, and a similar 28% would pay for a child-free flight.
How to avoid baggage fees
Unfortunately, these annoying charges aren't going anywhere because they're such a revenue-driver for the airlines. Fortunately, there are a few things you can do to help avoid fees.
Understand the full ticket price. Base ticket prices are actually on the decline, but that doesn't mean the cost to fly has gone down. When you spot an attractive fare, dig in and understand what is and isn't included to deduce the actual price of that ticket including fees.
Be a minimalist packer. Whether you're packing a backpack or a wheeled carry-on, take the time to strategize before you start tossing items into your bag. Packing cubes or rolling your clothes can help stretch your available space. And don't be afraid to pack light and visit the laundromat during your travels — it can be a cultural experience (for real!).
Get yourself an airline credit card. It's the easiest way to avoid fees, and if you travel more than once a year on a particular airline, the waived baggage fees will likely more than cover the annual fee. Here are a few of the best travel credit cards:
Methodology
FinanceBuzz surveyed 758 U.S. adults who have taken a commercial flight in the past two years. The survey was conducted between Jan. 31-Feb. 4, 2020 using the Pollfish platform. Data on the baggage fees collected by airlines was sourced from the U.S. Bureau of Transportation Statistics.

Easy-to-Earn Unlimited Rewards
Earn 25,000 online bonus points after you make at least $1,000 in purchases in the first 90 days of account opening - that can be a $250 statement credit toward travel purchases
Earn 1.5 points per $1 spent on all purchases
Longer intro APR on qualifying purchases and balance transfers
No foreign transaction fees
Earn unlimited 1.5 points per $1 spent on all purchases, with no annual fee and no foreign transaction fees and your points don't expire.
25,000 online bonus points after you make at least $1,000 in purchases in the first 90 days of account opening - that can be a $250 statement credit toward travel purchases.
Use your card to book your trip how and where you want - you're not limited to specific websites with blackout dates or restrictions.
Redeem points for a statement credit to pay for travel or dining purchases, such as flights, hotel stays, car and vacation rentals, baggage fees, and also at restaurants including takeout.
0% Introductory APR for 15 billing cycles for purchases, and for any balance transfers made in the first 60 days. After the intro APR offer ends, 18.24% - 28.24% Variable APR will apply. A 3% fee applies to all balance transfers.
If you're a Preferred Rewards member, you can earn 25%-75% more points on every purchase. That means instead of earning an unlimited 1.5 points for every $1, you could earn 1.87-2.62 points for every $1 you spend on purchases.
Contactless Cards - The security of a chip card, with the convenience of a tap.
This online only offer may not be available if you leave this page or if you visit a Bank of America financial center. You can take advantage of this offer when you apply now.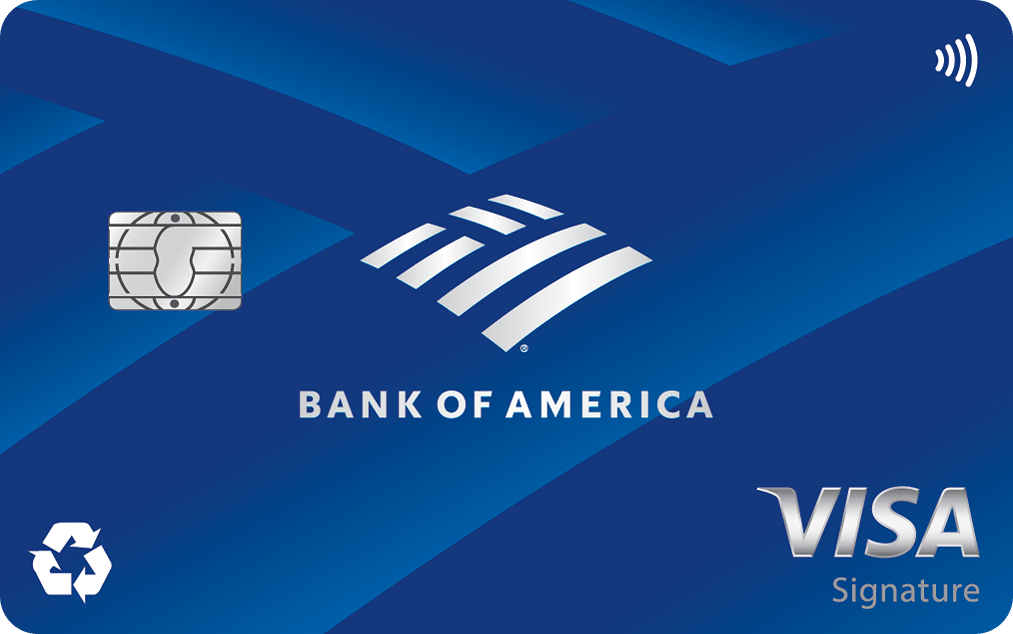 4.1
FinanceBuzz writers and editors score cards based on a number of objective features as well as our expert editorial assessment. Our partners do not influence how we rate products.
Apply Now
on Bank of America's secure website
Read Card Review
Intro Offer
Earn 25,000 online bonus points after you make at least $1,000 in purchases in the first 90 days of account opening - that can be a $250 statement credit toward travel purchases