For the last 90 years, Hawaiian Airlines has been Hawaii's biggest and longest-serving airline. It offers non-stop flights from over a dozen different cities on the U.S. mainland and destinations in Asia and the South Pacific. Hawaiian Airlines is also the main airline flying passengers from place to place within the Hawaiian islands, with more than 170 flights daily.
On any trip to paradise, you'll surely bring some bags. This article will walk you through Hawaiian Airlines' baggage policies and what you can do to avoid having to pay for checked bags, including using the right credit cards.
What's Hawaiian Airlines' baggage policy?
Carry-on baggage and personal items
Like most domestic carriers, Hawaiian Airlines allows passengers to bring one carry-on bag and one personal item, which is often another type of item, such as a backpack or laptop bag. Carry-on bags need to measure less than 22 inches x 14 inches x 9 inches and be under the weight limit of 25 pounds, including the handle and wheels. Oversize or overweight baggage must be checked.
Special items like strollers, car seats, and wheelchairs can be checked at the gate. Most planes, if not full, can accommodate two manual wheelchairs — up to 50 pounds each — in the cabin. Portable oxygen concentrators, respiratory assistive devices, canes, walkers, crutches, and prosthetics can be brought into the cabin and won't count as a carry-on.
If your item does not fit in the overhead bin or under the seat in front of you, then you may be required to check it. If you are traveling with something fragile like a musical instrument, you will be allowed to purchase a second airfare so your item has a seat of its own to travel in.
Items that can't be brought in as carry-on items include smart bags with lithium-ion batteries that can't be removed, lithium batteries that have been recalled by the manufacturer, more than 12 ounces of powder-like substances if traveling to the U.S. from another country, hoverboards, Segways, electric unicycles, stoves, fuel, fuel canisters, ice, large containers of non-solid foods, and alcoholic beverages.
Checked bags
Hawaiian Airlines' fees vary depending on whether you're flying within the islands, on a domestic flight within North America, or internationally. Regardless, their checked bags are pretty straightforward:
Neighbor Islands: $25 for the first bag, $35 for the second bag, and $50 for each additional bag.
North America: $30 for the first bag, $40 for the second bag, and $100 for each additional bag.
International flights and first class: First bag and second bag are free, and each additional bag is $150.
Checked bags are measured based on the linear dimensions: length + width + height = total. Checked bags that exceed the baggage allowance of 62 linear inches and/or are heavier than the maximum weight of 50 pounds may be considered overweight and/or oversize baggage.
Hawaiian Airlines charges the following additional fees for these types of oversize and/or overweight bags on top of the checked bag fees:
Neighbor island flights: $35 for bags 51 to 70 pounds, $70 for bags 71 to 100 pounds, and $35 for bags 62 to 80 linear inches.
North America: $50 for bags 51 to 70 pounds, $200 for bags 71 to 100 pounds, and $100 for bags 62 to 80 linear inches.
International flights: $50 for bags 51 to 70 pounds ($0 to Australia, New Zealand, and Business Class Japan or South Korea); $400 for bags 71 to 100 pounds (bags this size not accepted in Australia, New Zealand, and Papeete, Tahiti); and 62 to 80 linear inches $150.
Bags larger than 80 linear inches are not accepted on Hawaiian Airlines. Checked bags must not contain lithium-ion batteries. If you have a smart bag with a power bank, remove the battery and bring it in the cabin with your carry-on luggage. The airline recommends not packing valuable, perishable, or fragile items in checked bags.
Items that can't be added to checked baggage include lithium batteries that have been recalled by the manufacturer, hoverboards, Segways, electric unicycles, stoves, fuel, fuel canisters, ice, and alcoholic beverages over five liters and above 70% ABV (alcohol by volume).
How to avoid checked bag fees on Hawaiian Airlines
Now that you know how much it will cost to check your bags with Hawaiian Airlines, let's talk about ways you can get around these fees.
1. Only pack a carry-on
The best carry-on bags give you lots of room to pack what you need for a trip. With Hawaiian Airlines' allowance of a suitcase or carry-on bag and a personal item, you can easily pack the airplane essentials and skip having to check any of your bags.
Stick to items you absolutely need, such as medications, valuables, clothing, footwear, etc. Think about what you can buy cheap once you land. Why clutter up space in a carry-on for toothpaste and shampoo? You can get travel-sized items like these at a local pharmacy or big-box store. You may even want to skip packing more than one or two shirts if you plan to buy some souvenir shirts to commemorate your trip.
2. Join the frequent flyer program
If you're a Pualani Platinum or Pualani Gold member of Hawaiian Airlines' customer loyalty program, you can get some of your bags checked for free. When you sign up for a HawaiianMiles free membership, you'll begin earning miles each time you fly with Hawaiian Airlines. At this level of membership, you'll get a discount of $10 for the first bag and $15 for the second bag when flying within the Hawaiian Islands.
Once a HawaiianMiles member completes 15 flight segments with the airline or earns 10,000 miles, they qualify for the Pualani Gold Membership, which allows two free checked bags. If you fly 30 segments or earn 20,000 miles, you get Pualani Platinum status, which allows you three free checked bags. Any bags in addition to those would incur an excess baggage fee.
Hawaiian Airlines also offers a paid membership program called Premier Club. For a new membership fee of $299 or 40,000 miles ($249 or 35,000 miles for renewals), you get a bunch of useful perks, including express check-in, access to priority security lines, zone 2 pre-boarding, access to the Premier Club lounges on the islands, and two free checked bags.
3. Buy a premium ticket
One of the perks of flying with a premium or international ticket on Hawaiian Airlines is the checked baggage allowance. If you're flying first-class or to Auckland, New Zealand; Brisbane, Australia; Osaka, Japan; Pago Pago, American Samoa; Papeete, Tahiti; Sapporo, Japan; Seoul, South Korea; Sydney; or Tokyo, you can check up to two bags for free.
4. Bring your military documentation
Hawaiian Airlines offers active, retired, or retiring military personnel and their qualified dependents a baggage fee waiver for up to four checked bags per person for when traveling on official orders. You'll have to provide a valid military ID and proof of your orders when checking in to have the fees waived. Each bag must be less than 70 pounds and 80 linear inches.
If you're an active-duty serviceperson traveling on personal business, you'll be able to check two bags for free with a valid military ID. The baggage fee waiver doesn't apply to dependents, and each bag must be less than 50 pounds and 62 linear inches.
P.S. There are also other ways members of the military can save big by using credit cards.
5. Use a travel card
Travel credit cards are a great money-saving source when it comes to baggage fees. Some offer an annual travel credit, others allow you to be reimbursed for particular purchases. Many people choose to sign up for one or more of the best airline credit cards. That's because cards affiliated with the airline you're flying often have baggage allowances for cardholders.
If you frequently use Hawaiian Airlines, one of the best credit card options might be the Hawaiian Airlines® World Elite Mastercard®.  This card gives cardholders their first checked bag for free. Its welcome offer of 60,000 bonus miles if you spend $2,000 in the first three months of opening an account will also bump you into Pualani Platinum Membership. This level of the airline's customer loyalty program allows you up to three free checked bags.
Maybe you only fly to Hawaii occasionally. The Capital One Venture Rewards Credit Card could be a great option. This card makes our list of the best travel credit cards. It enables you to earn miles by making everyday purchases. You can use miles to pay for some airline purchases, such as baggage fees. It also has a redemption feature, through which you trade in miles for an account credit toward a specified travel purchase.
Read our Capital One Venture Rewards Credit Card review for more information.
Bottom line on Hawaiian Airlines' baggage fees
As you can see, there are lots of ways to get free baggage and avoid paying fees when flying on Hawaiian Airlines. It simply pays to understand Hawaiian Airlines' baggage rules and fees. 
After all, who wants to think about spending extra money when you're starting a trip to one of the most beautiful places in the world? You can use that cash you saved to make your experience on the islands truly unforgettable.
Easy-to-Earn Unlimited Rewards
Earn 25,000 online bonus points after you make at least $1,000 in purchases in the first 90 days of account opening - that can be a $250 statement credit toward travel purchases
Earn 1.5 points per $1 spent on all purchases
Longer intro APR on qualifying purchases and balance transfers
No foreign transaction fees
Earn unlimited 1.5 points per $1 spent on all purchases, with no annual fee and no foreign transaction fees and your points don't expire.
25,000 online bonus points after you make at least $1,000 in purchases in the first 90 days of account opening - that can be a $250 statement credit toward travel purchases.
Use your card to book your trip how and where you want - you're not limited to specific websites with blackout dates or restrictions.
Redeem points for a statement credit to pay for travel or dining purchases, such as flights, hotel stays, car and vacation rentals, baggage fees, and also at restaurants including takeout.
0% Introductory APR for 15 billing cycles for purchases, and for any balance transfers made in the first 60 days. After the intro APR offer ends, 18.24% - 28.24% Variable APR will apply. A 3% fee applies to all balance transfers.
If you're a Preferred Rewards member, you can earn 25%-75% more points on every purchase. That means instead of earning an unlimited 1.5 points for every $1, you could earn 1.87-2.62 points for every $1 you spend on purchases.
Contactless Cards - The security of a chip card, with the convenience of a tap.
This online only offer may not be available if you leave this page or if you visit a Bank of America financial center. You can take advantage of this offer when you apply now.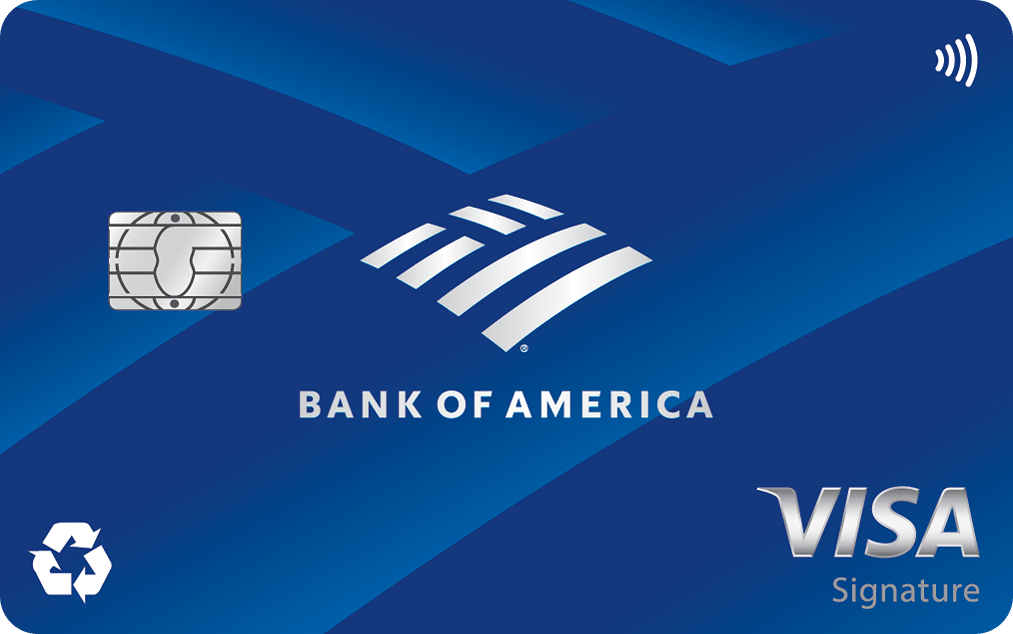 4.1
FinanceBuzz writers and editors score cards based on a number of objective features as well as our expert editorial assessment. Our partners do not influence how we rate products.
Apply Now
on Bank of America's secure website
Read Card Review
Intro Offer
Earn 25,000 online bonus points after you make at least $1,000 in purchases in the first 90 days of account opening - that can be a $250 statement credit toward travel purchases