Who likes dragging tons of bags around the airport or paying to check luggage? Certainly not us, and probably not you either.
Having a great piece (or two) of carry-on luggage can help you on both of these points. But not just any bag will do. You want to find something that's sturdy, convenient, easy to move, and will hold everything you need. Since shopping around to find the perfect carry-on can take a lot of time, we're here to make things a little easier for your trip.
We've done the research for you, and below are our picks for the best carry-on luggage that will fit almost any budget. Our criteria for this list include size, packing and travel convenience, added extras, durability, and of course, price.
Why a great carry-on bag is so important
Your carry-on bag is probably the most important travel companion you can bring when you're flying. Even if you're going to be traveling for weeks and have checked a full suitcase, it's your carry-on that will hold all of your essential items.
Because anything can happen to your bags once you hand them off to airline personnel, you always want to keep your medications, electronics, documents, and other valuables close. A strong, sturdy carry-on will help safeguard these items and minimize the risk of facing disaster should your checked bags get lost or damaged.
A good carry-on can also save you money. If you can pack what you need for your trip within the carry-on and personal item allowance most airlines give passengers, you may not have to check any bags at all. This means no checked baggage fees. Plus, you can quickly depart the airport after landing instead of waiting at baggage claim for your luggage.
Not sure you can manage with just a carry-on bag? Most U.S. carriers allow bags up to 22 inches x 14 inches x 9 inches, and some, such as Southwest, AirTran, and Spirit, give you a few more inches. International flights and airlines generally call for bags that are slightly smaller. Though it's always best to check with your airline for specific dimensions, you usually have ample room to work with when packing carry-on only.
Best carry-on luggage under $150
We recommend these four suitcases for those who are budget-conscious but still want something that is reliable and will keep your possessions safe while on the road. These picks are all hard-shell models, made of ABS (acrylonitrile butadiene styrene), polycarbonate, or a blend of both.
ABS is the least expensive type of plastic used in making hard-shelled luggage, which is why you see it mostly in this category on our list. It's great at resisting impact but not as durable as polycarbonate, which is nearly impossible to break. An ABS-polycarbonate blend is a best bet for light, durable bags at a low price point.
Coolife Luggage 20-inch Carry-On: $60
This ABS-polycarbonate blend suitcase is both cool looking and built for strength and longevity. The manufacturer puts its products through what they call "insanely strict quality control test standards" and backs up those claims with a two-year warranty. The dimensions fit well within most airlines' carry-on regulations, and this bag's 360-degree spinning wheels make it easy to roll through the airport and to your destination.
The Coolife's sleek brushed metal exterior is scratch-resistant and comes in four different colors. Its interior offers multi-use organizational pockets, two compartments for packing, and straps for keeping things in their place. If you should need to gate-check the bag, it has an integrated lock approved by the TSA (Transportation Security Administration) for added security.
Overall, the Coolife carry-on is a tough, sexy, and handy bag for any trip. If you opt to buy some of the larger suitcases, the carry-on will nest inside for easy storage.
Kenneth Cole Reaction Out Of Bounds 20-inch Carry-On: Around $67
This Kenneth Cole carry-on is an Amazon best-seller. We like it for its sturdy yet lightweight construction (only 6.25 pounds!) and size that fits both domestic and international carry-on standards.
With 12 gorgeous colors to choose from, this bag fits just about any style preference. Kenneth Cole also offers a 10-year limited warranty, which means you can buy with confidence.
The interior is much like most other bags of this size, with dual compartments, zippered pockets for organizational storage, and garment restraint straps. The ABS exterior has molded corner guards and self-repairing zippers. The 360-degree spinner wheels are great for easily rolling across different types of terrain and speeding through the airport.
Samsonite Winfield 2 Fashion 20-inch Spinner: $90 to $130
This is a sleek-looking, hard-shell polycarbonate suitcase from one of the most notable names in the luggage industry. It's another great choice if you're looking for a lightweight carry-on that meets most domestic airline standards. We like the 10 oversized, zippered internal pockets, which make organizing your items simple.
The Samsonite Winfield 2's brushed metal exterior comes in eight jewel-tone colors and is designed to hide scuffs and scrapes. It also offers multi-directional spinner wheels and a side-mounted TSA-compatible combination lock for added security. With its 10-year limited warranty, the Winfield 2 could easily become your favorite carry-on.
Travelers Club Wrangler 3-Piece Luggage Set with USB Charging Port: $150
Though this carry-on is part of a three-piece set, we think it's an excellent choice, as it has some unique features that can make traveling easier. First, it's a great value, as you get not only a sturdy ABS hard-shell 20-inch carry-on but also a 24-inch and a 28-inch suitcase for when you need more space. This brings the price point down to about $50 per bag.
What makes the Travelers Club Wrangler stand out, though, is the patented three-in-one cup holder, USB port, and phone holder on the back of the bag. It lays flush with the surface of the bag when retracted and easily flips open when you want to stow a beverage or have a place to lay your phone. The external USB port allows you to connect a power bank inside (not included) and quickly charge a device without having to mess with any zippers or repacking. This is a huge plus for us!
Best carry-on luggage under $300
We gave you a mix of hard and soft options in this section. Each of these bags was selected because they provide the next level of value for the money, whether it's in security, convenience, or space. These picks are worth every penny.
Travelpro Platinum Elite 21-inch Expandable Carry-On: $216 to $254
Travelpro has a pretty sophisticated carry-on with its Platinum Elite 21-inch Expandable model. This is the first soft case on our list, but it's comparable in weight to the Coolife suitcase discussed above. The extras alone make it worth considering.
First, this bag offers an expansion of up to two additional inches of packing depth. Second, it includes a drop-in, fold-out suiter, which allows you to pack clothes you'd rather keep hanging to avoid wrinkles. It's like having a garment bag rolled into your carry-on, instead of having to bring a separate item.
This Travelpro also offers a TSA-compliant removable wet pocket for toiletries, taking the guesswork out of how many liquids you can pack. Finally, there's an external USB port for charging your devices (like most e-luggage, the power bank isn't included). Altogether, this bag has everything you could want for any trip you have coming up.
TLS Mother Lode Mini 21-inch Wheeled Carry-On Duffel with USB Port: $239
TLS stands for Tough, Lightweight, and Smart, and it's eBags' brand of carry-on luggage. Though it looks more like a soft suitcase than a duffel, the Mother Lode Mini 21-inch has some real grit to it at eight pounds, 11 ounces — making it the second heaviest on our list. However, the telescopic handle and static wheels make it easy to roll across the airport, though not as easy as bags with 360-degree swivel wheels.
One of the things we really like about this bag is the adjustable divider in the main compartment that lets you create a little shelf between items. It also has an exterior panel, which allows you to quickly access the main compartment without opening up the whole suitcase, and an external USB port for electronics charging.
The Bigger Carry-On by Away: $245
Like the name suggests, Away's The Bigger Carry-On suitcase gives you more room to pack your stuff. The actual size of the bag is bigger than the 22 inch x 14 inch x 9 inch standard because the Away team noticed that airport sizers are inaccurate.
When you slide your suitcase into a sizer, the dimensions shown are actually bigger than those stated. After extensive testing in airports across the country, Away developed a 22.7 inch x 14.7 inch x 9.6 inch carry-on bag, giving travelers more room to pack and peace of mind that the bag will be a perfect fit at check-in.
Available in nine colors, The Bigger Carry-On is protected with a polycarbonate shell, a TSA-combination lock, and a lifetime warranty. The inner compartments are designed for soft items on one side and harder ones on the other. A water-resistant laundry bag and compression pad are included. You also have the option of adding an ejectable, TSA-compliant battery to charge your phone — at no additional charge.
Pacsafe Venturesafe EXP21 Anti-Theft Wheeled Carry-On: $299
If you're looking for more of a duffel-type bag, the Venturesafe EXP21 Anti-Theft Wheeled Carry-On is a great choice. This bag looks like a cross between a backpack (no straps, though) and a rolling duffel, and it has some serious anti-theft features, which is why we like it.
Don't let the soft exterior of this bag fool you. It's designed to block RFID (radio-frequency identification) skimming, resist cuts and punctures, and it has a stainless steel locking cable. The interlocking, puncture-resistant zippers also protect against tampering during transit. On top of all that, it can fit a laptop up to 15 inches wide, has internal and external compression straps to keep all your things in place, and has an internal attachment point for your keys, wallet, etc.
Best carry-on luggage under $600
This is our best-in-class category, featuring high-value suitcases with price tags to match. These picks are for those who want to make a long-term investment in a carry-on and demand the maximum quality and durability for the money. If you use rewards or cash-back credit cards, now is the time to break them out for some extra points.
Thule Revolve Wide-Body 22-inch Carry-on: $430
We like this suitcase for its tough exterior and soft felt lining that helps cushion your belongings. Weighing in at about nine pounds, the Thule Revolve is the heaviest bag on our list — but certainly is rugged, as you'd expect from any Thule product.
The exterior is made of 100% polycarbonate with a reinforced front panel, rigid frame, and internal corner protectors to provide both protection and stability. Safety features include puncture-resistant zippers, built-in TSA locks, and a retractable slot to keep your luggage ID safe. The inside is lined with felt to absorb shock, and it pairs with a compression system aimed at minimizing movement while on the go.
Victorinox Lexicon 21-inch Global Hardside Carry-On: $460
Victorinox makes some wonderful carry-on bags, and the Lexicon 21-inch Global Hardside is no exception. Available in three matte-finish, scratch-resistant polycarbonate exteriors, this suitcase has super-recessed wheels and handles, so you get as much space inside as possible to pack your belongings while still meeting carry-on guidelines.
Another reason we like this model is the handle bezel, which slides up to reveal a USB port with an integrated interior USB cable that connects to a power bank (not included). There's also a pen, SIM card replacement tool, and hidden luggage ID tray here. This bag is eligible for the Swiss Tracker Bag Tracking Program, which can reunite you with your bag for free if it's lost anywhere in the world, and the Access Lock Combination Recovery Program, which gives you an electronic way to get your lock combination.
Samsonite Fortifi 20-inch Hardside Spinner Carry-On with USB: $510
Samsonite's Fortifi 20-inch suitcase is just plain beautiful, sporting a textured geometric design in Dark Navy or Dark Sand-colored polycarbonate.
What really stands out for this carry-on are the two TSA-approved locks keeping your belongings doubly secure and the dual external USB charging ports (power banks not included). There's also a large zippered compartment designed for damp or dirty items, even toiletries (you'll have to take them out for TSA inspection, though).
As you can see, there are lots of great carry-on choices out there. It's worth taking some time to investigate options within your budget to ensure you get the most for your money. We hope this list gives you a good place to start.
Briggs & Riley Sympatico CX 22-inch Domestic Carry-On Expandable Spinner: $579
We saved the best for last with Briggs & Riley's Sympatico 22-inch Carry-On. One of its stand-out features is the CX compression-expansion system, which gives you up to 22% more room to pack. When the case is closed, it compresses back to its original size, keeping your belongings safe inside.
It also has a suiter built into the inside lid, which cinches one suit or up to two shirts securely in place. The adjustable garment compression panels keep clothing flat to minimize wrinkling and shifting.
The outside is made of three layers of strong but light polycarbonate for both flexibility and protection. Built-in TSA locks, self-repairing zippers, and the ability to slide a matching Sympatico Shopping Tote or Weekender over the handle to wheel two bags as one round out this excellent carry-on option.
When you're shopping around for carry-on bags, you have lots of alternatives to choose from, no matter what your budget is. If you use any of the best travel credit cards, you may be able to earn some more rewards with these purchases.
We hope this list gives you some ideas to start with and things to look for when you shop around. Just remember to keep what you need from your carry-on, both in terms of convenience and long-term durability, at the forefront of your search. This will help ensure that you'll get the most value for your money.
Easy-to-Earn Unlimited Rewards
Earn 25,000 online bonus points after you make at least $1,000 in purchases in the first 90 days of account opening - that can be a $250 statement credit toward travel purchases
Earn 1.5 points per $1 spent on all purchases
Longer intro APR on qualifying purchases and balance transfers
No foreign transaction fees
Earn unlimited 1.5 points per $1 spent on all purchases, with no annual fee and no foreign transaction fees and your points don't expire.
25,000 online bonus points after you make at least $1,000 in purchases in the first 90 days of account opening - that can be a $250 statement credit toward travel purchases.
Use your card to book your trip how and where you want - you're not limited to specific websites with blackout dates or restrictions.
Redeem points for a statement credit to pay for travel or dining purchases, such as flights, hotel stays, car and vacation rentals, baggage fees, and also at restaurants including takeout.
0% Introductory APR for 15 billing cycles for purchases, and for any balance transfers made in the first 60 days. After the intro APR offer ends, 18.24% - 28.24% Variable APR will apply. A 3% fee applies to all balance transfers.
If you're a Preferred Rewards member, you can earn 25%-75% more points on every purchase. That means instead of earning an unlimited 1.5 points for every $1, you could earn 1.87-2.62 points for every $1 you spend on purchases.
Contactless Cards - The security of a chip card, with the convenience of a tap.
This online only offer may not be available if you leave this page or if you visit a Bank of America financial center. You can take advantage of this offer when you apply now.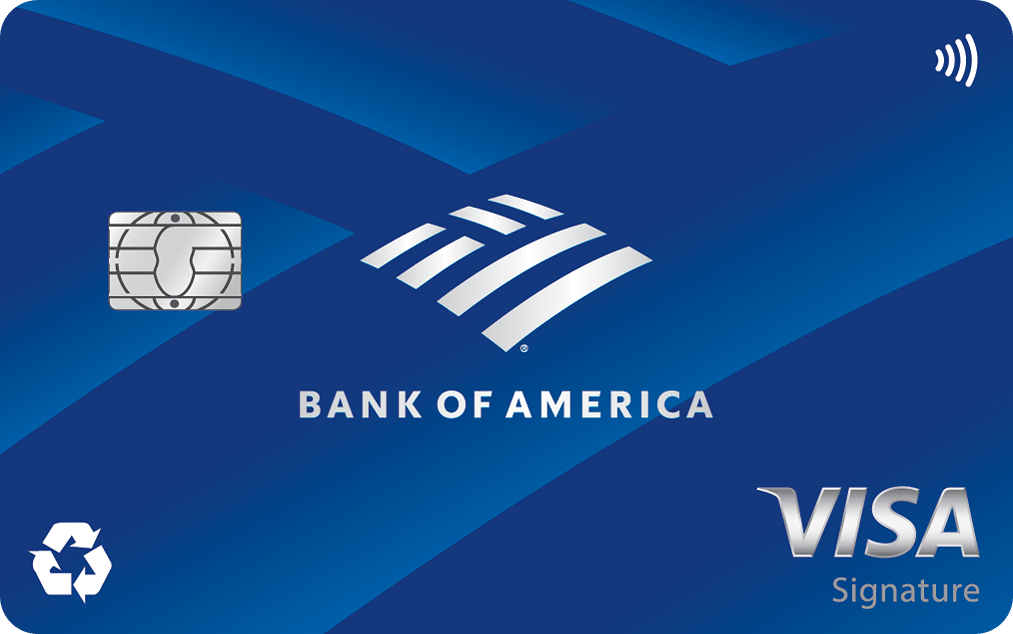 Apply Now
on Bank of America's secure website
Read Card Review
Intro Offer
Earn 25,000 online bonus points after you make at least $1,000 in purchases in the first 90 days of account opening - that can be a $250 statement credit toward travel purchases