Around a million people are snowbirds who say "goodbye" to winter in their hometown and "hello" to life in a warmer climate. If you're close to retirement and considering the snowbird lifestyle, there are some important things to consider.
Owning two homes could add additional costs to your retirement budget, and there are many ways costs can increase while you're splitting your time between two places. But learning from others who are more experienced can help you avoid foolish mistakes.
So before you buy that winter home in a warm climate, here are some mistakes you need to consider and avoid.
Overbooking guests
Going somewhere warm for the winter can be exciting if you plan to enjoy the warm weather and sunny days. You may even want to share it with friends and invite others to visit you.
But be careful about your guest calendar. When you move, you'll probably want to show off your new home for family and friends. But it could also mean more people visiting you and giving you less time to relax in the warm sun.
Underestimating the cost
Remember that snowbirds have to take care of two homes, including costs like maintenance, utilities, and property taxes for both homes at the same time.
It's important to factor these costs into your estimated retirement budget when you're planning your post-work life or you could be in for a surprise when bills start to add up.
Forgetting about mail
Snail mail still comes to the mailbox whether you're there or not. If you're away for the winter, you'll need someone to collect your mail or have the post office or a mailing service forward it for the time you spend in your warm-weather home.
If you use the U.S. Postal Service, you will need to do a temporary change of address and specify the dates when you want your mail forwarded to the snowbird address. Be aware that your mail won't be delivered as quickly as you get it at home. Their free services won't cover you for the whole winter, so you'll need to sign up for their premium services.
The U.S. Postal Service offers a weekly bulk-mail forwarding option. The enrollment fee is $23.40 if you enroll online and $25.45 if you enroll in person at the post office. The weekly fee is $25.45 for each week you have mail forwarded. There are also many businesses that provide similar services at far lower rates.
You also need to remember to keep track of things that may be sent to you by mail such as a new credit card you just got approved for or utilities bills at either address so you don't fall behind on your payments.
Going somewhere popular
There are plenty of popular destinations for snowbirds, but popular could also mean expensive due to competition from others if you plan to buy a home.
For example, the median sale price for homes in Tampa, Florida, was $425,000 in May, representing a 4.6% increase compared to a year earlier. And homes in Scottsdale, Arizona, sold for a median sale price of $830,000 in May, a 1.5% increase compared to a year earlier.
Meanwhile, the median sale price in the entire United States was $419,103 in May, marking a 3.1% decrease in price compared to a year earlier.
Not factoring in moving logistics
There are travel logistics involved with moving from one home to another that you may not have factored in when considering your trip from your summer home to your winter home.
You may have remembered plane tickets or driving, but also consider shipping items from home to the other. If each of you want a car in each location, you also might have to consider additional travel companions, hiring someone to drive one car, or shipping cars back and forth.
Not booking in time
Maybe owning a second home doesn't appeal to you and you'd rather rent a place in your snowbird location instead.
You're not the only retiree with this idea so choose to book a place as soon as possible. You could be out of luck or paying a higher rental rate if you don't get a rental location as soon as possible.
Property management costs
While you're living in one location, you're still going to need to maintain your property in the other location. You may have adult children or trusted friends who can help with this.
If not, you need to factor in any costs that may be required for someone to check on your property on a regular basis and oversee any issues that need to be addressed.
You'll also want to account for outdoor maintenance such as snow removal or lawn care at your different properties.
Everyday living times two
Moving from one location to another for a specific period of time may mean having to arrange for two of everything. From clothing to hair stylists to kitchen supplies to medical care, basically you need to have two lives.
Unless you bank with a major national bank, you might need to have two bank accounts — one for each location — to avoid ATM fees or get help with any banking needs. And you'll need doctors in both locations who may have to consult with one another if you have health issues.
All of this costs money, so be sure you budget for these expenses.
You're stuck going to one place
You may have dreams of traveling more frequently when you're retired, but you could feel restricted from going to other places if you already own two homes.
Instead, consider renting so you can try different places to live. Or you could book your travel to warm-weather locations during the winter. The crowds may be smaller and you may be able to take advantage of lower rates.
This is also why many snowbirds choose the RV lifestyle. With an RV, you could snowbird in a different location every winter. Some RV parks may even allow you to store your vehicle over the summer, so you don't have to drive it back and forth twice a year. That can save you a lot of time and money.
Not updating an estate plan
You may be excited about owning two properties that can allow you to be a snowbird and avoid nasty winters. But have you updated your will or estate?
It's important to make sure you revise your documents to include your primary residence as well as your snowbird residence. As with any life change, you need to update who inherits or will manage your properties when you're gone.
Retiring early
You may be thinking about retiring early based on the amount of money you've saved up.
But remember that you have to factor in the cost of two homes, not one, if you decide to become a snowbird. Those extra costs could add up quickly and you may regret retiring early without enough money to maintain your main home and your snowbird home.
Bottom line
You may be looking forward to retiring and enjoying a snowbird life, but remember that it doesn't mean you'll be on vacation all the time.
Make sure you take costs, logistics, and other factors into consideration when deciding if the snowbird lifestyle is right for you. This could help you eliminate some money stress and enjoy your time more.
And keep your snowbird costs in mind when creating an estimated retirement budget to decide how much you need when you retire.
Easy-to-Earn Unlimited Rewards
Earn 25,000 online bonus points after you make at least $1,000 in purchases in the first 90 days of account opening - that can be a $250 statement credit toward travel purchases
Earn 1.5 points per $1 spent on all purchases
Longer intro APR on qualifying purchases and balance transfers
No foreign transaction fees
Earn unlimited 1.5 points per $1 spent on all purchases, with no annual fee and no foreign transaction fees and your points don't expire.
25,000 online bonus points after you make at least $1,000 in purchases in the first 90 days of account opening - that can be a $250 statement credit toward travel purchases.
Use your card to book your trip how and where you want - you're not limited to specific websites with blackout dates or restrictions.
Redeem points for a statement credit to pay for travel or dining purchases, such as flights, hotel stays, car and vacation rentals, baggage fees, and also at restaurants including takeout.
0% Introductory APR for 15 billing cycles for purchases, and for any balance transfers made in the first 60 days. After the intro APR offer ends, 18.24% - 28.24% Variable APR will apply. A 3% fee applies to all balance transfers.
If you're a Preferred Rewards member, you can earn 25%-75% more points on every purchase. That means instead of earning an unlimited 1.5 points for every $1, you could earn 1.87-2.62 points for every $1 you spend on purchases.
Contactless Cards - The security of a chip card, with the convenience of a tap.
This online only offer may not be available if you leave this page or if you visit a Bank of America financial center. You can take advantage of this offer when you apply now.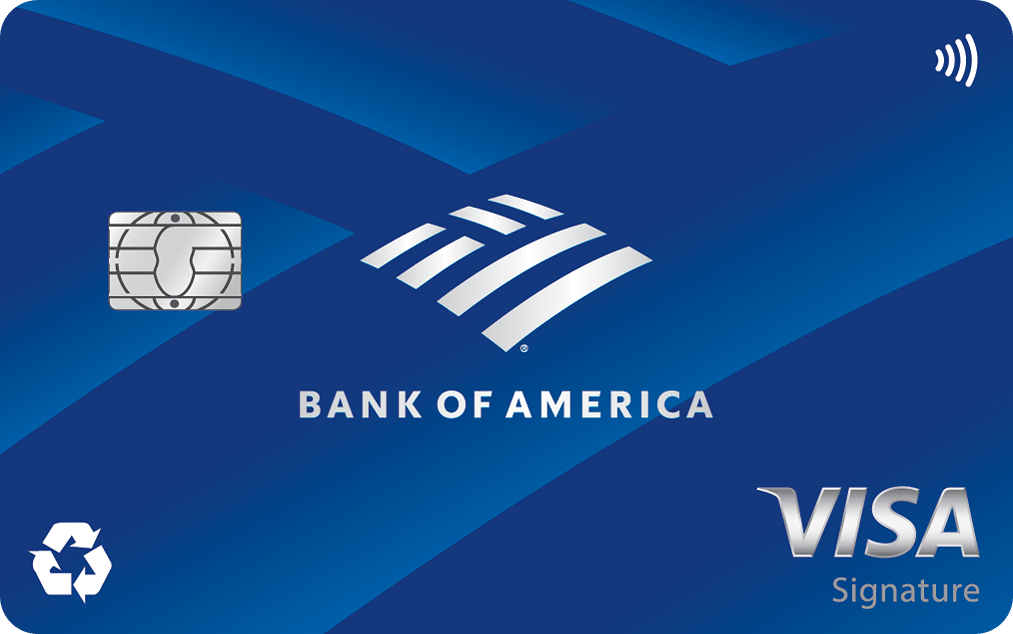 Apply Now
on Bank of America's secure website
Read Card Review
Intro Offer
Earn 25,000 online bonus points after you make at least $1,000 in purchases in the first 90 days of account opening - that can be a $250 statement credit toward travel purchases