As soon as those first cool days settle in, fall fanatics dream of pumpkin spice lattes, apple picking, and driving out into the country to catch a glimpse of glorious fall colors.
From the fiery red maples that dot the East Coast to the brilliant yellow Aspens throughout the Rocky Mountains, every region has its spin on leaf-peeping.
So step up your travel game and check out the most popular places in every state where you can marvel at the stunning fall colors.
Earn a $250 travel bonus with this incredible card
There's a credit card that's making waves with its amazing bonus and benefits. The Bank of America® Travel Rewards credit card has no annual fee and you can earn 25,000 points after spending $1,000 in purchases in the first 90 days of account opening.
You can earn additional points just by using this card for your everyday purchases — unlimited 1.5 points per $1 spent on all purchases. The 25,000 points can be redeemed for a $250 statement credit toward travel or dining purchases.
If you want to travel and dine out more, the Travel Rewards card can help you get where you want to go.
The best part? There's no annual fee.
Alabama: Little River Canyon National Preserve (Fort Payne)
Peaking late October to early November, Little River Canyon National Preserve in the Great Smoky Mountains is known for its brilliant range of colors, including the Woolly Sumac's early reds. 
There are over 100 species of native trees in the preserve, making a beautiful display for your enjoyment.
Alaska: Denali National Park (Denali Park)
Because of its high elevation, Alaska's Denali National Park hits its color-changing season from early to mid-August.
If you're looking to see fall foliage, visit before September, when the fall season gives way to cold and snow.
Arizona: Flagstaff (Flagstaff)
Arizona isn't a state known for leaf peeping, but the elevations in Flagstaff give way to gorgeous fall colors across their meadows and aspen groves.
If you brave the crowds, you'll find cool, crisp weather and fall foliage from the end of September through October.
If you're over 50, take advantage of massive travel discounts and trip-planning resources
Over 50 and love traveling? Join AARP today — because if you're not a member, you could be missing out on huge travel perks. When you start your membership today, you can get discounts on hotels and resorts, airfare, cruises, car rentals, and more.
How to become a member today:
Go here, select your free gift, and click "Join Today"
Create your account (important!) by answering a few simple questions
Start enjoying your discounts and perks!
An AARP membership not only unlocks discounts that could save you hundreds on your next trip, but you'll also have access to deals on vacation packages, guided tours, and exclusive content to help plan your next getaway.
Important: Start your membership by creating an account here and filling in all of the information (do not skip this step!). Doing so will allow you to take up to 25% off your AARP membership, making it just $12 per year with auto-renewal.
Arkansas: Ozark National Forest (Russellville)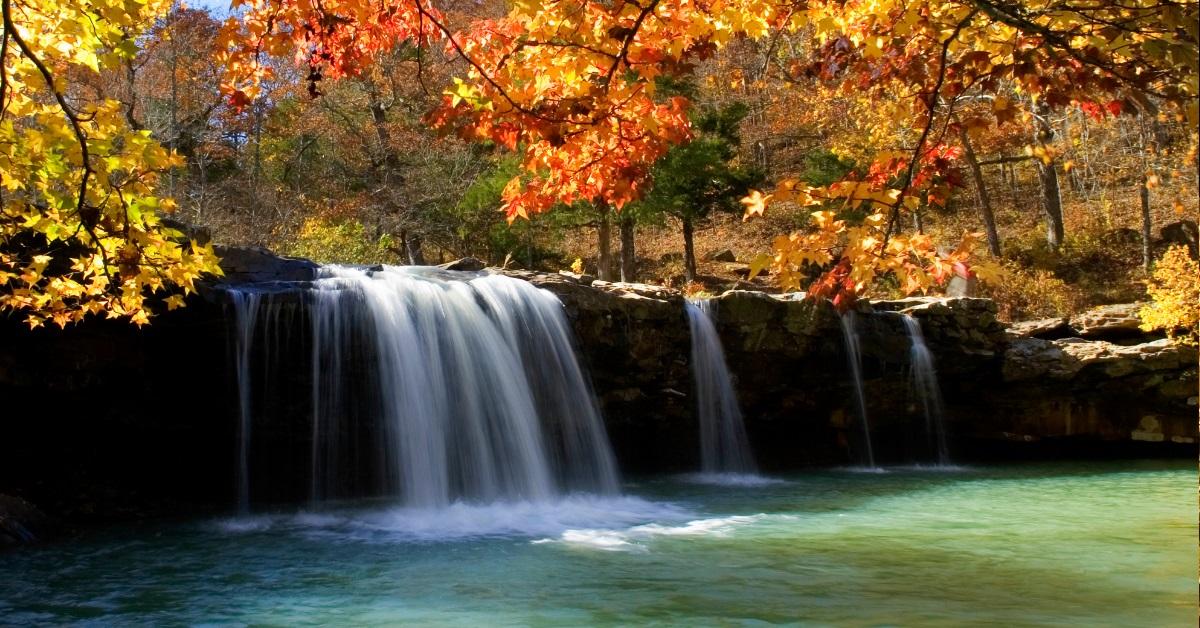 Arkansas' Ozark National Forest starts to put on its show in October, typically peaking by late October.
The best way to take in its rich oranges, rusts, and reds is through scenic fall drives throughout the forest. Hop on a motorcycle or grab a convertible for the full experience.
California: Bishop Creek Canyon
There's something magical about seeing vibrant red and yellow leaves reflected in the glass-like water of California's Bishop Creek.
Perhaps the only thing better is looking down on the area's lakes, surrounded by a canopy of yellow from the aspen trees.
Colorado: Rocky Mountain National Park (Estes Park)
The iconic golden yellow of the Rocky Mountains' aspen trees brings visitors in from far and wide.
Watching the delicate, round leaves shake in the wind and listening to their calming sound is an experience everyone should have at least once.
Connecticut: Litchfield Hills (Litchfield)
For the quintessential fall experience, drive through the quaint small towns of Litchfield Hills.
Not only will you enjoy the brilliant fall colors, but you'll also get to explore New England's most charming side.
Delaware: Brandywine Creek State Park (Wilmington)
This sprawling property, built by the du Pont family in the 1800s, has the Hidden Pond Trail, one of the best places to catch fall foliage in Delaware.
Jump on one of their 30-minute wagon rides for an autumnal tour of the grounds.
Florida: Torreya State Park and the Apalachicola National Forest (Tallahassee)
You may think of palm trees when you think of the Sunshine State, but Torreya State Park has maples, sourwood, and sweetgum trees that add color to Florida's fall landscape.
However, you won't see colors changing until late October — which is great if you missed them elsewhere.
Earn a $250 travel bonus with this incredible card
There's a credit card that's making waves with its amazing bonus and benefits. The Bank of America® Travel Rewards credit card has no annual fee and you can earn 25,000 points after spending $1,000 in purchases in the first 90 days of account opening.
You can earn additional points just by using this card for your everyday purchases — unlimited 1.5 points per $1 spent on all purchases. The 25,000 points can be redeemed for a $250 statement credit toward travel or dining purchases.
If you want to travel and dine out more, the Travel Rewards card can help you get where you want to go.
The best part? There's no annual fee.
Georgia: Blue Ridge Mountains (Blue Ridge)
The Blue Ridge Mountains run from Georgia to Pennsylvania, so you can follow the foliage as it makes its way south if you plan a road trip.
The leaves peak in late October in Georgia, bringing vibrant reds, oranges, and yellows to the Peach State.
Hawaii: Waimea Canyon (Waimea)
While you won't get traditional fall foliage in Hawaii, that doesn't mean you can't experience fall colors.
With brilliant reds and oranges in the Bougainvillea and Hibiscus flowers and lush foliage throughout Waimea Canyon, you'll get all the magic of autumn but in a tropical setting.
Idaho: Sun Valley (Sun Valley)
In Sun Valley, the colors start popping in the Wood River Valley north before creeping South.
You'll find everything from aspens to cottonwoods adding color to the Idaho mountains. The foliage season generally lasts two months, giving visitors plenty of time to catch a peek.
Illinois: Starved Rock State Park (Ogelsby)
Want to see fall colors in Idaho? Head over to Starved Rock State Park and time your visit with the peak foliage, typically sometime in the second or third week of October.
You can take one of the scenic drives or lace up your boots for a colorful hike.
Indiana: Brown County State Park (Nashville)
Thanks to their up-to-the-minute leaf cam, you won't miss the fall foliage in Brown County State Park.
Keep an eye on the online camera and get in the car as soon as you see the colors hit their vibrant stride.
Iowa: Effigy Mounds National Monument (Harpers Ferry)
There are a variety of hikes for all ages and abilities to enjoy the brilliant color surrounding Effigy Mounds National Monument in Iowa.
Try the Little Bear Loop for a more leisurely walk, or advance to the Twin View and Third Scenic View. In addition to foliage, you'll see 200 ancient mounds.
Kansas: Konza Prairie (Flint Hills Region)
There's a unique aspect to the fall colors in Konza Prairie. Here, the fall foliage colors come from the abundant prairie grass that covers the plains landscape.
The rolling hills are covered in tallgrass, which turns rich shades of gold, rust, and red.
Kentucky: Red River Gorge (Slade)
Colors first start to appear in early September in the Red River Gorge, with fall foliage extending into October as it makes its way through the Daniel Boone National Forest.
Not only will you see vibrant fall colors, but you'll also take in incredible natural cliff formations.
Louisiana: Kisatchie National Forest (Pineville)
You can camp amidst the fall foliage colors in Kisatchie National Forest, which has miles of hiking trails.
You'll find peak color later in the season here, with colors reaching their most vibrant in November.
Maine: Acadia National Park (Bar Harbor)
You'll find cool, crisp fall temperatures and striking fall foliage in this iconic leaf-peeping destination.
You can visit starting in mid-September to see the leaves, with the peek usually hitting around mid-October.
Maryland: Deep Creek Lake (McHenry)
Visit the four-season destination of Deep Creek Lake in October to fully enjoy its leaf-peeping show, which boasts red, orange, and yellow colors.
With both the lake and mountains right there, it's an area full of activities in addition to fall foliage.
Massachusetts: Mohawk Trail (Greenfield)
The Mohawk Trail travels across the entire state of Massachusetts, but it reaches its leaf-peeping pinnacle in the Berkshire Mountains.
In Greenfield, you can take leisurely walks along the Connecticut River and stop at Poet's Seat Tower to take in the scenery.
Michigan: Upper Peninsula and Tahquamenon Falls State Park (Newberry)
From mid-September through October, the hardwood forests in Tahquamenon Falls Park begin to show their crimson red, golden yellow, and warm orange colors. You can explore on foot, by car, or even by boat.
Minnesota: North Shore of Lake Superior (Duluth)
Fall colors will start to pop as early as Labor Day on the North Shore of Lake Superior.
The vibrant maples put on their show first, followed by the birch and poplar trees, which start to turn in early October and continue their color through early November.
Mississippi: Tishomingo State Park (Tishomingo)
The striking crimson reds of Tishomingo State Park will make their appearance later in the fall foliage season, peaking in early November.
This state park, located in the foothills of the Appalachian, is a stunning place to hike and take in the autumnal colors.
Missouri: Ozark National Scenic Riverways (Van Buren)
The fall foliage season is ushered in by Ozark National Scenic Riverways' Fall Hiking Series.
It takes visitors on eight guided all-day tours designed to immerse hikers in all of the magic of the brilliant fall colors.
Montana: Glacier National Park (Columbia Falls)
The fall colors in Glacier National Park are dramatic, with the foliage change starting on the park's west side in mid-September and moving to the east by the end of September.
Eventually, the brilliant gold of the larch trees emerges, peaking in mid-October.
Nebraska: Indian Cave State Park (Shubert)
This hardwood forest state park has 22 miles of hiking trails that allow fall foliage fans to get up close with the brilliance of the bright red, golden yellow, and rich orange colors.
There's even a scenic overlook to get a full view of the park's color all at once.
Nevada: Lake Tahoe (Apple Hill)
Apple Hill is a charming collection of wineries, farms, and ranches in South Lake Tahoe.
You'll get the full autumnal experience while peeping all the fall colors through this gorgeous lakeside region.
New Hampshire: White Mountains (Conway)
New Hampshire's White Mountains are one of those regions you'll recognize instantly from social media.
It's one of the most iconic fall foliage destinations in the United States, with rich orange, crimson red, and deep golden yellow colors.
New Jersey: Delaware Water Gap (Branchville)
The Delaware Water Gap National Recreation Area spans several states, and its magnificent fall foliage is a highlight of New Jersey in the fall.
One of the most exciting ways to witness these captivating fall colors is by boat cruising along the Delaware River.
New Mexico: Santa Fe National Forest (Santa Fe)
Watching the golden yellow aspen leaves quake in the breeze is a magical fall experience you must witness firsthand.
In Santa Fe National Forest, you can hike, ride horseback, take a scenic drive, or view the sights by hot air balloon.
New York: Catskill Mountains (Roxbury)
You'll experience approachable mountains, winding roads, and forests out of a storybook in the Catskills.
Autumn is when this region shows off, with waves of vibrant orange and crimson red as the backdrop to charming small towns.
North Carolina: Blue Ridge Parkway (Asheville)
Asheville is known for one of the longest fall foliage seasons in the country, and exploring it from the Blue Ridge Parkway can't be beaten.
Expect fall colors to debut in late September, perfect for mild days spent hiking through the mountains and seeing the colors up close.
North Dakota: Sheyenne National Grassland (Milnor)
In North Dakota, you can experience both the stunning red colors of sumac set against the vibrant hardwood forest and the sweeping golden plains.
It's a unique take on fall foliage that can't be found anywhere else in the country.
Ohio: Hocking Hills State Park (Logan)
Ohio Department of Natural Resources makes it easy to follow prime leaf peeping season by posting updates on their website.
You can drive or hike along the Hocking River in Hocking Hills State Park to surround yourself with the fall's rich, vibrant colors.
Oklahoma: Talimena National Scenic Byway (Talihina)
Peaking the last week of October through the first week of November, the Talimena National Scenic Byway includes 15 vistas where you can take in the expansive views of colorful and stunning fall foliage.
Oregon: Columbia River Gorge (White Salmon)
Fall in Oregon can be spent enjoying wineries and attending festivals, but there's also the stunning fall foliage.
From waterfalls to the Pacific Crest Trail to the Columbia River, there are incredible hikes to enjoy the autumnal colors.
Pennsylvania: Pocono Mountains (Jim Thorpe)
Experience the colorful leaves of the Pocono Mountains from the charming town of Jim Thorpe.
The cobblestone streets set the stage for a perfect fall weekend with the backdrop of the mountains' stunning bright red and warm orange leaves.
Rhode Island: Blackstone Valley (Blackstone)
You can get a big dose of history with your fall foliage in Blackstone Valley.
Home of the Slater Mill and sites including Smith-Appleby House and Swamp Meadow Covered Bridge, Blackstone Valley boasts fiery autumn colors and fascinating American history.
South Carolina: Table Rock State Park (Pickens)
A towering and impressive rocky mountain looks out over Table Rock State Park, where you can find vibrant leaf-peeping throughout the fall season.
The park features cabins for those who want to make a trip out of the fall foliage, but be aware that they book up to 13 months in advance.
South Dakota: Spearfish Canyon (Lead)
Outdoor lovers flock to Spearfish Canyon from September through early October to see its autumnal magnificence.
You'll find an incredible diversity of color thanks to aspens and birches set against the evergreen spruces and Ponderosa pines.
Add the natural landscape of limestone cliffs and waterfalls, and you have an unforgettable fall experience.
Tennessee: Great Smoky Mountains National Park (Gatlinburg)
The Great Smoky Mountains in Tennessee have been increasing in popularity with each passing year, and fall is one of the best times to visit.
Peak foliage will roll over the mountains starting in October, setting the region aflame in vibrant red, orange, and yellow.
Texas: Lost Maples State Natural Area (Vanderpool)
The brilliant colors of bigtooth maples draw visitors to Lost Maples State Natural Area from across the vast state of Texas.
Visit in late October to mid-November to see the peak foliage, but make sure to make a reservation to get into the park.
Utah: Wasatch Mountain State Park (Midway)
In Wasatch Mountain State Park in Utah, you'll experience the total contrast of fall colors.
From the golden yellow aspens to the dark green conifer evergreens to the crimson red oaks, you'll enjoy the full blaze of fall against the rugged backdrop of the mountains.
Vermont: Green Mountains (Stowe)
The Green Mountains are so iconic in Vermont that the state is nicknamed for them, so it's no surprise they're also the best place to peep fall colors.
Here, charming New England towns, with their picturesque white steeples, exist in the shadow of the vibrantly colored autumnal mountains.
Virginia: Shenandoah National Park (Charlottesville)
Hikes, including Ragged Mountain and Humpback Rocks, and near countless wineries and breweries, make Charlottesville and Shenandoah National Park a favorite of leaf peepers in the mid-Atlantic.
Washington: North Cascades National Park (Sedro-Woolley)
The stunning lakes and mountains of the Pacific Northwest are arguably as spectacular as any New England fall foliage.
With fiery maples set against majestic mountains and a crisp blue sky, hiking through the North Cascades National Park in late September through mid-October is a breathtaking experience.
West Virginia: New River Gorge (Fayetteville)
Wild and wonderful, the Mountain State has fall foliage that brings visitors from throughout the mid-Atlantic looking for an autumnal respite from the city.
Hike up to Grandview Main Overlook for an awe-inspiring view of the burnt oranges, fiery reds, and golden yellows that dot the landscape.
Wisconsin: Door County (Washington Island)
Enjoy the most stunning fall colors in Wisconsin from late September to mid-October.
Washington Island in Door County is a must-visit, and whether you decide to make it a multi-day camping trip or just a weekend drive, the rich, warm colors are unbeatable.
Wyoming: Grand Teton National Park (Jackson Hole)
Catch autumnal color in Grand Teton National Park from the beginning of September through mid-October, with the peak starting in late September.
You'll catch vibrant shades of red, yellow, and orange on cottonwoods, willows, and aspens. Oxbow Bend and Schwabacher's Landing are both stunning spots to take in the views.
It's places like this that will get you in the spirit of traveling more with any extra time that you may have.
Bottom line
From the fiery flowers of Hawaii to the eyecatching grasslands of North Dakota, every state has something to offer when it comes to fall colors.
So grab your spiced drink and top travel credit card, hop in the car, and get outside to enjoy the season's beauty. You could potentially enjoy one of the country's most beautiful displays without much cost to you.
Easy-to-Earn Unlimited Rewards
Earn 25,000 online bonus points after you make at least $1,000 in purchases in the first 90 days of account opening - that can be a $250 statement credit toward travel purchases
Earn 1.5 points per $1 spent on all purchases
Longer intro APR on qualifying purchases and balance transfers
No foreign transaction fees
Earn unlimited 1.5 points per $1 spent on all purchases, with no annual fee and no foreign transaction fees and your points don't expire.
25,000 online bonus points after you make at least $1,000 in purchases in the first 90 days of account opening - that can be a $250 statement credit toward travel purchases.
Use your card to book your trip how and where you want - you're not limited to specific websites with blackout dates or restrictions.
Redeem points for a statement credit to pay for travel or dining purchases, such as flights, hotel stays, car and vacation rentals, baggage fees, and also at restaurants including takeout.
0% Introductory APR for 15 billing cycles for purchases, and for any balance transfers made in the first 60 days. After the intro APR offer ends, 18.24% - 28.24% Variable APR will apply. A 3% fee applies to all balance transfers.
If you're a Preferred Rewards member, you can earn 25%-75% more points on every purchase. That means instead of earning an unlimited 1.5 points for every $1, you could earn 1.87-2.62 points for every $1 you spend on purchases.
Contactless Cards - The security of a chip card, with the convenience of a tap.
This online only offer may not be available if you leave this page or if you visit a Bank of America financial center. You can take advantage of this offer when you apply now.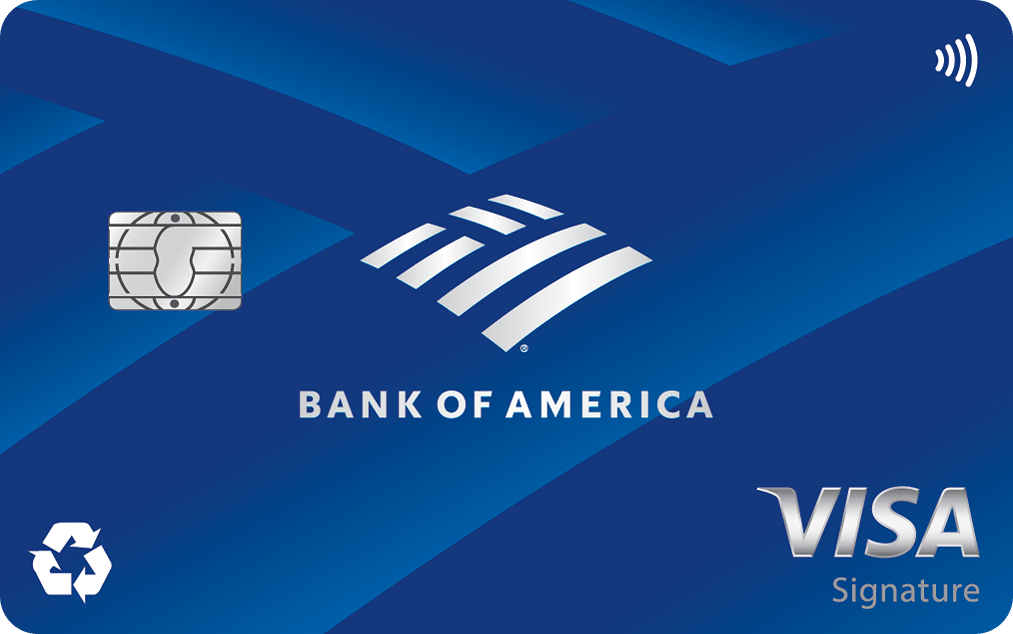 Apply Now
on Bank of America's secure website
Read Card Review
Intro Offer
Earn 25,000 online bonus points after you make at least $1,000 in purchases in the first 90 days of account opening - that can be a $250 statement credit toward travel purchases