Travel doesn't have to be an expensive affair. By using the best travel credit cards, staying in cheaper rentals or hostels, and seeking out the lowest airfare, you can easily see the world within a reasonable budget.
Many people looking for cheaper travel turn to Spirit Airlines, which is known for its inexpensive tickets but bare-bones flights.
If you've never flown before, here's what you'll need to know before your first Spirit flight. Forewarned is forearmed.
Expect uncomfortable seating
One of the things Spirit airplanes are most known for are their small and uncomfortable seats. Mainly, they're severely lacking in legroom. There also isn't any padding, so the seat will likely feel quite hard.
The airline's seats are generally narrower than on other planes, and they don't recline, so prepare for your flight to be rigid and stiff.
Selecting your seat costs more
Aisle seats will naturally have more legroom, but it'll cost you. When booking a Spirit Airlines flight, you can either choose an assigned seat, or let Spirit assign one to you during your flight check-in.
If you choose to book a specific seat, you'll pay anywhere from $1 to $200 on top of the ticket fee. Or, you can let fate decide your seat for free, but you'll likely be stuck in a less desirable position.
Book a Big Front Seat for more comfort
If you don't mind shelling out some extra money for a comfortable seat, consider going all the way with Spirit's Big Front Seat option. Each aircraft has a small number of speciality seats for an extra fee.
When booking in advance, this can cost anywhere from $12 to $750. These seats are made of leather, wider than usual, and offer six inches of extra legroom.
Check in online to save money
Most airlines now offer the option to check in online or through a mobile app, and Spirit is no exception. This option is not only more convenient, but it can save you some money.
If you have an agent print your boarding pass at the airport, it will cost you $25. If you check in online, it's free. Passengers can begin checking in 24 hours before their flight's scheduled take-off time.
You get one free personal item
Try to pack light when flying Spirit Airlines. Unlike other companies that offer either free or inexpensive carry-on and checked bags, Spirit only offers passengers one free personal item.
This item must be smaller than 18 inches by 14 inches by 8 inches, or roughly the size of a laptop bag or purse. Checked bags and other carry-ons will cost you extra.
Carry-ons cost extra
There are no set prices for carry-on bags with Spirit Airlines. It depends on a number of factors, including the flight itself, and how early you pay for an extra bag. It's cheapest to add a carry-on when buying your ticket, and it gets progressively pricier as your flight date nears.
Roughly, expect carry-ons to cost anywhere from $59 to $99, but that is not a set rate — it could easily be cheaper or more expensive. Carry-ons must be under 40 pounds.
Checked bags have fees and weight limits
Carry-ons and checked bags are similar in that their fees are determined by the flight itself and how early or late you add one to your ticket. In the Spirit world, checked bags are essentially carry-ons. Like carry-on bags, checked bags cannot exceed 40 pounds.
The price range is roughly the same as well. Prices could vary from $49 to $99 for your first checked bag, but that again is entirely dependent on your flight and when you add a bag.
Overweight and oversized bags have fees
Most airlines allow checked bags to weigh up to 50 pounds, but Spirit Airlines only allows 40 pounds. In the case you overpack, or your bag (either checked or carry-on) is oversized, there are a series of set fees in place.
From 41 to 50 pounds, you'll pay an extra $79, and 51 to 100 pounds costs $125. Bags can also only be as long as 62 inches; anything 63 to 80 inches long will cost an extra $150.
Sporting equipment has fees
If you travel frequently to pursue your sport or hobby, you may want to fly Spirit to save on airline tickets. But Spirit has specific baggage fees for some standard sporting gear. A bicycle, for example, costs a flat rate of $75 each way.
Surfboards cost $100, and passengers can place up to two in one bag. After that, gear like golf clubs, skis, and snowboards are subject to basic baggage fees, including overweight charges.
No in-flight entertainment is provided
While many airlines offer in-flight entertainment, either through screens on the back of seats or free WiFi that allows you to stream from a preselected number of films, Spirit Airlines offers neither of these options.
When preparing for your Spirit flight, consider either bringing a book, downloading an audiobook, podcast, or your favorite songs, or downloading movies straight to your phone or laptop.
In-flight WiFi costs you more
While Spirit does not offer in-flight entertainment or free WiFi, passengers can pay for WiFi service for their flight. There are two options: browsing, which starts at $2.99, and streaming, which starts at $5.99. The cost of each increases depending on the length of the flight..
Passengers can purchase their WiFi either in advance when they book or during their flight. Be aware, though, that it can be a little spotty. If it doesn't work, you can request a refund through the airline's website.
Infants 2 and under can travel for free
If you're looking to travel with your family on a budget, Spirit airlines allows infants aged between 7 days and 2 years old to fly for free as a lap child.
After they have their second birthday, you'll need to purchase a fare for your child. You can also purchase a seat for your infants if desired.
Pets can fly for a fee
You can also fly Spirit Airlines with your household pets for a fee. You'll be allowed to carry one pet container per passenger, though the container must be under the personal item dimensions and under 40 pounds.
You're allowed up to two pets per container, and can travel with a small dog, cat, domestic bird, or pet rabbit. It costs an additional $125 per container each way.
Join the Free Spirit loyalty program
If you intend to fly frequently with Spirit Airlines, or if you plan on just taking the odd trip here and there, consider joining the Free Spirit loyalty program. The free program allows passengers to earn points that can be exchanged for flights.
The base rate is 12 points for every dollar spent, though higher tiers have better rates. You can buy a flight with as little as 2,500 points, or combine points with cash starting at 1,000 points.
Join the Spirit Saver$ Club
If you plan on becoming a Spirit Airlines loyalist, however, you may want to consider joining the Spirit Saver$ Club. Membership costs start at $69.95 for 12 months, $99.90 for 18 months, or $129.90 for 24 months.
Benefits include reduced airfare, discounts on checked and carry-on bags as well as seats, plus savings for Flight Flex, Shortcut Security, and Shortcut Boarding options offered through the airline.
Bottom line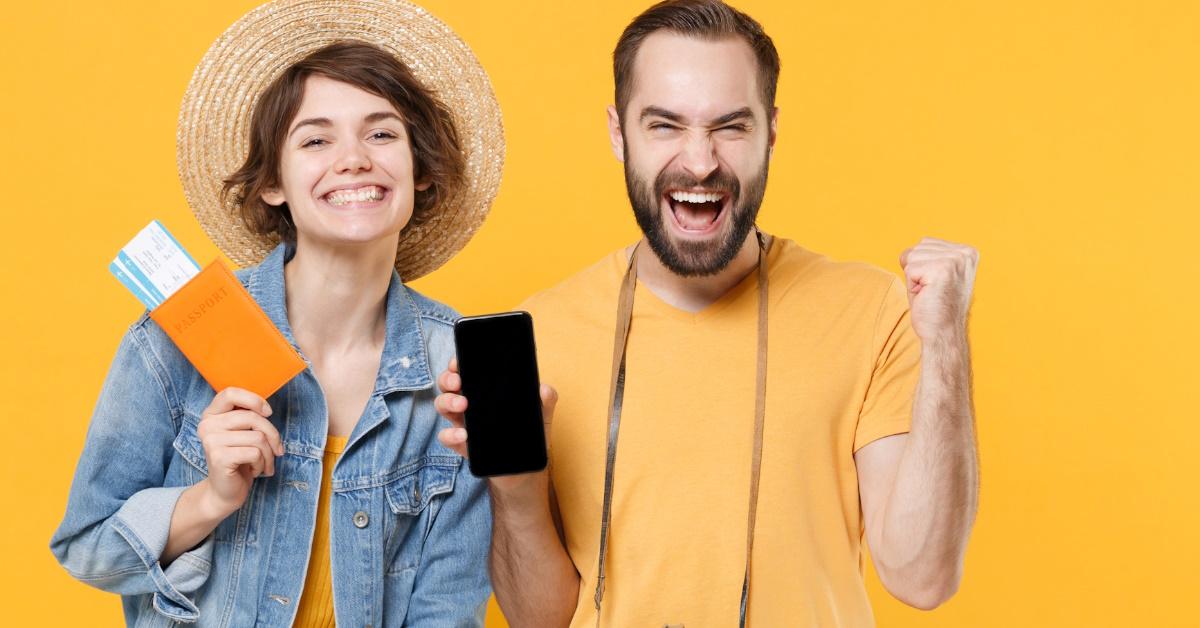 Money is tight for many right now, but that doesn't mean you shouldn't enjoy traveling. There are plenty of things to do if you're just scraping by, including booking flights on budget airlines like Spirit.
Now that you know everything you need to know about the airline, including prices, memberships, and other fees and regulations, you'll be able to conquer cheap travel like a pro.
Easy-to-Earn Unlimited Rewards
Earn 25,000 online bonus points after you make at least $1,000 in purchases in the first 90 days of account opening - that can be a $250 statement credit toward travel purchases
Earn 1.5 points per $1 spent on all purchases
Longer intro APR on qualifying purchases and balance transfers
No foreign transaction fees
Earn unlimited 1.5 points per $1 spent on all purchases, with no annual fee and no foreign transaction fees and your points don't expire.
25,000 online bonus points after you make at least $1,000 in purchases in the first 90 days of account opening - that can be a $250 statement credit toward travel purchases.
Use your card to book your trip how and where you want - you're not limited to specific websites with blackout dates or restrictions.
Redeem points for a statement credit to pay for travel or dining purchases, such as flights, hotel stays, car and vacation rentals, baggage fees, and also at restaurants including takeout.
0% Introductory APR for 15 billing cycles for purchases, and for any balance transfers made in the first 60 days. After the intro APR offer ends, 18.24% - 28.24% Variable APR will apply. A 3% fee applies to all balance transfers.
If you're a Preferred Rewards member, you can earn 25%-75% more points on every purchase. That means instead of earning an unlimited 1.5 points for every $1, you could earn 1.87-2.62 points for every $1 you spend on purchases.
Contactless Cards - The security of a chip card, with the convenience of a tap.
This online only offer may not be available if you leave this page or if you visit a Bank of America financial center. You can take advantage of this offer when you apply now.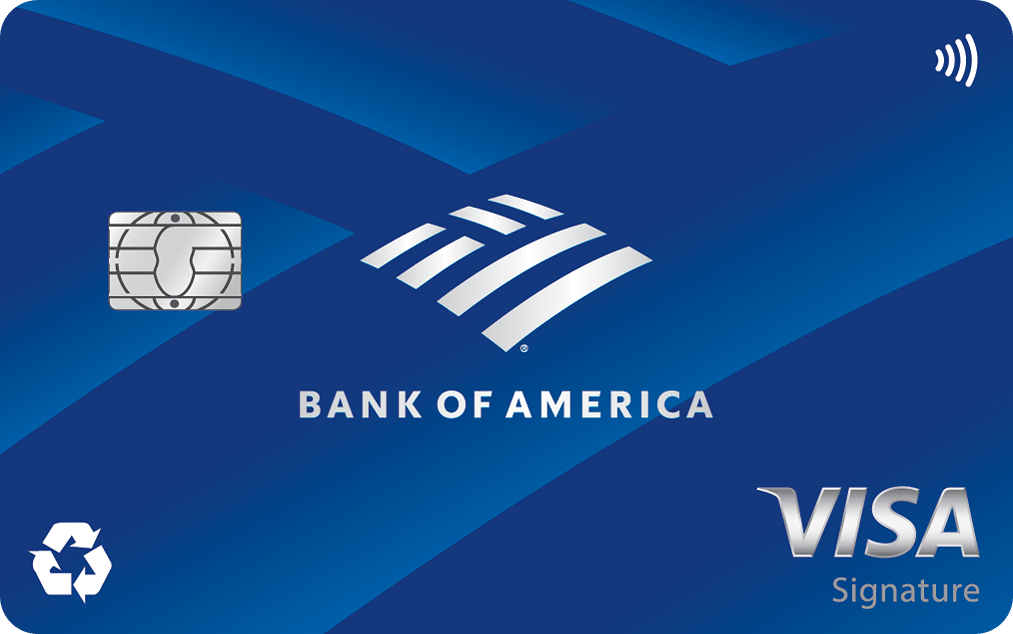 Apply Now
on Bank of America's secure website
Read Card Review
Intro Offer
Earn 25,000 online bonus points after you make at least $1,000 in purchases in the first 90 days of account opening - that can be a $250 statement credit toward travel purchases