You can travel first class without paying huge sums of money.
By earning travel rewards and utilizing insider tips, savvy travelers can find plenty of opportunities to travel in luxury without breaking the bank.
For over a decade, I've been using credit card points and miles to travel the world. Let's explore different ways you can upgrade your flight experience.
Use points or miles on an award flight
Let's start simple.
Rather than spending thousands of dollars on a premium flight, consider using credit card rewards to get to your destination in style. It's a nearly-free strategy for traveling in first class.
Pro tip: The top travel credit cards could help you earn the points and miles you need to book luxury flights.
Do your research
There are loads of airlines, loyalty programs, and credit cards out there. If you want to travel first class without paying tons of money, it's likely going to take some planning.
You can start by considering where you want to travel and seeing which airlines fly there. Then search for a credit card that earns rewards for those airlines.
For example, if you find American Airlines flies to your dream destination, it could make sense to consider credit cards that earn American miles.
Pro tip: The best credit cards for international travel tend to earn flexible rewards that you can transfer to a number of different airline loyalty programs.
Book flights well in advance
There are limited seats on every flight, and only a small number (if any) are in the first-class section.
That means if you want to guarantee you get a first-class seat on your preferred flight, it makes sense to book early.
Note that you can typically book around 330-360 days in advance, depending on the airline.
Be flexible with your date
Top travel destinations tend to have high and low seasons for visitors.
If you want to travel during the high season, expect fuller flights and potentially no first-class seat availability.
If you can be flexible with your travel, there's a higher probability of finding available seats, including in first-class sections, on different flights.
Be flexible with your itinerary
Traveling to nearby airports for your outbound or return flights could provide you with more opportunities to find first-class seat availability.
For example, say you want to end up in Barcelona, but there's more first-class availability on flights to Madrid. If you have the flexibility, you could book a premium flight to Madrid and then hop on a quick, cheap flight to Barcelona.
Build loyalty with an airline
Some of the best airline credit cards could help you earn elite status with different airlines.
Why is that important? Because holding elite status with certain loyalty programs could get you complimentary upgrades to better seats on your flights.
And, yes, it's possible to receive a complimentary upgrade to a first-class seat.
Bid on seats
Depending on the airline, you might have the opportunity to bid on premium seat upgrades after purchasing a ticket.
You typically receive an email that offers you the opportunity to bid on an upgrade. You might also be able to initiate the bidding process through your booking on the airline's website.
Upgrade during booking
In some cases, you might find golden opportunities to upgrade your fare at a discounted rate during the booking process.
For example, you might choose an economy fare and then have the opportunity to upgrade to a first-class fare at a lower price than usual.
Of course, you still need to decide whether the discounted upgrade is worth it.
Upgrade at check-in
Upgrades are commonly offered during check-in if there's still premium seat availability.
This is because it's worth it for the airline to make a little extra money on seats that would otherwise remain empty.
If you're lucky, you might have the chance to upgrade your seat at a fraction of the price during the check-in process.
Get complimentary lounge access with a credit card
First-class travel is about more than sitting in a premium seat; it's also about elevating the actual airport experience.
To avoid sitting in loud and busy airport waiting areas, look into getting complimentary airport lounge access with your credit card. Depending on the lounge, you could enjoy free food and drinks while relaxing in a more comfortable setting.
Consider traveling separately
If premium seat availability is low for your preferred travel dates, consider flying separately from friends and family. You can meet up with each other at your final destination
This might not work out in every situation, such as traveling with kids, but it could open up opportunities for you and someone else to both get first-class seats on different flights.
Ask for an open seat
Flights don't always fill up, which means the first-class section could have a few open seats after the plane doors are closed and before you take off. At this moment, you could ask a flight attendant if you can take one of those open seats.
It's a bit brazen, but it could score you a free upgrade to first class.
Get bumped on oversold flights
Airlines often sell too many seats on a given flight, which results in gate agents asking for volunteers to bump themselves from the flight, typically in exchange for compensation.
You could take the bump and put the compensation, such as travel credit or a gift card, toward a first-class upgrade on your next flight.
You could also try negotiating with the gate agent that you'll agree to be bumped for compensation and a guarantee that you get a premium seat on the next available flight.
Receive flight alerts
If you have a tough time finding first-class availability for your preferred travel destination, use flight alerts to know when availability opens up.
Tools like ExpertFlyer and SeatSpy let you search for flight availability and set alerts for seat availability on certain routes.
Look for last-minute deals
If you don't have any particular time frame for your travels, it's possible to score last-minute deals on flights. These deals could include finding discounted flights or first-class seats released on popular routes.
For example, maybe you couldn't find any first-class award availability to Tokyo when you checked months ago, but you might find some availability within a few weeks of the departure date as airlines try to fill seats.
Bottom line
Traveling first class could be within your reach if you plan accordingly and follow tips to find and secure premium seats.
Even better, you can often avoid paying a lot of money out of pocket if you utilize points and miles.
If you're just starting your journey as a credit card buff, evaluating the top credit cards is a great early step.
Easy-to-Earn Unlimited Rewards
Earn 25,000 online bonus points after you make at least $1,000 in purchases in the first 90 days of account opening - that can be a $250 statement credit toward travel purchases
Earn 1.5 points per $1 spent on all purchases
Longer intro APR on qualifying purchases and balance transfers
No foreign transaction fees
Earn unlimited 1.5 points per $1 spent on all purchases, with no annual fee and no foreign transaction fees and your points don't expire.
25,000 online bonus points after you make at least $1,000 in purchases in the first 90 days of account opening - that can be a $250 statement credit toward travel purchases.
Use your card to book your trip how and where you want - you're not limited to specific websites with blackout dates or restrictions.
Redeem points for a statement credit to pay for travel or dining purchases, such as flights, hotel stays, car and vacation rentals, baggage fees, and also at restaurants including takeout.
0% Introductory APR for 15 billing cycles for purchases, and for any balance transfers made in the first 60 days. After the intro APR offer ends, 18.24% - 28.24% Variable APR will apply. A 3% fee applies to all balance transfers.
If you're a Preferred Rewards member, you can earn 25%-75% more points on every purchase. That means instead of earning an unlimited 1.5 points for every $1, you could earn 1.87-2.62 points for every $1 you spend on purchases.
Contactless Cards - The security of a chip card, with the convenience of a tap.
This online only offer may not be available if you leave this page or if you visit a Bank of America financial center. You can take advantage of this offer when you apply now.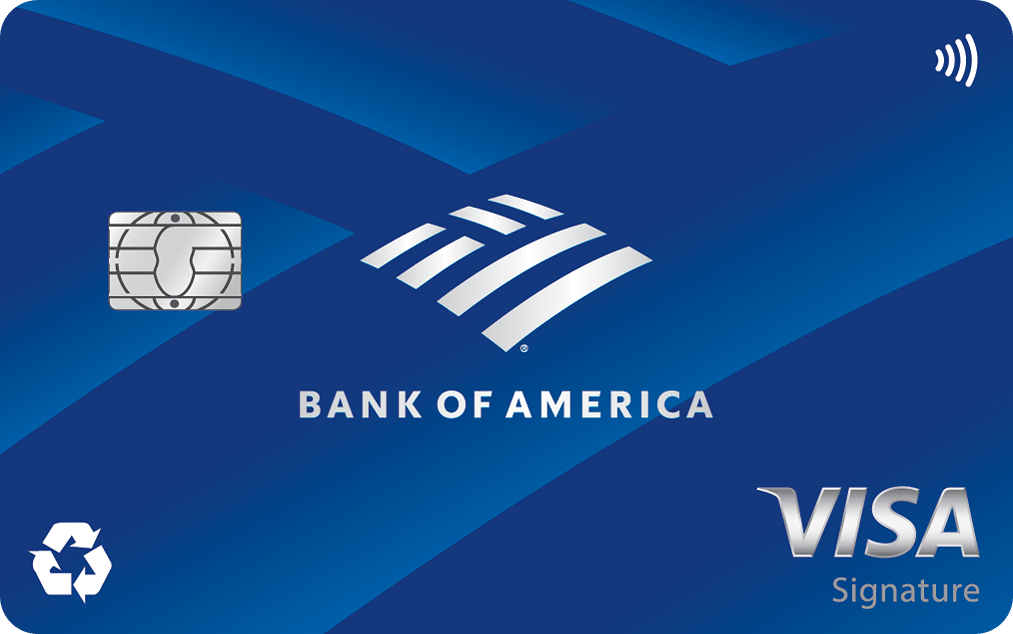 Apply Now
on Bank of America's secure website
Read Card Review
Intro Offer
Earn 25,000 online bonus points after you make at least $1,000 in purchases in the first 90 days of account opening - that can be a $250 statement credit toward travel purchases