I've been making travel more of a priority over the past two years. It started with an epic solo trip to Ireland and the UK for my 40th birthday and grew to include my first cruise just last month. This had been an item on my bucket list for a while, and when I saw that Expedia was offering some great prices for fares to the Bahamas — another place I'd longed to visit — I jumped at the chance to give myself and my two daughters an unforgettable vacation.
What I didn't realize at the time was that there are so many additional costs associated with taking a cruise that go far beyond the amount of your ticket. Here is what I learned about the cost of cruising and what you can do to save money next time — or the first time — you plan to set sail.
Watch for unexpected fees
I was looking for an affordable cruise that would be over relatively quickly in case the experience of living on a floating resort didn't agree with us. I also didn't want to add airfare costs to the equation. I regularly make 12-hour drives to see family up north, so driving to a port city for our first cruise would be no big deal.
Though I live in coastal South Carolina, the closest port for the cruise line I chose was 10 hours away in Fort Lauderdale. After searching Expedia for various timeframes, I found what I thought was a great deal: a 5-day cruise to Key West and Nassau in an oceanfront room for around $350 for my fare, half price for my adult daughter, and what I thought would be a free fare for my tween. I would also be eligible for several hundred dollars in credit for expenses on the ship.
It turned out that because of the promotion that allowed for one half-price fare, I wasn't eligible for the free fare promotion. Instead, I received only 25% off my tween's fare. The total for all three of us was $839, which averages out to about $280 per person. Sweet!
However, upon checking out on Expedia, an additional $315.51 was added for taxes and fees, bringing the total up to $1,154.51. Because this was a relatively low fare, I only qualified for a $50 credit for onboard expenses.
The cost of cruise ship extras
I reached out to friends who had cruised before and asked for advice, knowing more expenses were on the horizon and I was already close to maxing out my $1,500 budget. Some said to get specific onboard drink packages; others suggested I smuggle drinks on board. Many advised shopping for shore excursions outside of the cruise website, as prices through the cruise line often run higher than prices elsewhere on the internet.
I decided that smuggling wasn't for me, so I looked through all of the special drink packages available. I settled on two inexpensive soda packages that also bundled with internet access for myself and my oldest. I needed to be able to access my email every day, and yes, I did work while on the trip. I also don't drink alcohol much, so getting the much more expensive all-inclusive drink package didn't make sense for me.
For my youngest, I upgraded to a specialty drink package that allowed her to get any non-alcoholic drink offered on the ship. The total added expense for all three of us for drinks and wifi access was about $400. My budget was officially exceeded, and we still had no set plans for what to do onshore.
The cruise also offered classes and experiences that you could pay extra to attend. The cupcake decorating class and kitchen tour with endless champagne buffet brunch appealed greatly to my budding pastry chef daughter, so I added them to our list of onboard expenses: about $125 total.
Paying for onshore excursions
Sure, I could have settled for just walking around and exploring Key West and Nassau with my kids. But I wanted this trip to offer a lot of new experiences for all of us. One thing I really wanted to do was go snorkeling.
I found an excursion in Key West that would take us through waters with lots of dolphins on the way to a reef where we could snorkel. Free food and drinks would be provided, and we would get to experience something new. This was a winner. But I was over my budget, so I put off making a decision for a few weeks before spending another $173.
I also spent some time trying to figure out what we could do in Nassau. Looking back, we could've had a really nice day exploring close to where the ship was docked. Not knowing this, I looked at all kinds of shore excursions we could take. The most affordable experience was a private island trip that included a ferry ride, free kayaking and paddleboarding, swimming and beach access, and even lunch. It seemed to be the right fit, and it added another $350 to the trip.
Unforeseen expenses
When you're traveling all over a huge cruise ship, dining and drinking in various locations, restaurants, and bars, not to mention having your stateroom serviced by housekeeping multiple times a day, it's a great thing to not have to think about tipping. To make things simpler, many cruise lines charge each passenger a flat fee per person per day for gratuities, and this adds up.
In my case, it was $15 over five days times three people: $225. Then, because our room was taken care of so well by our housekeeping staff, I left an extra $20 in the envelope they left on our bed.
For the most part, we stayed away from the few restaurants/cafes on board that fell outside of what was included in the fare. Ordering a latte at the cafe would be added to my room fee and if we had dined at a specialty restaurant, a service fee would have been added to our check. And even though we could have ordered room service for free, we would have been charged an $8 fee each time we ordered, so we skipped it.
Finally, because of scheduling with my older daughter's job, we had to split the drive time from her apartment in North Carolina to Fort Lauderdale into 2 sessions. We spent the night at a Jacksonville hotel ($104.16) before completing the drive to the port. We were directed to park the car in the parking garage, which cost around $65.
When you add up all of the charges and deduct the $50 ship credit, I ended up spending close to $2,600. This doesn't include the souvenirs and food/drinks onshore.
What I learned from my experience
I had thought cruises were a great value because, for the price of your ticket, you get lodging, food, entertainment, and hospitality services; everything you could need in one place for one price. After learning the realities of extra fees and expenses that come with cruising, I now know that paying for that all-inclusive ticket is just the first step in planning a cruise vacation.
When you break it down, my family had a lovely time experiencing new things for about $855 per person. Break that down further, and it's only $171 per person per day, which I think is still pretty good for a vacation.
One unexpected thing I learned was that a cruise may miss a port due to weather conditions, which can result in a loss of money for pre-booked activities. We didn't get to Key West because of high winds and waves, which meant that we couldn't go on our snorkeling excursion. I ended up booking the excursion using Chase Ultimate Rewards points from my Chase Sapphire Preferred card. When I called Chase to ask for a refund of my points, however, they would not honor it because the weather didn't prevent the tour from going out. I'm still fighting that decision.
Skipping Key West also bumped my private island booking ahead one day. Though I was able to confirm that they would take us a day before we were scheduled, the directions I got from booking through Expedia said to take a taxi (for an additional $20) to a pier where we would catch the ferry to the island. What I didn't know was that we could have gotten a free shuttle from the ship to an alternate spot to catch the ferry. In fact, I had to call the excursion operator because the ferry never came for us; they said they didn't have a pickup scheduled for our pier!
How to estimate expenses for your next cruise
If you're planning to take a cruise, think long and hard about the kind of experience you want, both onboard and onshore. Use the ticket fares as a starting point and read through the cruise line's terms and conditions to see what taxes, fees, gratuities, and other expenses will be charged to your room and ticket.
Also, look for what you are allowed to bring on board. Most cruise lines allow a certain amount of soda and water, but not usually alcohol, without a fee. They want you to either buy a drink package that includes alcohol or pay per drink at the many, many bars onboard. In my experience, a simple beer was approximately $8 and a mixed drink around $12.
Research things to do at the ports you'll be visiting. You don't have to book excursions, though the cruise line websites make it seem like you should. If you find something specific you'd like to do, shop around for a good price and make sure that you can get a refund if your ship is delayed getting into port.
Finally, add a few hundred dollars into your budget for spur-of-the-moment expenses. There are lots of shopping opportunities on cruise ships that just might pique your interest. And some nights, dining at a specialty restaurant rather than the main dining room or buffet may be what you want to do.
3 tips for lowering your cruise expenses — without sacrificing fun
Take advantage of onboard activities and entertainment

Half the fun of cruising is the constant activities while sailing. Each day, you'll get an itinerary of things you can do — typically for free — every hour of the day. Food from the buffet is also usually available so you can spend your days at sea perfectly fed and entertained without spending an additional penny.

Use points

If you have one of the best travel credit cards with points, see if you can use your points to book onshore activities. Most rewards credit cards have a booking service that allows you to schedule tours/trips at a discount and pay with points. I was also able to cash in my Chase Sapphire Preferred points for a statement credit that covered the gratuities, fees, and charges to my room. Since I paid for these expenses upfront with my card, I earned double points that can be put toward my next trip.

Plan your own adventure

Scheduling shore excursions can add a lot of money to your vacation budget. Why not scope out fun things to do and explore on your own when you're onshore? You can customize your experience, meet locals, and get a different view of the port than if you'd taken a guided tour.
Would I go on a cruise again? Rough seas that led to a day's worth of seasickness aside, I believe I would. Despite going way over budget, I still think that cruises provide good value for your vacation dollar. Next time I will do more research into the costs of cruising, create a more realistic budget, and look to what benefits my travel points can give me before booking anything. And maybe pack a little more Dramamine.
Easy-to-Earn Unlimited Rewards
Earn 25,000 online bonus points after you make at least $1,000 in purchases in the first 90 days of account opening - that can be a $250 statement credit toward travel purchases
Earn 1.5 points per $1 spent on all purchases
Longer intro APR on qualifying purchases and balance transfers
No foreign transaction fees
Earn unlimited 1.5 points per $1 spent on all purchases, with no annual fee and no foreign transaction fees and your points don't expire.
25,000 online bonus points after you make at least $1,000 in purchases in the first 90 days of account opening - that can be a $250 statement credit toward travel purchases.
Use your card to book your trip how and where you want - you're not limited to specific websites with blackout dates or restrictions.
Redeem points for a statement credit to pay for travel or dining purchases, such as flights, hotel stays, car and vacation rentals, baggage fees, and also at restaurants including takeout.
0% Introductory APR for 15 billing cycles for purchases, and for any balance transfers made in the first 60 days. After the intro APR offer ends, 18.24% - 28.24% Variable APR will apply. A 3% fee applies to all balance transfers.
If you're a Preferred Rewards member, you can earn 25%-75% more points on every purchase. That means instead of earning an unlimited 1.5 points for every $1, you could earn 1.87-2.62 points for every $1 you spend on purchases.
Contactless Cards - The security of a chip card, with the convenience of a tap.
This online only offer may not be available if you leave this page or if you visit a Bank of America financial center. You can take advantage of this offer when you apply now.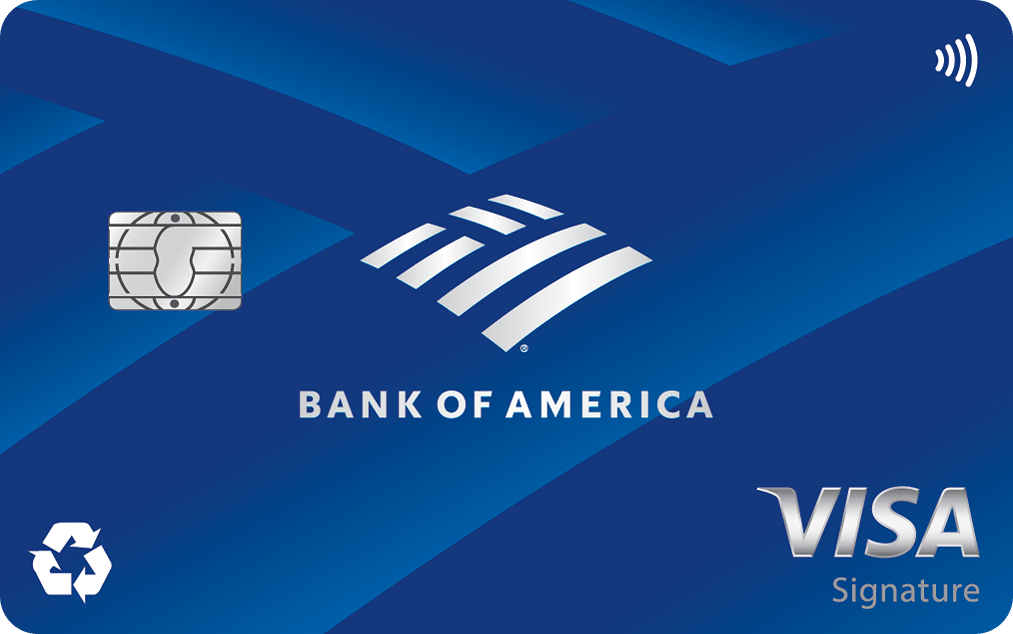 4.1
FinanceBuzz writers and editors score cards based on a number of objective features as well as our expert editorial assessment. Our partners do not influence how we rate products.
Apply Now
on Bank of America's secure website
Read Card Review
Intro Offer
Earn 25,000 online bonus points after you make at least $1,000 in purchases in the first 90 days of account opening - that can be a $250 statement credit toward travel purchases