The COVID-19 pandemic upended life as we know it. Seemingly overnight, schools went virtual, grocery stores faced record shortages, and the hospitality industry took an unprecedented hit.
Even with restrictions easing and travel slowly picking back up, it's clear that hotels will need to adapt to meet lasting consumer safety concerns — or risk shutting their doors for good. Here are 10 ways the industry is changing while making its comeback.
Hotel housekeeping may not be available
If you love having someone else make your bed while on vacation, you may be in for a rude awakening. Many hotels are cutting back on how often they tidy up behind guests — or ditching housekeeping services altogether.
Some are foregoing room cleaning for safety reasons, while others are doing it to maximize profit. Either way, the impact on you, the consumer, is the same.
Even if your hotel of choice has reduced or eliminated housekeeping, you may still be able to request more frequent service. Check their website or call before you book to be sure.
Health and safety remains a top concern
Despite the decline of hotel housekeeping, hotel cleanliness hasn't gone the wayside. Instead, the industry is prioritizing preventative cleaning to reduce the spread of germs. By turning housekeeping into an on-request service, hotel staff can focus on keeping public spaces immaculate. This also limits face-to-face contact, reducing the risk of viral spread.
To that end, many hotels are implementing additional measures to keep guests safe. Four Seasons, for example, offers masks and hand sanitizer to guests and will even help facilitate COVID-19 testing if necessary.
Front desk check-ins may be a thing of the past
We're constantly amazed at how COVID-19 changed travel, but one development we didn't foresee was mobile check-in being so widely used. With the development of new mobile apps, you can check in to many hotels right from your phone, letting you skip the front desk altogether.
Each hotel chain handles contactless check-in a little differently. Some let you request an early arrival, others send you a text when your room is ready, and still more let you choose your own room. Marriott, IHG, and Hilton are just a few top hotel brands offering mobile check-in, but we wouldn't be surprised to see this trend catch on industry-wide.
Updated room entry tech
These mobile apps come with another perk: They turn your phone into a keycard. Rather than snagging a physical room key or card from hotel reception, you simply hold your phone near your room's keypad, and voila! You're in.
This development sounds futuristic, but the technology behind it isn't new. Your hotel's app transmits a Bluetooth signal from your phone and unlocks your door on your command. It's much more convenient (and more secure) than keeping track of an actual keycard.
Mini bars have left the building
Well, they've left hotel rooms, anyway. Some hotels, like the Fairmont Miramar in Santa Monica, are removing mini bars … at guests' request. Rather than investing time and money into keeping mini bars stocked, these hotels are focusing their attention on their communal bars, lounges, and dining rooms.
It almost seems contradictory, but many travelers are actively seeking out safe socialization opportunities at their hotels. When you consider the forced isolation of the pandemic, however, it makes sense. And the hotel industry is taking note.
Workcations cater to remote workers
The pandemic brought about a sudden rise in remote work, one that many previously in-person employees weren't prepared for. In response, several hotel chains launched special workcation offers, ranging from one-day reservations to regular overnight stays.
When you book a work-from-hotel package, you'll have either a private office space or private room, depending on the hotel and length of stay. You might also get a few added perks, like pool access or complimentary office supplies.
Day passes are more common
Not everyone is ready for long-distance travel, but that doesn't mean they aren't going stir crazy at home. To capitalize on this under-tapped market — and to cash in on the growing daycation trend — many hotels have started offering day passes. With these day passes, guests can enjoy prized hotel amenities, like pools and spas, at a fraction of the cost of an overnight stay.
Pro tip: Check out our list of the best hotel booking sites to find day passes near you.
Food delivery services and apps become partners
Room service may soon go the way of hotel housekeeping. Instead of taking orders and prepping meals in-house, some hotels are joining forces with popular food delivery services.
Wyndham is one such hotel, offering free delivery to guests who order through the DoorDash app. Other larger resorts are using these partnerships to increase sales at their own restaurants. Resorts World Las Vegas, for example, developed an app with Grubhub that lets guests order pickup and delivery from any of the resort's 40 restaurants.
These partnerships mean you still get room service-level convenience without the hotel incurring extra overhead.
Wellness programs are all the rage
Luxury spa packages aren't just for romantic hotels anymore. The pandemic forced a lot of us to get real about the state of our mental and physical health. Recognizing this shift, independent hotels and global chains alike are offering wellness programs beyond the standard hotel gym.
Between expanded touchless spa menus, in-room workout equipment, and hotel running groups for vacationers, enhanced wellness services have become a prime focus across the industry.
Hotels are crafting Airbnb-like experiences
When you step back and look at these industry updates collectively, you'll notice that hotel stays suddenly bear a remarkable resemblance to Airbnb bookings.
After the pandemic hit, guests no longer expected — or even wanted — round-the-clock, in-person customer service. Now, guests can choose to have as much or as little human interaction as they want, just like lodging at an Airbnb. The rise of day passes, too, are akin to Airbnb Experiences, where you book an activity rather than an overnight stay.
There are still many differences between staying in a hotel versus an Airbnb — the ability to earn rewards through a hotel credit card, for example. But the similarities sure are hard to ignore.
Bottom line
Between mobile check-in apps and snazzy new day passes, the hotel industry is undergoing an unforeseen transformation. It's not the only one, either.
Contactless curbside pickup has become a staple at grocery stores and big-box retailers, and virtual healthcare appointments are now more common than ever.
In sharp contrast to the unpredictability of the past two years, one thing is undeniably certain: Adaptability is key to survival for businesses in a possibly-post-pandemic world.
Easy-to-Earn Unlimited Rewards
Earn 25,000 online bonus points after you make at least $1,000 in purchases in the first 90 days of account opening - that can be a $250 statement credit toward travel purchases
Earn 1.5 points per $1 spent on all purchases
Longer intro APR on qualifying purchases and balance transfers
No foreign transaction fees
Earn unlimited 1.5 points per $1 spent on all purchases, with no annual fee and no foreign transaction fees and your points don't expire.
25,000 online bonus points after you make at least $1,000 in purchases in the first 90 days of account opening - that can be a $250 statement credit toward travel purchases.
Use your card to book your trip how and where you want - you're not limited to specific websites with blackout dates or restrictions.
Redeem points for a statement credit to pay for travel or dining purchases, such as flights, hotel stays, car and vacation rentals, baggage fees, and also at restaurants including takeout.
0% Introductory APR for 15 billing cycles for purchases, and for any balance transfers made in the first 60 days. After the intro APR offer ends, 18.24% - 28.24% Variable APR will apply. A 3% fee applies to all balance transfers.
If you're a Preferred Rewards member, you can earn 25%-75% more points on every purchase. That means instead of earning an unlimited 1.5 points for every $1, you could earn 1.87-2.62 points for every $1 you spend on purchases.
Contactless Cards - The security of a chip card, with the convenience of a tap.
This online only offer may not be available if you leave this page or if you visit a Bank of America financial center. You can take advantage of this offer when you apply now.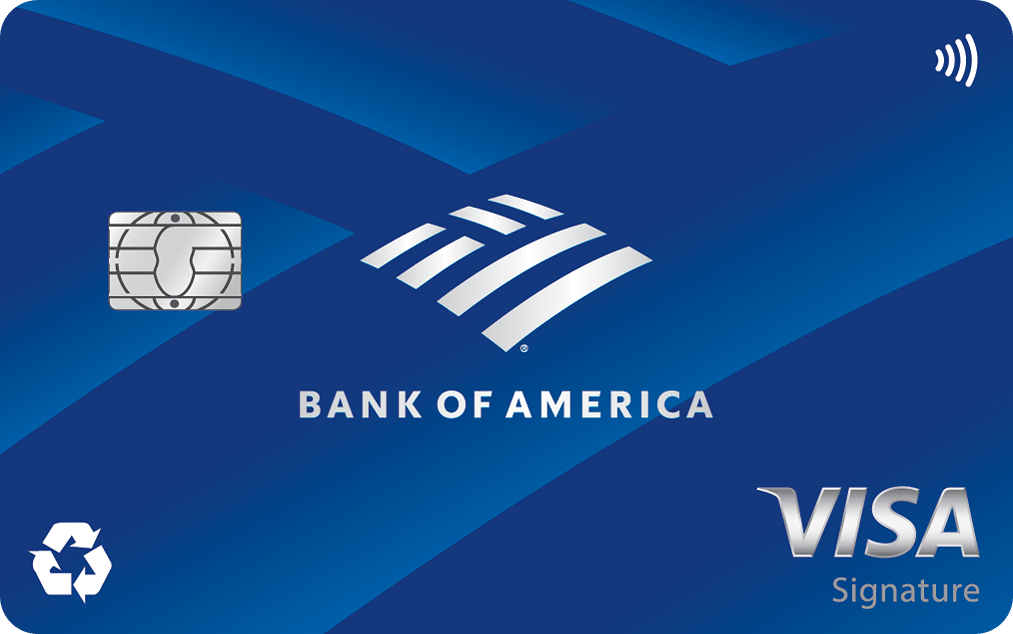 4.1
FinanceBuzz writers and editors score cards based on a number of objective features as well as our expert editorial assessment. Our partners do not influence how we rate products.
Apply Now
on Bank of America's secure website
Read Card Review
Intro Offer
Earn 25,000 online bonus points after you make at least $1,000 in purchases in the first 90 days of account opening - that can be a $250 statement credit toward travel purchases