If you're anything like me, you want to get the best price possible when booking a flight. I live in a tourist area and if I want to fly up to the New York City area to see my family, I have to shop carefully. Even though I'm only about an hour away by plane, fares to and from my home are often outrageously high because of supply and demand. Often, I end up driving because the flights are just too expensive.
However, I've found some tools that make researching flight options and keeping an eye out for the best fares much easier. Google Flights is one of them. This tool launched in 2011 and has undergone some updates over the years, but it's still one of the best and simplest tools out there for finding cheap flights. Here is a closer look at Google Flights and how it can help stretch your travel budget for your next trip through the skyway.
What is Google Flights?
Google Flights is basically a massive flight search engine. In 2011, Google completed its purchase of ITA Software, which had developed search algorithms that create a continuously updated database of flight information across the airline industry. This software is what certain discount travel booking sites, such as Orbitz and Kayak, have been using for years to power their own searches.
With the acquisition of ITA, Google harnessed this valuable information and offered it to those interested in researching and booking flights. This tool is much more user-friendly than what you might find on an airline's website or even on online travel agency sites (OTAs) such as Travelocity, Expedia, or Orbitz.
You can search using traditional information, such as where you're leaving from, what your destination is, your preferred class of ticket (basic economy vs. business class), and whether you're flying one way or round-trip. But you can also run open-ended searches with no destination or specific dates in mind, even just using a calendar or map. I spent an hour the other day looking up airfares from New Jersey to all kinds of places around the world.
Once you find a flight you're interested in, you can see the specific details of that flight; choose similar flights; see whether the price is good, average, or high; and find options to book. If you want to keep an eye on flights for a particular search, you can set up a tracker that will send you automated emails with price updates.
In addition, Google Flights offers tons of customizations and options to help sift through the expansive amount of information you can access. Let's look a little closer at how it works.
How to use Google Flights
To get started with Google Flights, go to Google.com/flights. You can also type in a search for flights into Google, using terms such as "flights from Myrtle Beach to New Orleans." You'll get some preliminary results and a link to Google Flights for more information.
Running the search
When you get to the Google Flights homepage, it will look like this.
As you can see, you have typical options for putting your origin and destination airports, as well as the dates you want to fly. There are also three dropdown selections you can choose for the type of flight (round trip, one way, or multi-city), number of passengers, and fare class.
The default flight setup is for round-trip flights, which automatically populates departure and return date options. If you choose one-way flights, you'll only have departure date options. But multi-city flights will give you the option to create a multi-city itinerary. You can add up to a total of five one-way flights using the multi-city option.

The other dropdown options can help you filter your search even more. In the number of passengers menu, you get to choose how many adults and children (aged 2-11) you need flights for. If you have infants (typically under two years old) flying with you, you can filter between an infant with their own seat or a lap infant who will be sitting with you.


With the fare class dropdown, you get to choose between economy, premium economy, business, and first class options. This should automatically weed out any tickets you have no interest in.


Once you input your initial search, you'll get another page with loads more filters to choose from. You can choose to click on each filter's dropdown option to select your preferences or click the "All filters" option to see all the filters in one place.

The filters on this page include:
Number of stops: Choose between any number of stops, non-stop only, 1 stop or fewer, or 2 stops or fewer.
Airlines: Select to only see carriers from specific airline alliances, such as Star Alliance, SkyTeam, or oneworld. Or choose individual airlines, such as Delta or United. Keep in mind that not all airlines allow Google Flights access to certain flight information. For example, you won't find any prices available for Southwest flights.
Bags: Filters your flight prices to include bag fees. Choose how many carry-on and checked bags you want to include.
Price: Select the price range for flights. This will filter out anything above the price point you select. For example, if you choose $500, you won't see any flights over $500.
Times: Choose your departure and arrival time ranges for outbound and return flights. This can be helpful if you want to avoid certain flights, like redeyes.
Connecting airports: Choose which airports you'd like to connect through and how long of a layover you'd be willing to have.
Duration: Select the duration range of your flight. For example, you could choose any flight duration, or only flights under one hour or anything in between.
Separate tickets: This filter is available in the "All filters" dropdown menu. You can choose to "show separate tickets" or "hide separate tickets," which means you can show ticket options where you might be able to find cheaper flights if you book separate tickets from one or more different airlines. Or you can not show this option.
Working with the results
Search results will appear with "Best flights" at the top of the list, or "Best departing flights" if you're doing a round-trip itinerary. These are not necessarily in order of lowest to highest price. Google says its algorithms take price, convenience, number of stops, duration, airport changes, and other factors into consideration when formulating these picks.
Below the best flights, you'll see an option to see the price history of the flights you're exploring. For this example, typical flights range from $30 to $60. Going above this range would likely mean the prices are higher than normal, while going below could mean you're getting a deal.
Continuing down the page, you'll see a list of "Other flights." These are additional flights that Google didn't think were as good as the ones listed above. However, it's always worth checking this list to see if a certain flight might be a better fit for you.

If you want to track prices for the itinerary you've picked or see different views of flight prices, you'll find a few options at the top of the page. Choosing to track prices will opt you in for email updates about price changes for the dates you've selected.

Selecting the date grid option will show you flight prices around the dates you've selected.

The price graph feature lets you see how flight prices look over the course of nearly two months.
Choosing a flight
When you find a flight you want to learn more about, click on it in the search tool results. The next screen will have flight specifics. Here, you can start a price alert, expand the selected flight line for details, and look at all of the fare options to choose which one works best for you. If you're looking at an economy airline, such as Spirit, you may have only one ticket class option. Keep in mind when booking a flight on this carrier to check the Spirit baggage fees you may pay.
Below the flight details and fare options, you'll find a list of choices for booking a flight. Google doesn't handle any travel arrangements; it simply connects you to a website where you can purchase the ticket you want. Sometimes you'll have only one option; other times you'll have several to choose from. These options can include carrier websites and discount booking sites. When you select a booking option, you should be taken directly to the site where you can buy the ticket with the options you've already selected.
Below your booking options, you'll see the same price history line graph that we talked about above. Since you've now actually selected a flight, this will give you a better idea of how this specific flight falls within the recent price history for this itinerary.
Other special Google Flights features
If you're feeling comfortable with Google Flights and want to learn about other available features, here are a few more to keep in mind:

Explore map
The Explore page can be an interesting way to gain travel inspiration for future trips. If you're flexible with where you're going, use this page to explore flights from your chosen departure airport. You can still plug in dates and other filters, but you don't have to select an arrival airport.


You can enter entire countries or continents for your destination to give you an idea of what flight prices look like for the dates you've selected. As you move the map around, you'll see prices of flights to different airports.

Fare alerts
We've already talked about price tracking, but depending on your query, you might see two different tracking options appear. One option is to track prices for the specific travel dates you've entered, and the other is to track prices between the two locations you've selected, regardless of the dates.
The second option could be helpful if you don't have a specific time frame in mind for your travel plans but you're still interested in receiving flight alerts. If you have flexible dates, then this could be a way to learn which are the cheapest dates to book your flight.

Calendar prices
After you've selected your origin and destination, but before you click the "Search" button, you can click on the area to input your dates to see a calendar view of flight prices for the dates you've selected. This can give you a quick way to see what dates might have the cheapest prices.
Flight details
When you're at the step for selecting a flight, you can see loads of information about each flight. This typically includes the travel time, layover time and location (if applicable), fare class, flight number, and type of plane. 
In addition, you might also find some details about the in-flight amenities, such as how much legroom you'll have, whether there's Wi-Fi, and if there are available plugs or USB outlets for your electronic devices. You should also be able to see what the carbon emissions estimate is for your selected flight, which includes your seat class and the number of passengers on the itinerary.
How to save even more on airfare
One of the best ways to save money on airfare is to be flexible with your travels. If you're locked into certain dates or airports for one reason or another, there's not much you can do about finding the cheapest flights for your trip. This means you could miss out on a cheaper flight from a different airport a few days after your proposed dates, or something similar.
But for most travel plans, you can still use other websites to compare flights, and you probably should. Google Flights is top-notch, but it doesn't always display the cheapest flights at all times. In some cases, such as if you're looking at a calendar view of prices, you might have to actually select certain dates to get updated pricing information. Comparing prices on multiple sites, including Google Flights, is a guaranteed way to help you find the cheapest flight deals.
However, an almost unbeatable way to save money on flights is to use travel credit cards. These types of cards typically offer valuable rewards and benefits for travelers. Many cards can offer enough rewards to completely cover your flight expenses, and you can often earn these rewards through purchases you already make. For more information, check out our list of the best travel credit cards. Here are a few of our favorites.
The Chase Sapphire Reserve® comes with a $300 annual travel credit that is automatically applied to travel-related charges on your statement. With this card, your Ultimate Rewards points are also worth 50% more when you use them to pay for a booking through the portal. The Chase Sapphire Preferred® Card doesn't offer the same travel credit, but points used to pay for a portal booking are worth 25% more than if you simply got a statement credit to cover your airfare costs.
FAQs about using Google Flights
Does Google Flights include Southwest?
Google Flights includes Southwest flights in its search functionality and filters, but you won't see any prices attached to these flights. This is because Southwest Airlines doesn't offer Google full access to its flight information.
Is Google Flights a travel agent?
Google Flights isn't a travel agent or online travel agency because you can't book anything through it. Rather, it's more of a search engine for finding flights. Google Flights is typically used to find some of the lowest prices on flights since it works with most major airlines and frequently updates its information, including airfare prices.

Is it safe to book a flight through Google?
Google doesn't offer any options to book flights through its Google Flights page. However, when you search for flights with Google Flights, you're able to select how you want to book any flight you choose. This typically includes being able to book directly with airlines, but it can also include online travel agencies, such as Priceline or CheapOair. The safest option for booking flights, in case you need to cancel or change your flight, is often directly through an airline.
Bottom line
Google Flights is a fantastic tool to use when researching airfare for any kind of trip. However, it's not the final word in price and you may be able to save even more money by using a travel service provided by the issuer of one of your credit cards. Either way, Google Flights can help you get one step closer to flying high.
Easy-to-Earn Unlimited Rewards
Earn 25,000 online bonus points after you make at least $1,000 in purchases in the first 90 days of account opening - that can be a $250 statement credit toward travel purchases
Earn 1.5 points per $1 spent on all purchases
Longer intro APR on qualifying purchases and balance transfers
No foreign transaction fees
Earn unlimited 1.5 points per $1 spent on all purchases, with no annual fee and no foreign transaction fees and your points don't expire as long as your account remains open.
25,000 online bonus points after you make at least $1,000 in purchases in the first 90 days of account opening - that can be a $250 statement credit toward travel purchases.
Use your card to book your trip how and where you want - you're not limited to specific websites with blackout dates or restrictions.
Redeem points for a statement credit to pay for travel or dining purchases, such as flights, hotel stays, car and vacation rentals, baggage fees, and also at restaurants including takeout.
0% Introductory APR for 15 billing cycles for purchases, and for any balance transfers made in the first 60 days. After the intro APR offer ends, 18.24% - 28.24% Variable APR will apply. A 3% fee applies to all balance transfers.
If you're a Bank of America Preferred Rewards® member, you can earn 25%-75% more points on every purchase. That means instead of earning an unlimited 1.5 points for every $1, you could earn 1.87-2.62 points for every $1 you spend on purchases.
Contactless Cards - The security of a chip card, with the convenience of a tap.
This online only offer may not be available if you leave this page or if you visit a Bank of America financial center. You can take advantage of this offer when you apply now.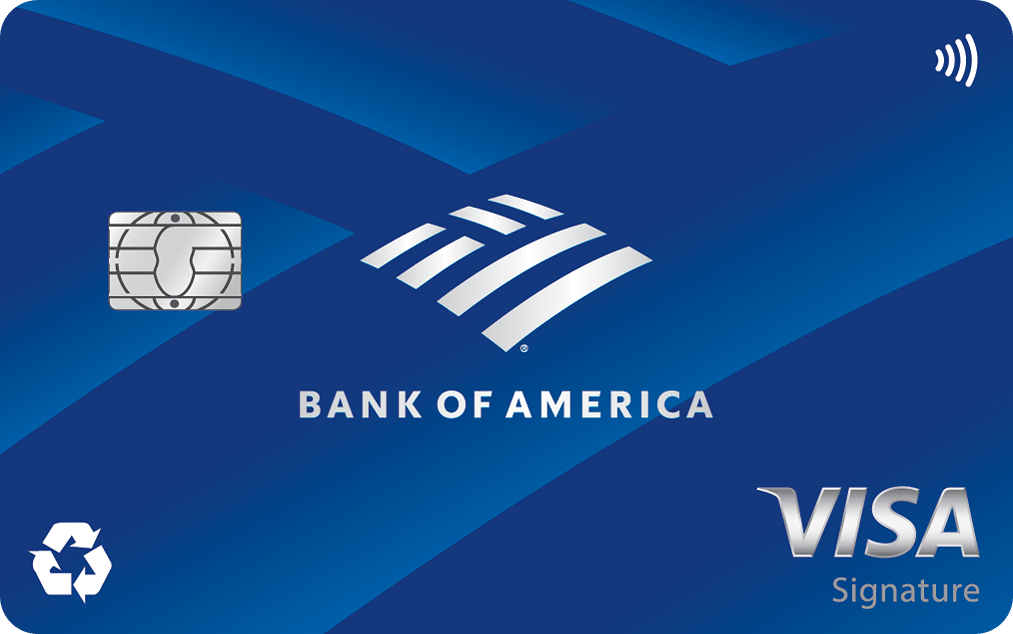 4.1
FinanceBuzz writers and editors score cards based on a number of objective features as well as our expert editorial assessment. Our partners do not influence how we rate products.
Apply Now
on Bank of America's secure website
Read Card Review
Intro Offer
Earn 25,000 online bonus points after you make at least $1,000 in purchases in the first 90 days of account opening - that can be a $250 statement credit toward travel purchases