If you love to travel and have plenty of dream destinations you have yet to cross off your bucket list, you're living at the right time. The options for flights are increasing, and average fares continue to drop. Even airfare to Europe recently reached its lowest point in three years, according to Hopper.
At the same time, the options for booking are endless, and that means more opportunities to snag some deep discounts on flights. But the sheer number of choices for online flight search engines can be overwhelming. Some are packed with features you don't need, while others don't do enough to get you the right price.
To help you out and making finding the best deals easier, we've evaluated all the major flight search engines out there and chosen our favorites.
Methodology
To make sure you'll have a positive booking experience, we've chosen sites that are easy and intuitive to navigate. We've also looked at the features provided, such as price-tracking tools and alerts and the level of customer service with regards to price matching and rewards programs.
Some of our favorite sites allow you to book package deals, while others are more focused on flights. Not every site checks all the boxes, so at the end of the day, you still might want to search multiple booking sites for the best deals.
Let's take a look at our top five recommendations and what kind of traveler is a best fit for each one.
Orbitz
What we like about Orbitz
Orbitz has an intuitive interface that lets you search fares in order of price. You can also use a variety of filters — arrival time, number of stops, airline, and more — to make sure you get the flight you're looking for.
The site allows you to book packages in addition to flights, which can save you money on the overall cost of your trip. There are also a number of deal categories available — from flights under $200 to last-minute travel deals — that you can easily browse.
Orbitz is one of the few airfare search engines we found that rewards you for your flight and package bookings. You'll earn 1% back for your flight purchases instantly, and you can use your Orbucks toward eligible hotels with no blackout dates. That's in addition to miles earned through your airline loyalty program.
Booking on Orbitz also comes with a Price Guarantee. So if you find the same flight cheaper elsewhere within 24 hours, you can submit an application and Orbitz will refund the difference. For travel packages, you'll have 48 hours after booking to submit your application.
What Orbitz could do better
You can't set alerts for prices drop on a particular flight, so you'll need to manually check for reductions or make use of another site. There's also no flight calendar that shows you which dates are cheapest, so you'll need to consult another site if your travel dates are flexible and you want to find the lowest fare.
Who should use Orbitz
A traveler with strict travel dates and times who wants to find the best price and earn rewards.
Hipmunk
What we like about Hipmunk
Hipmunk searches a variety of other travel booking sites along with major airlines, hotel brands, and even Airbnb to find you the best deals on flights, hotels, and cars. You can search fares on a price graph, which makes it easy to find the best time to fly in the upcoming 90 days. After initiating your search, you can also set up a fare alert. You'll get a free email notification if the price for your flight decreases.
Hipmunk also has additional tools for business travelers. You can sync your calendar with Hipmunk to find flights that will get you to a meeting on time and hotels that are close by. There are even some exclusive discounts for small businesses. And Hipmunk links with Concur Expense to automatically generate expense reports for your trip.
What Hipmunk could do better
Hipmunk doesn't have its own rewards program, and there's no low-price guarantee. And while you can book flights, hotels, and cars, you can't search for package deals on Hipmunk.
Who should use Hipmunk
Hipmunk is a great fit for frequent business travelers.
Google Flights
What we like about Google Flights
Google Flights has the hands-down best calendar feature, and using it is the best way to find a cheap flight if you have flexible travel dates. And if you know you need a vacation but you haven't decided on a destination yet, you can also explore cheap flights on a map. You'll be able to choose your dates or keep them flexible, so you'll have the best chance of finding a great deal. You can even set a maximum price while exploring to ensure you stay within your budget.
Google will also show you a few suggested flights from your departure city with lower-than-usual fares, which can be a great way to instantly snag a good deal, like a cheap flight to Europe. You can search for package deals on Google as well, though they won't include your rental car.
If you're not quite ready to book, you can track prices for a specific flight or route. After initiating your search, simply turn on the switch next to "Track Prices," and you'll get an email or mobile notification when prices for your route will likely increase. This lets you book your flight when it's at the lowest price.
What Google Flights could do better
Google doesn't have a price-matching policy, but since it aggregates results from other booking sites, you may be covered by a low-price guarantee at the site you use to complete your booking. However, as Google already shows you the cheapest place to book your flight, finding a lower price elsewhere is doubtful.
Who should use Google Flights
Flexible travelers who want to find the best deal on a vacation
Hopper
What we like about Hopper
You'll need a smartphone to use Hopper, since it's an app without a desktop site, but the app is one of the best price-tracking tools out there. It predicts if prices will go up or down and notifies you when a fare reaches an estimated low price. When searching for flights, Hopper will let you know if you should wait for the price to drop or book now. Hopper reports that users save an average of $50 per flight by listening to these insights.
We love that you can explore popular destinations and easily browse the cheapest upcoming fares. It's also super easy to identify the best time to fly on Hopper's flight calendar. The calendar is color-coded with the lowest-price dates in green, so you can zero in on the best times for your trip.
What Hopper could do better
Hopper doesn't have its own rewards program. And while you can book hotels and rental cars on the app, you won't save by packaging these items together. There's also no low-price guarantee.
Who should use Hopper
Travelers who prefer to book on mobile and enjoy a bit of risk when waiting for the cheapest deal.
CheapOair
What we like about CheapOAir
When choosing your departure and return dates on CheapOair, you can view prices on a flight calendar, which makes it easy to know the best time to travel. In addition to flights, you can search hotels, cars, cruises, and even vacation packages. You can also browse deals from your departure city, which can frequently save you 60% or more on your flight. And the "Deals Under $199" tab helps you locate the cheapest options when you just need to get away.
If you're not ready to book, you can set up a price alert for your search and be notified by email when the price changes. This makes it easy to book when a flight falls within your budget.
CheapOair has a Price Match Promise, so if you find a lower price on a major competitor's website within 24 hours of booking, CheapOair will either refund the difference or cancel your reservation for a full refund.
There's also a rewards program that lets you earn one point per dollar on your bookings, score double points when you use the app, or reach a higher tier by completing multiple bookings. Plus, if you book using the CheapOair Visa Credit Card, you'll earn an additional six points per dollar spent. Though be aware that carrying a balance on the CheapOair Visa may mean you're paying more in interest fees compared to other travel rewards credit cards.
What CheapOair could do better
Unlike Hopper, CheapOair won't predict when prices are at their lowest. And you can't explore prices on a map like with Google Flights. Besides that, CheapOair checks all the boxes.
Who should use CheapOair
Travelers who want to search and wait for the best deal with plenty of options and tools at their disposal.
Which flight search engine comes out on top?
For all the tools provided for finding the best deal, Google Flights takes the cake. The flight calendar helps you decide the best time to fly, while the map feature shows you destinations within your budget. You're bound to find a low price, even if you start off not knowing where or when you want to travel.
As an added bonus, the price alerts feature makes it easy to watch and wait for the lowest possible fare. And since Google searches major booking sites along with individual airlines, you may still be able to take advantage of the rewards programs and price guarantees at sites like CheapOair and Orbitz. Even if you're booking through your credit card issuer's travel portal, Google Flights should be the first place you look for the best fares.
Runner-up for best flight search engine
While we think Google's interface, particularly the map feature, is the easiest route to finding the best deal, CheapOair comes in at a close second. It meets almost all the criteria on our list: There's a generous rewards program, a price-match promise, a variety of ways to browse for deals, a flight price calendar, and a price alerts feature. You can even get additional discounts by booking a package. What's more, frequent users of the site can earn rewards for their travel bookings when using the CheapOair Visa Credit Card.
How to use flight search engines to find and get the best deal
If you've racked up some points on one of the best travel credit cards, you can use one of these booking sites to find the most favorable deal, then replicate it on your credit card issuer's travel portal to pay with points.
This is an especially good option if you have the Chase Sapphire Preferred or Chase Sapphire Reserve, since you can stretch your points further when you use them toward travel in the Chase travel portal. Here's how it works:
Locate a deal on Google Flights using the flight price calendar, map feature, or regular search option
Write down the dates and flight information, along with the price
Log into the Chase travel portal and input the same dates
Locate the same flight and proceed to book with your points
The best part of the Chase travel portal is that there are no blackout dates, and any flight you can book with cash can also be booked with points. Plus, if you have the Chase Sapphire Reserve, your points will be worth 50% more when you use them to book a flight through the portal. If you have the Chase Sapphire Preferred, your points will be worth 25% more.
That said, if you're a member of multiple loyalty or rewards programs (such as one with a particular airline or a website like CheapOair) and you're trying to get the most out of your travel rewards, you should always do the math on each of your redemption options to make sure you're getting the best price.
The easy way to determine the value of each point you're spending is to divide the cost of your airfare by the number of points required. The number you get is how many cents each point or mile is worth. So, for example, if you wanted to book a ticket that was priced at $1,000 or 100,000 points, the equation would look like this:
$1,000 / 100,000 points = $.01 per point
The best thing you can do if you're looking at multiple options for booking a flight is to run this equation on each redemption option and choose the one where your points or miles are worth the most. Thankfully, these flight search engines make all that research easier!
The bottom line on flight search engines
Because prices can fluctuate and vary from site to site, you may want to consult multiple booking sites before purchasing your airfare. Always work through the math to find out which purchase or redemption will result in the lowest overall cost to you. And remember to use your frequent-flyer number when booking through any of these sites to get the maximum rewards.
Whether you're booking with points or earning them for your next trip, you can save a lot of money if you use the right tools. So be patient, research prices, and do the math on all your options. No matter what your vacation budget looks like, your next travel adventure could be right around the corner.
Easy-to-Earn Unlimited Rewards
Earn 25,000 online bonus points after you make at least $1,000 in purchases in the first 90 days of account opening - that can be a $250 statement credit toward travel purchases
Earn 1.5 points per $1 spent on all purchases
Longer intro APR on qualifying purchases and balance transfers
No foreign transaction fees
Earn unlimited 1.5 points per $1 spent on all purchases, with no annual fee and no foreign transaction fees and your points don't expire.
25,000 online bonus points after you make at least $1,000 in purchases in the first 90 days of account opening - that can be a $250 statement credit toward travel purchases.
Use your card to book your trip how and where you want - you're not limited to specific websites with blackout dates or restrictions.
Redeem points for a statement credit to pay for travel or dining purchases, such as flights, hotel stays, car and vacation rentals, baggage fees, and also at restaurants including takeout.
0% Introductory APR for 15 billing cycles for purchases, and for any balance transfers made in the first 60 days. After the intro APR offer ends, 18.24% - 28.24% Variable APR will apply. A 3% fee applies to all balance transfers.
If you're a Preferred Rewards member, you can earn 25%-75% more points on every purchase. That means instead of earning an unlimited 1.5 points for every $1, you could earn 1.87-2.62 points for every $1 you spend on purchases.
Contactless Cards - The security of a chip card, with the convenience of a tap.
This online only offer may not be available if you leave this page or if you visit a Bank of America financial center. You can take advantage of this offer when you apply now.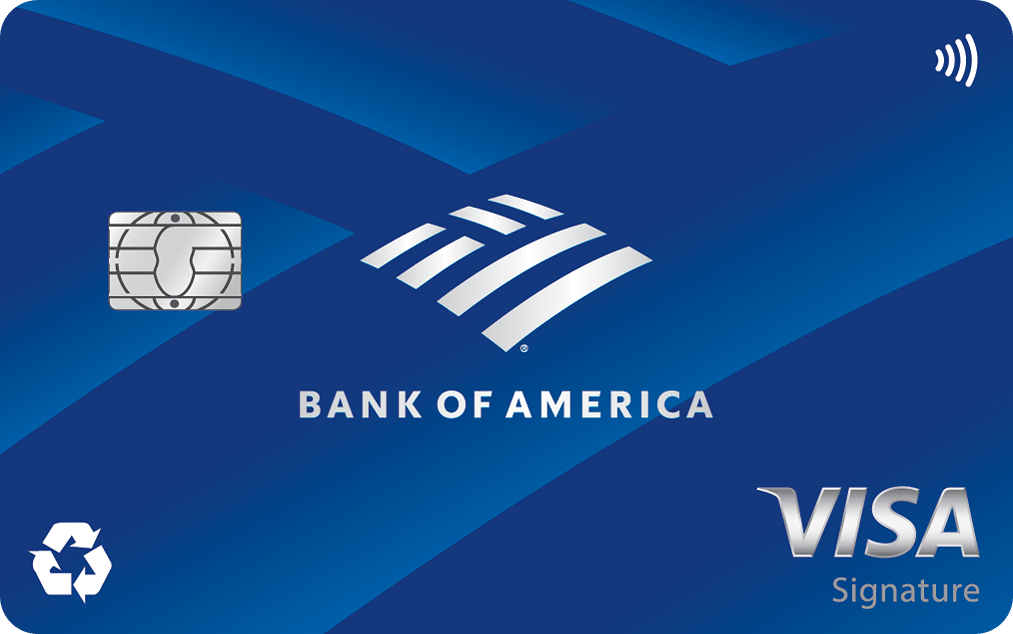 4.1
FinanceBuzz writers and editors score cards based on a number of objective features as well as our expert editorial assessment. Our partners do not influence how we rate products.
Apply Now
on Bank of America's secure website
Read Card Review
Intro Offer
Earn 25,000 online bonus points after you make at least $1,000 in purchases in the first 90 days of account opening - that can be a $250 statement credit toward travel purchases