Traveling is always stressful, especially if you have a long day of connecting flights ahead of you. It's one thing to just hop on a plane and arrive at your destination, but unfortunately, that's a pretty uncommon scenario these days.
Maybe you booked a connecting flight to save some money on the direct one, or it's possible you simply can't arrive to your destination on a single flight. Whatever the reason, chances are you'll spend at least part of that first flight worrying about missing the second. After all, the only thing that can make a long day of travel worse is having to spend more time in the airport than you planned — endless loudspeaker announcements, babies crying, and hard plastic chairs that make it impossible to get comfortable.
After stressing out about this exact same scenario, we decided to dig in and determine what the minimum flight connection time is, and how you can increase your chances of actually making your connecting flight. So if you're ready to make your next trip a little less stressful, keep reading for these tips on minimum connection times — and what you can do to ensure you're on that next flight.
Minimum flight connection times: 3 things to consider
There are a number of factors that go into determining whether or not you'll really have enough time to catch your connecting flight. And while some of these things are within your control, some aren't. We'll dive into those here.
The airport your connecting flight departs from

Depending on the airport your connecting flight departs from, the journey to get to your next gate could either be a breeze or a nightmare. While some airports are easy to navigate (even for the first-timers), others are just plain impossible. The size of your connecting airport also matters. Depending on how big of a place it really is, you might find yourself exiting the plane and only walking a few hundred feet to your next gate, or you might have to take a tram and then walk what feels like miles to get there.

Often, flight attendants are pretty familiar with the airports they fly into. If the attendants on your first flight offer up gate information about your connecting flight, take a minute to ask them how to get there. If you're still not sure once you exit the plane, stop at the closest kiosk for your airline and get directions from them. This will be helpful in huge airports, especially when you have an extremely short connection time. Don't waste any time getting lost or speculating. Just get the directions you need to find your next gate — hopefully with some time to spare for a quick bathroom break and snack run.

Single tickets vs. separate tickets

Although you might think that buying separate flights will save you some cash (or earn you more rewards points), single tickets are your friend when it comes to connecting flights, especially if you're unfamiliar with the airport. Since airlines have no way of knowing about a connecting flight that's booked with a different airline, it's in your best interest to buy tickets for connecting flights from just one carrier.

When your full travel itinerary comes up under one reservation, airlines will do their best to ensure you actually catch your connecting flight. This means that even if your first flight is delayed and you miss the second, they'll often rebook you free of charge on the next available flight. It might also mean they try to schedule connecting flights at a nearby gate and extend other small courtesies that minimize your risk of missing your second flight.

If you're a frequent traveler looking to save your rewards points by purchasing separate tickets, then you'll have to calculate the minimum connection time yourself. This can be riskier since it means you'll be on your own (and likely responsible for re-booking the next flight out of pocket) if anything goes wrong.

Domestic vs. international flights

The location of your first destination is another factor that goes into determining just how long you'll need to make a connecting flight. While the minimum connection times for domestic flights are relatively short (usually between 30 minutes and two hours, according to AirTreks), they're much longer for international flights (anywhere between one all the way up to three hours).

The reason for this is simple. Whenever you enter a new country, you'll inevitably have to go through more security checks before being allowed to board your next flight. Depending on the airport and the regulations in that country, this might include things like going through border security and even having your luggage re-scanned.
Whenever you book an international connecting flight, like a cheap flight to Europe, the same rules of single tickets apply. If your tickets are all under one itinerary, the airline will do its best to help you catch that next flight. If not, you may be on your own. If you decide to book separate tickets for your international flight, do yourself a favor and leave a generous window of time between — about three hours to be safe. Giving yourself this amount of time should help mitigate any issues you might encounter around catching that next flight, but again keep in mind that when you book separate tickets, it's always a gamble.
Why it's safer to book on a single reservation
You've probably caught on by now that our single best piece of advice for travelers booking connecting flights is to do so under one reservation. While you might save some points (or money) by traveling under separate tickets, in our experience, it's simply not worth the stress.
Since booking a connecting flight on a separate ticket doesn't offer the same built-in securities as a single ticket reservation would, you might even end up paying more than you planned on if you need to rebook that second flight.
If you book a single reservation using one of the best travel credit cards like Chase Sapphire Preferred or Chase Sapphire Reserve, you might have even more built-in protections, like travel security or compensation. However, these may not be guaranteed if you book flights under multiple reservations.
FAQs about minimum connection times
Who sets minimum connection times?
Minimum connection times (MCT) are determined by airports, and based on the minimum amount of time they decide it should take the average person to catch a connecting flight in that location. Factors that go into determining an MCT include things like airport layout, security, and if the person is traveling internationally or not.
Will a connecting flight wait for passengers?
Although it has happened, it's generally agreed upon that most flights don't wait around for late passengers — especially since this could delay other travelers for future connecting flights.
What happens if you miss a connecting flight due to a delay?
If the connecting flight was booked under one reservation with your first flight, then your airline should try and rebook you on the next available flight. If the connecting flight was booked under a separate reservation, then you may be responsible for swallowing the cost of the missed flight and rebooking a new one out-of-pocket.
Is there a fee for missing a flight?
While there likely won't be a fee involved in missing your flight, there may be a fee to rebook it. You may also be responsible for paying the difference (if any) in airfare.
The final word on minimum connection times
Missing a connecting flight is a huge pain, but if you plan accordingly and follow the tips highlighted here you should be able to avoid most of them. Although it's tempting to go rogue and save those hard-earned credit card reward points by book separate flights, we'd advise against it. Not only will you be missing out on any built-in airline protections, but you'll also be left paying any difference in airfare (plus rebooking fees) if a delayed first flight causes you to miss your second.
There are a lot of other good strategies out there that can help you to save money and find cheaper flights, and if you stick to these, you're a lot less likely to end up paying (besides in time and frustration) for that missed connection.
Easy-to-Earn Unlimited Rewards
Earn 25,000 online bonus points after you make at least $1,000 in purchases in the first 90 days of account opening - that can be a $250 statement credit toward travel purchases
Earn 1.5 points per $1 spent on all purchases
Longer intro APR on qualifying purchases and balance transfers
No foreign transaction fees
Earn unlimited 1.5 points per $1 spent on all purchases, with no annual fee and no foreign transaction fees and your points don't expire.
25,000 online bonus points after you make at least $1,000 in purchases in the first 90 days of account opening - that can be a $250 statement credit toward travel purchases.
Use your card to book your trip how and where you want - you're not limited to specific websites with blackout dates or restrictions.
Redeem points for a statement credit to pay for travel or dining purchases, such as flights, hotel stays, car and vacation rentals, baggage fees, and also at restaurants including takeout.
0% Introductory APR for 15 billing cycles for purchases, and for any balance transfers made in the first 60 days. After the intro APR offer ends, 18.24% - 28.24% Variable APR will apply. A 3% fee applies to all balance transfers.
If you're a Preferred Rewards member, you can earn 25%-75% more points on every purchase. That means instead of earning an unlimited 1.5 points for every $1, you could earn 1.87-2.62 points for every $1 you spend on purchases.
Contactless Cards - The security of a chip card, with the convenience of a tap.
This online only offer may not be available if you leave this page or if you visit a Bank of America financial center. You can take advantage of this offer when you apply now.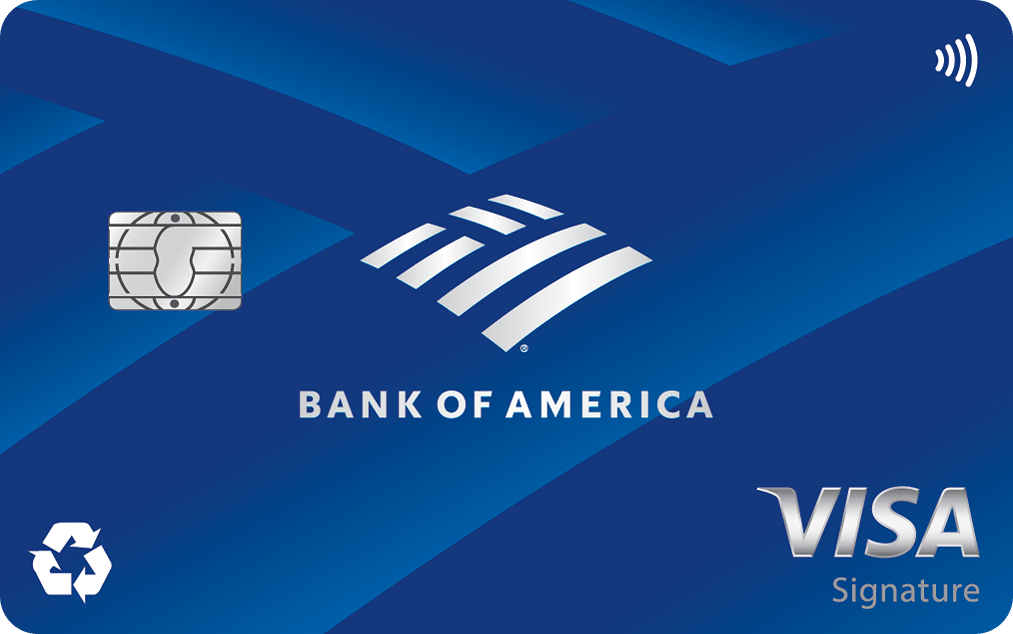 4.1
FinanceBuzz writers and editors score cards based on a number of objective features as well as our expert editorial assessment. Our partners do not influence how we rate products.
Apply Now
on Bank of America's secure website
Read Card Review
Intro Offer
Earn 25,000 online bonus points after you make at least $1,000 in purchases in the first 90 days of account opening - that can be a $250 statement credit toward travel purchases