Nobody likes going through the TSA line at the airport, but it's a fact of life in a post-9/11 world.
Because of potential threats, these agents have to conduct several security checks to keep passengers safe. That means it's not the time to be flippant or use hyperbolic language, as doing so could get you in serious hot water.
Whether it's tasteless jokes or empty threats, you're better off keeping these kinds of thoughts to yourself.
Don't even say the word bomb
For obvious reasons, you never want to say you have a bomb, whether you're joking or you just want to shake things up.
Unfortunately, plenty of people have done exactly this and faced serious consequences for it. This kind of threat can shut down airports and even get you arrested.
Don't talk about owning a gun
Whether you're frustrated by poor customer service, dealing with delay after delay, or just trying to be funny, saying you have a firearm or that you plan to use one is a bad idea. This kind of threat will be taken seriously and may be investigated by law enforcement.
Don't call someone a terrorist
This is a word with serious weight, as it's what the hijackers who brought down planes on 9/11 are referred to. So if you call someone a terrorist in this context, it carries extra weight and may prompt an investigation.
Don't ask flight staffers if they've ever been hijacked before, either. Yes, someone really did that.
Don't kid about residue on your hands
It may feel a bit ridiculous if you're selected for extra screening, including a test for chemical residue on your hands. After all, you're just a regular person trying to make your flight.
But TSA agents take these checks very seriously, so jokingly asking if they found any is in bad taste and may get you even more scrutiny. Yes, someone did that too.
Don't ask to pet the security dogs
We get it, dogs are super cute and it can be hard to hold back when you want to interact with them. However, the dogs you encounter at a TSA checkpoint have a very important job to do, which is to sniff out any potential threats.
So don't ask to pet the animal, which is interrupting serious work and can get you reprimanded.
Don't insult an agent's job
Whatever your personal feelings about TSA may be — whether you think it's security theater or you believe it serves an important purpose — don't insult a TSA agent who is just trying to do their job.
You might be mad that they made you pour out your soda, but they didn't make the rules and whining won't get you anywhere good.
Don't say the scanner will give you cancer
While there once was an airport scanner that did expose people to potentially harmful radiation, that machine has been retired.
Though misinformation and conspiracy theories abound, the current scanners you'll find at airports aren't harmful to your health. So if you claim it will harm you, you're parroting inaccurate information.
Don't joke that the scanner shows you naked
Speaking of scanners, you do have the right to opt out and receive a pat down instead if that's your preference.
But it's honestly not funny to joke that it will show you naked, which can be construed as sexual harassment and could have consequences. That's not what it does anyway, either.
Don't joke about the pat down
If you end up opting for the pat down or you receive one in addition to being scanned, now is not the time to joke that it's an enjoyable experience that's turning you on. 
In all likelihood it's awkward for both you and the TSA agent, so don't make it weird. This could be considered sexual harassment too.
Don't ask about the mile-high club
For the same reason you shouldn't joke about the pat down somehow being an erotic experience, don't ask a TSA agent if they're in the mile-high club.
For one, this is in incredibly bad taste and isn't your business. Also, it's not like TSA agents fly all the time, so it's not even approaching funny. It's just harassment.
Don't try to bribe your way through the line
We've all been there: You get to the airport late for some reason or another. Then you see the security line is super long, and wonder how you can bump yourself to the front.
Whatever you do, don't ask a TSA agent if they'll hook you up if you give them money or gifts. They can't, so it's not going to work. Plus, they've heard it all before.
Don't be super chatty
If you're especially gregarious or just think you have a lot to say, try and reign that in while going through a TSA checkpoint.
The reason is that talking too much can raise red flags, as agents could suspect that you're trying to distract them from something else. Being polite and moving right along is the best course of action here.
Don't curse and swear
You wouldn't be the first person to swear up a storm at an airport, especially when dealing with missed flights and connections or extensive delays.
But do your best to avoid offensive language while interacting with a TSA agent, as that could land you in their not-so-good graces, making your predicament even worse.
Don't tell them you're drunk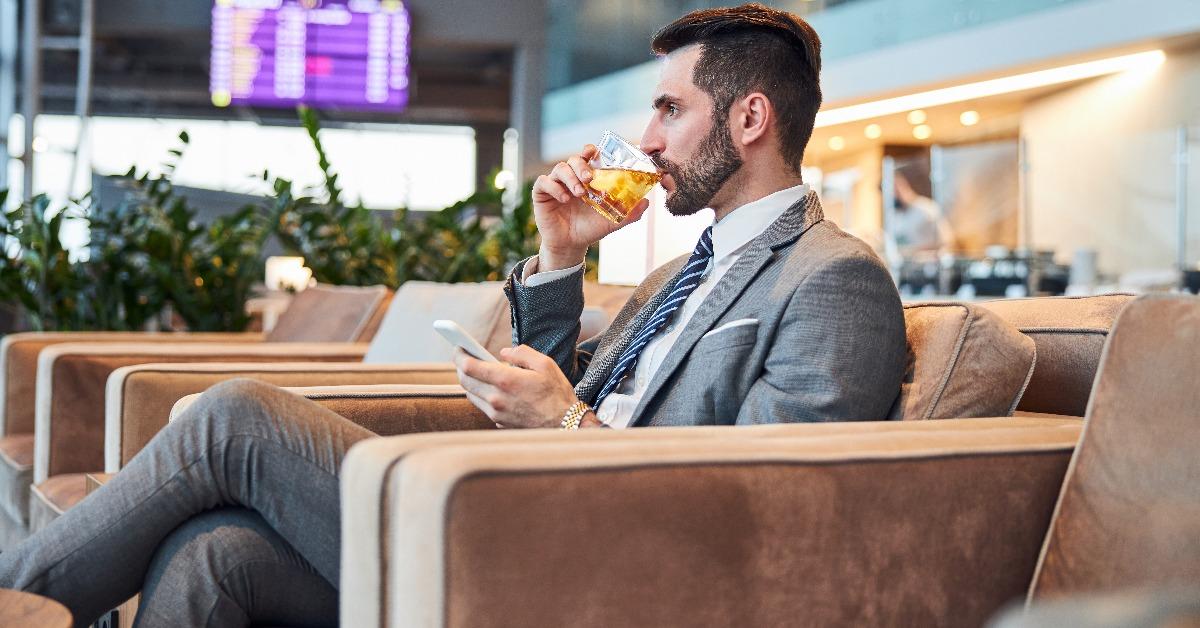 One thing airports are famous for is the lifting of social norms, including drinking before 5 p.m. But if you've been imbibing, there's no need to broadcast that while going through security.
This is because intoxicated passengers can be deemed a problem and removed from the airport. So either stay sober or keep it to yourself if you're not.
Don't clam up
We get it: Flying can be nerve-wracking for some folks, especially if you have anxiety. But if a TSA agent notices you acting nervous and struggling to speak, that will put them on high alert to pull you aside.
Just make eye contact, be polite and cooperative, and communicate as clearly as you can.
Bottom Line
While passing through a TSA checkpoint can feel like a burden that simply makes things more difficult, it's a necessary process.
While you may be able to expedite the process with a credit card offering free TSA precheck, you should always be on your best behavior with TSA agents.
Remember, TSA agents are just doing their job, which is to keep you safe while flying. What could be more important than that?
Easy-to-Earn Unlimited Rewards
Earn 25,000 online bonus points after you make at least $1,000 in purchases in the first 90 days of account opening - that can be a $250 statement credit toward travel purchases
Earn 1.5 points per $1 spent on all purchases
Longer intro APR on qualifying purchases and balance transfers
No foreign transaction fees
Earn unlimited 1.5 points per $1 spent on all purchases, with no annual fee and no foreign transaction fees and your points don't expire.
25,000 online bonus points after you make at least $1,000 in purchases in the first 90 days of account opening - that can be a $250 statement credit toward travel purchases.
Use your card to book your trip how and where you want - you're not limited to specific websites with blackout dates or restrictions.
Redeem points for a statement credit to pay for travel or dining purchases, such as flights, hotel stays, car and vacation rentals, baggage fees, and also at restaurants including takeout.
0% Introductory APR for 15 billing cycles for purchases, and for any balance transfers made in the first 60 days. After the intro APR offer ends, 18.24% - 28.24% Variable APR will apply. A 3% fee applies to all balance transfers.
If you're a Preferred Rewards member, you can earn 25%-75% more points on every purchase. That means instead of earning an unlimited 1.5 points for every $1, you could earn 1.87-2.62 points for every $1 you spend on purchases.
Contactless Cards - The security of a chip card, with the convenience of a tap.
This online only offer may not be available if you leave this page or if you visit a Bank of America financial center. You can take advantage of this offer when you apply now.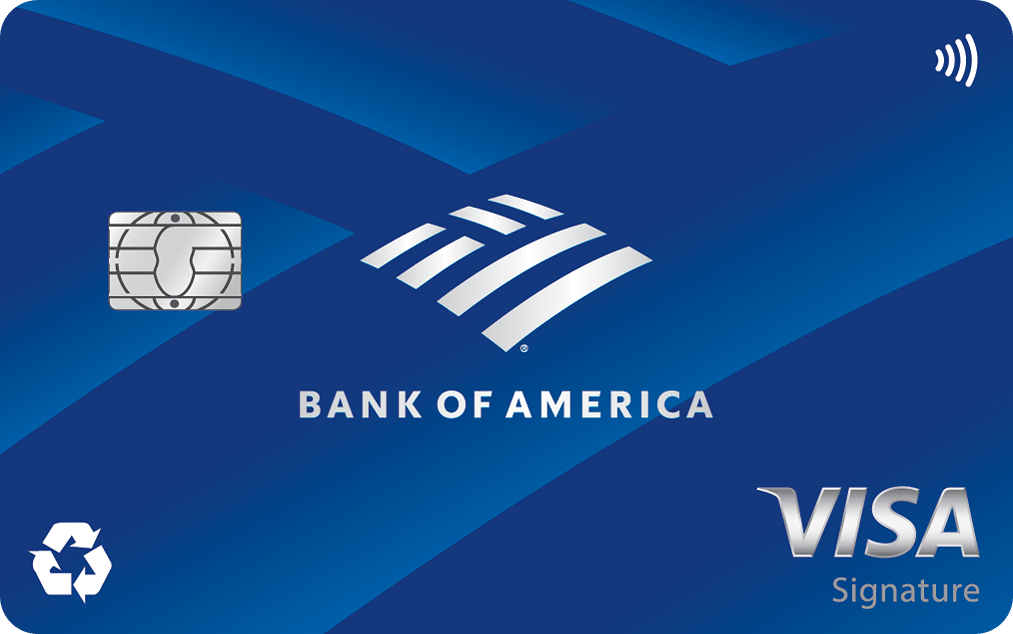 Apply Now
on Bank of America's secure website
Read Card Review
Intro Offer
Earn 25,000 online bonus points after you make at least $1,000 in purchases in the first 90 days of account opening - that can be a $250 statement credit toward travel purchases