Ready to start packing for your next three-day business trip? Then you know how hard it can be to strike the right balance. Short work trips are some of the trickiest to prep for; you won't be gone very long, but you still need a variety of nice things to wear. If only leggings and sweatpants were acceptable office attire!
Then there's the cosmetics, and all your other extras — like something good to read on the plane and a comfy sweatshirt if you get cold. Packing for a short business trip is definitely a challenge, which is why we've put together this comprehensive checklist. Keep scrolling for some helpful packing tips that will make planning for your upcoming trip a whole lot easier. And don't forget to use the right credit cards for your purchases to maximize your rewards. 
Carry-on Item
When traveling on short trips for work, you should always try to limit your baggage to the things you can take in the plane cabin with you — which usually means one carry-on and one personal item. Not only will this save you or your company some money on travel expenses; it'll also save you a ton of time. Retrieving checked baggage can add anywhere between 15 minutes to an hour of wait time, and that's in addition to the time you spent waiting in security lines or sitting in your cramped middle seat on the plane. Now imagine doing that twice in three days.
Packing two small bags for your business trip might sound ultra-minimalist, but with the right carry-on, you should be able to fit everything you need without a problem.
Things you'll want to pack in your carry-on
Here's a rough checklist of items you should plan on packing in your larger bag — aka your carry-on.
1 clean dress shirt for every day of your trip
1-2 pairs of black dress pants (Ladies: swap one for a skirt or dress!)
1 suit jacket
1 set of clean undergarments for every day of your trip
2-3 pairs of socks
1 pair of work shoes
Loungewear (something to sleep in)
Laptop
Chargers, adapters (if needed)
Large cosmetics (store these in a clear plastic bag)
Since your carry-on is the larger of your two bags, you'll want to use it pack your biggest items. This includes things like shoes, a heavy laptop, and bulky clothing or cosmetics. You can also use it to pack things that you won't need to access until you arrive — which might also include chargers and adapters. When packing cosmetics, keep in mind the size requirements and use small travel bottles to avoid having any issues.
Plan on wearing something comfortable to travel in and optimize your baggage space for nice workwear so it stays folded and fresh. When packing for short trips, bring things that can serve more than one purpose — this will help you pack less. For example, your travel clothes might also be what you wear to grab a drink after work with colleagues. Or if you have an overnight flight, maybe you travel in your loungewear that you can also wear to sleep in your hotel room. The same goes for shoes. Try not to bring more than two pairs for short trips. Shoes take up a lot of room in small bags, so by wearing one comfortable pair and packing a more formal pair, you'll be able to save space and cut down on the weight you carry.
When it comes to packing your laptop, be sure to keep it somewhere accessible where you won't have to tear apart your clothes to find it. You'll probably need to pull your laptop out during multiple airport security checks, and you may even want it handy to do a bit of work (or binge on Netflix) while waiting to board the plane. Some travelers prefer to store their laptops in their personal items for easier access. Think about how often you'll need your laptop and which bag makes the most sense for you.
Our favorite carry-on brands
The Jaunt by Roam
This lightweight, scratch-resistant carry-on meets most airline requirements and comes in several different colors.
The Bigger Carry-On by Away
Slightly bigger than other carry-ons, this bag comes with an interior compression bag and a removable battery (don't worry, it's TSA-approved) to keep your devices charged on-the-go.
Trady Luggage Carry-On by Hershel
Durable and size-compliant, this nifty carry-on has a variety of storage compartments inside to help you stay organized, and it comes in some great colors and prints for the adventurous traveler.
Tall Carry-On Spinner by Briggs & Riley
If you prefer a soft-shell carry-on that still offers that 360-degree spin, look no further than this bag. It also offers complimentary monogramming with your purchase.
Garment Duffle Bag by Modoker

Not so much into wheels? Try this water-resistant weekender, which will keep your dress clothes wrinkle-free.

Garment Bag by Nomatic
Get from point A to B with this minimalist garment bag that will keep your clothes organized and looking fresh after long flights.
Personal item
In addition to a carry-on item, most airlines also allow one free personal item. This is typically a much smaller bag, like a backpack or purse that fits under the seat in front of you. Since you'll want to avoid checking a bag, take advantage of this freebie as a way to save money and carry your extra stuff. Just be sure to choose a bag that fits your needs, and your preferred airline's size requirements.
Things you'll want to pack in your personal item
When packing your personal item, try to include the small items you'll need or want to access during your flight. You should also use it to store any small valuables. Here's a packing checklist to help you get started:
Phone
Wallet
Passport (or ID)
Some of the best travel credit cards
Boarding passes
Tablet (or E-reader)
Chargers (for phone/tablet)
Ear-buds/headphones
Jewelry
Small cosmetics (store these in a clear plastic bag)
Earplugs or eye mask (for overnight flights)
Hand sanitizer
Glasses
Medication
Our favorite personal item brands
Here are three of our top picks for stylish and functional personal items.
Kaya Laptop Backpack by Calpak
This vegan-leather backpack is the perfect solution to a personal item that can double as your day bag on business trips.

Expandable Cabin Bag by Briggs & Riley

A hybrid business brief and overnight duffle, this bag will easily sit atop your wheeled carry-on and keep all your stuff accessible throughout the trip.

 

Herschel Supply Co. Tech Daypack Backpack
It might look simple on the outside. However, this classy backpack is loaded with organizational features to take you from the plane to the office, including pockets for your laptop, valuables, and frequently-used items like your phone.
The final word
Business travel may not be the most exciting thing you do this year, but that doesn't mean it has to be a bad experience either. Make the most of it by scheduling some time for sightseeing, sampling some local cuisine, or bonding with a colleague over a cup of coffee.
Packing light is a valuable skill, especially if you aspire to bigger and more adventurous travels — and short business trips are the perfect chance to hone your packing skills. This list will help you find your perfect carry-on or personal item, no matter what your budget is.
Easy-to-Earn Unlimited Rewards
Earn 25,000 online bonus points after you make at least $1,000 in purchases in the first 90 days of account opening - that can be a $250 statement credit toward travel purchases
Earn 1.5 points per $1 spent on all purchases
Longer intro APR on qualifying purchases and balance transfers
No foreign transaction fees
Earn unlimited 1.5 points per $1 spent on all purchases, with no annual fee and no foreign transaction fees and your points don't expire.
25,000 online bonus points after you make at least $1,000 in purchases in the first 90 days of account opening - that can be a $250 statement credit toward travel purchases.
Use your card to book your trip how and where you want - you're not limited to specific websites with blackout dates or restrictions.
Redeem points for a statement credit to pay for travel or dining purchases, such as flights, hotel stays, car and vacation rentals, baggage fees, and also at restaurants including takeout.
0% Introductory APR for 18 billing cycles for purchases, and for any balance transfers made in the first 60 days. After the intro APR offer ends, 17.99% - 27.99% Variable APR will apply. A 3% fee applies to all balance transfers.
If you're a Preferred Rewards member, you can earn 25%-75% more points on every purchase. That means instead of earning an unlimited 1.5 points for every $1, you could earn 1.87-2.62 points for every $1 you spend on purchases.
Contactless Cards - The security of a chip card, with the convenience of a tap.
This online only offer may not be available if you leave this page or if you visit a Bank of America financial center. You can take advantage of this offer when you apply now.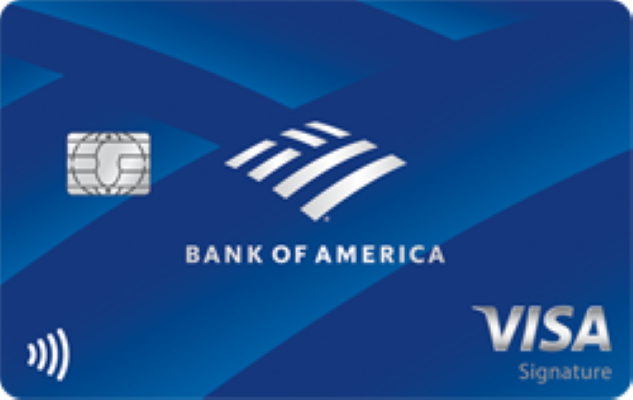 Apply Now
on Bank of America's secure website
Read Card Review
Intro Offer
Earn 25,000 online bonus points after you make at least $1,000 in purchases in the first 90 days of account opening - that can be a $250 statement credit toward travel purchases