An international vacation can certainly cost you an arm and a leg. The average round-trip flight to Europe alone costs about $600, and when you add up the cost of accommodations, dining out, entrance to tourist attractions, and other activities, you can easily spend thousands.
Luckily, there are a myriad of ways to save money on international travel, from how you look for deals when booking to how you use the best travel credit cards when traveling. Here are some tips that will make traveling internationally a lot easier on your wallet.
17 cost-saving international travel tips
From planning to dining to sightseeing, international adventures put the "fun" in your travel fund. To avoid draining that fund completely, look for ways to save money every step of the way.
Open a new credit card prior to booking
If you're planning a big trip, chances are you'll be spending more than usual. That's what makes this a great time to take advantage of valuable credit card sign-up bonuses, which typically require you to spend a certain amount during the first few months after opening a new card.
Meet the spending minimum and you can earn seriously valuable points or miles, which can net you free travel and pay for at least part of your trip. If you're not sure which card to start with, the Chase Sapphire Reserve is a great all-around travel card that offers travel perks and a valuable sign-up bonus. If you're newer to travel credit cards, then one of the easiest travel credit cards to get could also be a good choice. 
Use points to book your flight
Alternatively, if you've already racked up a lot of points on a travel rewards card, you could use those points to book your flight or hotel, saving you money on the overall cost of your trip.
You can search for flights directly through your credit card issuer's travel portal — or use third-party discount travel sites to explore deals first before booking the same flight with points in the travel portal.
Find a great deal on a flight
If you'll be paying for your flight in cash, there are a number of strategies you can use to find cheap international flights, including cheap flights to Europe. You can:
Reserve your travel in advance to avoid rising prices
Book your flights on the cheapest days to fly, which are typically midweek
Be flexible about exact dates and times
Travel during off-peak months
Use the Google Flight calendar to find the cheapest flights
Search multiple discount-flight search engines
Set travel alerts
You'll need to actually be able to access your money while traveling, so set up a travel alert with your bank and for any credit cards you'll be using.
In an effort to protect you from identity theft, banks use fraud detection to identify abnormal purchases, which includes those made far outside your typical spending location. Submitting a travel alert will prevent your bank from putting a block on your card when you try to use it at your destination.
Minimize currency exchange fees when you need cash
Service fees on currency exchanges can be costly. You could get a decent exchange rate by using a debit card at a local ATM, provided that it has no foreign transaction fees or ATM fees. Before traveling, check to see if your local bank offers in-network ATMs in the country you're visiting.
You can also usually order foreign currencies to be delivered to your local bank. This typically offers favorable exchange rates and fees, but it does require some extra planning before you leave for your trip.
Use a credit card that doesn't charge foreign transaction fees
Whether you're opening a new card for your trip or using what's already in your wallet, make sure you bring credit cards with no foreign transaction fees. Otherwise, you could get hit with fees up to 3% of the purchase price every time you make a transaction.
That means if you use your card to buy $100 worth of souvenirs, you'll actually be paying $103. These charges can really add up, so opt for a card without foreign transaction fees.
See if you might need a chip-and-PIN card
Chip-and-PIN cards provide an extra level of security and are frequently used in other countries. While chip-and-PIN cards aren't very common in the United States, you might need one if you're using an automatic payment machine overseas. Typically, these include self-service gas pumps, train station ticket machines, and other payment kiosks.
For most transactions, you'll be able to use regular chip-and-signature cards, which are common in the U.S. But if you're worried about having your transactions declined, you might consider carrying a chip-and-PIN card with you just in case.
Make sure your phone will work abroad
It's incredibly easy to run up a costly cell phone bill if you don't have the right plan for your phone. To avoid getting dinged with fees, turn off cellular data and roaming before you depart the United States.
There are a few options for cell phone service when traveling internationally. You can simply use Wi-Fi calling when you're at your hotel or near a Wi-Fi hotspot. For most carriers, this won't cost you a cent.
If you want to be able to make calls and texts on the go, you can upgrade your current phone plan to include international services during the time you'll be traveling or buy a SIM card once you reach your destination country (assuming your phone is unlocked). Contact your cell service provider before your trip to make sure you understand what charges you'll be responsible for.
Book a hotel for cheap
Just like with flights, you may be able to use rewards points to book a hotel on your credit card issuer's travel portal. You can also use third-party discount travel sites to locate deals. Many of these sites even have rewards programs that can help you earn discounts or free nights.
For example, Hotels.com gives you one free night for every 10 you book. Even better, if you pay for that booking with the Capital One Venture Rewards Card, you can earn at least 2 miles per dollar on every purchase, every day, though you could earn 5 miles per dollar miles on hotels and rental cars booked through Capital One Travel.
However, be sure to check the hotel's website directly to compare prices, as sometimes booking direct will be the cheapest option.
Don't overlook Airbnb
You can often find cheap accommodations using Airbnb rather than booking a hotel. And as another added money-saving bonus, most Airbnb rentals give you access to a kitchen, so you can make some of your meals at the property and save on dining out.
Consider staying at a hostel
Some of the cheapest international accommodations are hostels. The lowest-priced accommodations typically involve rooming with other travelers and have shared bathrooms, but you can also find some hostels with private rooms if you're willing to pay a little more. If you plan to spend most of your time exploring your destination, a no-frills place to sleep might be all you need.
Rent a cheap car or take public transportation
Travel light and rent a small economy vehicle to get the best price. You can skip paying for rental insurance at the counter if you use a credit card that has auto insurance protection for international car rentals. You can also try using Turo, which allows you to rent someone's private vehicle and sometimes has better rates than car rental agencies.
But often, the cheapest way to get around your destination is to take public transportation. Do some research to familiarize yourself with the local transit system. You may need a chip-and-PIN card to buy train fare, or you may be able to buy a pass prior to traveling.
Map an efficient itinerary
You can save time and money on transportation by creating an efficient itinerary for your trip. 
Google Maps allows you to plot all of your desired destinations on a personalized, color-coded map. Once you've done that, you can decide where to go each day to avoid spending excess time on the train or forking over too much cash for rideshares. It's also easier to get to know a city on foot, so plan on walking between sites that are close to each other.
Consider travel insurance
If you get sick or injured while traveling, it could quickly become the costliest part of your trip. Or if a medical emergency keeps you from traveling, you could lose all the funds you put toward your vacation.
However, you can protect yourself from both those scenarios by purchasing travel insurance. It's typically inexpensive, but you'll need to purchase it within a certain time frame, depending on the insurer, in order for it to cover preexisting conditions. You can also get insurance that will cover cancellation for any reason, but that's usually more costly.
Use a credit card that rewards you for spending outside the U.S.
You'll probably spend a lot of money on dining and entertainment while you're traveling, so use a credit card that rewards you handsomely for those purchases. Some credit cards only offer bonus rewards for purchases made in the U.S., so read the fine print before choosing which card is best. That way, you can rack up points to put toward your next travel adventure!
Eat for free at airport restaurants
If you have a Priority Pass membership, you could eat for free at a variety of airport restaurants — plus access airport lounges at no cost. The membership itself is costly but is included for free with a number of travel rewards cards.
For example, the Chase Sapphire Reserve includes a Priority Pass membership, and you can even bring a guest with you when you access airport lounges. Some restaurants offer meal credits for you and a guest as well, and you can get up to $30 per person toward food and beverages.
Search package deals and coupons
Many cities have passes for tourists that allow you to access a number of museums and attractions for one low price. If you plan on visiting most of the included locations, you could save some dough by going this route. You can also check for restaurant and tour deals on Groupon.
Bottom line
By following these tips, you might cut costs significantly. But remember that your budget is still important, even when you're on vacation. Set a spending limit for souvenirs and dining out, opt for group tours instead of private ones, and use your credit cards wisely. If you earn enough points, you may even be able to travel for free on your next overseas adventure.
Easy-to-Earn Unlimited Rewards
Earn 25,000 online bonus points after you make at least $1,000 in purchases in the first 90 days of account opening - that can be a $250 statement credit toward travel purchases
Earn 1.5 points per $1 spent on all purchases
Longer intro APR on qualifying purchases and balance transfers
No foreign transaction fees
Earn unlimited 1.5 points per $1 spent on all purchases, with no annual fee and no foreign transaction fees and your points don't expire.
25,000 online bonus points after you make at least $1,000 in purchases in the first 90 days of account opening - that can be a $250 statement credit toward travel purchases.
Use your card to book your trip how and where you want - you're not limited to specific websites with blackout dates or restrictions.
Redeem points for a statement credit to pay for travel or dining purchases, such as flights, hotel stays, car and vacation rentals, baggage fees, and also at restaurants including takeout.
0% Introductory APR for 15 billing cycles for purchases, and for any balance transfers made in the first 60 days. After the intro APR offer ends, 18.24% - 28.24% Variable APR will apply. A 3% fee applies to all balance transfers.
If you're a Preferred Rewards member, you can earn 25%-75% more points on every purchase. That means instead of earning an unlimited 1.5 points for every $1, you could earn 1.87-2.62 points for every $1 you spend on purchases.
Contactless Cards - The security of a chip card, with the convenience of a tap.
This online only offer may not be available if you leave this page or if you visit a Bank of America financial center. You can take advantage of this offer when you apply now.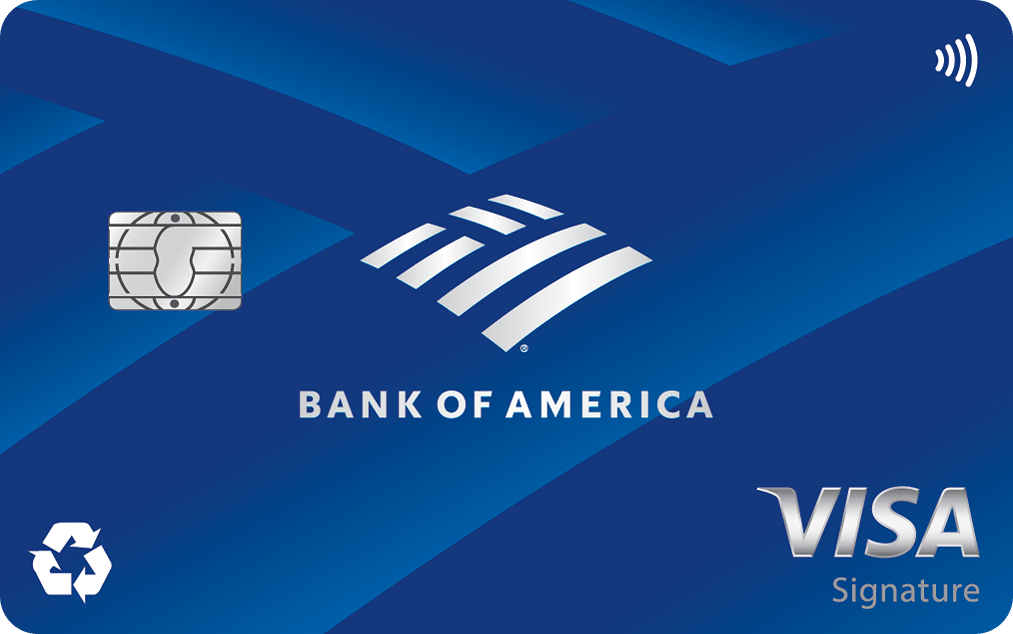 Apply Now
on Bank of America's secure website
Read Card Review
Intro Offer
Earn 25,000 online bonus points after you make at least $1,000 in purchases in the first 90 days of account opening - that can be a $250 statement credit toward travel purchases