As you venture to the airport for your next adventure, look around at what other travelers are carrying with them. While wheeled suitcases still reign supreme, you may notice more people are switching to backpacks as their preferred method of packing.
And it's no surprise why — a backpack can save you the hassle of pulling bulky luggage everywhere, help you avoid overpacking, and even help you save money on baggage fees.
Two years ago, my wife and I decided to get rid of our poorly manufactured luggage and give backpacks a try before a trip to Amsterdam. We're now traveling full-time as digital nomads with only our backpacks in tow, and we haven't regretted the decision one bit.
However, you don't need to be a frequent jetsetter to ditch your "four wheels" for "two straps." Even casual travelers can benefit from a backpack — here are a few reasons you should rethink your luggage.
5 problems with traditional luggage
1. Mobility
Pulling luggage behind you requires at least one of your hands at all times. And when you're limited to only one hand, it can leave you fumbling around with your belongings. With a backpack, you're able to have both hands free to hold a cup of coffee, talk on the phone, or carry a jacket. 
Additionally, getting from one place to another outside of an airport can be much more strenuous because of uneven surfaces. Whether you're walking the cobblestone streets of Stockholm or an unpaved path in Bali, a backpack beats out a large rolling suitcase.
2. Durability
A lot of luggage is made with cheap plastic parts that tend to break, especially when baggage is tossed around with little care by airline employees. As backpacks are made with few plastic parts, there's less chance for something to break.
Backpacks can also be easier to repair if damage does occur. A rip can be mended and a zipper can be replaced. Fixing a suitcase's broken wheel or handle may be more complicated or expensive.
3. Stowability
Figuring out where to put your luggage at home can be a pain. Traditional luggage can't be broken down and can easily take up half a closet. That can be a headache if you live in a small apartment or don't have much storage space. With a backpack fully emptied, however, it can be flattened to take up very little room.
4. Flexibility
Regardless of the duration of your travels, your suitcase remains the same size. If you have a hard-shell suitcase but are only packing for three days, it can become a large waste of space. With a backpack, you have more flexibility to make it work for any duration of travel, and because it's fabric it can easily be shoved into smaller spaces when it's not stuffed full.
5. Overpacking
With a backpack, you're rewarded when you pack only what you need. Since your bag is attached to your body, each extra pair of shoes or sweater you bring becomes more added weight you have to carry.
With a traditional suitcase, it can induce anxiety if it's only half-filled. We have all been guilty of returning home from traveling, only to realize we didn't wear half the clothing we brought.
5 surprising ways a backpack is better
1. Storage organization
Backpacks are designed with multiple pockets to stash specific items. If you're particular about keeping your clean and dirty clothes separated or enjoy using packing cubes, backpacks today are designed with organized travelers in mind.
2. Can serve multiple purposes
When you think of travelers' backpacks, you may think of huge bags that are big enough to sustain you for several months in the Arctic.
However, many backpacks can be used for a mixture of travel, school, work, and other purposes without looking completely out of place. While rolling luggage is really only meant for traveling, a backpack can also be used for many different activities.
3. Affordability and comfort
Quality luggage can easily run north of $400 for one piece, but you can find a well-made backpack under $200 without sacrificing luxury. Plus, a backpack can be adjusted until you find the most comfortable fit.
4. Savings on luggage fees
Many backpacks meet the requirements of a carry-on or personal item on airlines. With my backpack, I've been able to save hundreds of dollars in baggage fees since I rarely need to check it. However, size isn't the only thing that matters; also consider how heavy you make the backpack before you get to the airport. While some of the best travel credit cards can help you offset luggage fees, a backpack can reduce your cost to nothing. 
5. Creative and unique
You'll rarely have to worry about someone accidentally picking up your bag at the bag carousel. Since the majority of travelers still use traditional luggage, your bag will have small chance of getting mistakenly picked up by someone else.
And to further lower that chance, backpacks are very easily customizable. My wife and I have been collecting patches from each country we visit and sewing them on our bags. It's both creative and allows our bags to be easily identifiable from other travelers'.
5 travel backpacks to consider
Selecting a backpack can be a difficult decision. There are endless features to choose from at all different price points. Don't simply select a bag because you think it's "cool" — consider what's most necessary for you to travel effectively. You'll thank yourself later.
Here are key points to think about before making a decision:
Design: Is the backpack a "top-loader" or does it open like a traditional suitcase? Does it have a hip belt so you can distribute the weight off your shoulders? Is there an easily accessible laptop sleeve? Does it fit your airplane essentials so they can be found without a hassle? Does it fit your body frame? (You will notice some larger backpacks have male and female sizes.)
Functionality: Consider whether the backpack will fit your travel needs. If you're a weekend traveler, you probably don't need a backpack that holds 65 liters. If long-term travel is your end goal, a larger backpack with lots of storage will better suit your needs.
Price: While it may seem insane to spend up to $250 on a backpack, consider this your luggage now. It's an investment, and these backpacks can withstand more than an average piece of luggage. It should hopefully last you for years to come.
If you're interested in getting rid of your luggage for a backpack, here are a few options to start with:
1. Tortuga Setout Backpack ($179-$199)
The Tortuga Setout Backpack is a great place to start for someone looking for a backpack that mimics a traditional suitcase. This model comes with plenty of segmented storage, a laptop sleeve, lockable zippers, and a waist-belt for easy storage and weight distribution.
You can choose between 35 and 45 liters of storage, and a men's and women's fit.
2. Osprey Farpoint 55 Liter ($180)
Osprey is one of the larger known brands for backpacking, and they don't disappoint. The Farpoint 55 liter model is the same one my wife and I both use in our full-time travels, and it's one of the best investments we've ever made.
This model is essentially two backpacks in one, with the smaller "daypack" attaching to the larger backpack. With a comfortable waist belt, durable fabric, and lots of internal storage, you can't go wrong with this bag for short- and long-term travel.
3. Kelty Redwing 36 Liter ($99.95)
If spending under $100 is more in line with your budget, you still have options. The Kelty Redwing 36 Liter backpack offers plenty of storage for your travel needs.
The backpack does come with ice axe/trekking pole loops if you're interested in getting off the beaten path. And if you're on the search for a multi-purpose backpack, this bag can very easily be used for school or work purposes as well, as it comes with a laptop sleeve.
4. Hynes Eagle 38L Flight Approved Carry on Backpack ($39.99)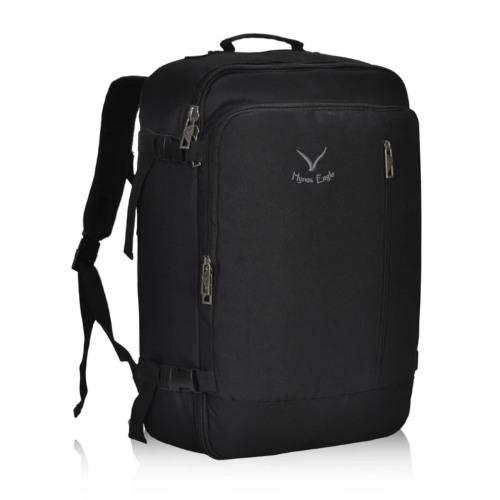 Fashionable, minimalistic, and practical are great ways to describe the Hynes Eagle 38L Flight Approved Carry on Backpack. This backpack could be used for shorter vacations, a trip to the office, or for your next year of school without breaking the bank. And it doesn't lack personality, as you can select from a wide variety of color combinations.
If you plan to fly with this bag, it does fit in the overhead compartment as well as the seat in front of you.
5. Mountainsmith Apex 60 Liter ($199.95)
If traveling for a long period of time (and possibly in colder climates) is in your sights, you may want to consider a large backpack like the Mountainsmith Apex 60 Liter. This backpack will fit any torso size as it has adjustment suspension, so it's a one-size-fits-all.
However, keep in mind that this backpack is a "top loader." This means that if you want something at the bottom of your bag, you'll have to dig through all your belongings to find it. So if you plan on not fully unpacking at your destinations, it could become cumbersome.
Bottom line
The right products can make all the difference in your travels. The stress of poorly constructed luggage can very quickly make a trip go south, and it's good to know that there are other options available. If you're going to spend the money on a quality backpack, consider using one of the top rewards credit cards for your purchase. A backpack can allow you to be a more effective and efficient traveler — will you give one a try?
Easy-to-Earn Unlimited Rewards
Earn 25,000 online bonus points after you make at least $1,000 in purchases in the first 90 days of account opening - that can be a $250 statement credit toward travel purchases
Earn 1.5 points per $1 spent on all purchases
Longer intro APR on qualifying purchases and balance transfers
No foreign transaction fees
Earn unlimited 1.5 points per $1 spent on all purchases, with no annual fee and no foreign transaction fees and your points don't expire.
25,000 online bonus points after you make at least $1,000 in purchases in the first 90 days of account opening - that can be a $250 statement credit toward travel purchases.
Use your card to book your trip how and where you want - you're not limited to specific websites with blackout dates or restrictions.
Redeem points for a statement credit to pay for travel or dining purchases, such as flights, hotel stays, car and vacation rentals, baggage fees, and also at restaurants including takeout.
0% Introductory APR for 15 billing cycles for purchases, and for any balance transfers made in the first 60 days. After the intro APR offer ends, 18.24% - 28.24% Variable APR will apply. A 3% fee applies to all balance transfers.
If you're a Preferred Rewards member, you can earn 25%-75% more points on every purchase. That means instead of earning an unlimited 1.5 points for every $1, you could earn 1.87-2.62 points for every $1 you spend on purchases.
Contactless Cards - The security of a chip card, with the convenience of a tap.
This online only offer may not be available if you leave this page or if you visit a Bank of America financial center. You can take advantage of this offer when you apply now.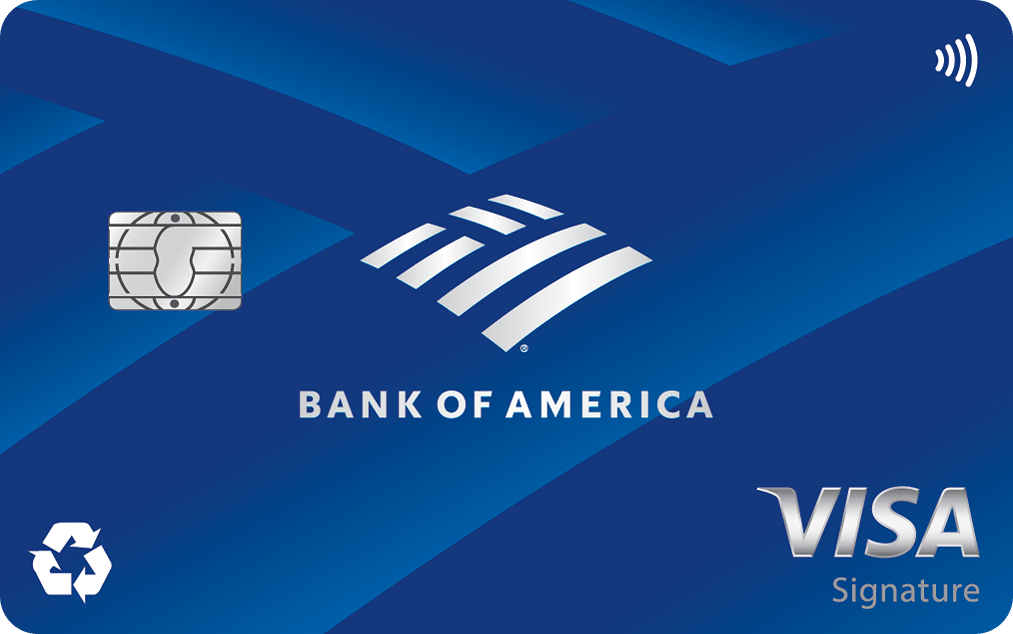 Apply Now
on Bank of America's secure website
Read Card Review
Intro Offer
Earn 25,000 online bonus points after you make at least $1,000 in purchases in the first 90 days of account opening - that can be a $250 statement credit toward travel purchases