Some people spend their entire lives dreaming about — and saving up for — their dream cruise vacation. Others? Not so much. In fact, for some would-be vacationers, a cruise isn't so much the perfect dream as the perfect nightmare.
No one wants to put a charge on their travel credit card or waste their paid time off on a vacation they end up hating, so it pays to figure out if you're the cruising type or not before you book those tickets.
We describe the 10 types of people who should avoid a cruise at all costs. Read on to figure out if you're one of them.
People who worry about getting sick
Embarking on an adventure exposes you not just to new sights, sounds, and experiences but also to fun and exciting new diseases. Cruises in particular have a special reputation for spreading disease — specifically the norovirus, which causes acute gastrointestinal distress, and the flu.
Thanks to a few high-profile norovirus outbreaks, such as a 2019 outbreak on a Royal Caribbean cruise ship, many people now associate cruises with food poisoning. Honestly, though, you're not much more likely to come down with a stomach bug on a cruise ship than anywhere else. According to the CDC, norovirus outbreaks only seem frequent on cruise ships because health departments closely monitor cruise ships.
However, the CDC also warns that diseases might spread faster on cruise ships because of their tight quarters. Flu outbreaks are a problem on cruise ships, which can deter retirees who want to take a cruise in their golden years.
People who want an authentic cultural experience in another country
Even if you cruise around the Caribbean or Mediterranean, you shouldn't count on having an immersive cultural experience in Greece or the Bahamas. Most ships only dock for a few hours before cruising to the next destination, so you won't have time to explore.
Plus, cruise ships are ocean-based resorts, and resorts aren't built with the local population in mind. You're walled off from the local culture and people, sometimes literally: Royal Caribbean, for instance, owns a private beach in Haiti, one of the poorest countries in the world.
People who don't like enclosed spaces
Cruise ships are massive. With dozens of floors and amenities like pools and gyms, they can feel more like floating city blocks (or just plain cities) than what they really are: Enclosed spaces surrounded by nothing but the endless ocean.
Some people feel as free on a vast, entertainment-filled ship as they do on land. But if you tend to avoid small spaces and get panicky if you don't have several obvious escape routes from any given room, avoid cruises too.
People who care more about the destination than the journey
When you're traveling by cruise ship, the journey is the entire point. You might stop at a few locations, but most of your time will be spent on the ship itself. If you're more interested in exploring fascinating new locations than spending time in transit, or if you're longing for a journey with more variation than different ship decks, skip the cruise.
People who are afraid of the ocean
If your fear of the ocean stems from "Jaws" or "The Meg," you could end up enjoying a cruise in spite of its watery locale. But if your ocean fears were inspired more by "Titanic" or "The Poseidon Adventure," steer clear of a cruise.
A rogue wave isn't likely to capsize a cruise ship, and there have only been a handful of cruise-sinking incidents in the last 100 years. But if you aren't reassured by the knowledge that cruise ships can roll 60 degrees to either side before capsizing or that most cruise ships were built to withstand 50-foot waves, we don't blame you — and we don't recommend that you take a cruise anytime soon.
People who tend to get motion sickness
Some passengers don't notice the constant motion of the sea when they're on a cruise ship. The ships themselves are built for maximum balance and stability, so if the seas aren't choppy you shouldn't feel much motion. However, some people are more prone to motion sickness than others. If you usually get queasy on boats or during car rides, you could feel the same way on a cruise.
People who don't drink
Not every cruise has to be a booze cruise, but there's no denying that alcohol is one of the main drivers of the cruise ship industry. A 2016 study found that cruise ship passengers typically had around five drinks a day, and the Carnival cruise line's current alcohol policy lets passengers consume up to 15 drinks a day before cutting them off.
As any non-drinker knows, it's not fun to be the only sober person in the room, much less on a massive cruise ship. Even if you do drink, a cruise ship isn't the best place for it if you're frugal. Most passengers spend around $34 a day on drinks, and that's not accounting for tips or inflation. If you're trying to save money on a cruise, you'll probably need to forego the alcohol — and if that's not your idea of a good time, a vacation with cheaper drinks will suit you better.
People who hate crowds
If alone time is your favorite thing about vacationing, skip the cruise. Depending on the ship, you'll be spending your vacation with 3,000 to 6,000 fellow passengers plus thousands of crew members. You can escape the crowds for a bit by chilling in your cabin, but rooms on cruise ships aren't large. The most wallet-friendly rooms can be as small as 85 to 100 square feet.
You won't find a reprieve from the crowd at mealtime either. On most cruise ships, meals are served buffet-style in massive meal rooms that can accommodate hundreds of people.
People who want to save money
Drinks might be the priciest part of cruise life, but they're definitely not the only expense. Cruise ships usually have their own mall areas with boutiques, gift shops, electronics stores, and (you guessed it) bars. Since you're at sea, there's nowhere to shop except the ship itself, so don't expect any bargain hunting or competitive prices.
People who hate waiting in lines
Not all of your 3,000 fellow passengers will disembark at a dock, but enough of them do that you'll spend ages waiting in line to get off the ship, then ages waiting to get back on the ship.
For some people, waiting in line is a necessary but survivable evil. (Maybe a tolerance for long lines explains why Disney cruises are so popular.) For others, waiting in line is the worst form of torture. If that's you, we can safely say you're going to hate cruises.
Bottom line
Some individuals love cruises so much that they live frugally, save plenty, and supplement their Social Security income so they can spend as much post-retirement time on the sea as possible. But if cruises don't sound like your thing, don't worry — and don't listen to anyone who insists a cruise is crucial to your bucket list. You have infinite options for meaningful vacations, and you deserve to spend your money on a trip you'll absolutely love.
Easy-to-Earn Unlimited Rewards
Earn 25,000 online bonus points after you make at least $1,000 in purchases in the first 90 days of account opening - that can be a $250 statement credit toward travel purchases
Earn 1.5 points per $1 spent on all purchases
Longer intro APR on qualifying purchases and balance transfers
No foreign transaction fees
Earn unlimited 1.5 points per $1 spent on all purchases, with no annual fee and no foreign transaction fees and your points don't expire.
25,000 online bonus points after you make at least $1,000 in purchases in the first 90 days of account opening - that can be a $250 statement credit toward travel purchases.
Use your card to book your trip how and where you want - you're not limited to specific websites with blackout dates or restrictions.
Redeem points for a statement credit to pay for travel or dining purchases, such as flights, hotel stays, car and vacation rentals, baggage fees, and also at restaurants including takeout.
0% Introductory APR for 15 billing cycles for purchases, and for any balance transfers made in the first 60 days. After the intro APR offer ends, 18.24% - 28.24% Variable APR will apply. A 3% fee applies to all balance transfers.
If you're a Preferred Rewards member, you can earn 25%-75% more points on every purchase. That means instead of earning an unlimited 1.5 points for every $1, you could earn 1.87-2.62 points for every $1 you spend on purchases.
Contactless Cards - The security of a chip card, with the convenience of a tap.
This online only offer may not be available if you leave this page or if you visit a Bank of America financial center. You can take advantage of this offer when you apply now.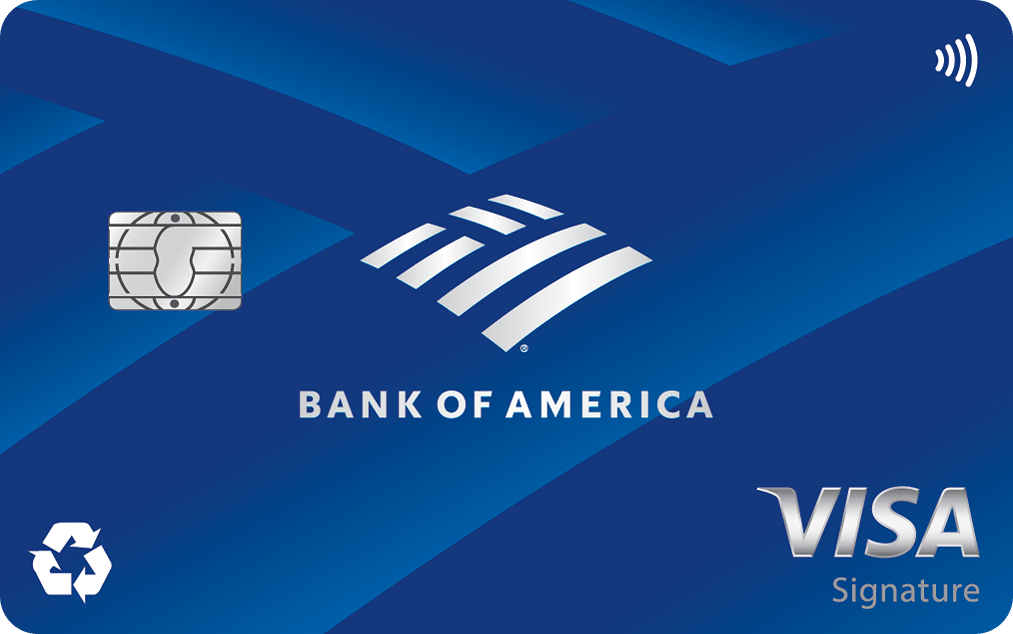 4.1
FinanceBuzz writers and editors score cards based on a number of objective features as well as our expert editorial assessment. Our partners do not influence how we rate products.
Apply Now
on Bank of America's secure website
Read Card Review
Intro Offer
Earn 25,000 online bonus points after you make at least $1,000 in purchases in the first 90 days of account opening - that can be a $250 statement credit toward travel purchases