Update: Some of these offers are no longer available. For the best offers, see our rewards credit cards here.

My wife, Christine, and I just spent four nights, five days in Playa Del Carmen, Mexico and it was totally awesome. Best of all, we saved a nice chunk of change by using credit card points and stayed in the nicest beachfront hotel in town.
This trip was such a great experience that I'm literally writing this while on my JetBlue flight back home because I don't want to forget a single detail. Here's how it all went down.

Flights
I booked our round-trip tickets on JetBlue by transferring 66,200 points from Citi ThankYou Rewards. Citi Prestige is my go-to card for earning Citi rewards.
By using points to book our flights, we saved $752.00!

Our tickets included one checked bag for each of us, but if it didn't, I would have used my Ritz-Carlton Rewards Card to cover the cost of checking one.

Both of us have Global Entry – thanks to a benefit of our Platinum Card from American Express – and got to bypass the long security lines at Fort Lauderdale Airport.
Hotel
We booked an executive suite at the Grand Hyatt Playa Del Carmen Resort and it did not disappoint! We had an ocean view and the hotel itself was one short block off 5th Avenue, which was the main street for shopping and restaurants, so we had easy access to everything.
We went to the Hyatt's New Years Eve Party and it was absolutely amazing. We're talking fireworks, performers, a live band, DJ, and seriously incredible food - probably the best NYE meal we've ever had. We danced the night away until they kicked us out around 3 am.
I would say the party was definitely family friendly and probably 65 percent of the guests were families with kids.
We also got a couples massage at the hotel's Cenote Spa and it was the best one we've had. There were cheaper massages in town and on the beach but this one was amazing. If you go, be sure to give yourself at least 45 minutes before your treatment to use the spa facilities (hot tub, steam room, sauna, cold plunge pool, etc.).
Since it was right around the holidays, the prices were a little higher than usual and basic rooms were $670/night. For the suite we stayed in, I used my Citi Prestige to take advantage of getting the 4th night for free (big fan of this perk) and saved us $1,778.70 just on accommodations alone.

The total for our stay could have been well over $10,000, but by getting the 4th night free, our total was $8,639.80. It was definitely still pricey, but less expensive than it could've been - especially over the holidays.
But if you have Chase Ultimate Rewards...
A few friends who also joined us on the trip booked their rooms using 20,000 Chase Ultimate Rewards points per night, so if you have some Ultimate Rewards points to spend, I highly recommend using them there!
Earning points is relatively simple, especially if you take advantage of sign-up bonuses (see below), and redeeming rewards through the Ultimate Rewards Portal is quick and easy.
Here are a few cards offering excellent sign-up bonuses right now:
Chase Sapphire Reserve 

–

 If you're an avid traveler, this card is a must! Not only does it feature a great sign-up bonus, but you'll also receive a $300 travel credit annually, earn 3x points on all dining and travel expenses, and there are no foreign transaction fees to worry about.
Chase Sapphire Preferred – Another excellent travel rewards card with a great sign-up bonus. You'll earn 2x points on all dining and travel expenses, receive travel and purchase coverage, and again, won't have to worry about foreign transaction fees. 
Hotel Tips
You probably already picked up on this, but we really enjoyed our experience at the Grand Hyatt. If you ever find yourself there, here are a few tips to make the best of it.
For an ocean view, request a room on the 2nd or 3rd floor - the majority of them will have great ocean views.
A "swim-up" room is below the main lobby area and has no view - not terrible, but definitely not what you want if you're expecting an ocean view.
If you're looking for a quiet room, ask for one on the south side - away from the Coralina Day Club - since it can be pretty loud until around 7 pm. The Club itself is right on the beach and I'd definitely recommend if you're looking for a fun, trendy party scene.
If you can, book a Club-Level room - comes with a full breakfast spread and top-shelf cocktails, beer, and wine in the evening. Breakfast seemed to be available until 11:30 am every morning.

Getting Around
Unless you want to explore outside of the main city, you probably won't need a car to get around the area. If you do end up needing one though, rentals are available at the hotel for a day - you can even book your own driver for the day, if you want. To book your own driver, you'll need to book at least one day in advance.
For getting to and from the airport, we booked transportation through the hotel. It was $250 round trip for both of us and the driver was waiting for us when we landed at the airport.
Our friends were really pleased with the seats they booked on the Super Shuttle at the airport and paid $70 one-way and got 50 percent off on the return back to the airport. Other people we met at the hotel also recommended it to other travelers.
Nearby Spots
Mamitas Beach Club is one property over from the Grand Hyatt and usually always has some type of event going on. Our stay overlapped with a DJ Fest and their New Year's Eve Party so it was quite loud in our room until late in the evening. If you're looking for a quiet getaway, it's definitely worth checking out their events page before booking your trip.

We also checked out Mahekal, another beach resort nearby, and they had plenty of bungalows and hammocks. The overall vibe was more peaceful and quiet than some of the other places and it was really nice.
Foodie Tips
You can't go to Mexico without trying the amazing food, and we tried as much as we could. There's a lot going on on 5th Avenue as far as shopping and dining goes, but we found the best local restaurants to be on 10th Avenue. The Grill at the hotel was much better than expected and we really enjoyed it.
We had dinner at La Cueva del Chango and the mole sauce was great. The fish it was served on was a little overcooked though, so you may want to go with the chicken instead. Either way, that mole sauce was gold.
Huge warning if you go there: the hot sauce is really hot. After a few tequilas, I tried a small spoonful and it was not pretty. They had to serve me yogurt to keep me from getting sick...lesson learned!
If you like street food, you'll love Taqueria Arandas. The owner is a really nice guy, their tacos are hands down some of the best I've had, and the cost was super reasonable (about 75 cents per taco). I recommend the Arrachera, Lengua, Cabeza, and Al Pastor.
El Fogon was also recommended to us but they were closed when we tried to go there on New Year's Day. Apparently, their tacos are out of this world.
We tried to get into Chango for breakfast but after learning it was a 45-minute wait, we ended up wandering around and having an awesome breakfast at Pik Nik Playa. I recommend the chilaquiles rojo over the verde. The total, including coffee and juice, was $5 per person.
The La No. 20 at the Thompson Hotel came highly recommended to us, and while we didn't get a chance to eat there, we did stop by to enjoy a cocktail at the bar. A guy came by and took our picture and then later returned to try and sell it to us (seems like he was willing to sell for as little as $150 MXN, which is about $7 USD), but we passed on buying it.
Credit Cards I Use For Traveling
Using points and miles to see the world is such a rewarding experience, and without them, I probably wouldn't get to travel nearly as often. 
We saved over $2,500 on this trip alone by using credit card points! It wasn't an inexpensive trip, but my wife and I prioritize the holidays as one of the few times we can both relax, unwind, and treat ourselves to a great vacation.
Here's a quick list of the best travel credit cards in my wallet:
There's so much to love about this card - the 3x points on dining and travel purchases (the points add up quickly), incredible sign-up bonus, $300 annual travel credit, and more. Even though I have a bunch of other travel rewards cards, I've used this one consistently since it came out last year.
2. Platinum Card from American Express
This premium rewards card is another good all-in-one card. It's great to earn 5x points on flights I book, have access to some premium airport lounges across the world, and get $200 reimbursed in airline fees for things like in-flight refreshments, flight-change fees, baggage fees, etc. It also offers a $100 credit for Global Entry and 40k bonus points when you spend $3,000 within the first 3 months.
3. Citi Prestige
My go-to card for earning Citi Rewards. Between the sign-up bonus (50k points when you spend $5,000 in the first 3 months), the 4th night free at a hotel benefit, and $250 annual travel credit, this card is a traveler's dream.
4. Ritz-Carlton Rewards
Definitely one of my most used credit cards - I like that it offers a $300 annual travel credit, a high 5x point rewards rate for stays at Ritz, Marriott, and partner hotels, and 3 complimentary nights when you spend $5,000 in the first 3 months of opening an account. It also offers a $100 credit for Global Entry and some Visa Infinite perks as well.
Would I Do It Again?
100% - we really loved the area and would welcome another trip there. But first, we're headed to the Maldives in March!
Join us in FBZ Elite - Travel & Points on Facebook to connect with others who are discussing travel rewards and credit cards!
Easy-to-Earn Unlimited Rewards
Earn 25,000 online bonus points after you make at least $1,000 in purchases in the first 90 days of account opening - that can be a $250 statement credit toward travel purchases
Earn 1.5 points per $1 spent on all purchases
Longer intro APR on qualifying purchases and balance transfers
No foreign transaction fees
Earn unlimited 1.5 points per $1 spent on all purchases, with no annual fee and no foreign transaction fees and your points don't expire.
25,000 online bonus points after you make at least $1,000 in purchases in the first 90 days of account opening - that can be a $250 statement credit toward travel purchases.
Use your card to book your trip how and where you want - you're not limited to specific websites with blackout dates or restrictions.
Redeem points for a statement credit to pay for travel or dining purchases, such as flights, hotel stays, car and vacation rentals, baggage fees, and also at restaurants including takeout.
0% Introductory APR for 15 billing cycles for purchases, and for any balance transfers made in the first 60 days. After the intro APR offer ends, 18.24% - 28.24% Variable APR will apply. A 3% fee applies to all balance transfers.
If you're a Preferred Rewards member, you can earn 25%-75% more points on every purchase. That means instead of earning an unlimited 1.5 points for every $1, you could earn 1.87-2.62 points for every $1 you spend on purchases.
Contactless Cards - The security of a chip card, with the convenience of a tap.
This online only offer may not be available if you leave this page or if you visit a Bank of America financial center. You can take advantage of this offer when you apply now.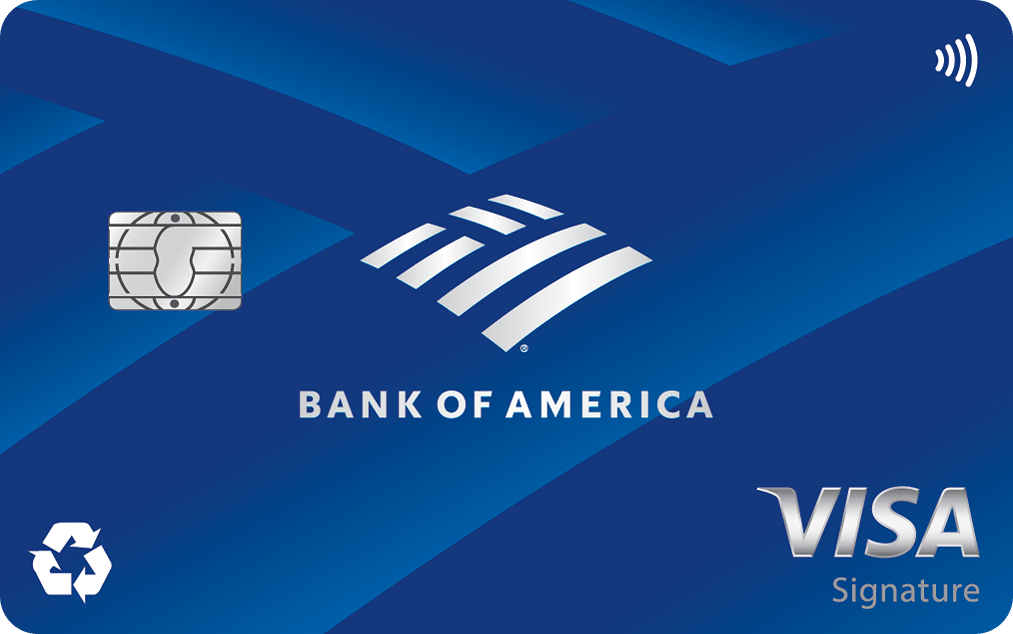 4.1
FinanceBuzz writers and editors score cards based on a number of objective features as well as our expert editorial assessment. Our partners do not influence how we rate products.
Apply Now
on Bank of America's secure website
Read Card Review
Intro Offer
Earn 25,000 online bonus points after you make at least $1,000 in purchases in the first 90 days of account opening - that can be a $250 statement credit toward travel purchases