Cybersecurity concerns seem like they're at an all-time high. Many consumers are proactive about protecting their information, but unfortunately, major data breaches still happen, and your sensitive information can be stolen.
I recently experienced credit card theft myself, and I believe it could have happened while I was at a Starbucks in Malaysia. I made a purchase online without using a VPN, and a few weeks later noticed purchases I didn't authorize.
To avoid this exact situation, here's how using a VPN can protect you from credit card fraud and identity theft.
What is a VPN?
A VPN, or virtual private network, is an internet connection that is used to add security and privacy. When you access the internet through a traditional method, your activity and location can be tracked via your device's IP address. When you use a VPN, however, it hides your computer's IP address and disguises it as the IP address of the VPN server you select.
Although this sounds very high-tech, using a VPN is actually quite simple. You can simply purchase and install a VPN on your computer, select what server you would like to use, based on location, and you're ready to go.
For the best performance, you likely want to select the server that is physically closest to you. But depending on where you are, you may not see the same content. For example, if you access the American Express website from the U.S. or Australia, you will likely see different content. So unless my speed is largely compromised, I typically keep my VPN selected for the U.S.
Why use a VPN?
VPNs are becoming more popular for the average internet user to ensure their data and privacy is protected. Those who frequently use public Wi-Fi, want online anonymity, or prefer added encryption when they access the internet can all benefit from a VPN.
But, what exactly can I do with a VPN that I can't do without one? Here are a few things a VPN allows you to do.
Safely browse in public places: Whether you're at an airport, hotel, or neighborhood cafe, using public Wi-Fi means you have no idea who else is able to access the network. And if you need to check your bank account or enter your credit card for a purchase, a hacker could potentially view your sensitive data. But, because a VPN encrypts your activity, it adds an extra layer of protection for your information.
Avoid location-based restrictions: Some websites may load different content or not work at all depending on the country you're in. This is because your IP address registers as outside the U.S. With a VPN, you can still maintain an IP address within the U.S.
For example, Netflix can be streamed in most countries, but offers different movies and shows depending on your region. If you want to access your favorite U.S. show and it's not available in your area, a VPN can help.
Get around local censorship: Some countries have strict censorship laws and may block certain sites. China, for example, has famously blocked major sites such as Google and Facebook. However, a VPN can allow you to access restricted sites — but be sure to research local laws before using one.
Book cheaper flights: It's commonly known that a flight's price can be directly impacted by what day you fly on. But did you know where you are when you book can also cause a difference in price? One small hack to getting cheaper flights is to look them up with different IP addresses. You may have a good chance of scoring a flight at a much cheaper rate if your IP address is in another country than the U.S.
What to look for in a VPN
Although it may be tempting to select the first VPN service you see, it will serve you well to take your time and pick the service that works best for you.
As with any other purchase, it is important to consider what matters most to you. The factors to consider when selecting a VPN include:
Speed – Are you looking to have the fastest VPN possible? If you plan to stream a lot of content or do other high-data activities, consider the available speed.
Encryption – Review the VPN's encryption standards to make sure it can meet your needs.
Compatibility – Is the VPN compatible with your specific device? Are you able to use it on multiple devices?
A user-friendly interface – Some VPNs can be very technical, so if ease-of-use is important to you, make sure it's clear how to use it.
Number of possible servers – From time to time, servers are down or unavailable. Consider a VPN that has several servers to choose from.
Payment plans – Are you on a budget and prefer to be charged monthly? Or does purchasing a service for multiple years at a time suit you better?
Reliable customer service – If you are having technical issues, can you easily contact a customer service representative to answer your questions?
Money-back guarantee – We've all purchased something that we weren't 100% satisfied with. If you want to experiment with different VPN services, be sure to check whether they have a money-back guarantee.
FAQs
Is a VPN legal?
Using a VPN is perfectly legal in many countries including the U.S. However, criminal acts such as downloading music or movies illegally are still not allowed, even if you use a VPN.
Some countries do restrict VPN use, so if you're traveling to a new country, research local laws to make sure you abide by the rules.
Do I need a VPN at home?
As long as your Wi-Fi is secured with a password, using a VPN at home likely isn't necessary to protect you from hackers. However, if you're wary of your internet service provider or other third parties collecting your data, a VPN can help you skirt that.
What are the disadvantages of a VPN?
VPNs can provide you security and freedom to roam the internet regardless of your physical location. However, there are some downsides to be aware of. Here are just a few of them:
Potentially slower internet connection
VPNs may not allow you to access every single site
In some countries, VPNs are illegal
Lax encryption from a subpar VPN provider
Is there a free VPN?
There are free VPNs online to choose from. However, keep in mind that many of these free versions typically limit your data or the number of devices you can use. To have all of your web browsing protected, purchasing a VPN service may be necessary. However, here are a few popular VPN services that are free:
Bottom line
My wife and I have found our VPN to be useful and simple to use. We aren't the most tech-savvy people, and it has allowed us to use the internet safely and without any issue. Theft through credit cards is a recurring problem for those who use the internet for purchases, and they will be for the foreseeable future. To protect yourself from becoming a victim of credit card theft, consider using a VPN.
Easy-to-Earn Unlimited Rewards
Earn 25,000 online bonus points after you make at least $1,000 in purchases in the first 90 days of account opening - that can be a $250 statement credit toward travel purchases
Earn 1.5 points per $1 spent on all purchases
Longer intro APR on qualifying purchases and balance transfers
No foreign transaction fees
Earn unlimited 1.5 points per $1 spent on all purchases, with no annual fee and no foreign transaction fees and your points don't expire.
25,000 online bonus points after you make at least $1,000 in purchases in the first 90 days of account opening - that can be a $250 statement credit toward travel purchases.
Use your card to book your trip how and where you want - you're not limited to specific websites with blackout dates or restrictions.
Redeem points for a statement credit to pay for travel or dining purchases, such as flights, hotel stays, car and vacation rentals, baggage fees, and also at restaurants including takeout.
0% Introductory APR for 15 billing cycles for purchases, and for any balance transfers made in the first 60 days. After the intro APR offer ends, 18.24% - 28.24% Variable APR will apply. A 3% fee applies to all balance transfers.
If you're a Preferred Rewards member, you can earn 25%-75% more points on every purchase. That means instead of earning an unlimited 1.5 points for every $1, you could earn 1.87-2.62 points for every $1 you spend on purchases.
Contactless Cards - The security of a chip card, with the convenience of a tap.
This online only offer may not be available if you leave this page or if you visit a Bank of America financial center. You can take advantage of this offer when you apply now.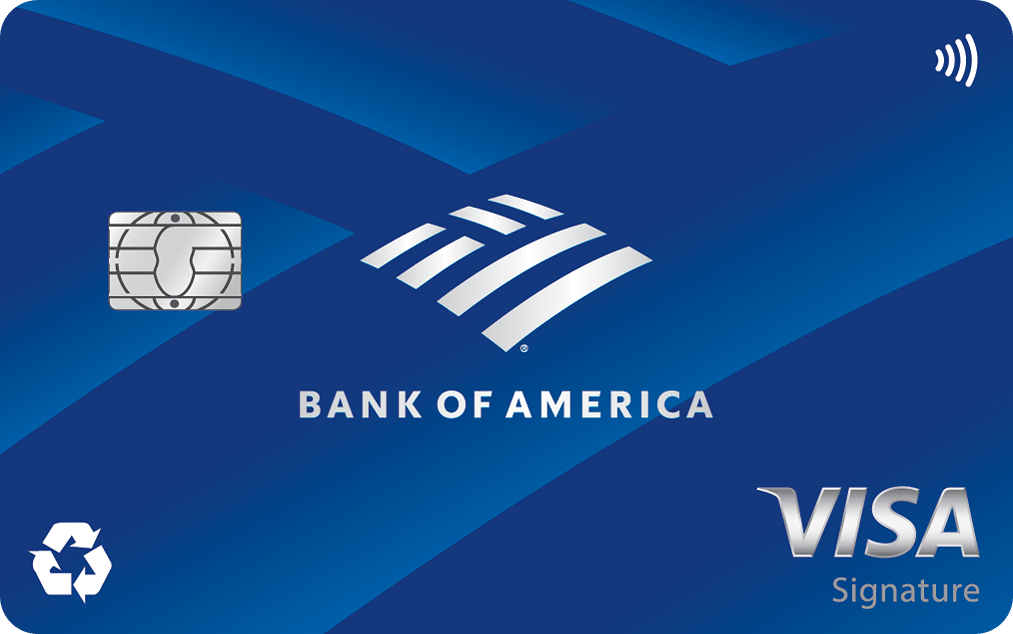 4.1
FinanceBuzz writers and editors score cards based on a number of objective features as well as our expert editorial assessment. Our partners do not influence how we rate products.
Apply Now
on Bank of America's secure website
Read Card Review
Intro Offer
Earn 25,000 online bonus points after you make at least $1,000 in purchases in the first 90 days of account opening - that can be a $250 statement credit toward travel purchases