Shopping as a pet owner can be a bit of an annoying task. After your regular grocery run, you have to stop at a specialty pet store for your furry friend's food, toys, and other needs.
Costco is a great one-stop shop if you're a pet parent wanting to save money on groceries and get everything done in one fell swoop.
You can even skip out on visits to the vet to pick up prescription medications and over-the-counter treatments with your Costco membership.
Get a protection plan on all your appliances
Did you know if your air conditioner stops working, your homeowner's insurance won't cover it? Same with plumbing, electrical issues, appliances, and more. Not being able to make repairs could leave you in a bad situation — but a home warranty could protect you against surprise expenses.
Whether you're a brand-new homeowner or you've owned your home for years, a plan from Choice Home Warranty could pick up the slack where homeowner's insurance falls short.
If a covered system in your home breaks down, you can call their hotline 24/7 for assistance to get it repaired. They have a network of over 15,000 technicians that can assist you, making sure any issue can be taken care of swiftly — without breaking the bank.
Not sure if it's for you? Rest easy: they were named one of the "Best Home Warranty Companies" by US News 360 Reviews and were awarded Best Company's 2020 Consumer's Choice Award. For a limited time, you can get your first month free when you sign up for a Single Payment home warranty plan.
Cozy pet beds
While your couch or bed is a perfectly suitable lounging area, providing your furry friends with a plush bed is a great way to pamper them, and you can do it while keeping more money in your wallet. 
Costco sells a variety of pet beds for varying-sized animals, like this stylish cuddler small breed dog bed for $39.99, with memory foam padding and a machine washable cover.
Travel pet throw
Few things make your furry friend happier than a trip to the dog park. However, the grass, dirt, and mud sticking to their undercarriage make the trip home a handful.
Nip this problem in the bud ahead of time with Costco's travel pet throw for $16.97. The large blanket comes in blue or green and includes a collapsible pet bowl for food and water on the go.
Pet-proof throws
Nothing beats cuddling up with your four-legged friend for a nap in bed or on your couch, but few things are as annoying as cleaning up all the fur they leave behind.
Costco has solved this problem with a furniture cover and protector for $34.99 that doubles as a throw blanket, seamlessly blending style and function.
Stop overpaying when you shop online
Shopping online has its perks. It's super convenient, but it can be time consuming to find the best deals. Instead of hunting for coupon codes (that don't always work!) and opening tons of browser tabs comparing prices, you can try Capital One Shopping.
Capital One Shopping makes saving money effortless. Just add the browser extension and when you check out, it'll scour the internet for coupon codes to help you save cash. And before you check out at 25+ major retailers, Capital One Shopping will notify you with a friendly pop-up if the item you're buying is available cheaper somewhere else.
Capital One Shopping is free to use and won't show you ads. Add it today and stop overpaying!1
Stylish raincoats
Consider getting a raincoat if you want to pamper your dog in style.
Not only will this help protect them from the elements — especially valuable for breeds with high-maintenance grooming — but it's also an adorable accessory.
Costco sells a few different options for puppy outerwear, like this waterproof Eddie Bauer pet coat that ranges in size from small to extra large, starting at $9.97.
Stylish and savvy crates
Crates are important for many dog owners, but they're expensive, bulky, and awkward looking most of the time — especially for bigger breeds.
Costco sells a stylish credenza with a built-in crate for $499.99, which is both sturdy and practical, and a smart way to incorporate what is often an eyesore with your everyday furniture.
It even comes with a shelf on the side for regular decor or pet toy storage.
Swanky cat condos
Cats also need someplace to lounge in your home, and a cat tree or cat condo gives them a place to sleep and relax, a spot to play, something to scratch, and climbing opportunities.
Costco sells a seven-tier cat tree for only $99.99, enough to host multiple kittens at once for a relatively nominal fee.
Giant treat boxes
Whether your pet has a voracious appetite or you just want to save some time and money, head to Costco next time you want to stock up on treats for your dog or cat.
As with all things at the giant store, they also sell treats in bulk. There are plenty of options and flavors, like this 15-pound box of chicken and rice biscuits for only $18.99.
Windsor pet sofa
Why settle for a pet bed when you can upgrade to a pet sofa? Costco sells a La-Z-Boy brand Windsor-style dog sofa in blue or pink for $189.97.
Not only is this an adorable addition to your pet's furniture collection, but it's also practical. The cushions are removable and washable, and it comes with an accent throw blanket.
Bulk food storage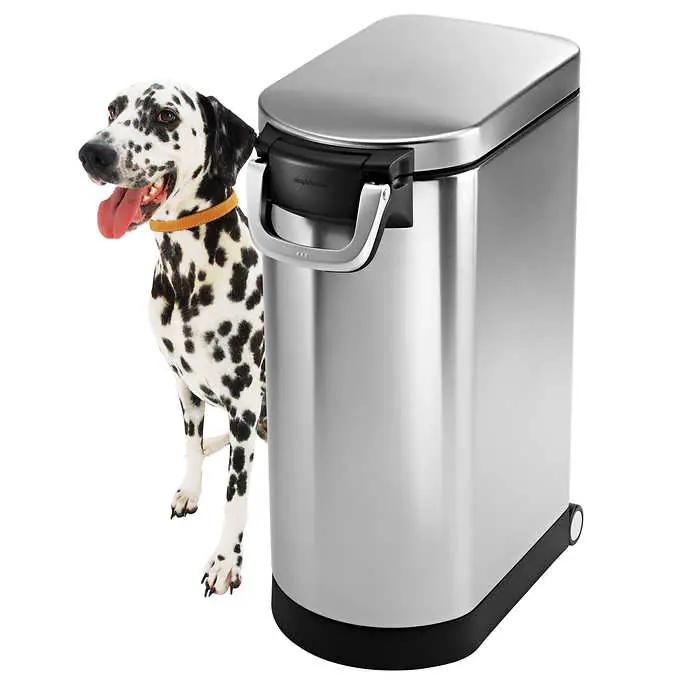 With a big bag of dog food comes the problem of where to put it. Unless you have a couple of giant dogs that tear through it quicker than you can store it, it'll go stale in the open bag.
This simplehuman pet food can holds up to 40 pounds of food, has an airtight lock to prevent food from going stale, and retails for around $150.
Earn 2% cash rewards at grocery stores and Costco
The Wells Fargo Active Cash® Card(Rates and fees) is a powerful rewards card that allows you to earn unlimited 2% cash rewards on purchases — including on groceries, even at warehouse stores like Costco.

New cardholders can also earn a one-time cash rewards bonus — $200 cash rewards bonus after spending $500 in purchases in the first 3 months!
If you're looking for a powerful rewards card that offers an extended intro APR period, look no further, the Wells Fargo Active Cash® Card checks that box too!
This card also offers an intro APR of 0% for 15 months from account opening on purchases and qualifying balance transfers (then 20.24%, 25.24%, or 29.99% variable). Which is great for someone who wants a break from high interest rates, while still earning rewards.
The best part? There's no annual fee.
Click here to apply for the Wells Fargo Active Cash® Card now.
Discounted pet insurance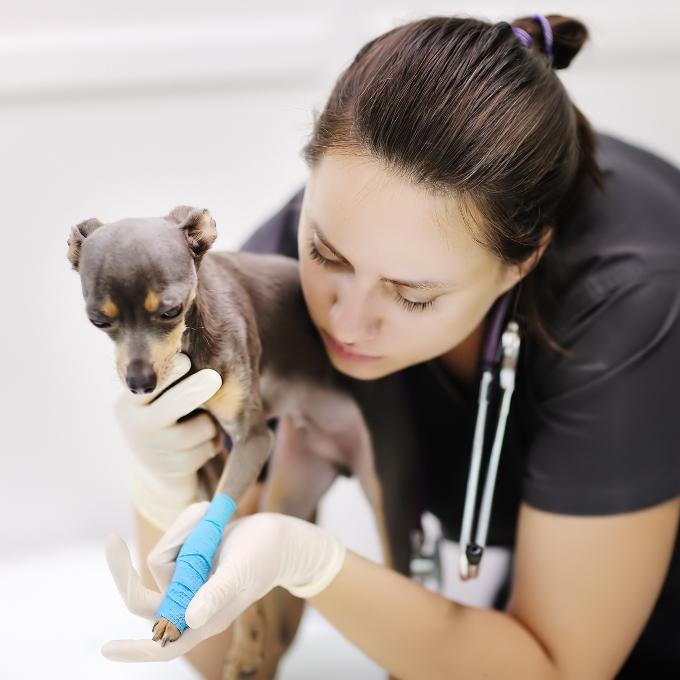 While not often prioritized, pet insurance is essential to avoid a pet-related financial disaster. Luckily, you get discounted animal insurance with your Costco membership.
Gold Star and Business Costco members receive 15% off Figo pet insurance, and Executive and Business Executive members don't have to pay the $15 enrollment fee.
Depending on your plan, this covers emergencies, surgeries, imaging, prescriptions, vet exam fees, and more.
Save on prescriptions
Costco members can also save money on their pet's prescription medications. Have your vet directly send prescriptions to your nearest Costco, or ask a Costco pharmacist to transfer the medication.
The amount of savings will vary medication by medication, and if you don't see your pet's RX in the listed prescriptions, you can speak with your local Costco to resolve the issue.
Bulk food
Costco is most famous for its bulk food options for humans, but this also extends to cats and dogs.
Kibble and canned food are available in bulk quantities from Kirkland Signature, and a wide variety of dietary needs are covered.
A 40-pound bag of high-quality kibble costs as little as $49.99, an economical option for large dog owners with demanding appetites or those just wanting to stock up on pet food all at once.
Save on bulk litter
One of the costlier elements of cat ownership is buying litter. While cats are perhaps easier to deal with than dogs in that regard, they're pricier since you constantly need fresh litter.
Luckily, Costco sells 42 pounds of scented cat litter for just $27.99. It's also a dust-free formula made of plant extracts, so it's safe for sensitive kittens.
Flea and tick treatments
Along with discounts on your pet's official prescriptions at Costco, you can also find deals on flea and tick treatments or dewormers.
There are plenty of options for varying durations, styles of treatments, breeds, sizes, and so on.
For example, the store sells a six-month supply of topical flea and tick ointment for cats for only $47.99, which is as convenient as it is savvy.
Pet supplements
Your vet may recommend non-prescription remedies for common issues like joint pain or anxiety. These are best treated through supplements but can be costly and hard to track down.
Costco sells a wide variety of these, though, of course, in bulk quantities. For anxious or restless puppies, for example, you can get four bags of calming chews for just $29.99.
Pro tip: When going to the warehouse giant, consider taking a Costco-approved credit card with you that helps you earn rewards like cash back. This can stretch your money even more and increase your savings. 
Bottom line
Whether you want to stock up on your pet's basic needs or spoil them with treats and other goodies, don't complicate your life by running to multiple specialty pet shops.
You can make the most of your Costco membership by getting your pet supplies, including medications, insurance, and anything else you could think of.
Lucrative, Flat-Rate Cash Rewards
Current Offer
$200 cash rewards bonus after spending $500 in purchases in the first 3 months
Rewards Rate
Earn 2% cash rewards on purchases