After decades of working through the winter and wishing you were somewhere warm and sunny instead of stuck in the snow, you've hit retirement. Finally, you can make your dreams of living somewhere warmer a reality. But are you sure spending the winter in a warmer place is the right move for you?
To avoid wasting money on a major life change you might regret, take these 10 crucial steps to make sure you love the real-world warmer winter even more than the idealized version you've been imagining.
With some upfront research and measured spending, you'll have an easier time deciding if Arizona's desert or Florida's gleaming coasts really is the right setting for your golden years.
Rent for a month or two before committing to a full season
Have you ever experienced a warm-weather winter, or is your opinion of it based on secondhand knowledge from movies and friends? If the latter, consider traveling to your dream destination for a month or two instead of buying a house immediately.
After all, there's no real rush, and you'll feel much more confident in your upcoming real estate investment if you know that you'll love where you live.
Find a sunny spot that suits your lifestyle
Florida's coastline is dotted with easygoing retirement communities replete with Disney fans, beach lovers, and golfers. Santa Fe has a thriving indie arts scene while Phoenix's big-city bustle keeps life moving at a relatively fast pace, even for retirees.
Since each sunny state has its own unique personality, take time to research activities, communities, and weather patterns in the sunny spots you're interested in. You'll find wide variations in all three categories.
Keep your home safe while you're away
Are you planning to spend a few months of the year in a warmer spot rather than selling your home and settling year-round? Make sure you know how to keep your home safe and secure while you're away.
Turn the heat down but not off and take other proactive measures to keep the pipes from freezing. (No one wants to return from a sunny vacation to find a flooded basement.)
You might also consider hiring a house sitter or asking a friend, neighbor, or family member to swing by the house a few times a week to keep the house in order while you're away.
Pay attention to cost of living
Some of the sunniest spots in the country have notoriously high costs of living. If you've spent most of your working life in the Midwest, for instance, your retirement budget might be in for a nasty shock if you suddenly move south to California.
You'll also want to consider costs you don't typically pay for in your current home state. You might be surprised at just how high your winter air conditioning and energy bill could be.
Don't forget about your social environment
As anyone with seasonal affective disorder could tell you, weather and climate can have a huge impact on both your mood and quality of life. But having a supportive social network with built-in opportunities to connect with others is essential to staying happy and healthy as you age.
Before pulling up stakes and leaving, research social groups and community events in the sunny state you hope to move to. You might even consider reaching out to groups you think you'll have a connection with ahead of your trip so you can test the social waters firsthand.
Think about the great outdoors
Many people plan to abandon the snow for the sun because they want to spend more time outside during the winter, but not all sunny places are ideal outdoor environments.
For instance, some towns might not have walkable neighborhoods that get you outside and interacting with your neighbors. Others might have pleasant temperatures but poor air quality that keeps you indoors even on nice, sunny days.
In other words, don't assume that because a place is sunnier and warmer it's automatically friendlier for outdoor enthusiasts. Do your research and make sure the spot you're considering really does have the outdoor activities you've planned on.
Consider the weather year-round
A warmer winter can mean an unbearably hot summer, especially if you end up in a desert southwestern state rather than a city on the coast.
If you snowbird for a few years and then decide to move to your new state full-time, make sure you're OK with the weather year-round. You might find you prefer your current area's tolerable summers to a place where summer temperatures make it too hot to go outside.
If you don't want to put down roots, you don't have to
Having a hard time deciding whether you want to stay put or fly south for the winter? Having one permanent house or two part-time residences isn't your only option. Plenty of older adults sell or rent their homes, purchase an RV, and spend years on the road.
The nomadic lifestyle isn't the right choice for everyone, and it might necessitate making room in your budget for more travel expenses than you intended when you retired.
But if choosing one home over another makes you feel trapped, a life in motion might be the solution you've been searching for.
Make sure the grass really is greener on the other side
The novelty of a new location can put a rose-tinted sheen on your retirement plans. But don't forget that novelty wears off eventually, and even life in your dream location will have its ups and downs.
Before you decide to relocate for the winter, make sure you're excited about the specifics of the new area itself — not just infatuated with the idea of an exciting change.
Plan on upfront spending
Now that you're living on a fixed income, spending money to research a place you're pretty sure you'll love might seem like a waste. However, the financial consequences of moving too hastily and without doing your due diligence can follow you throughout the rest of your retirement.
You might have to look into stop-gap measures like travel-friendly credit cards or gig work to stay financially afloat without dipping too far into your savings. But if you establish a clear budget and create a solid plan for researching potential new homes, your initial investment of time and research should pay off with a satisfying retirement.
Bottom line
With some planning, forethought, and intentional spending, you can find out if migrating to warmer weather is something you really want to do — or if it's an idealistic dream you need to let go of as you're planning your retirement.
Whether you migrate to a warmer spot permanently, spend a month out of every year in the desert, or decide a sunny winter actually isn't the right choice for you, you'll be better prepared for a comfortable retirement in a place you love.
Easy-to-Earn Unlimited Rewards
Earn 25,000 online bonus points after you make at least $1,000 in purchases in the first 90 days of account opening - that can be a $250 statement credit toward travel purchases
Earn 1.5 points per $1 spent on all purchases
Longer intro APR on qualifying purchases and balance transfers
No foreign transaction fees
Earn unlimited 1.5 points per $1 spent on all purchases, with no annual fee and no foreign transaction fees and your points don't expire.
25,000 online bonus points after you make at least $1,000 in purchases in the first 90 days of account opening - that can be a $250 statement credit toward travel purchases.
Use your card to book your trip how and where you want - you're not limited to specific websites with blackout dates or restrictions.
Redeem points for a statement credit to pay for travel or dining purchases, such as flights, hotel stays, car and vacation rentals, baggage fees, and also at restaurants including takeout.
0% Introductory APR for 15 billing cycles for purchases, and for any balance transfers made in the first 60 days. After the intro APR offer ends, 18.24% - 28.24% Variable APR will apply. A 3% fee applies to all balance transfers.
If you're a Preferred Rewards member, you can earn 25%-75% more points on every purchase. That means instead of earning an unlimited 1.5 points for every $1, you could earn 1.87-2.62 points for every $1 you spend on purchases.
Contactless Cards - The security of a chip card, with the convenience of a tap.
This online only offer may not be available if you leave this page or if you visit a Bank of America financial center. You can take advantage of this offer when you apply now.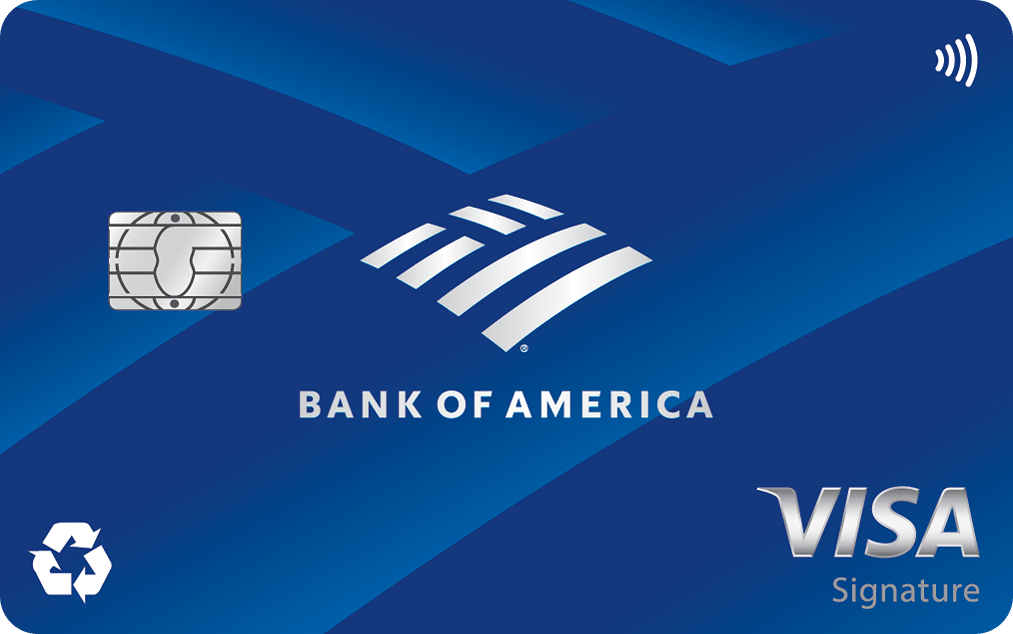 Apply Now
on Bank of America's secure website
Read Card Review
Intro Offer
Earn 25,000 online bonus points after you make at least $1,000 in purchases in the first 90 days of account opening - that can be a $250 statement credit toward travel purchases