Solitaire Clash is an online Solitaire game you can play for free on your iPhone, iPad, or Android device. The app lets you compete against other players in free games where you can win in-game currency or join cash tournaments where you can win real money.
But cash games in Solitaire Clash aren't available everywhere, and you typically have to deposit some of your own money if you want to participate in a cash tournament. Explore the game's features in this Solitaire Clash review to decide if this game app is worth playing in your free time.
Solitaire Clash Benefits
Play solitaire and earn real cash
Get up to $115 per win in minutes
#3 card game on App Store with an average 4.9/5 stars
Deposit $5 and get $5; deposit $20 and get $10; deposit $30 and get $30
Solitaire Clash: Is it worth it?


Pros
Cons

You can win actual cash
Very highly rated app
Skill-based game (not gambling)

You may need to deposit money to compete in cash games
Cash games are not available in 10 states

Verdict: Solitaire Clash is a fun game based on the familiar Solitaire game. It's easy to pick up and play if you have a few minutes to spare. You don't have to deposit money to compete in free games, but cash tournaments aren't available everywhere, and it might be tough to earn decent money against skilled competitors.
What is Solitaire Clash?
Solitaire Clash is a legit game app available for iOS devices on the Apple App Store. Solitaire Clash is also available for Android devices on the Samsung Galaxy Store or through the download link on the Solitaire Clash website. The mobile app isn't currently available on the Google Play Store.
Solitaire Clash was created by AviaGames Inc., a mobile gaming company founded by Ping Wang and Vickie Chen in 2017. AviaGames is based out of Mountain View, California, and has created other popular games such as Bingo Clash, Fruit Frenzy, and Bubble Shot.
The App Store version of Solitaire Clash has a score of 4.9 out of 5, with over 57,000 ratings and reviews.
Year created
2021
Available on

iOS (App Store)
Android (Galaxy Store or download link)

Minimum withdrawal
$2
Withdrawal methods
Review rating
4.9 out of 5 (App Store)
Availability

Free games: All states
Cash games: All states except Arizona, Arkansas, Connecticut, Delaware, Louisiana, Montana, South Carolina, South Dakota, Tennessee, and Vermont

Download Solitaire Clash
Alternatives to Solitaire Clash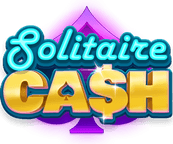 Earn Up to $200 Every Time You Win This Viral iPhone Game
Learn More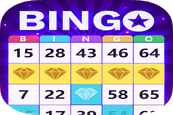 Earn Extra Pocket Money from Your Phone with This Game
Learn More
How does Solitaire Clash work?
If you played the classic Solitaire card game, you'd already be familiar with Solitaire Clash gameplay. This game takes the elements of Klondike Solitaire and puts them into a fun online app.
Solitaire Clash gameplay
The primary goal for players is to score points by stacking cards on their foundation slots. You can start a foundation pile or stack by placing one of the four aces.
You then build up foundation stacks by placing ascending cards of the same suit from ace to king.
You can also score points by moving cards onto tableau stacks. You can only start a tableau stack on an empty slot by moving a king there.
Your tableau stacks are areas where you can move and adjust cards, including from your waste pile. You can move cards between tableau stacks and from the top card of your waste pile onto a tableau or foundation stack.
Note
Tableau stacks can only be in alternating colors in descending order from king to ace.
The game ends when the timer runs out (typically in five minutes), you clear the board, or you choose to end the game early.
Strategies for earning more points with Solitaire Clash
These strategies may help you get higher scores with Solitaire Clash:
Find all your aces: Aces are the only way to start a foundation stack, so the quicker you find them, the better. One way to find your aces is by moving cards between tableau stacks and your waste pile.
Build from left to right: The game starts with several uncovered cards on the right side of your tableau area, so it makes sense to build large stacks on the left side of the tableau. This way, you can focus on discovering new cards.
Watch your shuffles: Every complete shuffle of your stockpile or deck (which feeds your waste pile) will cost you 20 points. This may not seem like a lot, but it can add up if you keep shuffling your deck.
Tap your cards: Tapping a card in your tableau area or waste pile makes it automatically move. If there's no available move, the card will shake, and nothing else will happen. This strategy may not be immediately obvious, but it's an easy way to make moves you may not notice.
End the game early: Ending the game when you're stuck can be a good move. You get bonus points for the remaining time, which can sometimes be better than remaining stuck.
Who can play Solitaire Clash?
Solitaire Clash is a good fit for people who enjoy playing online Solitaire, especially Klondike Solitaire. You don't have to deposit any money to play free games, so you can play for free and compete against other players without spending a dime. These free games are available in every state.
Keep in mind
You will not win any real money by playing free games. The free games provide opportunities to win gems, the in-game currency. You can use gems to play more free games.
Solitaire Clash is also a good option for people who want to compete for real cash prizes while playing in multiplayer tournaments. However, cash games aren't allowed in the following U.S. states:
Arizona
Arkansas
Connecticut
Delaware
Louisiana

Montana
South Carolina
South Dakota
Tennessee
Vermont
Keep in mind
You have to be at least 18 to compete in cash tournaments in Solitaire Clash.
Learn More
How much can you earn with Solitaire Clash?
You can earn actual cash rewards with Solitaire Clash, but it's unlikely to be a main income source.  Competing for cash on Solitaire Clash is a fun activity to do in your spare time rather than a full-time commitment.
This is because there's no guarantee that you'll win any money. Solitaire Clash is a skill-based game rather than a gambling game. The game matches you against players of a similar skill level. This means that if you're really good at the game, you compete against other players that are also really good. Only the best players get the biggest payouts. Your earning potential may be limited while you learn the game. 
That's why Solitaire Clash may not be worth the effort as a full-time side hustle unless you're very skilled at Solitaire. That said, it's worth it if you like to play games and potentially win a bit of extra cash in your spare time.
For other ways to make money, check out our list of the best side hustles.
Playing for cash on Solitaire Clash
Cash prizes are only available in games that have cash entry fees, which are called cash games or paid tournaments. Each game mode is slightly different, but you typically compete against multiple other players for a piece of a prize pool, which will pay real money.
To pay the entry fee, you need to deposit money using one of these methods:
PayPal account
Apple Pay digital wallet
Visa credit card
Venmo account
The entry fee is higher for bigger prize pools. For example, you may pay an entry fee ranging between $3 and $9 to join cash games with prize pools between $12 and $55.
The top three players in a match usually come out with some money. Clicking into the game with the $55 prize pool, you can see how the pool is split. First place gets $27, second place gets $16, and third place gets $12. The other six players in this nine-player mode get no money.
Withdrawing money
You can select the withdrawal option in the in-game menu to cash out any winnings.
This will bring you to the withdrawal screen, where you can choose how much money you want to withdraw.
Keep in mind that any bonus cash earned through referrals or other means in your account is forfeited if you withdraw money. You can choose PayPal or a mailed check as a withdrawal method.
Note
The minimum withdrawal amount is $2, and withdrawals under $10 have a $1 processing fee.
What real players have to say
Reviews for Solitaire Clash are overwhelmingly positive. For example, user Will posted in the Galaxy Store that, "This game is really addictive! You can win money without depositing any money (but it's pretty hard). I've been playing and playing so that I can see the money in my account start to go up and up. Love it."
Another user, Belv, wrote, "I've played this game for a while now and I REALLY like it. I almost never spend money on other games but I've made a few deposits on this one. It's worked out for me because I enjoy the game a lot and also have been able to win my money back."
On the negative side, user Angc said, "Love this game. The videos have no countdowm to tell you how much longer though. Too many videos that are too long."
A user from the Apple App Store said, "I love this game but … I wish it was easier to win."
How to get started with Solitaire Clash
Follow these steps to begin playing Solitaire Clash:
1. Download Solitaire Clash for iOS, sometimes labeled as Solitaire Clash: Win Real Cash, from the App Store. You can also download the Solitaire Clash app for Android from the Galaxy Store or by using the download link on the AviaGames website.
Note
Many games from AviaGames are also available through the Pocket7Games app. This makes it easy to access multiple games, such as
Bingo Clash
,
Fruit Frenzy
, and
Bubble Shot
, without having to switch apps.
2. Launch the app and select a username and avatar.
3. Play through the tutorial to learn the game's basics.
4. Play a real match by following the in-game prompts.
5. When you're able to, select "Save Account" from the in-game menu.
6. Verify your email address to register an account and save your progress.
7. To play cash games, join one of the cash games available and complete the age verification process.
8. Start playing by choosing a game mode from the Home tab.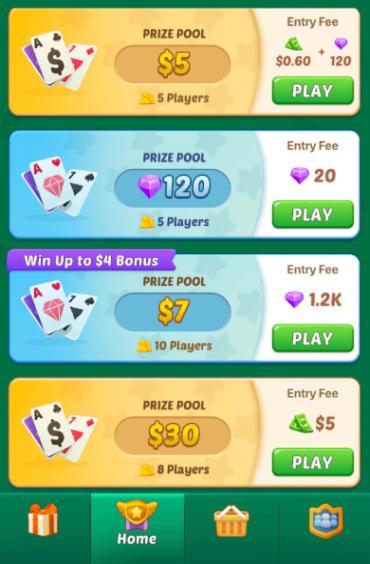 Solitaire Clash FAQs
Is Solitaire Clash legit?
Yes, Solitaire Clash is a legit game that allows you to win money if you live in a state where you can play cash games. It's published by AviaGames Inc., a mobile gaming company founded in 2017. 
Can you actually make money on Solitaire Clash?
Yes, you can make money on Solitaire Clash by playing and winning cash games. You must pay an entry fee and be 18 or older to participate in cash tournaments. Cash games aren't available in Arizona, Arkansas, Connecticut, Delaware, Louisiana, Montana, South Carolina, South Dakota, Tennessee, and Vermont.
Are games that pay money real?
Yes, there are plenty of real mobile games that aren't a scam and do pay money. Here are some games that offer opportunities to win actual cash:
How can I get more points on Solitaire Clash?
Here are a few strategies to get more points on Solitaire Clash:
Don't shuffle as much: Each new flip into the waste after the first takes 20 points from your total.
Finish early: You get a time bonus for finishing early.
Tap every card: Tapping a card will automatically move it if there's an available move.
Other cash games apps to consider
There are several game apps that can help you figure out how to make money in your spare time if you don't like the gameplay of Solitaire Clash.
Solitaire Cash is a game app created by Papaya Gaming. It's similar to Solitaire Clash and offers opportunities to earn real money by competing in cash tournaments. If there are elements you don't like in Solitaire Clash but would like to play a game based on Klondike Solitaire, playing Solitaire Cash games provides a similar skill-based experience.
Find out more in our Solitaire Cash review.
Solitaire gamers may also enjoy Solitaire Cube, which offers a variety of gameplay options. Like Solitaire Clash, it could be a fun way to earn extra money. 
Find out more in our Solitaire Cube review. 
Bingo Clash is another game app from AviaGames that focuses on a skill-based gaming experience based on the classic bingo game. This app offers opportunities to compete against real players in cash tournaments where you may win actual money.
Check out our Bingo Clash review for more details.
Solitaire Clash Benefits
Play solitaire and earn real cash
Get up to $115 per win in minutes
#3 card game on App Store with an average 4.9/5 stars
Deposit $5 and get $5; deposit $20 and get $10; deposit $30 and get $30