Traveling by yourself, known as "solo travel", may induce anxiety or fear for many people. But surprisingly, it's increasing in popularity around the globe. According to a 2021 survey published by Tripit, a leading travel app, 21% of travelers surveyed intend to take a solo trip within the next year.
It isn't always possible to get family or friends to accompany you, so venturing out on your own may be necessary to accomplish your travel goals. If you're contemplating taking a trip on your own, here are 13 solo travel tips to make your travel more efficient and enjoyable.
10 travel tips for solo travelers
1. Buy travel insurance
Hopefully, you won't encounter any hiccups on your trip, but you should be prepared in the event something does go wrong. With travel insurance, events such as lost luggage, a stolen cell phone, a canceled flight, or a medical emergency could be covered.
Major companies such as Allianz offer travel insurance, but you can also have similar insurance coverage with the right travel credit card.
As an example, the Chase Sapphire Preferred offers the following coverage at no additional cost:
2. Join a city tour and meet new people
Traveling solo can be empowering, but it doesn't mean you have to be a recluse. Tamara Gruber, a travel blogger at We3Travel, recommends joining a city tour by Free Tours by Foot.
"These are available in many major cities and led by a local," Tamara says. "They are free to join and you pay what you want. It is an affordable way to get a guided experience, meet other travelers, and feel safe in a group while you get to see the best parts of a destination."
3. Consider cell phone insurance
Smartphones can help you find accommodations, discover the best restaurants in a new city, hail a car on a rideshare platform, and more. However, they don't come cheap. With a brand new smartphone costing $1,000 or more, these devices are worth insuring.
While you can often buy insurance through your phone service provider, several credit cards offer complimentary cell phone insurance:
These coverages operate similar to car insurance; you're covered up to a certain amount regardless of the value of the phone, and a deductible will apply as well. In most cases, you must pay your phone bill with the credit card offering the insurance.
4. Avoid international phone charges
As a solo traveler, a traditional American cell phone plan may not make the most sense. If you travel frequently, do some research ahead of time to avoid international roaming fees.
An easy way to do this is to rely on Wifi when it's available — by turning your data off and connecting to the internet, you can cut down on extra charges.
If you'd like more reliable phone service, consider buying a local SIM card. These will give you a certain amount of texting and data, depending on which plan you purchase, and can be easily purchased in airports or city centers.
This is a great option if you're not a frequent traveler and your phone is unlocked. Be sure to call your cell phone provider to see if you can have your service "turned off" while you are abroad to save you even more money.
5. Stay at solo-friendly accommodations
If you're traveling alone, you may be eager to meet locals or other travelers while on your journey. In this case, consider staying in a hostel or homestay.
These types of accommodations can save you money on international travel, and also enhance your experiences as a solo traveler. There are often communal kitchens or other common areas where you can meet others, compare notes on local sites, and make plans to hang out with new friends.
Here are a few great websites to get started searching for accommodations:
To save even more money while traveling, consider housesitting. Not only can you save on the costs of lodging but, according to Supal Desai, digital nomad and author behind travel lifestyle blog Chevrons & Eclairs, it can also be "a great way to immerse yourself in everyday life of wherever you're visiting."
Supal makes sure to become acquainted with the neighbors whenever she house-sits. "I always get to know the neighbors and make a point to talk to them regularly," she says. "The neighbors and homeowner will be great resources if you have any trouble and will notice if something is wrong … My host family and neighbors look out for me as one of their own."
Sites such as Nomador set you up with people from all around the world who are looking for housesitters. It's an exchange of services: free accommodations for free housesitting (maybe playing with the occasional pooch, too).
6. Send your travel itinerary to loved ones
No matter how experienced a traveler you are, friends and family back home will worry for your safety — give them peace of mind by sending them your travel itinerary. This will keep them informed of your location in case of an emergency, and it can help you stay organized as well.
My wife and I use the free app TripIt. It's a seamless program that allows you to keep travel dates and confirmations in one place. Simply forward your confirmation emails to the app's special email address and it will automatically compile your itinerary, which can then easily be shared with others.
7. Use a credit card with no foreign transaction fees
Foreign transaction fees are collected by credit card companies to convert your purchases from a foreign currency into U.S. dollars. If your credit card charges these fees, it could cost you around 3% of each transaction. While this may not sound like a lot of money, it's a completely avoidable expense that can quickly add up.
Luckily, there are plenty of credit cards with no foreign transaction fees, including:
8. Avoid the "single supplement"
When it comes to booking excursions, hotel rooms, a cruise, and other travel, you may find yourself paying extra because you are alone.
The reasoning behind this is that the business is not able to make money from two people, so they have to recover those missed profits by charging you extra. (Yes, it's as ridiculous as it sounds.) However, there are ways to avoid the "single supplement."
9. Find expat hangout spots when you're homesick
Feeling homesick is perfectly natural. When you're out of your comfort zone and on your own, that hopeless and lonely feeling can sink in quickly — especially if you don't speak the local language. However, there are ways to get out there to find new friends.
Look up where other expats in your area may be enjoying a cocktail, doing yoga, or hanging out at a coworking space. Expat and InterNations are two online platforms that offer free resources to help you connect with other travelers. There are also numerous expat Facebook groups you can join, and you can use Meetup to find local communities and events just about anywhere you travel.
10. Avoid pickpockets by blending in
With sweatshirts representing their alma maters, big American brands plastered to their chests, and exercise clothing worn for almost any casual occasion, the stereotype might be true: American tourists stick out like a sore thumb. To pesky pickpockets or scammers, you're ripe for the picking.
Instead, blend in as much as you can. That's what Michael Anderson, founder of adventure travel blog Passport Explored, recommends.
"Dress conservatively and try your best not to stand out," he says. "Don't wear bright-colored clothing or anything with a flashy logo. Similarly, don't ever flash valuables in public. If you're able to blend into the crowd, then odds are nobody will even think about committing a crime against you."
Bottom line
Solo travel is an incredible way to get away from work, escape the day-to-day hustle, and do some self-discovery. But just like anything else in life, great preparation will give you the best chance for success. So take the proper precautions, pick one of the best travel credit cards to maximize your rewards, and you have a great chance of a life-changing travel experience.
Easy-to-Earn Unlimited Rewards
Earn 25,000 online bonus points after you make at least $1,000 in purchases in the first 90 days of account opening - that can be a $250 statement credit toward travel purchases
Earn 1.5 points per $1 spent on all purchases
Longer intro APR on qualifying purchases and balance transfers
No foreign transaction fees
Earn unlimited 1.5 points per $1 spent on all purchases, with no annual fee and no foreign transaction fees and your points don't expire.
25,000 online bonus points after you make at least $1,000 in purchases in the first 90 days of account opening - that can be a $250 statement credit toward travel purchases.
Use your card to book your trip how and where you want - you're not limited to specific websites with blackout dates or restrictions.
Redeem points for a statement credit to pay for travel or dining purchases, such as flights, hotel stays, car and vacation rentals, baggage fees, and also at restaurants including takeout.
0% Introductory APR for 18 billing cycles for purchases, and for any balance transfers made in the first 60 days. After the intro APR offer ends, 17.99% - 27.99% Variable APR will apply. A 3% fee applies to all balance transfers.
If you're a Preferred Rewards member, you can earn 25%-75% more points on every purchase. That means instead of earning an unlimited 1.5 points for every $1, you could earn 1.87-2.62 points for every $1 you spend on purchases.
Contactless Cards - The security of a chip card, with the convenience of a tap.
This online only offer may not be available if you leave this page or if you visit a Bank of America financial center. You can take advantage of this offer when you apply now.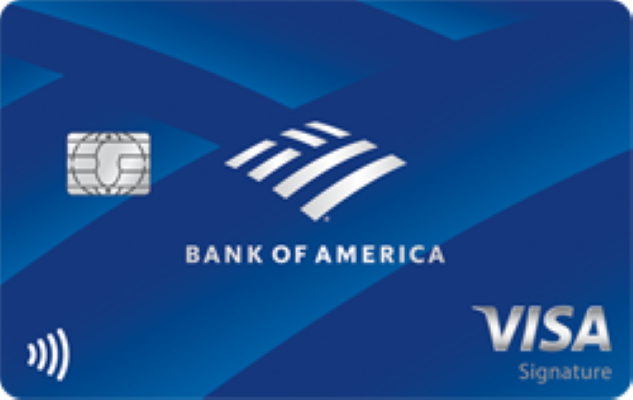 Apply Now
on Bank of America's secure website
Read Card Review
Intro Offer
Earn 25,000 online bonus points after you make at least $1,000 in purchases in the first 90 days of account opening - that can be a $250 statement credit toward travel purchases