There's a lot to love about flying Southwest, and we're not just talking about the peanuts and pretzels. There are also the flexible policies, which let you change your flight without fees, and low fares that don't surprise you with hidden taxes. And of course, there's the fact that Southwest is the only major U.S. airline to offer two free checked bags with your ticket.
All of this creates a less-stressful flying experience, which is why the airline has developed a cult following among travelers.
But if you're new to flying Southwest, you should know that the check-in and boarding process works a little differently than most airlines, and your experience will vary depending on if you've chosen EarlyBird or upgraded check-in options. That said, once you figure out the logistics, you can enhance your experience by getting one of the best airline credit cards co-branded by Southwest. 
How does Southwest's check-in and boarding work?
Southwest has open seating, so your ticket won't tell you where you'll sit. Instead, you'll be assigned a boarding group at check-in, and you can choose any available seat once you board the plane. Travelers in earlier boarding groups have a better chance of snagging that sought-after window or aisle seat. Here's how it works for each group:
Regular check-in and boarding
If you didn't purchase EarlyBird Check-In, you'll still be eligible to check in online up to 24 hours in advance. We suggest this option over checking in at the airport, since you'll likely get an earlier boarding group this way.
Once you check in, you'll be assigned a boarding group (A, B, or C) and a position (1-60+). When your boarding group is called, you'll line up by the numbered posts at your gate. So if you're assigned position 30 in boarding group A, you'll be approximately the 30th person to board the plane and select your seat.
EarlyBird Check-In and boarding
When you purchase EarlyBird Check-In, you'll be automatically checked in, so you can print your boarding pass at your convenience. And since you'll be checked in 12 hours earlier than other travelers, you'll also get an earlier boarding group, so you won't have to scramble to find a seat or a spot in the overhead bins for your luggage.
EarlyBird Check-In starts at $15 one-way per passenger. If you've got a busy schedule and you hate being the last to board, it's likely worth the cost.
Upgraded boarding
For $30 to $50 per flight, depending on your itinerary, you can secure a boarding spot in group A, positions 1-15. You'll just need to see a customer service representative at the departure gate or ticket counter to purchase your upgraded boarding, when available. If you choose this option, you'll be one of the first 15 people to board the plane after preboarding, guaranteed!
Preboarding
If you're traveling with a child under six, your family can board between the A and B groups. If you have a disability with a specific seating requirement or need help either boarding or stowing an assistive device, you can also board after the A group, with one other adult as an attendant. Note that you'll need to request preboarding from a customer service representative at the ticket counter or gate.
Other exceptions
If you're a frequent Southwest flyer and you've achieved A-List or A-List Preferred status, you'll be eligible for priority boarding in group A. To achieve A-List status, you'll need to fly 25 one-way flights or earn 35,000 qualifying points in a year. You can also fly Business Select to get guaranteed A1 to A15 boarding.
Get premium Southwest check-in and boarding for less
If you want to check in and board early without spending an arm and a leg, consider applying for a travel rewards credit card, especially if you're a frequent flyer. You could rack up points and miles faster with a premium card, and some credit cards even offer credits to help you cover the cost of your Southwest flights and fees. In addition, all Southwest credit cards help you achieve A-list status faster, which entitles you to premium boarding perks.
If you collect enough points, you can even earn the Southwest Companion Pass, which lets you take another traveler with you free of charge (excluding taxes and fees) on every flight.
Here are some of the perks you can get with several of the best travel credit cards:
All information about The Platinum Card® from American Express Exclusively for Morgan Stanley has been collected independently by FinanceBuzz.
Now that you're an expert on Southwest's check-in and boarding process, you can choose the option that's right for you. That might mean paying extra for EarlyBird Check-In or upgraded boarding, or you could take advantage of some of the credit card rewards offered to upgrade your check-in and boarding experience. The more you can reduce the stress of traveling, the more you'll enjoy getting to your destination.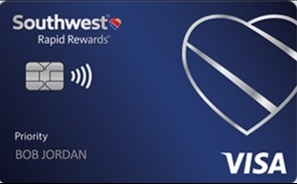 4.8
FinanceBuzz writers and editors score cards based on a number of objective features as well as our expert editorial assessment. Our partners do not influence how we rate products.
Southwest Rapid Rewards® Priority Credit Card
Current Offer
Earn 75,000 bonus points after spending $3,000 on purchases in the first 3 months from account opening
Rewards Rate
3X points on Southwest purchases; 2X points on participating Rapid Rewards hotel and car rental partners; local transit and commuting, including rideshare; and on internet, cable, phone services, and select streaming; and 1X points on all other purchases